Since many children are just learning to read in kindergarten and first grade there can be a large range in the reading level of this age group. For that reason, I have put together a list of books that vary in difficulty from beginner easy readers to longer chapter books. I've also included an array of genres to appeal to the diverse interests of children. Enjoy the books!
*This post contains affiliate links. To read my full disclosure CLICK HERE.
EASY READERS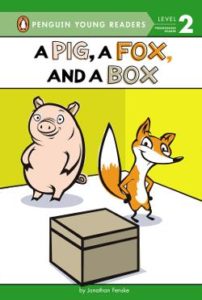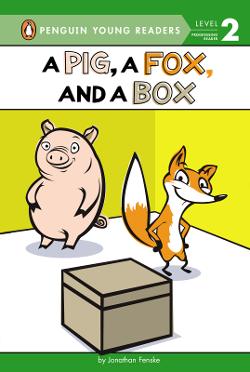 A Pig, A Fox and a Box by Jonathan Fenske, 2015

From the Publisher
In the style of Mo Willems, Jonathan Fenske tells three humorous stories of two friends, Pig and Fox, and their shenanigans with a cardboard box (all of which involved Pig accidentally crushing Fox in the box). With comic art and simple language, this Level 2 reader is sure to have kids rolling with laughter.
Theodor Seuss Geisel Award Honor Book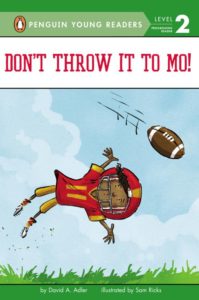 Don't Throw It To Mo! by David Adler, 2015

From the Publisher
Mo Jackson is a little boy with a big passion for sports. He may not be the biggest, the strongest, or the fastest player, but he won't let that stop him from playing!
Mo is the youngest kid on the Robins, his football team. His classmates don't mind, but the kids on their rival team tease him for being a "butterfingers" who's too tiny to catch the ball. But Mo's coach has a plan to turn Mo's little size into a big win for the Robins!
Winner of the 2016 Theodor Seuss Geisel Award
Lexile: 270L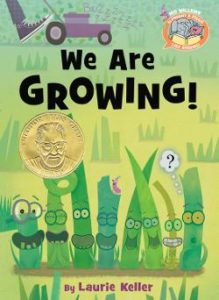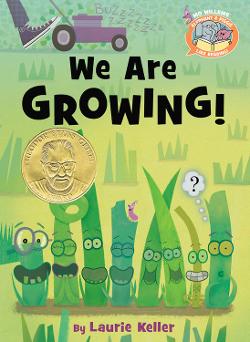 We Are Growing! (Elephant and Piggie Like Reading series) by Laurie Keller, 2016
From the Publisher
Walt and his friends are growing up fast! Everyone is the something-est. But . . . what about Walt? He is not the tallest, or the curliest, or the silliest. He is not the anything-est! As a BIG surprise inches closer, Walt discovers something special of his own!
Winner of the 2017 Theodor Seuss Geisel Award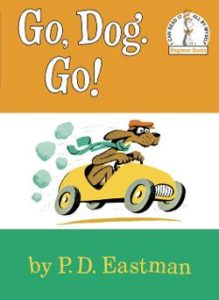 Go, Dog, Go! by P.D. Eastman, 1989
From the Publisher
Reading goes to the dogs in this timeless Beginner Book edited by Dr. Seuss. From big dogs and little dogs to red, green, and blue dogs, dogs going up and dogs going fast . . . who knew dogs were so busy? And laughter will ensue at the repeated question "Do you like my hat?" Like P. D. Eastman's classic Are You My Mother? Go, Dog. Go! has been a go-to favorite for over fifty years, leaving audiences of all breeds wagging their tails with delight. Originally created by Dr. Seuss, Beginner Books encourage children to read all by themselves, with simple words and illustrations that give clues to their meaning.
Fountas & Pinnell: E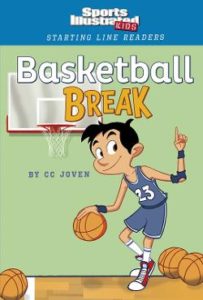 Basketball Break (Sports Illustrated Kids Starting Line Readers series) by C.C. Coven , 2017
From the Publisher
Lucas likes basketball, but he is a ball hog. Can Lucas learn to pass the ball? This Starting Line Reader showcases how to be a team player.
Lexile: 220L/ Fountas & Pinnell: F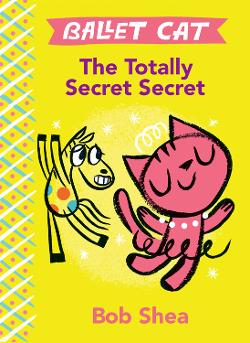 Ballet Cat: The Totally Secret Secret (Ballet Cat series) by Bob Shea, 2015
From the Publisher
Ballet Cat and Sparkles the Pony are trying to decide what to play today. Nothing that Sparkles suggests–making crafts, playing checkers, and selling lemonade–goes well with the leaping, spinning, and twirling that Ballet Cat likes to do. When Sparkles's leaps, spins, and twirls seem halfhearted, Ballet Cat asks him what's wrong. Sparkles doesn't want to say. He has a secret that Ballet Cat won't want to hear. What Sparkles doesn't know is that Ballet Cat has a secret of her own, a totally secret secret. Once their secrets are shared, will their friendship end, or be stronger than ever?
Lexile: AD70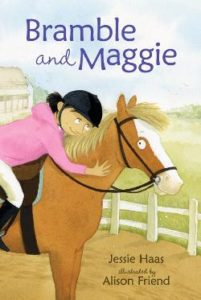 Bramble and Maggie: horse meets girl (series) by Jessie Haas; illustrated by Alison Friend, 2012
From the Publisher
Maggie wants a pony to ride and take care of, and to prepare she's been reading a big book on horse care. Meanwhile, Bramble is bored with giving riding lessons and walking in circles. She's looking for just the right person to take her away from her routine. Is it a perfect match? Maggie loves Bramble as soon as she sees her, but there are some things Bramble has to be sure of. Will Maggie let Bramble venture into new places? Will she protect Bramble from strange objects in the yard? Will she, most importantly, know when Bramble needs her undivided attention? This charming and funny early reader is an ideal match for young animal lovers and anyone who has ever longed for a friend who truly understands.
Lexile: 270L/ Fountas & Pinnell: K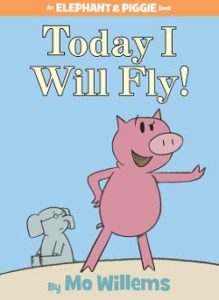 Today I Will Fly! (Elephant and Piggie series) by Mo Willems, 2007
From the Publisher
Gerald is careful. Piggie is not.
Piggie cannot help smiling. Gerald can.
Gerald worries so that Piggie does not have to.
Gerald and Piggie are best friends.
Today, I Will Fly! is the funny introduction to the characters. Piggie is determined to fly. But Gerald the elephant knows that's impossible–isn't it?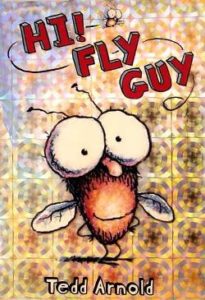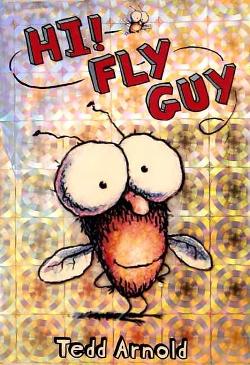 Hi! Fly Guy (series) by Tedd Arnold, 2005
From the Publisher
A fly was flying. He was looking for something to eat. Something tasty. Something slimy. A boy was walking. He was looking for something to catch. Something smart. Something for The Amazing Pet Show. The boy and fly meet and so begins a beautiful friendship. Er, and so begins a very funny friendship. Using hyperbole, puns, slapstick, and silly drawings, bestselling author/illustrator Tedd Arnold creates an easy reader that is full of fun.
Lexile: 280L/ Fountas & Pinnell: I
What About Worms (Elephant and Piggie Like Reading series) by Ryan T. Higgins and Mo Willems, 2020
An adorable tiger brags about his braveness, but admits that his one fear is worms. A comical sequence of events reveal that a group of worms are also scared of tigers until they learn more about them. This is a fantastic new addition to the lovable Elephant and Piggie Like Reading series.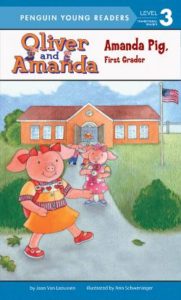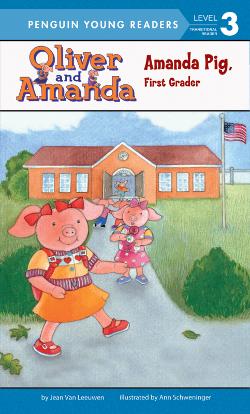 Amanda Pig, First Grader (series) by Jean Van Leeuwen; illustrated by Ann
Schweninger, 2013
From the Publisher
Amanda Pig is going to be a first-grader! This year she won't have to take naps, she'll play on the big playground, and, best of all, she'll learn how to read. But something is wrong, because when Amanda tries to read, she can recognize the letters but not the words! Is first grade going to be harder than Amanda thought? Will she ever be able to read? Once again, Jean Van Leeuwen and Ann Schweninger create a funny, friendly, and kid-relevant world.
Lexile: 320L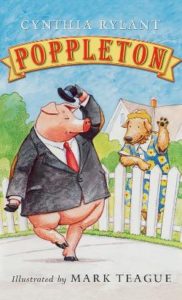 Poppleton (series) by Cynthia Rylant, 1997
From the Publisher
Poppleton the pig makes a friend, reads a library book about adventure, and helps a sick friend get better.
Lexile 370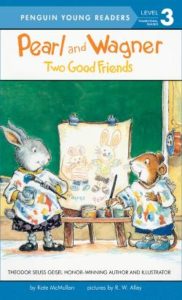 Pearl and Wagner: Two Good Friends (Pearl and Wagner series)
by Kate McMullan, 2003

From the Publisher
Pearl and Wagner are two good friends who make a trash-eating robot together, impress a judge at the science fair, and tell each other the truth (even when it hurts!). They may be two very different individuals – Pearl, a hardworking rabbit and Wagner, a daydreaming mouse – but they know how to make up and stay good friends no matter what. This easy-to-read book is the first book in the Theodor Seuss Geisel Honor-winning Pearl and Wagner series.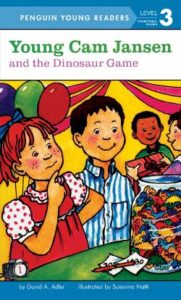 Young Cam Jansen and the Dinosaur Game (Young Cam Jansen Mystery series) by David Adler, 1996
From the Publisher
A jar full of toy dinosaurs, a game of musical chairs, and a smudge of chocolate cake. Can Cam Jansen put the clues together to solve a birthday party puzzle?
Lexile: 370L/ Fountas & Pinnell: J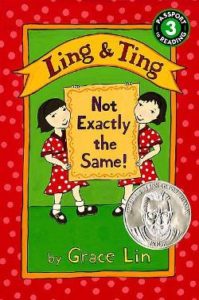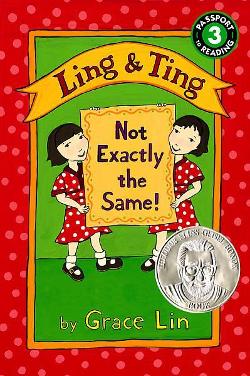 Ling and Ting: not exactly the same! (series) by Grace Lin, 2010
From the Publisher
Ling and Ting are twins. They have the same brown eyes. They have the same pink cheeks. They have the same happy smiles. Ling and Ting are two adorable identical twins, and they stick together, whether they are making dumplings, getting their hair cut, or practicing magic tricks. But looks are deceiving–people can be very different, even if they look exactly the same.
Theodore Seuss Geisel Award Honor Book
Lexile: 390L/ Fountas & Pinnell: K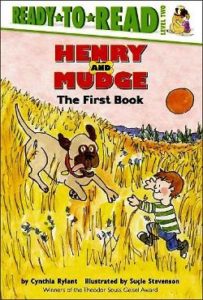 Henry and Mudge: the first book in their adventures (series) by Cynthia Rylant, 1990
A boy shares adventures with his lovable dog in this timeless series.

Lexile: 460L/ Fountas & Pinnell: J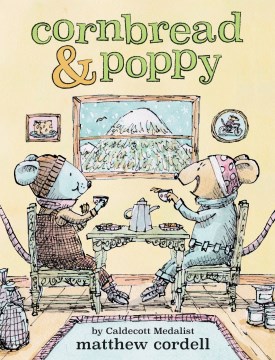 Cornbread & Poppy by Matthew Cordell, 2022
While opposites in many ways, Cornbread and Poppy are the best of friends. When carefree Poppy doesn't collect enough food for the winter, loyal Cornbread agrees to venture up the mysterious mountain outside their village to harvest food. Full of charming illustrations, this delightful friendship story has the perfect amount of drama and cuteness that kept my daughter engaged and excited to read.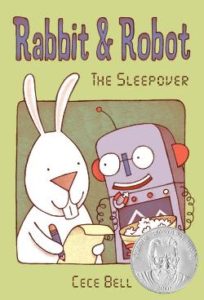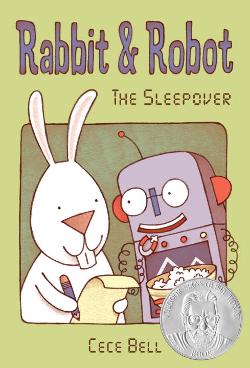 Rabbit and Robot The Sleepover (series) by Cece Bell, 2012
From the Publisher
Rabbit's carefully planned visit with Robot doesn't work out exactly as he imagined in this offbeat tale about two comically mismatched friends. Rabbit is excited: his friend Robot is coming to spend the night! Rabbit has left nothing to chance and has drawn up a list of all the things they will do. First off is making pizza, but Robot only likes nuts and bolts and screws on top (good thing he has magnetic hands). Next on the list is watching TV, but the remote is missing, and Rabbit is panicking! Will Robot find a logical (and rather obvious) solution to the problem? Number three is . . . uh-oh! Why is Robot lying down instead of playing Go Fish? And what is that message reading "BAT" printing out from a slot on his front? New readers who like silly stories will race through this funny adventure about a rabbit who likes to be in control and an obliging robot who calmly keeps their friendship humming.
Theodor Seuss Geisel Award Honor Book
Lexile: 360L / Fountas & Pinnell: L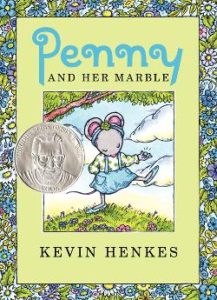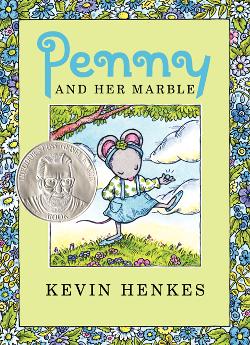 Penny and Her Marble (series) by Kevin Henkes, 2013
From the Publisher
In the third easy-to-read book about Penny the mouse, written by Caldecott Medalist and bestselling author Kevin Henkes, Penny finds a beautiful marble on her neighbor's lawn and must decide whether or not to keep it. With age-appropriate vocabulary, compelling characters, and a memorable storyline, Penny and her Marble is just right for beginning readers and was named a 2014 Geisel Honor book by the American Library Association. This annual award, given to the most distinguished books for beginning readers, is named for the world-renowned children's author Theodor Geisel, also known as Dr. Seuss.
Lexile: 350L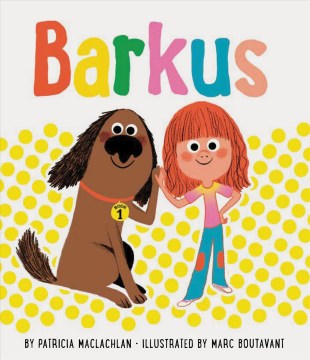 Barkus by Patricia MacLachlan; illustrated by Marc Boutavant, 2022
Large colorful pictures accompany short chapters that share the adventures of a girl and her large brown dog. Animal lovers will particularly enjoy following along as Barkus meets his new family, sneaks into school, celebrates his birthday, and makes a new friend. Guided Reading Level: L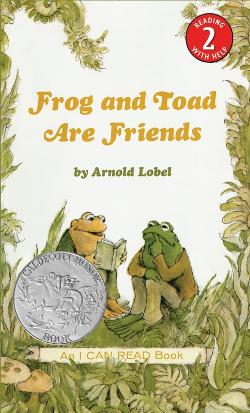 Frog and Toad are Friends (series) by Arnold Lobel, 1970
From the Publisher
From writing letters to going swimming, telling stories to finding lost buttons, Frog and Toad are always there for each other—just as best friends should be.
The classic Frog and Toad stories by Arnold Lobel have won numerous awards and honors, including a Newbery Honor (Frog and Toad Together), a Caldecott Honor (Frog and Toad are Friends), ALA Notable Children's Book, Fanfare Honor List (The Horn Book), School Library Journal Best Children's Book, and Library of Congress Children's Book.
Lexile: 400L/ Fountas & Pinnell: K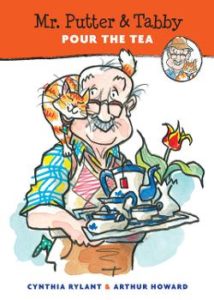 Mr. Putter and Tabby Pour the Tea (series) by Cynthia Rylant, 1994
From the Publisher
"The gentle, affecting first volume introduces elderly Mr. Putter, who decides that a cat will keep him from feeling lonely. Rylant's texts reflect admirable concern for brevity and meticulous consideration of every word. They are in perfect sync with Howard's expressive sketches, which slip abundant visual jokes into sunny, transparent watercolors and gouaches, and fluid pencil and pastel scribbles."–Publishers Weekly
Lexile: 540L/ Fountas & Pinnell: J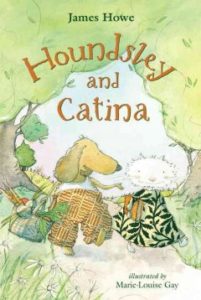 Houndsley and Catina by James Howe; illustrated by Marie-Louise Gay, 2006
From the Publisher
The subtle dance of friendship – from holding your tongue to knowing what to say – is played out in three sweetly humorous tales about an unlikely, likable pair.
Catina wants to be a famous writer. Houndsley is an excellent cook. Catina thinks Houndsley is a wonder. Houndsley thinks Catina is a very good friend. So what should Houndsley say about Catina's seventy-four-chapter memoir? And can Catina find the right words of comfort for Houndsley after the big cooking contest fiasco? James Howe's funny and endearing world of ginger tea, no-bean chili, and firefly watching is brought to life in cozy watercolors by Marie-Louise Gay in this tender chapter book about what it means to be friends.
Lexile: 580L/ Fountas & Pinnell: K
CHAPTER BOOKS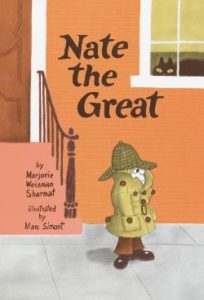 Nate the Great (series) by Marjorie Weinman Sharmat, 1972
From the Publisher
Join the world's greatest detective, Nate the Great, as he solves the mystery of the lost picture! Perfect for beginning readers and the Common Core, this long-running chapter book series will encourage children to problem-solve with Nate, using logical thinking to solve mysteries!
Nate the Great has a new case! His friend Annie has lost a picture. She wants Nate to help her find it. Nate the Great must get all the facts, ask the right questions, and narrow the list of suspects so he can solve the mystery.
Lexile: 130L/ Fountas & Pinnell: K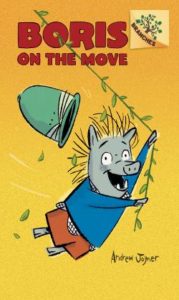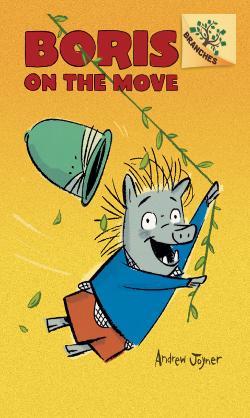 Boris on the Move (series) by Andrew Joyner, 2013
From the Publisher
A new early chapter book series where adventure is always just around the corner!
This series is part of Scholastic's early chapter book line, Branches. Aimed at 5- to 8-year-olds, this line of books is for children who are just starting to read independently. With easy-to-read text, high-interest content, fast-paced plots, and illustrations on every page, these books will boost reading confidence and stamina. Branches books help readers grow!
Meet Boris! He lives with his mom and dad in Hogg Bay. Their home is a van that once traveled all over the world. Then one morning, Boris feels a jolt. Could it be? Is the van really moving? Is Boris on an adventure at last?
But when Boris ends up on a trip to a wildlife refuge instead of the jungle safari he'd imagined, he ends up having an adventure he'll never forget. Because for this little warthog, life never quite turns out as he plans.
Lexile: 230L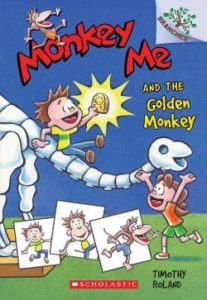 Monkey and Me and the Golden Monkey (series) by Timothy Roland, 2014
From the Publisher
When Clyde gets excited, he brings a whole new meaning to "monkeying around!"
Clyde is an energetic student who just can't sit still. After eating a banana that has been zapped by lasers on his class field trip to the science museum Clyde starts to feel weird. Now every time he gets excited, he transforms into a monkey! Only with the help of his twin sister, Claudia, can Monkey Clyde stay out of trouble.
Lexile: 260L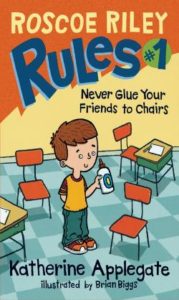 Never Glue Your Friends Chairs (Roscoe Riley Rules series) by Katherine Applegate; illustrated by Brian Biggs, 2008
From the Publisher
If the kids can't sit still for the class performance, Roscoe's teacher could be in big trouble. Fortunately, Roscoe has a plan to save her—a super, mega, gonzo plan! What could go wrong?
Lexile: 380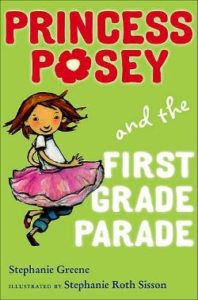 Princess Posey and the First Grade Parade by Stephanie Greene, 2010
From the Publisher
Posey is really nervous about starting first grade. Instead of getting walked to her classroom, her mom has to drop her off at the Kiss-and-Go Lane. Then she'll have to walk into school and face the Monster of the Blue Hall all by herself. Worst of all, she has to do it without the one thing that always makes her feel brave and special: the tutu that turns her into the Pink Princess. But when Posey inspires her new teacher to throw a first-day parade in which all the kids are invited to wear whatever makes them feel the most comfortable, first grade starts to look a lot more promising.
Posey will charm readers just graduating from easy-to-reads (and from kindergarten). Make reading sparkle with all of the Princess Posey chapter books!
Lexile: 380L/ Fountas & Pinnell: K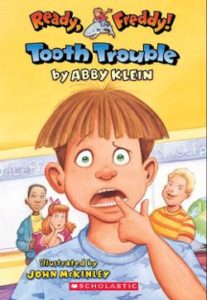 Tooth Trouble (Ready Freddy series) by Abby Klein, 2004
From the Publisher
Meet the new kid on the block! It's Freddy Thresher, a first grader with a nose for trouble. It's not that he's trying to do anything bad. It's just that he's a boy who gets a little too creative and inventive when he has a problem.
Lexile: 560L/ Fountas & Pinnell: L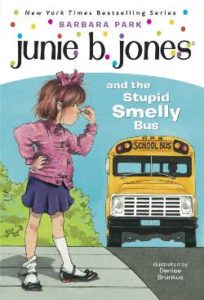 Junie B. Jones and the Stupid Smelly Bus (series) by Barbara Park; illustrated by Denise Brunkus, 1992
From the Publisher
Meet the World's Funniest Kindergartner–Junie B. Jones!
Remember when it was scary to go to school? With over 50 million books in print, Barbara Park's New York Times bestselling chapter book series, Junie B. Jones, is a classroom favorite and has been keeping kids laughing–and reading–for over 20 years! In the 1st Junie B. Jones book, it's Junie B.'s first day and she doesn't know anything. She's so scared of the school bus and the meanies on it that when it's time to go home, she doesn't.
Lexile: 380L/ Fountas & Pinnell: M
*LibraryMom Note: Some parents have an issue with Junie B. Books because there are grammatical and spelling errors and she uses some negative words such as "stupid", but I felt inclined to include these books because this series flies off the shelves at my school library. Children love these books and I often get requests for read alikes.
You may also like: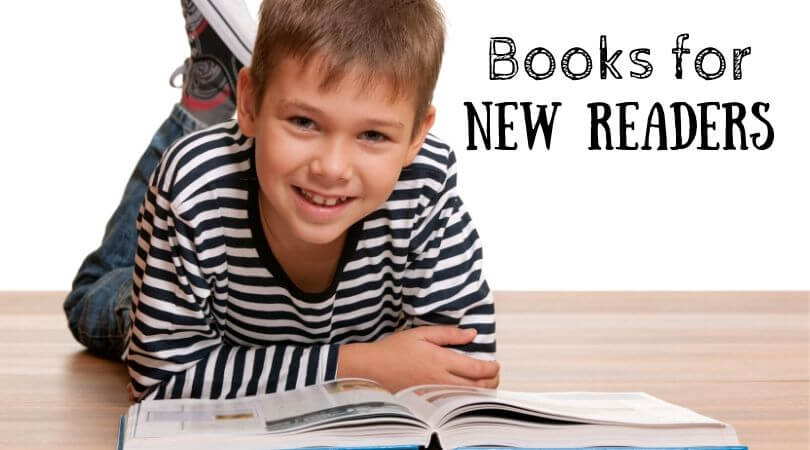 You may also like: