While summer is an ideal time for children to relax, explore the outdoors, visit new places, and spend extra time with family and friends, it is also a critical time for children to maintain and build upon literacy skills.
To help get your children excited about reading over the summer, I've put together a list of books for children entering first grade with tons of kid appeal. Because children graduate kindergarten reading at a variety of levels, I've included an assortment of easy readers ranging from those with simple sentences to stories with more dialogue and complex vocabulary.
One way to help children identify books that are a good fit is by using the five finger test:
Pick a book and open it to any page.
Start reading and hold up one finger for every word you don't know.
If you get to four or five words, it may not be a good fit right now and should be revisited another time
Many of the below books are part of a series. If your reader enjoys the first book, I suggest finding more in the same series to continue their enthusiasm for reading.
*This post contains affiliate links.
BOOKS FOR EMERGENT READERS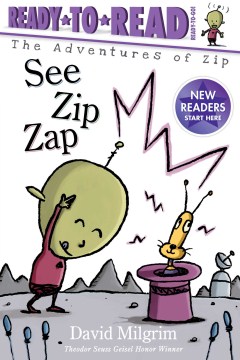 See Zip Zap by David Milgrim, 2018
Zip is a little, green alien, who entertains others by making items magically appear. When his brother, Bip, falls asleep watching his show, Zip accidentally zaps a monster into existence with thrilling results.
It is amazing how David Milgrim is able to create an entertaining story with limited text. There are simple sentences that feature sight words, rhymes, repetition, and eye-catching illustrations that provide pictorial clues.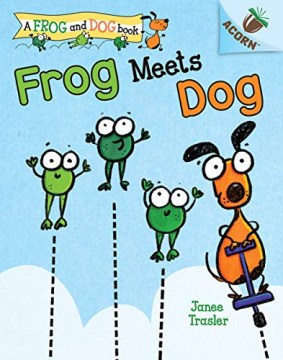 Frog Meets Dog (Frog and Dog series) by Janee Trasler, 2020
Part of Scholastic's new Acorn line, which combines easy-to-read text with color illustrations and engaging storylines, Frog Meets Dog is an excellent choice for emergent readers. Very simple words, many of which rhyme and are repeated, follow a dog who tries to befriend a trio of frogs. The action-packed illustrations contain several instances of physical humor, which will result in giggles from readers. Drawing instructions and a writing prompt are also included in the back for extra fun. Lexile: 50L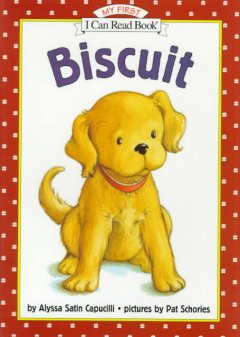 Biscuit (Biscuit Easy Reader series) by Alyssa Satin Capucilli, 1996
It's almost impossible to resist the charms of the adorable Biscuit! This series may be over twenty years old, but its timeless quality has kept it popular all these years. With simple storylines and easy-to-read text, this is a great series for animal lovers. My own daughter can't get enough of this darling puppy and has read almost every book in the series!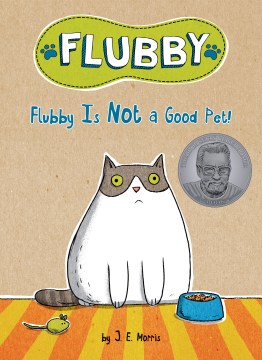 Flubby Is Not a Good Pet by J.E. Morris, 2019
Flubby is a lovable, lazy cat who prefers to do things her own way. When her owner attempts to teach her tricks, they both discover that there is more to being a good pet than following directions. The simple sentences are perfectly paired with amusing illustrations that skillfully capture Flubby's comical expressions. Lexile 140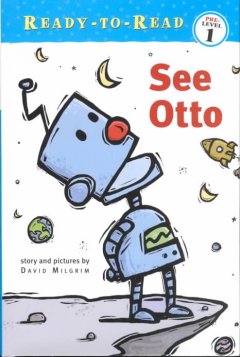 The Adventures of Otto series by David Milgrim, 2002
These delightful books star a robot named Otto. They are full of action and funny illustrations that not only provide clues to the more difficult words in the text, but also make my son laugh out loud.
The simple text is mostly made up of sight words and new vocabulary is added slowly and repeated often. One installment in the series, Go Otto Go (2016) won a Geisel Honor for one of the best easy readers of the year.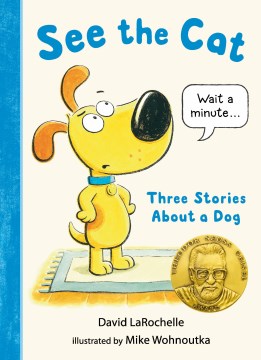 See the Cat: Three Stories About a Dog by David LaRochelle; illustrated by Mike Wohnoutka, 2020
This witty book is full of humor and fun and, best of all, perfect for emerging readers! A dog politely disagrees with an unseen narrator about what is occurring in this story with hilarious results! The short sentences are made up of mostly sight words and words that can be sounded out while the brief dialogue and the animated illustrations allow children to practice reading with expression. It was no surprise that this lovable story won the 2021 Geisel Award!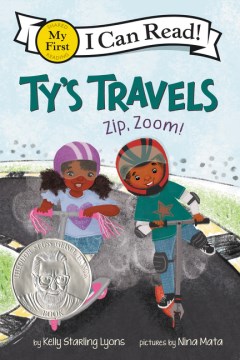 Ty's Travels Zip, Zoom! by Kelly Starling Lyons; illustrated by Nina Mata, 2020
Ty is a joyful boy with a big imagination. When he receives a new scooter, he can't wait to ride it in the park. After feeling wobbly and eventually falling, Ty grows frustrated but never gives up. With the support of his family and the encouragement of a new friend, Ty eventually learns to zoom like a race car driver! Kids will love following the resilient and playful Ty.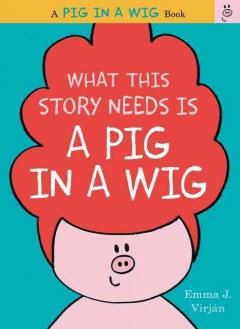 What This Story Needs Is a Pig In A Wig (series) by Emma J. Virjan, 2015
This book is such a fun and silly way to for children to practice a variety of vowel sounds.
Rhyming words are paired together and there are visual clues to help readers identify new words. This is an amusing story that has a sweet message of friendship and inclusion that makes it a standout in this genre.
MORE CHALLENGING EASY READERS
Students ready to tackle longer easy readers or beginning chapter books may enjoy these stories.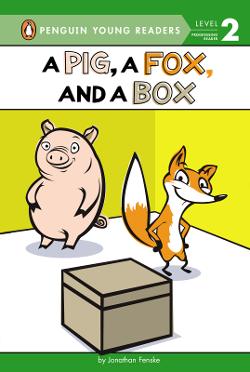 A Pig, A Fox and a Box by Jonathan Fenske, 2015
This Theodore Seuss Geisel Honor book stars a mischievous fox whose clever jokes on his friend Pig backfire with hysterical results. Readers with a quirky sense of humor will enjoy this funny rhyming book. Lexile: 210L / Guided Reading Level: H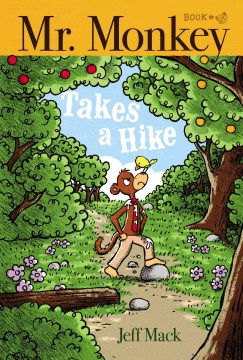 Mr. Monkey (series) by Jeff Mack, 2018
The Mr. Monkey series repeats words often and slowly introduces new vocabulary all while using visual clues from the rich illustrations. While Mr. Monkey can be pretty clumsy and silly at times, he also demonstrates resilience and always tries his best, attributes that I try to reinforce in my own children. The action-packed illustrations are full of physical comedy and had my children laughing out loud.Lexile: 220L / Fountas & Pinnell: I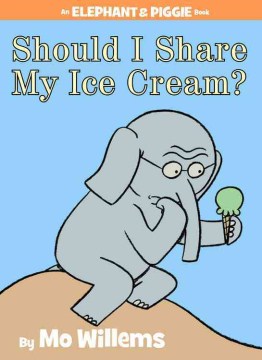 Should I Share My Ice Cream? (The Elephant and Piggie series) by Mo Willems, 2011
I have yet to meet a child who doesn't love the Elephant and Piggie books by Mo Willems. In this hilarious installment, Gerald has a big decision to make. He is excited to eat his ice cream, but then considers that his best friend, Piggie, might want to share it with him. What ensues is a laugh-out-loud struggle between the benefits of splitting a delicious dessert or keeping it for yourself. Lexile: 260L / Fountas & Pinnell: H
We are Growing by Laurie Keller, 2016
(Ages 4 – 8)
This quirky story stars a group of zany blades of grass who each celebrate a unique attribute. This is a fun book filled with clever humor, repeated text, and simple sentences to build literacy skills, and it has a great message of resilience and celebrating everyone's differences. It is no wonder the book won the Theodor Seuss Geisel Award for best Easy Reader. Lexile 270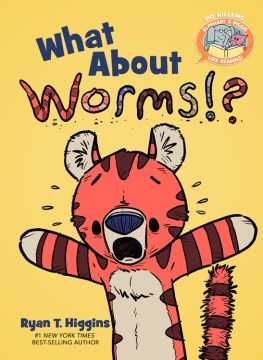 What About Worms (Elephant and Piggie Like Reading series) by Ryan T. Higgins and Mo Willems, 2020
An adorable tiger brags about his braveness, but admits that his one fear is worms. A comical sequence of events reveal that a group of worms are also scared of tigers until they learn more about them. This is a fantastic new addition to the lovable Elephant and Piggie Like Reading series. Lexile 310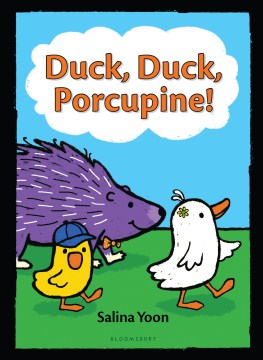 Duck, Duck, Porcupine (series) by Salina Yoon, 2016
In this Theodore Seuss Geisel Honor-winning series, readers meet a trio of endearing animals who share amusing exploits in three short stories. Since one of the characters, Little Duck, doesn't speak, children refine their visual literacy and inference skills observing Little Duck's actions and expressions. Colorful, bold pictures fill the pages while the stories are told through speech bubbles displaying simple text and accessible plot lines. These sweet books have just the right amount of humor and cuteness to make them a good choice for beginning reader collections Lexile: AD390L 340/ Fountas & Pinnell: H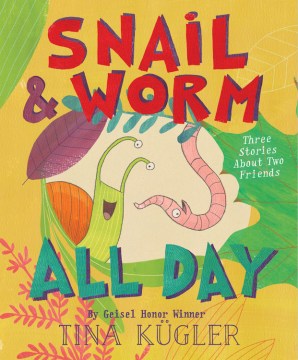 Snail and Worm (series) by Tina Kügler, 2016
Told through three short chapters, readers will delight in the amusing antics of Snail and Worm as they navigate friendship and life as small creatures in a big world. Each story is clever, quirky, and perfect for kids. The characters' comical facial expressions are not only hilarious, but they also help guide new readers on the tone to use when reading the dialogue. Lexile: 370L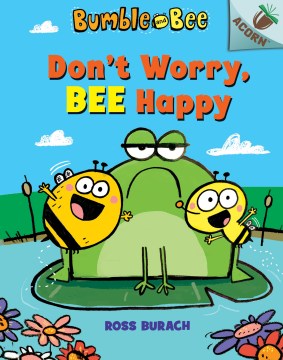 Don't Worry, Bee Happy (Bumble and Bee series) by Ross Burach, 2019
Three short chapters follow two exuberant bees and their best friend, a grumpy frog, through several comical scenarios. Brightly colored illustrations appear in large graphic-novel-like panels and most of the text is displayed through speech bubbles. Each character has their own colored speech bubble, so it is easy to follow. The animated illustrations paired with the funny dialogue effortlessly lead children to read with expression
The bees' enthusiasm is perfectly paired against the frog's impassive stares and comments making this a book that my son wanted to read aloud multiple times. This book is part of the Scholastic Acorn line intended for children ages four to seven and contain an excellent combination of easy-to-read text, color illustrations, and engaging storylines featuring friendship stories, humor, and magic.
Lexile: 350L / Fountas & Pinnell: H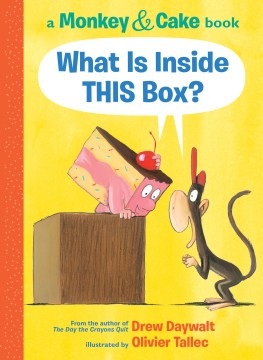 Cake and Monkey (series) Drew Daywalt, 2019
In his new easy reader series, Drew Daywalt, author of The Day the Crayons Quit, uses his quirky sense of humor to help children practice their reading skills while also challenging them to think more deeply. These books star an anthropomorphic Cake and Monkey who are close friends despite the clear difference in their personalities. They explore concepts of inclusion, imagination, and a lost tooth. Lexile: 260L – 330L
Hi!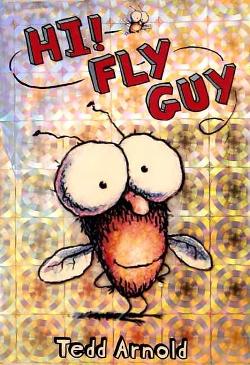 Fly Guy (series) by Tedd Arnold, 2006
The funny story of a boy named Buzz and his pet fly is a go-to for teachers and librarians for reluctant new readers. There are almost twenty books in this series and my son has enjoyed every one. The stories are usually full of imagination, silly antics, and loyal friendship between a boy and his pet. Lexile: 380L/ Fountas & Pinnell: I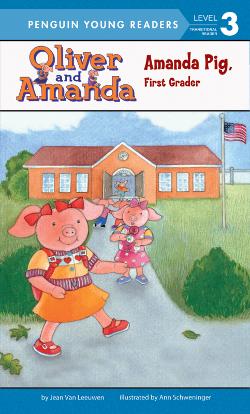 Amanda Pig, First Grader (Oliver and Amanda series) by Jean Van Leeuwen
This adorable story follows Amanda Pig through her first few days of first grade. She is initially disappointed by her struggle to read, but as she practices, her confidence grows and she is elated when she can read her first books. Lexile: 480L

If your little reader is ready for more challenging books, check out Best Books for First Graders
PICTURE BOOKS
Even when children have learned to read on their own, it is still important to read to them.
Reading aloud is not only a wonderful time to bond with your child, but it is an opportunity to share rich vocabulary, model fluency, and introduce books that open their eyes and imaginations to new worlds and books that reflect their own reality.
The below picture books are meant to be read together with a caregiver.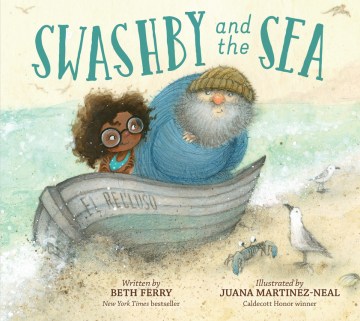 Swashby and the Sea by Beth Ferry; illustrated by Juana Martinez-Neal, 2020
Swashby, a retired captain, prefers to live his life alone with his only friend, the sea. One day his peacefulness is interrupted by an exuberant young girl and her grandmother who move in next door. He tries to convince them to leave him alone with messages in the sand, but when parts of the message are swept away by the ocean, they have an entirely new meaning.
The gorgeous illustrations are perfectly paired with the playful text that provides a whimsical feeling to this sweet tale of intergenerational friendship.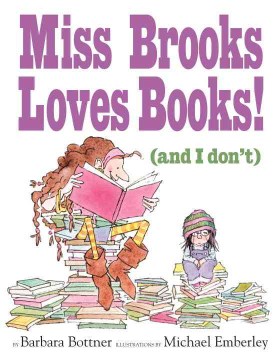 Miss Brooks Loves Books (and I don't)! by Barbara Bottner; illustrated by Michael Emberley, 2010
When a first-grade girl expresses her dislike of books, her exuberant librarian does everything she can to help her find the magic in stories. Full of humor, cartoony illustrations, and the knowledge that there is a perfect book out there for everyone, this is a tale that book lovers and reluctant readers will all enjoy.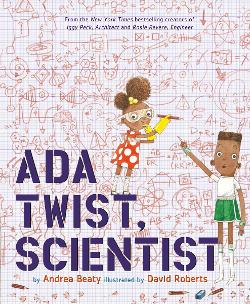 Ada Twist Scientist by Andrea Beaty; illustrated by David Roberts, 2016
The rhyming text tells the story of Ada Twist, a curious little girl who asks questions and creates science experiments to better understand how the world around her works. This is a great story of perseverance and will serve as inspiration to other budding scientists. We love this entire series and also highly recommend Rosie Revere Engineer, Iggy Peck Architect, and Sofia Valdez Future Prez.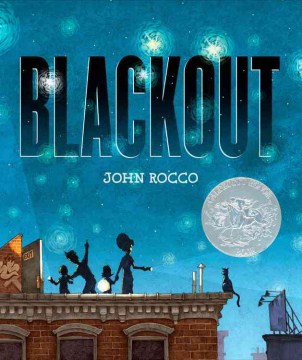 Blackout by John Rocco, 2011
On a hot summer night, a blackout causes a family to abandon their electrical devices and enjoy quality time together. The stunning illustrations playing with light and dark earned John Rocco a Caldecott Honor for this outstanding book.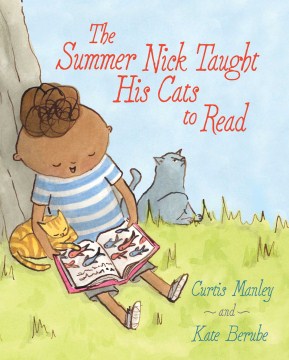 The Summer Nick Taught His Cats to Read by Manley Curtis, 2016
This book makes me laugh every time I read it. Nick loves books so much that he decides to teach his cats to read as well. While Verne eagerly works with Nick, Stevenson, portrayed as a grumpy gray cat, is quite resistant. The charming illustrations comically capture Stevenson's initial displeasure and delightfully reveal his true talent. It's hard to resist this droll story!
Amy Wu and the Perfect Bao by Kat Zhang; illustrated by Charlene Chua, 2019
Amy Wu is one of our favorite new characters! We just adore her exuberant and resilient attitude. In Amy Wu and the Perfect Bao, Amy is determined to make flawless bao like the rest of her family. Even after being disappointed at many failed attempts, she never gives up and finds a solution that allows her to make the perfect bao her own way. There is even a recipe for bao for little chefs to try! Buy It HereBuy It Here
Earth: My First 4.54 Billion Years by Stacy McAnulty; illustrated by David Litchfield, 2017
Our family cannot get enough of the ingenious Our Universe series that is as entertaining as it is informative! A cheerful Earth comically shares her favorite activities including spinning around the sun, introduces readers to her best friend moon, and reminisces about her childhood and how she has changed over billions of years. The child-friendly text makes this an excellent choice for reading aloud and getting children excited to learn more about the planet we call home.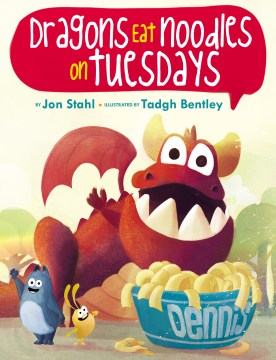 Dragons Eat Noodles on Tuesdays by Jon Stahl; illustrated by Tadgh Bentley, 2019
I don't know who loves this book more, my kids or me! When two monsters argue over how to tell a story, their imaginations come to life for one unique tale featuring a hungry dragon and a brave and clever damsel. It is a fantastic story to inspire future writers. Teachers and parents are not going to want to miss this one!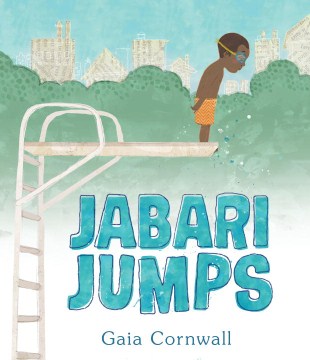 Jabari Jumps by Gaia Cornwall, 2017
Gorgeous illustrations adorn this lovely book on facing your fears. Jabari has just finished his swim lessons and is now ready to tackle the high dive at his local pool. Jabari appears self-assured, but hesitates when it is his turn to climb onto the diving board. Luckily, his wise father is there to give him some sage advice that bolsters his confidence and inspires him to take the plunge!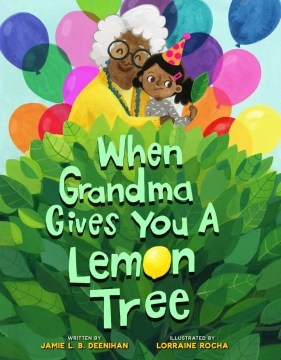 When Grandma Gives You A Lemon Tree by Jamie L. B. Deenihan; illustrated by Lorraine Rocha, 2019⠀⠀⠀⠀⠀⠀
When a little girl receives a lemon tree for her birthday, she is initially disappointed that she didn't get the robot dog, computer, or remote-control car she was hoping for. The plucky protagonist doesn't let it get her down, however, and proceeds to make the best of her situation demonstrating resilience and self-reliance.
This outstanding book uses humorous text and illustrations to engage children and then effortlessly weaves in themes of hard work, patience, and community without being overly didactic. It even includes a lemonade recipe to inspire future entrepreneurs!
The Good Egg by Jory John; illustrated by Pete Oswald, 2019
An adorable egg strives to be perfect and helpful in every way despite his crate mates who are quite naughty. When the pressure of being the good egg causes him to literally crack up, he realizes he needs a little self-care. This amusing book is an excellent reminder that no one is perfect and they shouldn't have to be!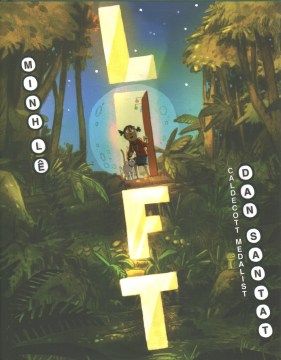 Lift by Minh Le; illustrated by Dan Santat, 2020
This imaginative story is full of wonder and awe. Iris loves pushing the elevator buttons in her apartment building until one day, her little brother steals her glory and pushes the button himself. After finding a discarded button in the trashcan of her lobby, Iris tapes it to her closet door and discovers that pushing the button brings her to a world full of imagination. With tons of eye-catching details from Caldecott winning illustrator, Dan Santat, children are going to want to reread this story multiple times and with its heartfelt ending, parents are going to love it just as much!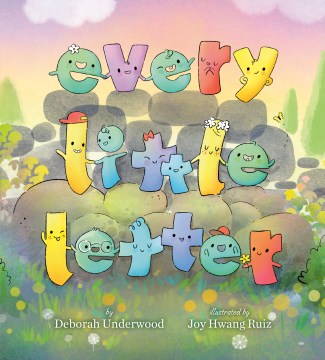 Every Little Letter by Deborah Underwood; illustrated by Joy Hwang Ruiz, 2020
Filled with clever word-play, delightfully charming illustrations, and a message of embracing differences, Every Little Letter is an extraordinary read aloud.
In a city of letters surrounded by walls, a curious letter h discovers an opening in the barrier and finds a new friend on the other side. When a big H sees, however, the gap is sealed. The little h doesn't give up and ingeniously finds ways to communicate with the other letters until they finally come together on top of the wall. The big letters slowly join them learning to overcome their fear forming words including "courage", "kindness", "trust," and ultimately "love."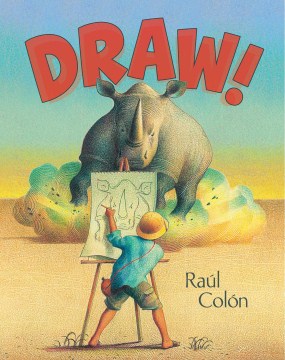 Draw! By Raul Colon, 2014
Named one of New York Times Best Illustrated Books, Draw, is a beautiful celebration of creativity and art. This wordless wonder stars a boy whose asthma causes him to be confined to his room. Inspired by books on Africa, he fills his sketch pad with animals that come to life in his imagination.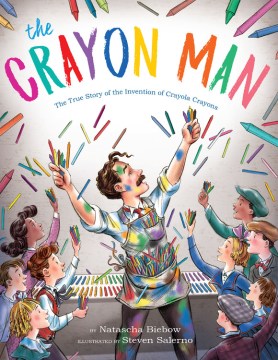 The Crayon Man: The True Story of the Invention of Crayola Crayons by Natascha Biebow; illustrated by Steven Salerno.
The Crayon Man is the true story of the invention of one of our favorite everyday items, Crayola Crayons! Through hard work and persistence, Edwin Binney found a way to bring the beautiful colors of nature into children's hands.
Superbly detailed illustrations capture his journey and the informative text is perfect for sharing with a wide age-range of readers. Additional text boxes provide more scientific descriptions of the process and photographs in the back matter show the method of manufacturing crayons today.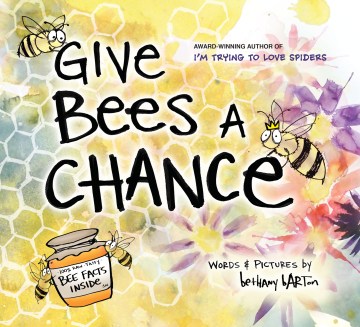 Give Bees A Chance by Bethany Barton, 2017
Bethany Barton has discovered the perfect mix of information, humor, and clever illustrations to bring nonfiction books alive to children. Give Bees A Chance skillfully presents interesting facts about bees with a comical dialogue between an unseen narrator and a boy who is terrified of bees.
For more suggestions, check out the below lists.