Easy Readers are transitional books that help emergent readers build literacy skills. This genre is packed with wonderful books, but they range greatly in their reading level, so it is often difficult to identify which one is best for your budding reader. Each publisher uses their own assessment to designate which book is a Level 1 Reader vs. Level 2 Reader, etc. so unfortunately there is no real consistently. For this reason, I put together a list of a few books that really are easy to read and will hopefully help new readers build important skills.
When choosing an Easy Reader for your child, here are a few things to look for:
Rhyming or repetitive word patterns

Simple sentences

Pictures that give visual clues to help explain what words mean

New words added slowly in the story and repeated often
Enjoy the books!
*This post contains affiliate links. To read my full disclosure CLICK HERE.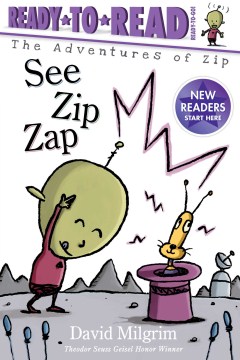 See Zip Zap by David Milgrim, 2018
This book is perfect for children who have just learned their sight words and are ready to tackle their first story.
Zip is a little, green alien, who entertains others by making items magically appear. When his brother, Bip, falls asleep watching his show, Zip accidentally zaps a monster into existence that chases the siblings creating quite the adventure.
It is amazing how David Milgrim is able to create such an entertaining story with such limited text. There are simple sentences that feature site words, rhymes, repetition, and engaging illustrations that provide pictorial clues. This was the perfect book to help my son gain confidence as a reader and get excited to read even more. Fountas & Pinnell: E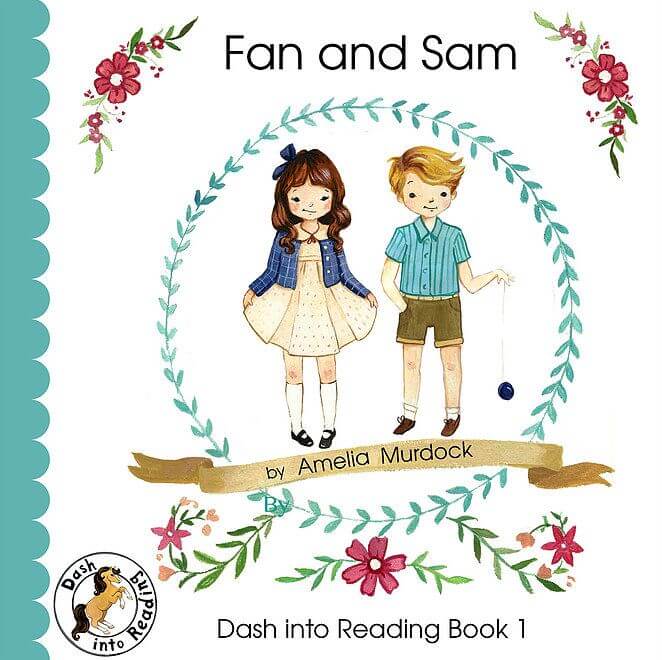 Dash Into Reading series by Amelia Murdock, 2017
It is rare to find an easy reader series so beautifully illustrated. Dash Into Reading is a new series of books that focus on incorporating rhyming words with a few simple site words. These books have a charming, wholesome feel to them that both parents and children will enjoy.
Frog Meets Dog (Frog and Dog series) by Janee Trasler, 2020
Part of Scholastic's new Acorn line, which combines easy-to-read text with color illustrations and engaging storylines, Frog Meets Dog is an excellent choice for brand new readers. Very simple words many of which rhyme, follow a dog who tries to befriend a trio of frogs. The action-packed illustrations contain several instances of physical humor, which will most likely result in giggles from readers. Drawing instructions and a writing prompt are also included in the back for extra fun.Lexile 50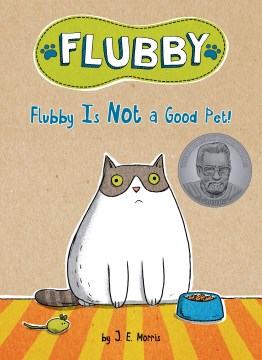 Flubby Is Not a Good Pet by J.E. Morris, 2019
Flubby is a lovable, lazy cat who prefers to do things her own way. When her owner attempts to teach her tricks, they both discover that there is more to being a good pet than following directions. The simple sentences are perfectly paired with amusing illustrations that skillfully capture Flubby's comical expressions. Lexile 140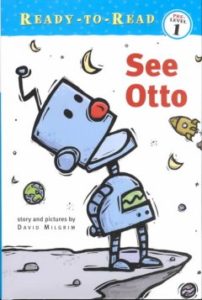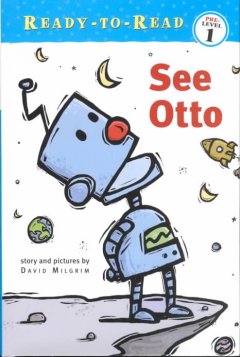 The Adventures of Otto series by David Milgrim, 2002
These delightful books star a robot named Otto. They are full of action and comical illustrations that not only provide clues to the more difficult words in the text, but also make my son laugh out loud.
The simple text is mostly made up of site words and new vocabulary is added slowly and repeated often. One installment in the series, Go Otto Go (2016) won a Geisel Honor for one of the best Easy Readers of the year. This series is engaging, entertaining, and absolutely perfect for new readers! Lexile 80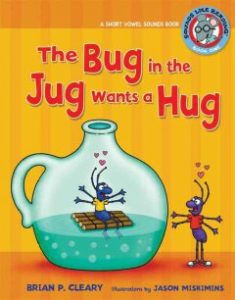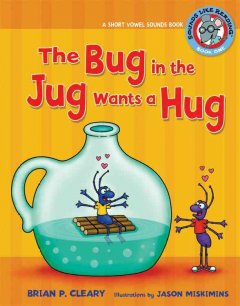 The Bug in the Jug Wants a Hug (Sounds Like Reading series) by Brian Cleary, 2009
Each book in this series concentrates on different vowel sounds. The two-page spreads follow the same format with a list of three words on the left-hand side with pictures underneath to help guide the reader. There is a big, bold illustration on the right-hand side of the page with one sentence underneath using the showcased words on the previous page. There is no real story here, but the use of rhymes, repetition, illustrations, and phonics makes this series a fun way for children to practice their reading skills.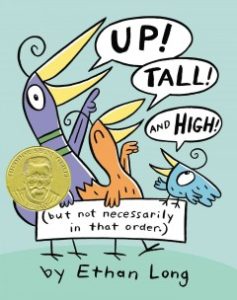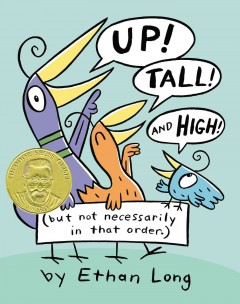 Up! Tall! and High! by Ethan Long, 2012
It is easy to see why this book won the Geisel Award for the best Early Reader the year it was published. Simple phrases such as "I am tall" are repeated, but the illustrations help move the story along. For example, the first chapter features a small bird stating, "I am tall." Then a bigger bird comes along and claims, "I am tall." Using a fun lift-the-flap feature, another bird is revealed to be the tallest, but wearing stilts. There are three short stories in all that follow the same type of clever humor that should make children giggle while they build confidence by repeating mostly simple one syllable words.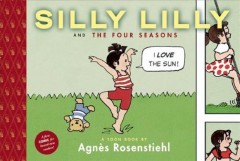 Silly Lilly and the Four Seasons (Toon Book series) by Agnes Rosenstiehl, 2008
This beginning reader uses panels to showcase a little girl named Lily enjoying different activities during fall, winter, spring, and summer. Each season has its own short story with mostly easy to read words appearing in speech bubbles. This is a nice introduction to the comic book style for beginning readers. Guided Reading Level C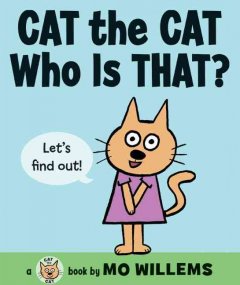 Cat the Cat Who Is That (series) by Mo Willems, 2010
Using large, bolded text along with speech bubbles, an exuberant cat introduces the reader to her friends: a mouse, a duck, and a fish. When the cat comes across a strange looking alien-like creature, the narrator asks the question repeated throughout the book, "Cat the Cat, who is THAT?", which the cat responds, "I have no idea." After some deliberation, the cat shouts, "It's a NEW friend!" A great start to a series for children who can't yet read Elephant and Piggie on their own, but crave a similar type of humor. Guided Reading Level D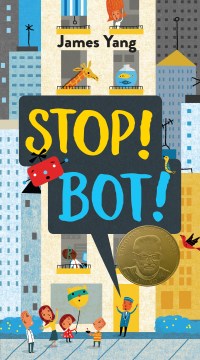 Stop! Bot! by James Yang, 2019
Winner of the 2020 Theodor Seuss Geisel Award for most distinguished American book for beginning readers, Stop! Bot! combines large pictures with easy-to-read dialogue to create an entertaining story for new readers. Children will love following along as a boy's drone unexpectantly flies up a tall building and the residents each try to catch it using surprising techniques.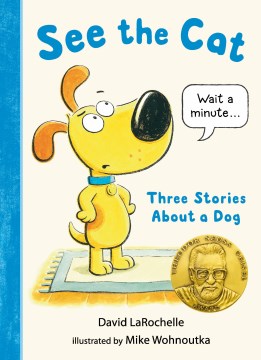 See the Cat: Three Stories About a Dog by David LaRochelle; illustrated by Mike Wohnoutka, 2020
This witty book is full of humor and fun and, best of all, perfect for emerging readers! A dog politely disagrees with an unseen narrator about what is occurring in this story with hilarious results! The short sentences are made up of mostly sight words and words that can be sounded out while the brief dialogue and the expressive illustrations allow children to practice reading with expression. It was no surprise that this lovable story won the 2021 Geisel Award! Guided Reading Level: G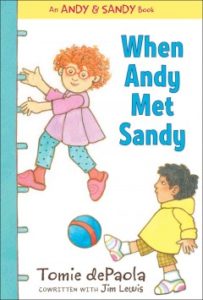 When Andy Met Sandy (Andy and Sandy series) by Tomie dePaola, 2016
This is a quiet story about making a new friend. Two children play separately in a park, each convinced the other wants to play by themselves. When they both spot the seesaw, they take a risk and play together forming a new friendship.
Tomie dePaola is a celebrated children's author and illustrator who recently delved into Easy Readers with this series. The scarce text is to the point and easy to follow. The soft watercolor illustrations give visual hints to help beginning readers identify new words. There is also a nice underlying message of friendship that leaves the reader with a smile.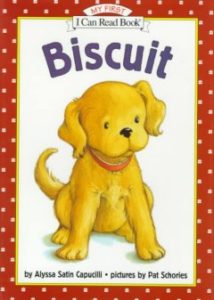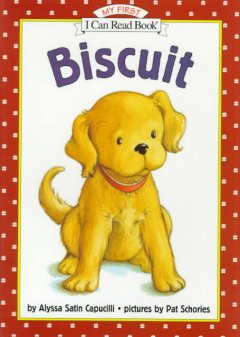 Biscuit (Biscuit Easy Reader series) by Alyssa Satin Capucilli, 1996
Biscuit is an adorable yellow puppy getting ready for bedtime in this first installment of a very popular series of books that help children practice their reading skills.
The storylines of the Biscuit books are simple, but there are many repeating words presented in different ways throughout the books to keep them interesting to new readers. This series is over twenty years old, but new books are still being published due to its popularity. It is a must have for the kindergarten classrooms in my school.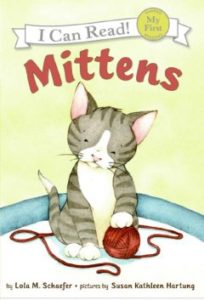 Mittens (series) by Lola M. Schaefer, 2006
A kitten named Mittens is welcomed to his new home by a boy name Nick. Mittens initially feels scared and searches for a place to feel safe. The soft hues of the illustrations match the gentle feel of the story. Short sentences with large font make this a nice story for emergent readers.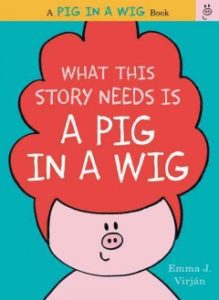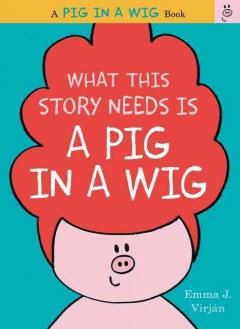 What This Story Needs Is a Pig In A Wig (series) by Emma J. Virjan, 2015
This book is such a fun and silly way to for children to practice a variety of vowel sounds. I debated about putting it on this list because there are a few words that are difficult like "blouse", but it includes so many different combination of vowel sounds, I think it could be really great practice for emerging readers.
Rhyming words are paired together and there are visual clues to help readers identify new words. This is a comical story that has a sweet message of friendship and inclusion that makes it a standout in this genre.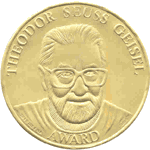 While honorees can range in reading level, books that receive the Theodor Seuss Geisel Award are also excellent choices. This award, named after Dr. Seuss, is given annually to the author and illustrator of the most distinguished book for beginning readers.
You can find a list of past winners and honor books HERE.