*This post contains affiliate links. To read my full disclosure CLICK HERE.
TRANSITIONAL CHAPTER BOOKS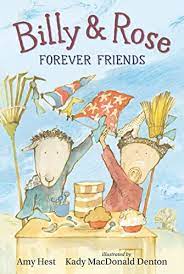 Billy & Rose: Forever Friends by Amy Hest; illustrated by Kady MacDonald Denton
Billy and Rose might like different things and disagree at times, but they are true friends who support each other through life's little ups and downs. Four short chapters follow their friendship through the seasons. Charming colored illustrations break up the delightful text, making this a very approachable transitional chapter book for newer readers.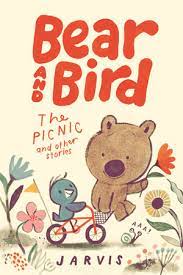 Bear and Bird: The Picnic and Other Stories by Jarvis
This is an adorable new series filled with humor, charming illustrations, and characters that show kindness and compassion. With four short chapters to build readers' confidence, the story follows best friends Bear and Bird through several amusing mishaps that make this book a true delight.
Henry and Mudge and the First Book of Their Adventures (series) by Cynthia Rylant; illustrated by Sucie Stevenson
This unforgettable easy reader has withstood the test of time and is still a go-to for many classroom teachers. The story of a lonely boy who finds friendship with a large dog is relatable and many children will enjoy reading about the twosome's many adventures together. Lexile: 460L/ Fountas & Pinnell: J
Poppleton (series) Scholastic Acorn Line by Cynthia Rylant; illustrated by Mark Teague
Three classic stories of a city pig who moves to the country are combined in this new release that also includes drawing instructions and a writing prompt. The original Poppleton stories were written decades ago, but there is a quiet charm to these stories that make them feel timeless. Lexile: 460L/ Fountas & Pinnell: J
King & Kayla and the Case of the Missing Dog Treats (series) by Dori Hillestad Butler; illustrated by Nancy Meyers
Kayla excitedly makes dog treats for her friend's new puppy, but when three go missing, she suspects her own pet, King. Told from King's point of view, he and Kayla work together to find the real culprit. Many readers will enjoy following the charming characters as they find clues and solve mysteries. Lexile: 440L / Fountas & Pinnell: L
Cornbread & Poppy by Matthew Cordell, 2022
While opposites in many ways, Cornbread and Poppy are the best of friends. When carefree Poppy doesn't collect enough food for the winter, loyal Cornbread agrees to venture up the mysterious mountain outside their village to harvest food. Full of charming illustrations, this delightful friendship story has the perfect amount of drama and cuteness that kept my daughter engaged and excited to read. Guided Reading Level: L
Rabbit and Robot: The Sleepover by Cece Bell
Award-winning author Cece Bell's quirky sense of humor fills the pages of this comical easy reader series starring two unusual best friends. Though Rabbit and Robot are both excited for their first sleepover, they quickly discover that they each have strong opinions on the activities for the night and must find a way to navigate the complexities of friendship. Lexile: 490L/ Fountas & Pinnell: L
Barkus by Patricia MacLachlan; illustrated by Marc Boutavant
Large colorful pictures accompany short chapters that share the adventures of a girl and her large brown dog. Animal lovers will particularly enjoy following along as Barkus meets his new family, sneaks into school, celebrates his birthday, and makes a new friend. Guided Reading Level: L
Mercy Watson series by Kate DiCamillo; illustrated by Chris Van Dusen
Kate DiCamillo and Chris Van Dusen have made quite a name for themselves in the world of children's literature and their collaboration on the Mercy Watson series is truly outstanding. I have yet to meet someone who doesn't love this charismatic porcine. The irresistible illustrations immediately draw the reader in and the engaging text is such a joy to read. Lexile: 450L/ Fountas & Pinnell: L
National Geographic Easy Reader Series
Filled with stunning photography, National Geographic has created an easy reader series that helps children build important literacy skills while also learning about the world around them. Each level contains different nonfiction elements such as table of contents, headings, captions, and sometimes diagrams. Learn more about the National Geographic Easy Reader Series HERE.
CHAPTER BOOKS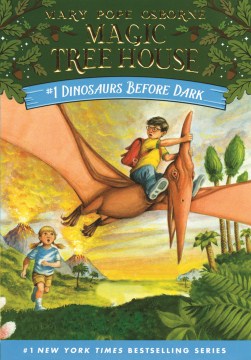 Dinosaurs Before Dark (The Magic Tree House series) by Mary Pope Osbourne; illustrated by Sal Murdocca
When a mysterious tree house appears in Jack and Annie's backyard, they can't resist exploring it. They quickly learn the tree house is a time machine that transports them back to the age of the dinosaurs. This entertaining series is a perfect mix of history and fantasy wrapped into an adventure story. Lexile: 510L / Fountas & Pinnell: M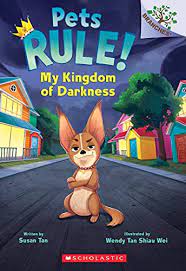 Pets Rule! My Kingdom of Darkness by Susan Tan; illustrated by Wendy Tan Shiau Wei
This hilarious new series had both my daughter and I giggling. The Chin family has recently adopted what they think is an adorable chihuahua puppy, but Ember believes he is an evil overlord destined to rule the world. Black and white illustrations paired with comical text follow Ember on his journey of world domination as he faces his greatest nemesis yet, a sinister squirrel.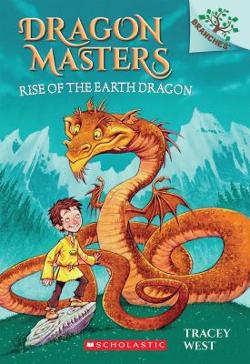 Rise of the Earth Dragon (Dragons Masters series) by Tracey West; illustrated by Graham Howells
Filled with an adventurous story line starring a group of diverse children who are charged with connecting with and training dangerous dragons with special talents, this is a go-to for reluctant readers. Black and white pictures are paired with large print making this early chapter book series appear less intimidating to young readers. Lexile: 510L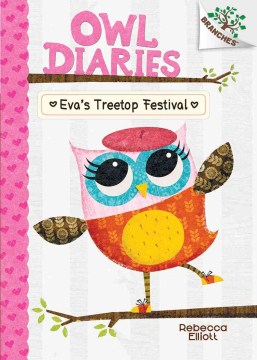 Eva's Treetop Festival (Owl Diaries series) Scholastic Branches Line by Rebecca Elliott
Eva is a fashionable young owl who is excited to plan her school's first ever treetop festival. She initially tries to do all the work herself, but learns the value in collaborating with friends. The diary format mixed with large, colorful pictures, makes this transitional chapter book very accessible to young readers. With tons of visual appeal, a plucky protagonist, and amusing wordplay, it's no wonder this series is so popular. Lexile: 560L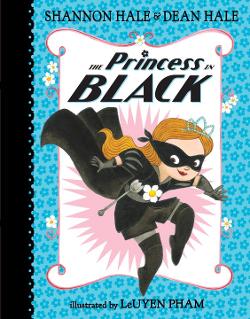 The Princess in Black (series) by Shannon Hale; illustrated by LeUyen Pham
This popular series stars Princess Magnolia who may appear poised and proper, but she harbors a secret identity as the Princess in Black. This daring girl bravely faces evil-doers and readers will relish in reading about the self-reliant heroine. Color illustrations break up the longer text making this chapter book more approachable for newly independent readers. Lexile: 510L/ Fountas & Pinnell: L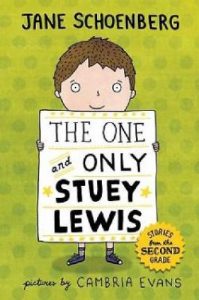 The One and Only Stuey Lewis: stories from the second grade (Stuey Lewis series) by Jane Schoenberg; illustrated Cambria Evans

From the Publisher
So what if Stuey isn't the world's best reader, is only allowed to trick or treat around one block, doesn't get to play on his soccer dream team, and has to put up with the most annoying girl on the planet. Somehow Stuey always makes life work and when he puts his mind to it, he can survive anything–even second grade. This hilarious collection of linked short stories, interspersed with sprightly line drawings, marks an impressive chapter book debut.
Lexile: 410L/ Fountas & Pinnell: M
Hello Nebulon! (Galaxy Zack series) by Ray O'Ryan; illustrated by Jack Colin
In the futuristic world of 2120, Zack is leaving his home planet of Earth to start school on the planet of Nebulon. There are very few science fiction stories for newly independent readers and with futuristic gadgets combined with a relatable story of the anxieties associated with moving, many children will be excited to explore this series. Lexile: 580L / Fountas & Pinnell: M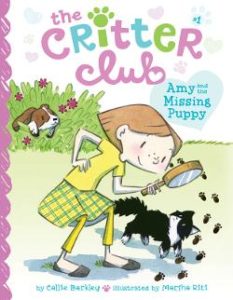 Amy and the Missing Puppy (Critter Club series) by Callie Barkley; illustrated by Marsha Riti
From the Publisher
Introducing The Critter Club! Amy and her friends solve a canine caper in this start to a pet-friendly illustrated chapter book series.
It's Spring Break in Santa Vista, and everyone has big plans…everyone except for Amy, that is! As her best friends head out of town on exciting adventures, Amy resigns herself to helping out at her mom's vet clinic. At least she'll be around cute animals! But when Santa Vista's cold and elusive millionaire, Marge Sullivan, brings her puppy Rufus for a check-up, Amy encounters an unexpected mystery. After her friends return home, the girls get to the bottom of what happened to Rufus—and discover a way to help other lost and lonely animals in their town.
With easy-to-read language and illustrations on almost every page, The Critter Club chapter books are perfect for beginning readers.
Lexile: 490L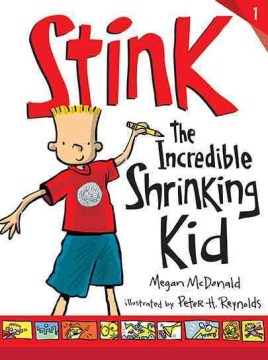 Stink The Incredible Shrinking Kid (series) by Megan McDonald; illustrated by Peter H. Reynolds
Stink Moody is already the shortest kid in the entire second grade and he is now convinced that he is shrinking. This humorous book follows him as shares comical exploits with his sister, Judy, and learns about James Madison, the shortest president. Lexile: 540L/ Guided Reading Level: M/ Fountas & Pinnell: M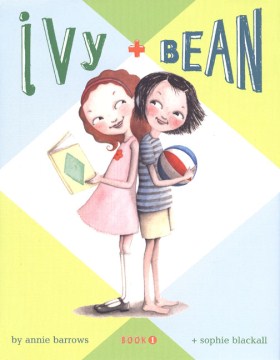 Ivy and Bean (series) by Annie Barrows; illustrated by Sophie Blackall
New neighbors Ivy and Bean form an unlikely friendship when they bond over acts of mischief. It's hard not to love this lively duo and giggle over their humorous hijinks. Lexile: 580L / Guided Reading Level: M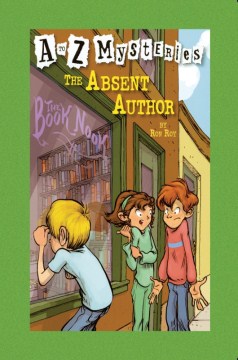 The Absent Author (A to Z Mysteries series) by Ron Roy
It's difficult to find a good mystery for young children and this series was always a huge hit with my students. In the first installment of this popular series, three friends are looking forward to getting their book signed by their favorite author, but when he never shows up, they try to discover what happened to him. Lexile: 510L / Fountas & Pinnell: N
We also love Ron Roy's other series: The Calendar Mysteries and The Capital Mysteries.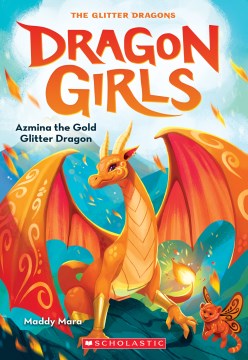 Azmina the Gold Glitter Dragon (Dragon Girls) by Maddy Mara, 2021
Azmina has just moved to her new house when she feels a sudden pull into the forest where she is transported to a magical land and transformed into a dragon. There, she meets two other girls who band together to save the enchanted land from an evil force. This fantastical friendship story is sure to find an audience with many! Lexile: 570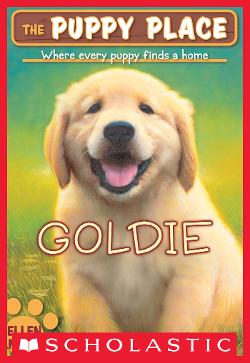 Goldie (Puppy Place series) by Ellen Miles
Animal lovers will adore this heartwarming series about a family who fosters puppies while they are waiting to be adopted.
In the first book, Goldie, Charles and Lizzie try to convince their parents to get a pet and the family agrees to try fostering to see if they are ready for pet ownership. Each subsequent book introduces readers to a new dog. These books really couldn't be cuter! Lexile: 590L/ Fountas & Pinnell: M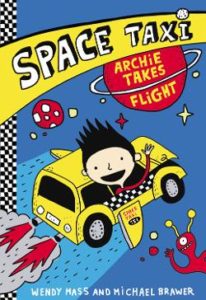 Archie Takes Flight (Space Taxi series) by Wendy Mass; illustrated by Elise Gravel
From the Publisher
Archie Morningstar learns a big family secret and helps save the universe. All before breakfast! It's not every day a regular kid like Archie gets to wake up at midnight. But today is Take Your Kid to Work Day, and Archie is finally allowed to ride along in his dad's taxi cab. He has been waiting eight years, eight months, and eight days for this moment to arrive. But he's about to discover his dad is no ordinary cab driver…In fact, he drives an intergalactic space taxi! All night long, he shuttles aliens from one corner of the universe to another. And being a space taxi copilot is no easy task: Archie must steer them into wormholes, keep them from crashing into planets, deal with a very unusual cat…and save the universe from an evil mastermind!
Space Taxi marks the debut of a brand new chapter book series from New York Times bestselling author Wendy Mass and teacher Michael Brawer, filled with humor, adventure, and plenty of science to impress your friends and teachers!
Fountas and Pinnell O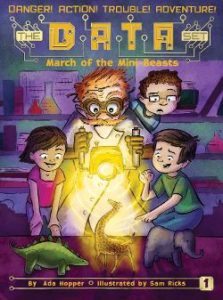 March of the Mini Beasts (The D.A.T.A. Set series) by Ada Hopper
From the Publisher
Danger! Action! Trouble! Adventure! Introducing The DATA Set, a brand-new chapter book series for young readers.
What would happen if your next-door neighbor were a mad scientist? Gabe, Laura, and Cesar live on a quiet cul-de-sac. They are the whiz kids of Newtonburg Elementary and each specializes in their own subject. In fact, everyone in town lovingly refers to them as the Data Set. However, their quiet days of learning take a sudden turn for the exciting when they meet Dr. Gustav Bunsen—a mad scientist who throws the kids into a wild spiral of adventures. When Dr. Bunsen's latest invention, a growth ray, hits several tiny animal toys, the mini beasts don't just grow, they come to life! The DATA Set love their new tiny pets…until they continue to grow. Now there's an actual elephant in the room—not to mention a chimp, a giraffe, and a dinosaur. When the beasts wander off, it's up to the DATA Set to track them down. But will they catch the mini beasts before they grow big enough to start trouble in town? With easy-to-read language and illustrations on almost every page, The DATA Set chapter books are perfect for beginning readers!
Lexile: 520L/ Fountas & Pinnell: P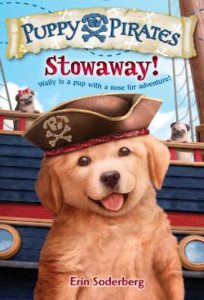 Stowaway! (Pirate Puppies series) by Erin Soderberg,

From the Publisher
Ahoy, mateys! Set sail for fun and adventure on a pirate ship full of puppies!
Wally is a pup with a nose for adventure. So when he stumbles onto a ragtag group of puppies who sail the seven seas, he knows he has to join the fun! But if pirates are supposed to be gruff and tough, this furry little guy isn't exactly first-mate material. Does he have what it takes to become a full-fledged puppy pirate?
Two perennial kid favorites–dogs and pirates–combine in this new chapter-book series perfect for fans of the Rainbow Magic series and all things piratey!
Lexile: 540L/ Fountas & Pinnell: M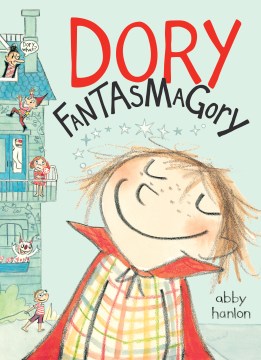 Dory Fantasmagory by Abby Hanlon, 2015
As an exuberant little sister with a wild imagination, Dory is often ignored by her two older siblings. The lively text and illustrations follow Dory through her many comical antics attempting to get the attention of her family. Lexile 650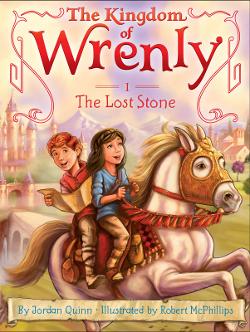 The Lost Stone (The Kingdom of Wrenly series) by Jordan Quinn; illustrated by Robert McPhillips, 2014
Fantasy lovers will love getting lost in the magical realm of Wrenly. When the queen loses a beloved necklace, eight-year-old Prince Lucas joins his friend Clara on a quest to visit various territories filled with mythical creatures including dragons, fairies, trolls, mermaids, and witches to find the special jewel.
Lexile 570/ Fountas & Pinnell N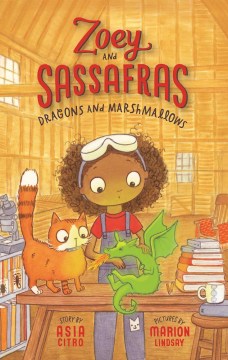 Dragons and Marshmallows (Zoey and Sassafras series) by Asia Citro; illustrated by Marion Lindsay
Zoey dreams of being a scientist like her mom and when she discovers she is able to see magical creatures, she gets a chance to put her scientific knowledge to work sooner than she thought. Each story in this outstanding series follows Zoey and her cat Sassafras as they use science to help magical creatures solve their problems. Lexile: 640L / Guided Reading Level: N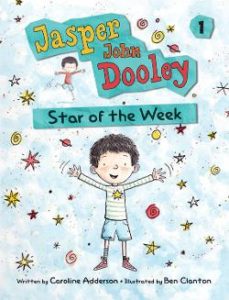 Jasper John Dooley Star of the Week (series) by Caroline Adderson; illustrated by Ben Clanton
From the Publisher
At last, it's Jasper John Dooley's turn to be Star of the Week at school. Unfortunately, nothing turns out as planned. His Show and Tell falls flat. A new baby at his friend Ori's house steals his spotlight. And worst of all, the new baby has only-child Jasper wondering if his own family is too small. When Jasper decides to build himself a brother (named Earl) out of wood, Earl's schoolyard shenanigans send Jasper to the principal's office! But with a little help from family and friends, things turn around for Jasper. And by the time Friday arrives, he is once again sure that he has what it takes to be a star.
Jasper John Dooley: Star of the Week is the first in a series of chapter books featuring a charismatic and funny central character. An only child with active, loving parents (and a most impressive lint collection), Jasper John Dooley is a true original.
Lexile: 570L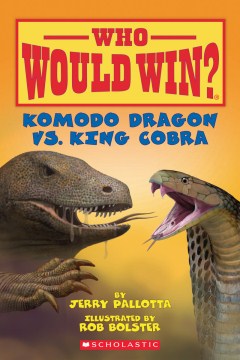 Who Would Win series by Jerry Pallota
This entertaining series is perfect for reluctant readers or any child who loves to learn about animals. Facts about some of the world's most dangerous animals are presented with photographs and lifelike illustrations. The animals are paired against each other and using the facts presented on the creatures' size, intellect, and ability, children try to predict the outcome of the showdown. Lexile: 620L / Fountas & Pinnell: P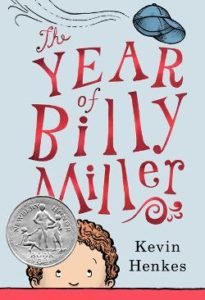 The Year of Billy Miller by Kevin Henkes
From the Publisher
When Billy Miller has a mishap at the statue of the Jolly Green Giant at the end of summer vacation, he ends up with a big lump on his head. What a way to start second grade, with a lump on your head! As the year goes by, though, Billy figures out how to navigate elementary school, how to appreciate his little sister, and how to be a more grown up and responsible member of the family and a help to his busy working mom and stay-at-home dad. Newbery Honor author and Caldecott Medalist Kevin Henkes delivers a short, satisfying, laugh-out-loud-funny school and family story that features a diorama homework assignment, a school poetry slam, cancelled sleepovers, and epic sibling temper tantrums. This is a perfect short novel for the early elementary grades.
A 2014 Newbery Honor Book/ A New York Times Bestseller
Lexile: 620L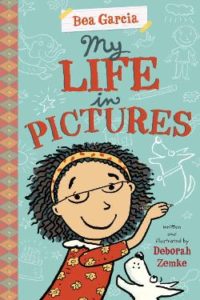 My Life in Pictures by Deborah Zemke
From the Publisher
Bea Garcia draws everything all the time – she's an artist! But then her first and only best friend, Yvonne, moves to Australia. Bea has to draw what she wishes didn't happen – her best friend waving good-bye. What could be worse? What's worse is the boy who moves in next door. He is not like Yvonne at all – he's a monster! Bert burps, buzzes, and calls Bea names. He ruins everything and he even tries to steal her book of drawings! Luckily Bea knows that her pencil has power and figures out just what to draw to put that monster in his place. Funny, fresh, and imaginative, this quirky tale of friendship and family will inspire readers to pick up a pencil and tell their own lives in pictures.
Lexile: 670L
Captain Awesome to the Rescue (series) by Stan Kirby; illustrated by George O'Connor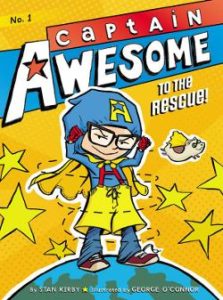 Comic book lovers will find a kindred spirit in Eugene McGillicudy. Full of imagination, Eugene uses his superhero alter ego, Captain Awesome, to navigate the ins and outs of a new school while also tracking down a missing pet hamster. Humor abounds in this rollicking story.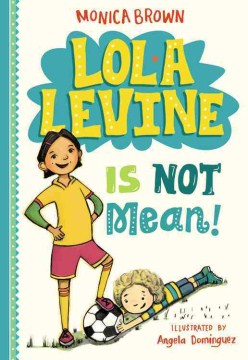 Lola Levine is Not Mean (series) by Monica Brown; illustrated by Angela Dominguez
Lola Levine is a bicultural second-grader who loves playing soccer, writing in her diary, and spending time with her family and best friend, Josh. When she accidentally hurts another classmate during a soccer game, she is teased for being mean. Luckily, Lola's supportive family helps her through this tough time. With well-developed characters and a realistic school scenario, many children will be attracted to this engaging series. Fountas & Pinnell: M
GRAPHIC NOVELS: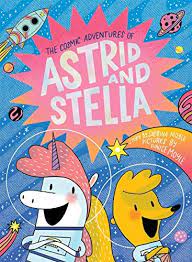 The Cosmic Adventures of Astrid and Stella by Hello Lucky, 2022
Colorful illustrations match the cheerful feel of these two best friends who can do anything together! With their mantras of "We can do hard things" and "Progress not perfection," these two quirky characters can take on the world and then some as they zoom around the universe experiencing one stellar adventure after another.
Sir Ladybug by Corey R. Tabor, 2022
Once again, the two-time Geisel Award winning author and illustrator Corey R. Tabor works his magic with a new easy reader series filled with humor and heart. Sir Ladybug and his two loyal companions, a snail and a roly-poly bug, travel the countryside helping any insect in need. With plenty of amusing dialogue and themes of teamwork and resilience, there is a lot to enjoy about this new series!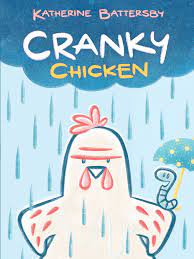 Cranky Chicken by Katherine Battersby, 2021
This seriously silly story has been on repeat at our house. Both my 7 year-old daughter and 10 year-old son can't get enough of the hilarious hijinks of Cranky Chicken! In the classic case of opposites attracting, a friendly outgoing worm befriends a very grumpy chicken. It is so downright entertaining to watch their friendship bloom over three comical chapters.
We are also enjoy the sequel Cranky Chicken: Party Animals.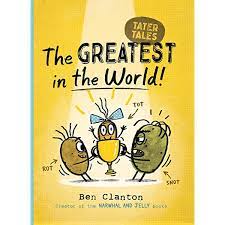 The Greatest in the World (Tator Tales series) by Ben Clanton
We love Ben Clanton's picture books Rot, The Cutest in the World and Rot, the Bravest in the World, so we were thrilled to see a new chapter book starring this lovable character. This silly story about the sibling rivalry between two mutant potatoes is absolutely hilarious. Filled with funny puns, this book is spudtacular!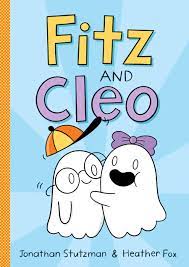 Fitz and Cleo by Jonathon Stutzman; illustrated by Heather Fox, 2022
Our family has enjoyed everything that Jonathon Stutzman and Heather Fox have created and Fitz and Cleo is no exception. When sibling ghosts Fitz and Cleo discover a cat in their attic, hilarious hijinks ensue as they experience the trials and tribulations of owning a pet. The illustrations could not be cuter, while the text is laugh-out-loud funny!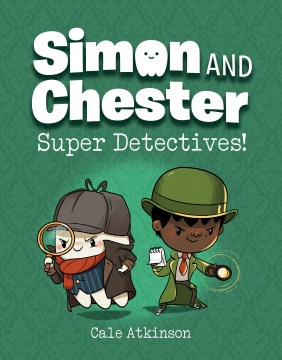 Simon and Chester Super Detectives (series) by Cale Atkinson, 2021
My son could not love this book more! Sir Simon, a ghost with a big personality, teams up with his friend, Chester, a boy with a big imagination, to solve mysteries around their house. Cale Atkinson's expressive illustrations are absolutely hysterical and my son loved the droll text so much that he started quoting funny lines from the book. This is such a fun one with tons of kid appeal! Lexile: 530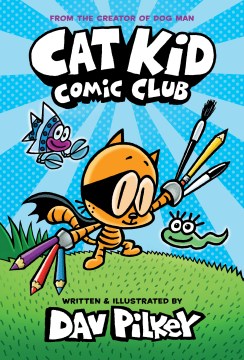 Cat Kid Comic Club by Dav Pilkey, 2020
This hysterical new series stars a cat and his sidekick who form a club to teach a class of young frogs how to make a comic. While it is completely zany, it is also packed with kid appeal and helpful advice about the creative process.
The parent advising the club is initially shocked and disappointed with some of the ridiculous story lines the students come up with, but he comes to understand that kids need a little freedom to create and explore topics that interest them. With a variety of comic formats and inspirational ideas, I have no doubt that this humorous graphic novel will motivate budding writers to pick up their own pencils and get writing!
My son could not put this book down and it had our entire family laughing out lou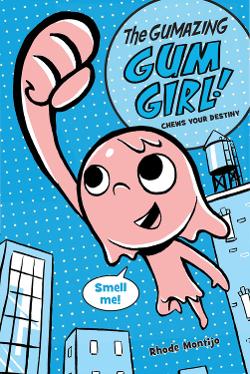 Gumazing Gum Girl: Chews Your Destiny by Rhode Montijo, 2013
Gabby Gomez loves chewing gum so much she eventually turns into it! She uses her new sticky form to transform herself into a superhero who helps those in need. This action-packed story is full of humor and a ton of fun! Lexile: 580
You may also like: