*This post contains affiliate links. To read my full disclosure CLICK HERE.
Best Books for 3rd Graders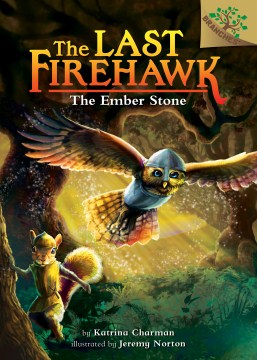 The Ember Stone (The Last Firehawk series) by Katrina Charman
Tag is a young owl training to become a protector of his magical forest. When his land is threatened by the evil vulture, Thorn, Tag and his friend Skyla embark on an important mission to retrieve a magical stone whose power can save or destroy them. Children who love fantasy and adventure will be drawn to this suspenseful new chapter book series. Lexile: 560L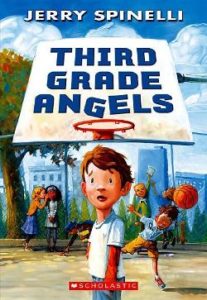 Third Grade Angels by Jerry Spinelli; illustrated by Jennifer Bell, 2014

From the Publisher
George, aka "Suds," has just entered third grade, and he's heard the rhyme about "first grade babies/second grade cats/third grade angels/fourth grade rats," but what does this mean for his school year? It means that his teacher, Mrs. Simms, will hold a competition every month to see which student deserves to be awarded "the halo" – which student is best-behaved, kindest to others, and, in short, perfect.
Suds is determined to be the first to earn the halo, but he's finding the challenge of always being good to be more stressful than he had anticipated. Does he have to be good even outside of school? (Does he have to be nice to his annoying little sister?) And if Mrs. Simms doesn't actually see him doing a good deed, does it even count? A warm, funny return to elementary school from master storyteller Spinelli.
Lexile: 390L Buy It Here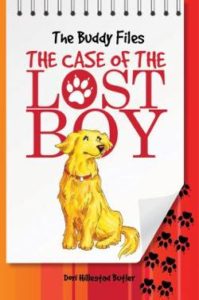 The Case of the Lost Boy (The Buddy Files series) by Dori Hillestad Butler; illustrated by Jeremy Tugeau, 2010
From the Publisher
"My name is King. I am a dog. I am also a detective."
King has a very big mystery to solve. His family is missing, and he's been put in the P-O-U-N-D. Why doesn't his beloved human (Kayla) come to get him? When King is adopted by Connor and his mom, things get more confusing. The new family calls him Buddy! And just as Connor and Buddy start to get acquainted, Connor disappears! Buddy (aka King) has big problems to solve, but with some help from his friend Mouse (a very large dog) and the mysterious cat with no name, he shows what a smart, brave dog can do.
Mystery fans and dog lovers will be swept up in Dori Hillestad Butler's funny, satisfying story… and left eager for Buddy's next adventure.
Lexile: 450L/ Guided Reading Level: L Buy It Here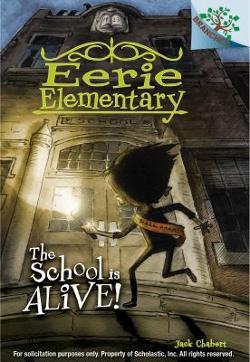 The School is Alive (Eerie Elementary series) by Jack Chabert; illustrated by Sam Ricks
When Sam Graves is chosen as hall monitor, he has no idea that the job also includes keeping students safe from the sinister school building that is trying to eat them! Fans of spooky stories will want to gobble this one up! Lexile 600/ Reading Level N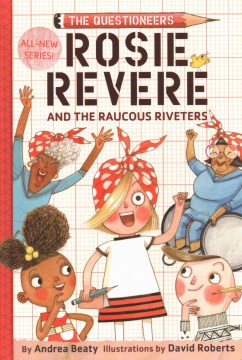 Rosie Revere and the Raucous Riveters (Questioneers series) by Andrea Beaty; illustrated by David Roberts, 2018
The creative star of the best-selling picture book Rosie Revere Engineer is back in her very own chapter book. Rosie and her friends Iggy Peck and Ada Twist, work together to build a contraption to help a friend participate in an art contest. Similar to the picture book series, they learn important lessons in problem solving and resilience. The detailed black and white artwork with pops of red add to the fun of this enjoyable new STEAM story! Lexile 520/ Guided Reading Level O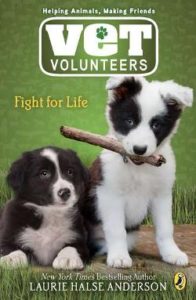 Fight for Life (Vet Volunteers series) by Laurie Halse Anderson, 2000
From the Publisher
Maggie's grandmother runs an animal clinic, Dr. Mac's Place, so Maggie knows her way around animals who are in danger. When she learns that the abused and sick puppies flooding the clinic are from an illegal puppy mill, she knows that she has to find out who's running it, where it is—and save the rest of the dogs!
Lexile: 510 Buy It Here

Trouble at the Arcade (Hardy Boys series) by Franklin Dixon; illustrated by Scott Burroughs, 2010
Inspired by the original Hardy Boy mystery series, these updated stories star two brothers who solve mysteries in their town.
Lexile: 510L Buy It Here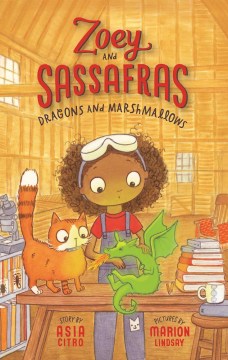 Dragons and Marshmallows (Zoey and Sassafras series) by Asia Citro; illustrated by Marion Lindsay
Zoey dreams of being a scientist like her mom and when she discovers she is able to see magical creatures, she gets a chance to put her scientific knowledge to work sooner than she thought. Each story in this outstanding series follows Zoey and her cat Sassafras as they use science to help magical creatures solve their problems. Lexile: 640L / Guided Reading Level: N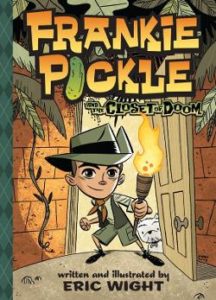 Frankie Pickle and the Closet of Doom (series) by Eric Wight, 2009

From the Publisher
Chapter book meets graphic novel in this first book in the series everyone will be talking about. Like most kids, Frankie Pickle hates cleaning his room. But what happens when his mom says he never has to clean it again? For Frankie and his unstoppable imagination, it means he and his sidekick, Argyle, can become explorers swinging on vines, forging paths through piles of clothes, and scooting past lava pits. They can perform flawless surgery on a broken action figure. They can spend time in the big house. They can even become superheroes. But when junk piles grow too high, will all this imagining be enough to conquer . . . the closet of DOOM?
Lexile: 530L Buy It Here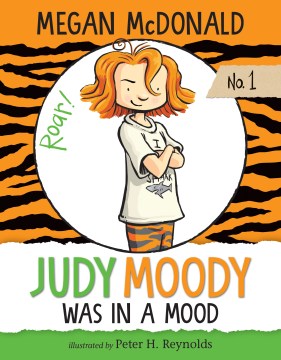 Judy Moody (series) by Megan McDonald
It's the first day of third grade and Judy Moody is convinced it is going to be a terrible day. Readers will love following her as she learns some important life lessons most notably how to change your perception to get out of a bad mood! Lexile 560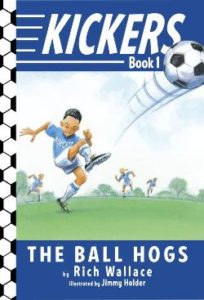 The Ball Hogs (Kickers series) by Rich Wallace; illustrated by Jimmy Holder, 2010

From the Publisher
Nine-year-old Ben is brand-new to soccer, but he's a good athlete and knows he'll do well on the Bobcats, his team in the local Kickers soccer league. If he can only work around his obnoxious teammate Mark, the ball hog, Ben is sure he'll score his first goal. But Coach Patty, and Ben's own teammates, show him a little something about teamwork. And suddenly it dawns on him: he's a ball hog, too. Can he change his ways before the Bobcats lose their shot at the Kickers play-offs?
Award-winning sports novelist Rich Wallace introduces the Kickers soccer series, filled with lively black-and-white art and fast-paced, on-the-field action.
Lexile: 540L Buy It Here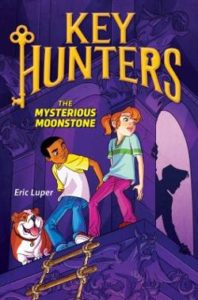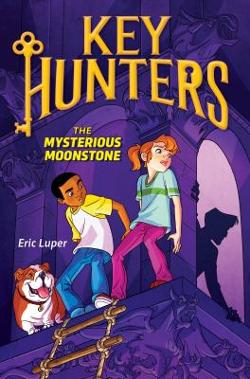 The Mysterious Moonstone (Key Hunters series) by Eric Luper, 2016
Getting lost in a good book has never been this dangerous! Cleo and Evan have a secret. A collection of books so dangerous they are locked up tight. A friend has vanished inside the pages of one of them. It's up to them to find the key that will set her free. A PRICELESS DIAMOND. . . STOLEN! When Cleo and Evan go undercover to help a rookie detective interview a mansion full of suspects, nothing is as it seems. They must catch the crook-and find the right key-or they could be trapped inside this mystery forever. . .
Lexile: 550L Buy It Here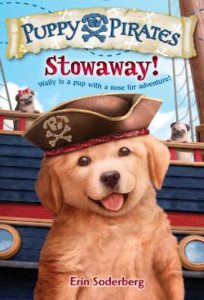 Stowaway(Puppy Pirates series) by Erin Soderberg; illustrated by Russ Cox, 2016

From the Publisher
Ahoy, mateys! Set sail for fun and adventure on a pirate ship full of puppies.
Fighting like cats and dogs? Exactly! The puppy pirates played a prank on the kitten pirates, and meow! The kittens sure are mad. Can the pups escape the kittens' claws? It's dog vs. cat, and may the best pirates win.
Lexile: 550L/ Fountas & Pinnell: M Buy It Here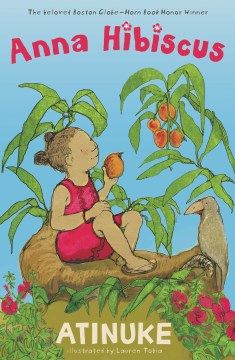 Anna Hibiscus by Atinuke
This utterly charming story of a girl growing up in modern-day Africa is such a gem! Whether it's going on a seaside vacation, selling oranges, or just spending time with her large extended family, reading about Anna's life in Africa is fascinating. Lexile: 670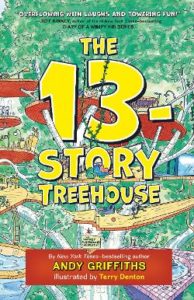 The 13-Story Treehouse (series) by Andy Griffiths; illustrated by Terry Denton, 2013
From the Publisher
Andy and Terry live in a treehouse. But it's not just any old treehouse, it's the most amazing treehouse in the world! This treehouse has thirteen stories, a bowling alley, a see-through swimming pool, a secret underground laboratory, and a marshmallow machine that follows you around and automatically shoots marshmallows into your mouth whenever you are hungry. Life would be perfect for Andy and Terry if it wasn't for the fact that they have to write their next book, which is almost impossible because there are just so many distractions, including thirteen flying cats, giant bananas, mermaids, a sea monsters pretending to be mermaids, enormous gorillas, and dangerous burp gas-bubblegum bubbles!
Lexile: 560L Buy It Here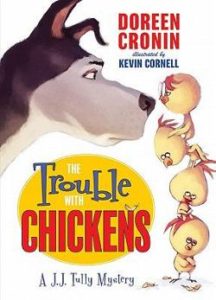 The Trouble With Chickens (series) by Doreen Cronin, 2011

From the Publisher
From the bestselling, award-winning author-illustrator team of Doreen Cronin and Kevin Cornell comes the first book in a heavily illustrated, hilarious chapter book series about the adventures of a dog detective. Perfect for fans of Sara Pennypacker's Clementine series and Jarrett J. Krosoczka's Lunch Lady series.
J.J. Tully is a former search-and-rescue dog who is trying to enjoy his retirement after years of performing daring missions saving lives. So he's not terribly impressed when two chicks named Dirt and Sugar (who look like popcorn on legs) and their chicken mom show up demanding his help to find their missing siblings. Driven by the promise of a cheeseburger, J.J. begins to track down clues. Is Vince the Funnel hiding something? Are there dark forces at work—or is J.J. not smelling the evidence that's right in front of him?
Lexile: 570L Buy It Here

Stuey Lewis Against All Odds: stories from the third grade by Jane Schoenberg; illustrated by Cambria Evans, 2012
From the Publisher
Stuey Lewis has conquered second grade, but third grade's no piece of cake, either. Can he figure out how to transport his whole class to outer space, navigate a first airplane trip disaster, celebrate the best Mother's Day ever, and find a cool enough pet for the class's pet show? With a little help from his best friend, Will, and his awesome teacher, Ginger, of course he can!
Lexile: 590L/ Fountas & Pinnell: M Buy It Here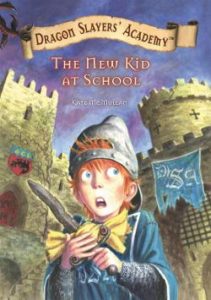 The New Kid at School (Dragon Slayer's Academy series) by Kate McMullan, 1997
When a traveling minstrel foretells that he is to become a hero, Wiglaf sets out to fulfill his destiny: he signs up at the Dragon Slayers' Academy. But how can he ever hope to be a dragon slayer when he can't even stand the sight of blood?
Lexile: 500L/ Guided Reading Level: N Buy It Here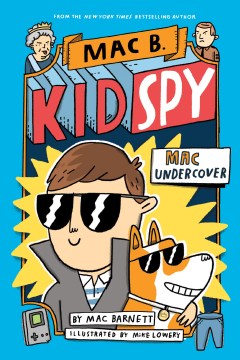 Mac Undercover (Mac B. Kid Spy series) by Mac Barnett; illustrated by Mike Lowery, 2018
In this quirky story, acclaimed author Mac Barnett, reveals that he was actually a super spy as a child. Set in the 1980's, the humorous tale takes readers on a hysterical adventure of Mac flying to London to aid the queen in the mystery of her missing Crown Jewels. While some of the humor may go over kids' heads, they won't care because they will be having so much fun reading about Mac's exciting escapade traveling the world in this comical story. Lexile 460/ Foutous & Pinnell U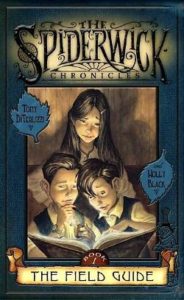 The Field Guide (The Spiderwick Chronicles series) Toni Diterlizzi and Holly Black, 2003
From the Publisher
After finding a mysterious, handmade field guide in the attic of the ramshackle old mansion they've just moved into, Jared; his twin brother, Simon; and their older sister, Mallory, discover that there's a magical and maybe dangerous world existing parallel to our own—the world of faerie.
The Grace children want to share their story, but the faeries will do everything possible to stop them…
Lexile: 600L Buy It Here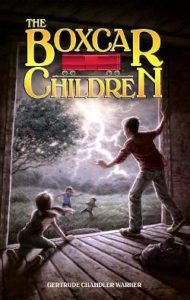 The Boxcar Children (series) by Gertrude Chandler Warner, 1942
Four orphans take shelter in an old boxcar during a storm and determine to make it their own and solve mysteries.
Lexile: 490 / Guided Reading Level: O Buy It Here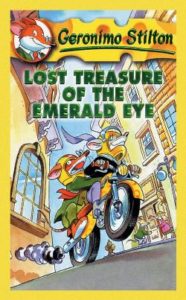 Lost Treasure of the Emerald Eye (Geronimo Stilton series) by Geronimo Stilton; illustrated by Matt Wolf, 2003
From the Publisher
Who is Geronimo Stilton? That's me! I run a newspaper, but my true passion is writing tales of adventure. Here on Mouse Island, my books are all best-sellers! What's that? You've never read one? Well, my books are full of fun. They are whisker-licking good stories, and that's a promise! It all started when my sister, Thea, discovered a mysterious map. It showed a secret treasure on a faraway island. And before I could let out a squeak of protest, Thea dragged me into her treasure hunt! In no time at all, we'd set sail for the island. It was an adventure I'd never forget…
Lexile: 530L/ Fountas & Pinnell: O Buy It Here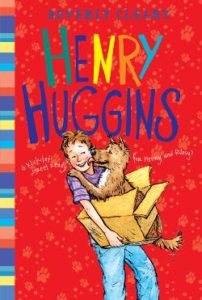 Henry Huggins (series) by Beverly Cleary; illustrated by Tracy Dockray, 1950
From the Publisher
In the first novel from Newbery Award-winning author Beverly Cleary, boys and girls alike will instantly be charmed by an average boy whose life is turned upside down when he meets a lovable puppy with a nose for mischief.
Just as Henry Huggins is complaining that nothing exciting ever happens, a friendly dog sits down beside him and looks pleadingly at his ice-cream cone. From that moment on, the two are inseparable. But when Ribsy's original owner appears, trying to reclaim his dog, Henry's faced with the possibility of losing his new best friend. Has Klickitat Street seen the last of rambunctious Ribsy?
Lexile: 670L/ Fountas & Pinnell: O Buy It Here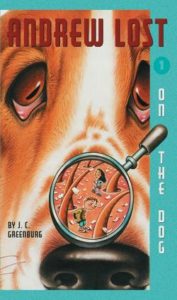 On the Dog (Andrew Lost series) by J.C. Greenburg, 2002
From the Publisher
When Andrew's latest invention, the Atom Sucker, goes haywire, Andrew and Judy are shrunk down to microscopic level! Andrew and Judy find themselves lost on their neighbor's dog, where they encounter everything from colossal fleas to crab-like eyelash mites. Now they have to find their way back to the Atom Sucker and get unshrunk before it's too late!
Lexile: 500L/ Fountas & Pinnell: O Buy It Here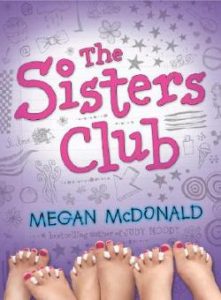 The Sisters Club (series) by Megan McDonald, 2008
From the Publisher
From the author of the Judy Moody books, this exciting novel captures the warmth, humor — and squabbles — of three spunky sisters. Meet the Sisters Club: twelve-year-old Alex, aspiring actress and born drama queen; eight-year-old Joey, homework lover and pioneer wannabe; and smack in the middle, ten-year-old Stevie, the glue that holds them together — through dinner disasters, disputes over stolen lucky sweaters, and Alex's going gaga over her leading man. Playfully weaving Stevie's narration with Alex's scripts, Joey's notebook entries, and hilarious elements such as "How to Swear in Shakespeare" and "Dear Sock Monkey" letters, this hugely engaging novel showcases Megan McDonald's ear for dialogue, comic timing, and insight into the ever-changing dynamics of sisterhood.
Lexie: 620/ Fountas & Pinnell: P Buy It Here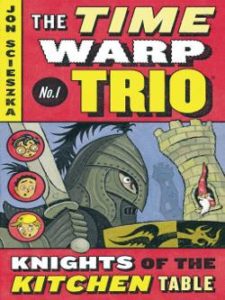 Knights of the Kitchen Table (Time Warp Trio series) by Jon Scieskza, 1991

From the Publisher
Everyone's favorite time-travelers are changing their styles! The Time Warp Trio series now features a brand-new, eye-catching design, sure to appeal to longtime fans, and those new to Jon Scieszka's wacky brand of humor.
Lexile: 630L/ Fountas & Pinnell: P Buy It Here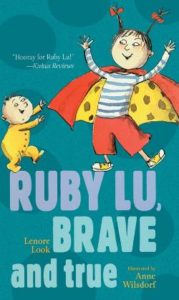 Ruby Lu Brave and True (series) by Lenore Look, 2006

From the Publisher
Most days the best thing about being Ruby is everything. Like when she's the star of her own backyard magic show. Or when she gives a talk at the school safety assembly on the benefits of reflective tape. Or when she rides the No. 3 bus all the way to Chinatown to visit GungGung and PohPoh. And then there are the days when it's very hard to be Ruby. Like when her mom suggests Chinese school on Saturdays. Or when her little brother, Oscar, spills all of Ruby's best magician secrets. Or when her parents don't think she's old enough to drive! Join Ruby Lu on her first adventure and discover your own best things about her!
Lexile: 640L Buy It Here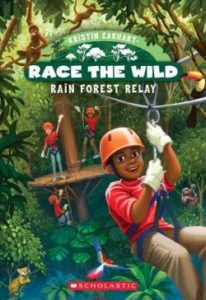 Rain Forest Relay (Race the Wild series) Kristin Earhart; illustrated by Eda Kaban, 2015
From the Publisher
On a once-in-a-lifetime race through the animal kingdom, it takes smarts, strength, and skill to win! When Russell entered the race, he knew it was going to be a wild ride. Especially the first race course! He'd been studying up on the Amazon's animals and culture forever. But nothing could prepare him or his teammates for what they'd find in the rain forest: raging rapids, poisonous venom, and sneaky competitors who'd do anything to win. Can the red team work together to make it to the finish line in one piece?
Lexile: 650L Buy It Here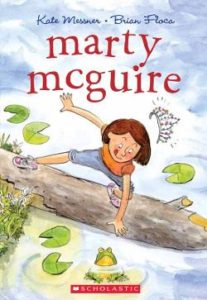 Marty McGuire (series) by Kate Messner; illustrated by Brian Floca, 2011
From the Publisher
Marty McGuire would rather spend recess catching frogs in the pond than playing dress-up with the others girls in the third grade. So when her teachers casts Marty as the princess in the class play, Marty's absolutely, positively sure that there's been a huge mistake. But after a special lesson in the art of improvisation, Marty comes up with her own plan to improve the play: Why use a stuffed-animal frog onstage when a live one would be so much better? In the end, Marty's one-of-a-kind performance makes for an unforgettable show. Maybe Marty can live happily ever after, after all!
Lexile: 660L Buy It Here

The World According to Humphrey (series) by Betty Birney, 2004

From the Publisher
You can learn a lot about life by observing another species. That's what Humphrey was told when he was first brought to Room 26. And boy is it true! There are always adventures in the classroom and each weekend he gets to sleep over with different students. Humphrey learns to read, write, shoot rubber bands (only in self-defense, of course), turn off TVs, teach English as a second language, and more. With a lock-that-doesn't-lock and an adventurous spirit, what more could a mischievous hamster want?
With a fresh voice and an engaging, hamster's-eye view of school, families, and treats to hide in a cheek pouch, Betty G. Birney's Humphrey will elicit laughter and demands for hamsters in every elementary classroom.
Lexile: 670L Buy It Here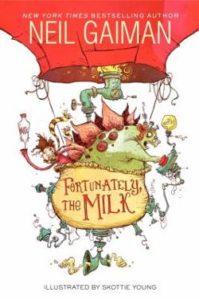 Fortunately, the Milk by Neil Gaiman; illustrated by Scottie Young, 2013
From the Publisher
"I bought the milk," said my father. "I walked out of the corner shop, and heard a noise like this: t h u m m t h u m m. I looked up and saw a huge silver disc hovering in the air above Marshall Road."
"Hullo," I said to myself. "That's not something you see every day. And then something odd happened."
Find out just how odd things get in this hilarious New York Times bestselling story of time travel and breakfast cereal, expertly told by Newbery Medalist and bestselling author Neil Gaiman and illustrated by Skottie Young.
Lexile: 680 Buy It Here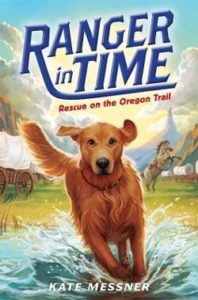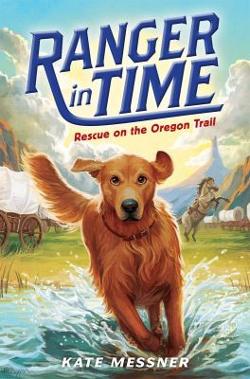 Ranger in Time (series) by Kate Messner; illustrated by Kelley McMorris, 2015
From the Publisher
Meet Ranger! He's a time-traveling golden retriever who has a nose for trouble . . . and always saves the day! Ranger has been trained as a search-and-rescue dog, but can't officially pass the test because he's always getting distracted by squirrels during exercises. One day, he finds a mysterious first aid kit in the garden and is transported to the year 1850, where he meets a young boy named Sam Abbott. Sam's family is migrating west on the Oregon Trail, and soon after Ranger arrives he helps the boy save his little sister. Ranger thinks his job is done, but the Oregon Trail can be dangerous, and the Abbotts need Ranger's help more than they realize!
Lexile: 690 Buy It Here

Lunch Walks Among Us (Frannie K. Stein series) by Jim Benton, 2003
From the Publisher
Franny K. Stein is not your average girl — she's a mad scientist. She prefers poison ivy to daisies, and when Franny jumps rope, she uses her pet snake. The kids in Franny's class think she's weird, wacky, and just plain creepy. Tired of being stared at, Franny decides to attempt her most dangerous experiment yet — she's going to fit in. but when a giant Monstrous Fiend attacks the class, everyone knows it's up to a mad scientist to save the day. But has Franny lost her creepy, crawly ways?
Lexile: 710L/ Fountas & Pinnell: N Buy It Here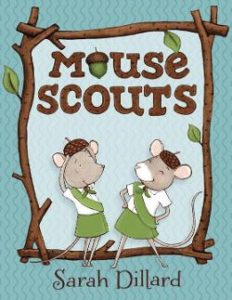 Mouse Scouts (series) by Sarah Dillard, 2016
From the Publisher
Meet Violet, Tigerlily, Hyacinth, Petunia, Junebug, and Cricket, six new Mouse Scouts who are trustworthy and strong, thrifty and brave . . . and destined to be friends to the end! Best friends Violet and Tigerlily can't wait to start earning their merit badges. But their troop leader, Miss Poppy, is one strict rodent. And earning their first badge: planting a vegetable garden:is hard work. Will the troop drive unwanted pests from the garden and earn their Sow It and Grow It badge? And will they ever get Miss Poppy to smile? Brimming with lively black-and-white illustrations: including pages from the official Mouse Scout Handbook, plus diagrams, games, activities, and more: this darling new series is just right for chapter book readers.
Lexile: 710L/ Fountas & Pinnell: N Buy It Here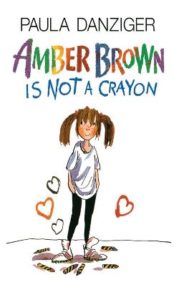 Amber Brown is not a Crayon (Amber Brown series) by Paula Danziger; illustrator Tony Ross, 1994
From the Publisher
Amber Brown and Justin Daniels are best friends. They've known each other for practically forever, sit next to each other in class, help each other with homework, and always stick up for each other. Justin never says things like, "Amber Brown is not a crayon." Amber never says, "Justin Time." They're a great team–until disaster strikes. Justin has to move away, and now the best friends are fighting. Will they be able to work it out before it's too late? 

Lexile: 720L/ Fountas & Pinnell: N Buy It Here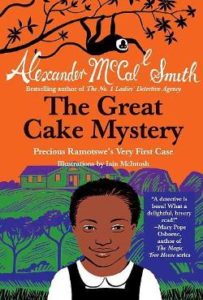 The Great Cake Mystery (series) by Alexander McCall Smith; illustrated by Iain McIntosh, 2012

From the Publisher
Fans around the world adore the bestselling No. 1 Ladies' Detective Agency series, the basis of the HBO TV show, and its proprietor Precious Ramotswe, Botswana's premier lady detective. In this charming series, Mma Ramotswe navigates her cases and her personal life with wisdom, and good humor–not to mention help from her loyal assistant, Grace Makutsi, and the occasional cup of tea.
Have you ever said to yourself, Wouldn't it be nice to be a detective? This is the story of an African girl who says just that. Her name is Precious. When a piece of cake goes missing from her classroom, a traditionally built young boy is tagged as the culprit. Precious, however, is not convinced. She sets out to find the real thief. Along the way she learns that your first guess isn't always right. She also learns how to be a detective.
Lexile: 720L Buy It Here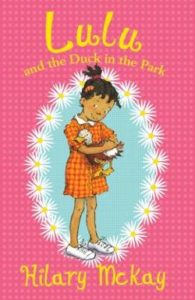 Lulu and the Duck in the Park (series) by Hilary McKay; illustrated by Priscilla Lamont, 2011

From the Publisher
Lulu loves animals. When Lulu finds a duck egg that has rolled out of its nest, she takes it to class to keep it safe. Lulu isn't allowed to bring pets to school. But she's not really breaking the rules because it's just an egg. Surely nothing bad will happen… A fun-filled new series for early readers and animal lovers alike.
Lexile: 740L Buy It Here

Kelsey Green Reading Queen (Franklin School Friends series) by Claudia Mills, 2013
From the Publisher
Kelsey Green is the best reader in the third grade–well, maybe tied for best with know-it-all Simon Ellis. When the principal Mr. Boone announces a school-wide reading contest, complete with a pizza party for the winning class and a special certificate for the top readers in each grade, she knows she's just the person to lead Mrs. Molina's third graders to victory. But how can they win when her classmate Cody Harmon doesn't want to read anything, and even Kelsey's best friends Annika and Izzy don't live up to her expectations? And could Simon possibly be reading all of those books that he claims he is, or is he lying to steal Kelsey's rightful spot at the top?
Kelsey Green, Reading Queen is the first book in Claudia Mills's Franklin School Friends series.
Lexile: 750L Buy It Here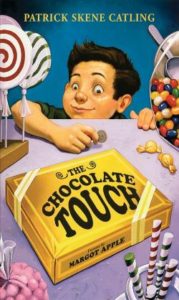 The Chocolate Touch by Patrick Catling; illustrated by Margot Apple, 1952

From the Publisher
In this zany twist on the legend of King Midas and his golden touch, a boy acquires a magical gift that turns everything his lips touch into chocolate! Can you ever have too much of your favorite food? John Midas is about to find out…. The Chocolate Touch has remained a favorite for millions of kids, teachers, and parents for several generations. It's an enjoyable story that pulls in even reluctant readers.
Lexile: 770L/ Fountas & Pinnell: N Buy It Here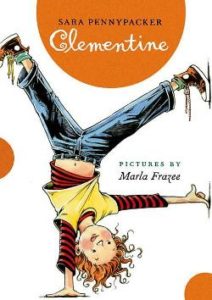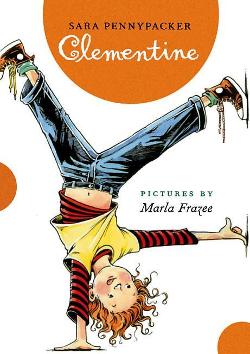 Clementine (series) by Sarah Pennypacker; illustrated by Marla Frazee, 2006
From the Publisher
Clementine is having not so good of a week.
On Monday she's sent to the principal's office for cutting off Margaret's hair.
Tuesday, Margaret's mother is mad at her.
Wednesday, she's sent to the principal again.
Thursday, Margaret stops speaking to her.
Friday starts with yucky eggs and gets worse.
And by Saturday, even her mother is mad at her.
Okay, fine. Clementine is having a DISASTROUS week.
Lexile: 790L/ Fountas & Pinnell: O Buy It Here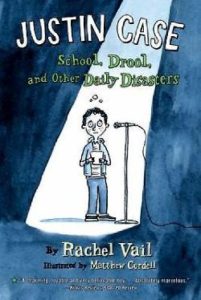 Justin Case: School, Drool, and Other Daily Disasters (series) by Rachel Vail; illustrated by Matthew Cordell, 2010
From the Publisher
It's the start of the school year, and nothing feels right to Justin. He didn't get the teacher he wanted, he's not in the same class as his best friend, and his little sister, Elizabeth, is starting kindergarten at his school. Elizabeth doesn't seem nervous at all. Justin is very nervous about third grade. And to top it off, he's lost his favorite stuffed animal, but he can't tell anyone, because technically he's too old to still have stuffed animals. Right? Here is third grade in all its complicated glory—the friendships, the fears, and the advanced math. Acclaimed author Rachel Vail captures third grade with a perfect pitch, and Matthew Cordell's line art is both humorous and touching. As Justin bravely tries to step out of his shell, he will step into readers' hearts.
Lexile: 790L/ Fountas & Pinnell: O Buy It Here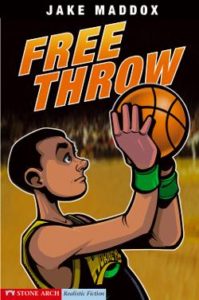 Free Throw (Jake Maddox Sports Stories series) by Jake Maddox, 2006
From the Publisher
Since Derek is the tallest kid on his basketball team, his coach decides to have him play center instead of Jason. Derek thinks this is a lucky break, until Jason stops passing the ball to him.
Lexile: 380L/ Fountas & Pinnell: P Buy It Here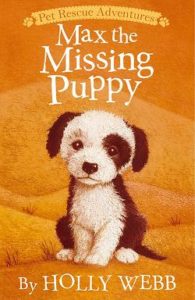 Max the Missing Puppy by Holly Webb; illustrated by Sophy Williams, 2015
From the Publisher
Molly and her new puppy, Max, are inseparable. Max misses Molly when she's at school. One day, Max gets out of the house and sets off to find Molly. But the world is a scary place for a puppy, and soon, Max is in danger. How will he find Molly?
Lexile 820 Buy It Here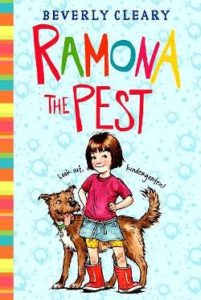 Ramona the Pest by Beverly Cleary; illustrated by Tracy Dockray, 1968
From the Publisher
Ramona Quimby is excited to start kindergarten. No longer does she have to watch her older sister, Beezus, ride the bus to school with all the big kids. She's finally old enough to do it too! Then she gets into trouble for pulling her classmate's boingy curls during recess. Even worse, her crush rejects her in front of everyone. Beezus says Ramona needs to quit being a pest, but how can she stop if she never was trying to be one in the first place?
Newbery Medal winning author Beverly Cleary expertly depicts the trials and triumphs of growing up through a relatable heroine in Ramona Quimby.
Supports the Common Core State Standards
Lexile: 850L/ Fountas & Pinnell: O Buy It Here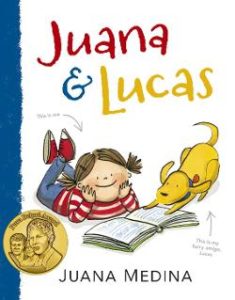 Juana & Lucas by Juana Medina, 2016
From the Publisher
Juana loves many things — drawing, eating Brussels sprouts, living in Bogot, Colombia, and especially her dog, Lucas, the best amigo ever. She does not love wearing her itchy school uniform, solving math problems, or going to dance class. And she especially does not love learning the English. Why is it so important to learn a language that makes so little sense? But when Juana's abuelos tell her about a special trip they are planning—one that Juana will need to speak English to go on—Juana begins to wonder whether learning the English might be a good use of her time after all. Hilarious, energetic, and utterly relatable, Juana will win over los corazones — the hearts — of readers everywhere in her first adventure, presented by namesake Juana Medina.
Winner of the 2017 Pura Belpe; Author Award
Lexile: 870L/ Fountas & Pinnell: P Buy It Here

High Level Reading for Third Graders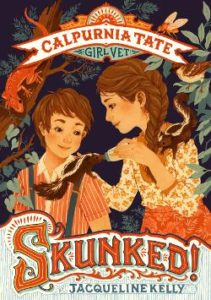 Skunked! (Calpurnia Tate Girl Vet series) by Jacqueline Kelly; illustrated by Jennifer Meyer, 2016
From Newbery honor author Jacqueline Kelly comes a new illustrated chapter book series for younger readers featuring the beloved characters from The Evolution of Calpurnia Tate. In Calpurnia Tate, Animal Doctor in Training, Callie Vee, Travis, and Dr. Pritzker help animals big and small. When soft-hearted Travis discovers an abandoned baby skunk, he can't help but bring him home and take care of him. Stinky, as Travis names him, settles in pretty well. But when Travis discovers Stinky's litter-mate, Winky, who is in need of some help, things get complicated around the Tate house. One skunk is a piece of cake; two is just asking for trouble. Will Travis and Callie be able to keep the critters away from Mother's careful eyes–and nose?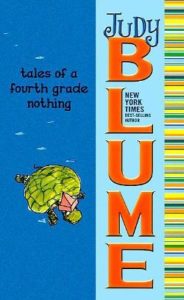 Tales of a Fourth Grade Nothing (series) by Judy Blume; illustrated by Roy Doty; 1972
From the Publisher
Life with his little brother, Fudge, makes Peter Hatcher feel like a fourth grade nothing. Whether Fudge is throwing a temper tantrum in a shoe store, smearing mashed potatoes on the walls at Hamburger Heaven, or trying to fly, he's never far from trouble. He's an almost three-year-old terror who gets away with everything, and Peter's had it up to here!
When Fudge walks off with Dribble, Peter's pet turtle, it's the last straw. Peter has put up with Fudge for too long. Way too long! How can he get his parents to pay attention to him for a change?
Lexile: 470L/ Fountas & Pinnell: Q Buy It Here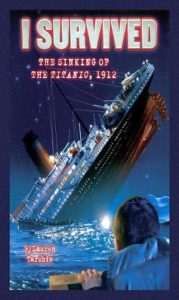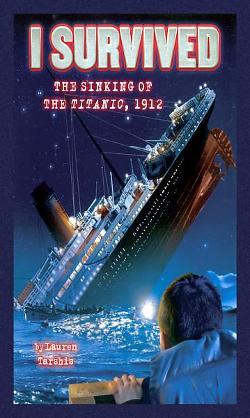 The Sinking of the Titanic, 1912 (I Survived series) by Lauren Tarshis; illustrated Scott Dawson, 2010
From the Publisher
Ten-year-old George Calder can't believe his luck-he and his little sister Phoebe are on the famous Titanic, crossing the ocean with their aunt Daisy. The ship is full of exciting places to explore, but when George ventures into a first class storage cabin, a terrible boom shakes the entire boat. Suddenly, water is everywhere, and George's life changes forever.
Lauren Tarshis brings history's most exciting and terrifying events to live in this new fictional series. Reader will be transported by stories of amazing kids and how they survived!
Lexile: 590L/ Fountas & Pinnell: Q Buy It Here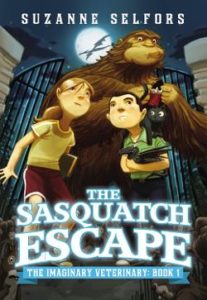 The Sasquatch Escape (series) by Suzanne Selfors; illustrated by Dan Santat, 2013
From the Publisher
When Ben Silverstein is sent to the rundown town of Buttonville to spend the summer with his grandfather, he's certain it will be the most boring vacation ever. That is, until his grandfather's cat brings home what looks like . . . a baby dragon? Amazed, Ben enlists the help of Pearl Petal, a local girl with an eye for adventure. They take the wounded dragon to the only veterinarian's office in town — Dr. Woo's Worm Hospital. But as Ben and Pearl discover once they are inside, Dr. Woo's isn't a worm hospital at all — it's actually a secret hospital for imaginary creatures.
After Ben accidentally leaves the hospital's front door unlocked, a rather large, rather stinky, and very hairy beast escapes into Buttonville. Ben and Pearl are tasked with retrieving the runaway creature, and what started out as an ordinary summer becomes the story of a lifetime.
Suzanne Selfors delivers a wild journey filled with mythical creatures and zany adventures that are anything but imaginary. This book includes bonus writing, art, and science activities that will help readers discover more about the mythological creatures featured in The Sasquatch Escape. These activities are designed for the home and the classroom. Enjoy doing them on your own or with friends!
Lexile: 630L/ Fountas & Pinnell: Q Buy It Here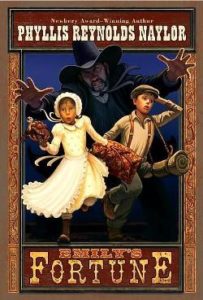 Emily's Fortune by Phyllis Reynolds Naylor
From the Publisher
Emily Wiggins is poor and timid, without a drop of self-confidence. When unexpectedly orphaned, she is left all alone except for her turtle, Rufus. What in blinkin' bloomers should Emily do? Emily's neighbors, Mrs. Ready, Mrs. Aim, and Mrs. Fire, have the answer. Emily must travel by stagecoach to honorable Aunt Hilda. What a hootin', tootin' grand idea! But Miss Catchum of the Catchum Child-Catching Services will get a big bonus for making Emily live with her next of kin, vicious Uncle Victor. How in ding dong dickens will Emily escape Miss Catchum? It will take all the gumption and cunning of fellow orphan and traveler, Jackson, to help Emily find her confidence, conniving spirit, and the truth behind why Uncle Victor wants to claim her. But how in flippin' flapjacks will Emily outsmart Uncle Victor?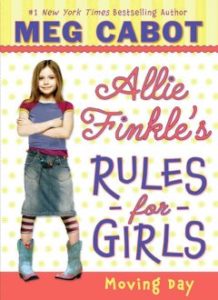 Moving Day (Allie Finkle's Rules for Girls series) by Meg Cabot, 2008
From the Publisher
#1 New York Times bestselling author Meg Cabot's middle-grade debut!When nine-year-old Allie Finkle's parents announce that they are moving her and her brothers from their suburban split-level into an ancient Victorian in town, Allie's sure her life is over. She's not at all happy about having to give up her pretty pink wall-to-wall carpeting for creaky floorboards and creepy secret passageways-not to mention leaving her modern, state-of-the-art suburban school for a rundown, old-fashioned school just two blocks from her new house.
With a room she's half-scared to go into, the burden of being "the new girl," and her old friends all a half-hour car ride away, how will Allie ever learn to fit in?
Lexile: 850L/ Guided Reading Level: Q Buy It Here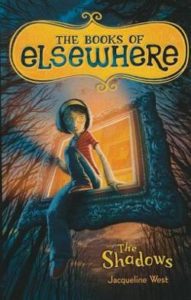 The Shadows (The Books of Elsewhere series) by Jacqueline West; illustrated by Poly Bernatene, 2010
From the Publisher
This house is keeping secrets . . .When eleven-year-old Olive and her parents move into the crumbling mansion on Linden Street and find it filled with mysterious paintings, Olive knows the place is creepy—but it isn't until she encounters its three talking cats that she realizes there's something darkly magical afoot. Then Olive finds a pair of antique spectacles in a dusty drawer and discovers the most peculiar thing yet: She can travel inside the house's spooky paintings to a world that's strangely quiet . . . and eerily sinister. But in entering Elsewhere, Olive has been ensnared in a mystery darker and more dangerous than she could have imagined, confronting a power that wants to be rid of her by any means necessary. With only the cats and an unusual boy she meets in Elsewhere on her side, it's up to Olive to save the house from the shadows, before the lights go out for good.
Lexile: 770L/ Fountas & Pinnell: T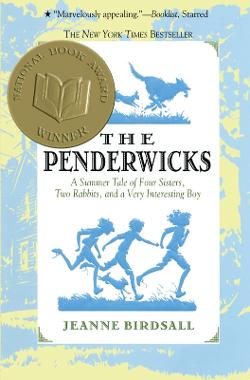 The Penderwicks: a summer tale of four sisters, two rabbits, and a very interesting boy (series)by Jeanne Birdsall, 2007
From the Publisher
This summer the Penderwick sisters have a wonderful surprise: a holiday on the grounds of a beautiful estate called Arundel. Soon they are busy discovering the summertime magic of Arundel's sprawling gardens, treasure-filled attic, tame rabbits, and the cook who makes the best gingerbread in Massachusetts. But the best discovery of all is Jeffrey Tifton, son of Arundel's owner, who quickly proves to be the perfect companion for their adventures.
The icy-hearted Mrs. Tifton is not as pleased with the Penderwicks as Jeffrey is, though, and warns the new friends to stay out of trouble. Which, of course, they will—won't they? One thing's for sure: it will be a summer the Penderwicks will never forget.
Deliciously nostalgic and quaintly witty, this is a story as breezy and carefree as a summer day.
Lexile: 800L Buy It Here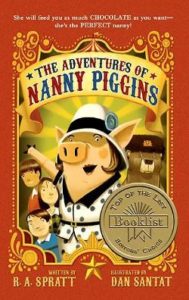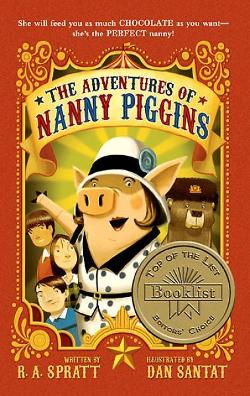 The Adventures of Nanny Piggins (series) by R.A. Spratt; illustrated by Dan Santat, 2010
From the Publisher
This critically acclaimed, award-winning middle grade debut follows the story of the three Green children who are cared for by a nanny pig. Yes, a pig. A fabulously sassy and impeccably dressed pig as a matter of fact! With her insatiable urge to eat chocolate (and feed chocolate to everyone she loves), her high-flying spirit, and her unending sense of fun, Nanny Piggins takes Derrick, Samantha, and Michael on a year of surprises, yummy treats, and adventures they'll never forget.
It's no surprise that Booklist proclaimed, "Mary Poppins, move over–or get shoved out of the way." Nanny Piggins is a refreshing and dynamic addition to favorite classic nannies: Amelia Bedelia, Mrs. Piggle Wiggle, and, of course, Mary Poppins. Combined with award-winning artist Dan Santat's charming black-and-white illustrations, The Adventures of Nanny Piggins is set to become the next children's classic!
Lexile: 900L Buy It Here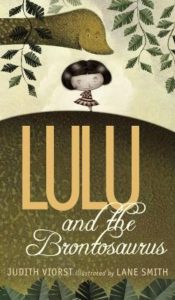 Lulu and the Brontosaurus (series) by Judith Viorst; illustrated by Lane Smith, 2010
From the Publisher
It's Lulu's birthday and she's decided she'd like a pet brontosaurus as a present. When Lulu's parents tell her that's not possible, Lulu gets very upset. She does not like it when things don't go her way. So she takes matters into her own hands and storms off into the forest to find herself a new pet, all the way singing:
I'm gonna, I'm gonna, I'm gonna, gonna, get
a bronto-bronto-bronto-bronto-saurus for a pet!
In the forest Lulu encounters a number of animals; a snake, a tiger, a bear, all of whom don't particularly impress her. And then she finds him…a beautiful, long-necked, gentle, graceful brontosaurus. And he completely agrees with Lulu that having a pet would be a wonderful thing, indeed! Lulu thinks she's gotten her birthday wish at last. Until she realizes that Mr. Brontosaurus thinks that she would make an ideal pet for him! How will Lulu ever get out of this sticky situation without throwing a fit (Mr. B does not respond well to those), or using force (Mr. B is much to tall to bonk on the head with her suitcase), or smushing her pickle sandwich?
Lexile: 910L Buy It Here

*This post contains affiliate links. To read my full disclosure CLICK HERE.
What are some of your favorite books to read with third graders?