Picture books for kids who like to actively engage with books: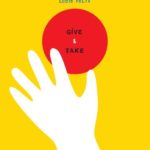 Give and Take by Lucie Felix (Ages 3 – 6)
This clever concept book introduces shapes in a fun, unique way. Each page contains a cardboard shape that can be removed from one page and replaced in a different configuration on the next page. Little hands will love exploring shapes in a new way. It was a joy to watch my son take the pieces out and manipulate them into different shapes.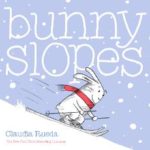 Bunny Slopes by Claudia Rueda  (Ages 3 – 6)
A bunny asks readers to help him ski down the mountain by shaking, tilting, and tapping the book. Each action by the child has a fun result making this an exciting book to read again and again.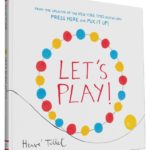 Let's Play by Herve Tullet  (Ages 3-8)
The little yellow dot from Herve Tullet's New York Times best-selling book, Press Here, is back and ready to play. The dot instructs the reader to tap, clap and say silly words in this interactive journey. Children will delight in helping the dot roll through the story and even jump onto their heads at the end of the book. Each year I put out Herve Tullet's books and children always flock to them.
Picture books for future scientists and inventors: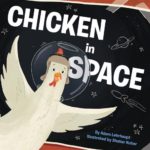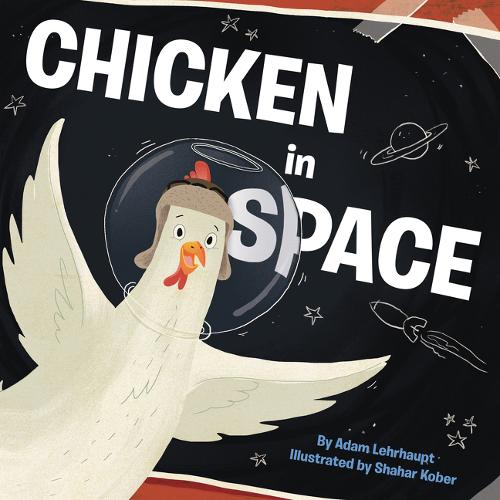 Chicken in Space by Adam Lehrhaupt; illustrated by Shahar Kober (Ages 3 – 5)
While the other chickens peck around the farm, Zoey has dreams, a plan, and a pig named Sam. She is going to outer space and she isn't going to let any other farmyard naysayers stop her. Using pure imagination, Zoey's positive attitude and problem solving abilities lead her and Sam to the adventure of a lifetime. A final page features Zoey pulling a variety of objects out of a trunk that will inspire her next adventure. I knew this book was a winner when my son asked if we could get the next book in Zoey's adventures. Since a sequel as not been written yet, we had fun coming up with our own ideas for Zoey.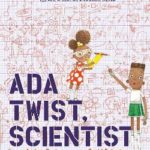 Ada Twist Scientist by Andrea Beaty; illustrated by David Roberts (Ages 5 – 8)
The rhyming text tells the story of Ada Twist, a curious little girl who asks questions and creates science experiments to better understand how the world around her works. This is a great story of perseverance and will serve as inspiration to other budding scientists.
Pair with Beaty's other New York Times best-selling books, Rosie Revere Engineer and Iggy Peck Architect.
Picture books for budding writers and book lovers: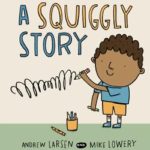 A Squiggly Story by Andrew Larsen; illustrated by Mike Lowery (Ages 4 – 8)
This book is the perfect inspiration for budding writers. A young boy is learning his letters and envies his sister's ability to write "big" words. She encourages him to start with a single letter and tell his story from there. After writing an "I", he realizes he can tell his story with individual letters, squiggles and symbols. A circle becomes a ball, "V's" become waves at the beach, and soon "I" and "U" (the boy and his sister) are playing soccer at the beach. The boy is so proud of his story that he shares it at preschool where he inspires others to write their own stories. My four-year-old son is working on his letters, but often gets frustrated that he can't write them yet. I haven't read this story with him yet because I am saving it for a Christmas present. I cannot wait to see the stories he creates after being inspired by this book.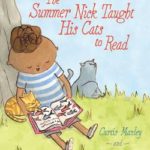 The Summer Nick Taught His Cats to Read by Curtis Manley; illustrated by Kate Berube (Ages 4 – 8)
Nick and his cats, Verne and Stevenson, love playing together except when it is time to read. Nick tries to make reading more enjoyable by teaching his cats to love it as much as he does. Verne picks up on the skills quickly and joins in on the fun, but Stevenson runs away and hisses. Nick finds that it simply takes time and the right book to help a reluctant reader become an enthusiastic reader. I really enjoyed this story, but I absolutely loved the illustrations. I couldn't help but smile at Stevenson's grumpy expressions throughout the book and I literally laughed out loud when he sports an eye patch after writing his own pirate story. Such a fun read for cat and book lovers!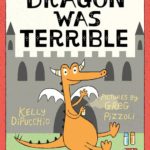 Dragon Was Terrible by Kelly DiPucchio; illustrated by Greg Pizzoli (Ages 4-8)
In general dragons are known to be pretty terrible, but this dragon is particularly rude. He scribbles in books (gasp!), he steals candy from baby unicorns, and he pops birthday balloons. Something must be done! The king has offered a prize to anyone who can tame the terrible dragon, but alas, all the brave knights in the kingdom fail. Finally, a young boy has the idea to read to the dragon. At first the dragon resists the story, but soon finds himself completely engaged in the tale. This is a hilarious read that reminds us of the joy of storytelling.
Picture books for kids and adults who love award winners: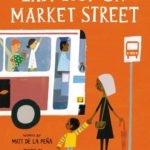 Last Stop on Market Street by Matt De La Peña; illustrated by Christian Robinson (Ages 5 – 8)
2016 Newbery Winner and 2016 Caldecott Honor
On the surface, this seemingly simple story follows a boy and his grandmother on a bus ride through a city as they travel to a soup kitchen, but the beautiful illustrations and poetic text provide the important message of finding beauty both around and within us. This book may be better suited for children over five who are more capable of understanding the imagery in the text. This book also provides a nice conversation starter on soup kitchens and helping others.
Matt De La Peña won the Newbery for his beautifully written text and Christian Robinson won a Caldecott Honor for his imaginative and vibrant illustrations.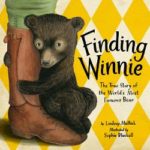 Finding Winnie: the true story of the world's most famous bear by Lindsay Mattick; illustrated by Sophie Blackall (Ages 4 and up)
Winner of the 2016 Caldecott Award
The first time I read Finding Winnie it took my breath away and I have to admit that I have only grown to love it more and more after multiple readings. Using Sophie Blackall's beautifully illustrated pictures, Lindsay Mattick tells the story of her great-great grandfather and the bear who ultimately served as the inspiration for Winnie the Pooh. It is an incredible story about love, loss, and new beginnings. On his way to serve in World War I, Captain Harry Colebourn acquires a bear cub that he keeps with his platoon during training. Before shipping off to France, Captain Colebourn donates the bear to the London Zoo where she is discovered by author A.A. Milne and his son Christopher Robin.  The story ends with a family photo album of the real-life Harry Colebourn and Winnie. It even features a photograph of Christopher Robin in the bear cage with Winnie at the London Zoo. This book is endearing, charming, and simply remarkable.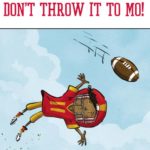 Don't Throw It to Mo by David Adler (Ages 4 – 6)
Winner of the 2016 Theodor Seuss Geisel Award
Mo is the youngest kid on his football team and holds the nickname of "butterfingers". He often sits on the sideline with the coach until the coach constructs a secret plan for Mo to help win the big game. It is difficult to find quality easy reader sports stories and this underdog story is a standout.
The second book in the series, Get a Hit Mo! Is also available now.