There are a plethora of holiday books out there, but these are my favorite to read out loud to my children and to classes when I was a school librarian. Enjoy and happy holidays!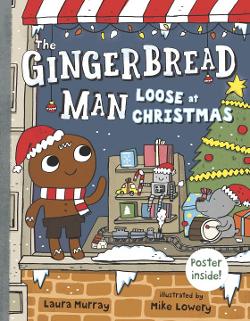 The Gingerbread Man Loose at Christmas by Laura Murray; illustrated by Mike Lowery, 2015
(Ages 4 – 8)
In a holiday season where many children are consumed by ideas for presents that they would like to receive, this book is a nice reminder about giving to others. The story begins with the teacher saying, "It's the season of giving and we can give, too! Our gifts could be things that we make, say or do." I love that the story emphasizes that gifts can not only be physical items, but simply a kind word or a gesture as well. Children quickly begin writing poems, decorating cards, practicing singing and making cookies. The gingerbread man from Murray's first story (The Gingerbread Man Loose in the School), is back and doesn't want to be left out of the gift giving. The children and the Gingerbread Man take to delivering gifts to people in town including a policewoman, a garbage man and a librarian, which leads into a nice discussion about people and things you might see in your own neighborhood. They make it back to the school just in time to participate in a thoughtful class gift to the teacher.
The rhyming text makes this a fun read aloud to a group of children. There is a lot of detail in the childlike illustrations, which also makes this a fun book to share one on one. This sweet story would also make a great gift for any teacher during the holidays.
Check out the other books in this series: The Gingerbread Man Loose at School, The Gingerbread Man Loose at the Zoo, The Gingerbread Man Loose on the Firetruck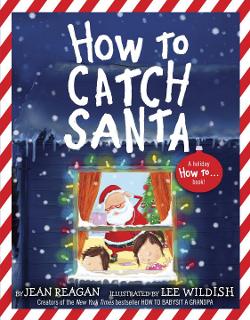 How To Catch Santa by Jean Reagan; illustrated by Lee Wildish, 2015
 (Ages 4 – 8)
I was happily surprised that the children in this story did not want to catch Santa in order to get more gifts from him, but instead they wanted to catch him to ask him questions and give him a thank you note. This book instantly became a favorite in our house. My children loved the premise, illustrations, funny comments and I loved the idea of saying thank you to Santa. My oldest is only four, so I never thought about him writing thank you notes for Christmas before, but it will be a fun activity we will be doing this year! I also loved the great discussion this book prompted as to what my own children would do if they caught Santa, what would they ask him, what would they give him? This is a great book from both a parent and kid perspective.
Catch the other great books in the How to series: How to Babysit a Grandpa, How to Babysit a Grandma, How to Surprise a Dad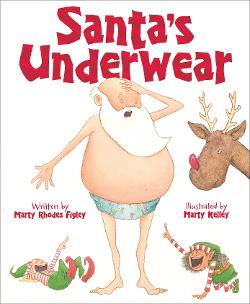 Santa's Underwear by Marty Rhodes Figley; illustrated by Marty Kelley, 2016
(Ages 4 – 8)
Underwear is one of those things that always makes children laugh. Pair it with one of their favorite mythical figures and you've got a winning book. In this comical tale, Santa is getting ready for Christmas. He ate a healthy dinner, he bathed, but as he starts to dress for his big night, he cannot find his favorite pair of Christmas undies. After searching high and low, he realizes he will have to substitute another pair, but which one? His regular underwear is too boring, his tighty-whities are too tight, his Valentine's Day boxers have too many hearts, and so on. He finally turns to his closet and discovers the sneaky reindeer and elves had bought him a brand-new pair of holiday underwear. Upon a second reading, observant children will notice the reindeer and elves hiding in the background delivering their special gift. The last two-page-spread shows Santa departing in his sleigh with his reindeer decked out in his rejected underwear options. Hilarious! Of the many holiday books we read this time of year, this is one my children asked for again and again.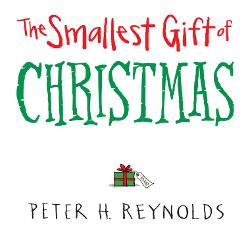 The Smallest Gift of Christmas by Peter H. Reynolds, 2013
(Ages 4 – 8)
Roland is a child who always wants something bigger and better. When he is given a small gift for Christmas, he wishes for something bigger and bigger until he travels to space to find the perfect gift. It is only when he sees how far from home he is that he realizes the only gift that truly matters is family. This story is a nice reminder that the holidays are a time for families to celebrate being together and not just about presents.
Peter Reynolds in a renowned author and illustrator, famous for his many inspiring stories including The Dot and Ish.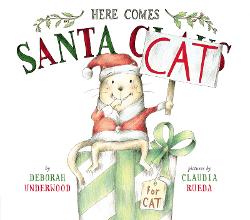 Here Comes Santa Cat by Deborah Underwood; illustrated by Claudia Rueda, 2014
(Ages 4 – 8)
One can't help but smile at the expressions in this simple picture book. Cat who communicates with the unseen narrator through showing signs, reveals that he has been a bit naughty this year. He fears that this will mean no presents at Christmas time. He has decided to become Santa in order to give himself a present, but the narrator quickly points out how flawed this plan is. Luckily when given the opportunity to share, Cat takes it and is rewarded with a special gift from the real Santa himself.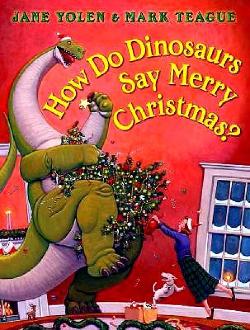 How Do Dinosaurs Say Merry Christmas? By Jane Yolen; illustrated by Mark Teague, 2012
 (Ages 2 – 5)
This is another excellent addition to the How Do Dinosaurs series by Jane Yolen. Following the same format as the previous books in the series, the first half of the book features dinosaurs behaving badly and the second half demonstrates the dinosaurs happily making better decisions. Children will have fun searching for the names of the dinosaurs in the illustrations, but should note that these dinosaurs are more obscure and they will not find any T-Rexes.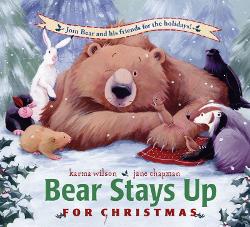 Bear Stays Up for Christmas by Karma Wilson; illustrated by Jane Chapman, 2008
(Ages 3 – 6)
My family loves this series. There is just something sweet about the friendship among the animals and the old fashioned feel of the book. In this holiday installment, Bear's forest friends wake him from his hibernation to celebrate Christmas with them. He surprises them all, by staying up all night to make and bake presents for them. They return the thoughtfulness with a gift of their own; a new quilt to make his return to sleep even more cozy.
Pair this with the first book in the series, Bear Snores On for a great Winter read.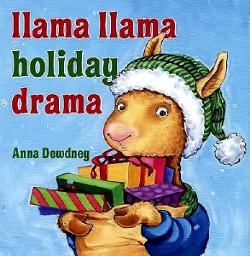 Llama Llama Holiday Drama by Anna Dewdney, 2010
(Ages 3 – 5)
Little Llama is excited for Christmas and cannot wait for the big day to arrive. The rhyming story follows him as he shops, makes cookies, creates crafts, and decorates. As he counts down the days, he tries to be patient, but is overwhelmed in a fit of holidrama by all the waiting. His mother gently sits him down and reminds him, "gifts are nice, but there's another- the true gift is we have each other." Children will recognize the many holiday activities in the story and will relate to feeling impatient waiting to receive gifts for Christmas.  
Don't miss the other great books in the Llama Llama series (My favorites are Llama Llama Time to Share and Nelly Gnu and Daddy Too).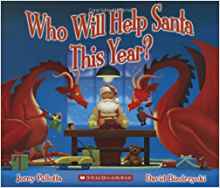 Who Will Help Santa This Year? by Jerry Pallotta; illustrated by David Biedrzycki, 2007
(Ages 2 – 6)
Everyone knows that elves help to make toys in Santa's workshop, but you may not know that Santa had to interview a myriad of magical creatures before he found the right assistants. Each two-page-spread displays the comical failures of dragons who burn the toys when they sneeze, mummies who are only "good at wrapping", and fairies who leave glitter everywhere. The digital artwork is extremely engaging and brings the mythical creatures to life. At times the text is a bit too brief and occasionally clunky and awkward, but it is also filled with puns such as "bigfoot was a gigantic mistake," that will make parents and sophisticated kids giggle. My children could not get enough of this book and it became a bedtime favorite.
Enjoy the books and have a wonderful holiday with your family!