Our family loves to laugh and finding funny holiday stories always puts my kids in the best mood. We've collected our favorite hilarious Christmas books below to spread the holiday cheer!
*This post contains affiliate links.
Santa Baby Jonathan Stutzman; illustrated by Heather Fox, 2020
(Ages 4 and up)
Our family absolutely adores Jonathon Stutzman's quirky sense of humor, so we were thrilled to see a new holiday book from him. This year, Santa is feeling his age and calls upon the magic of Christmas to make him young again. Unfortunately, instead of becoming a young man, he turns into a baby! The elves attempt to help Baby Santa fulfill his role of delivering presents with hilarious outcomes!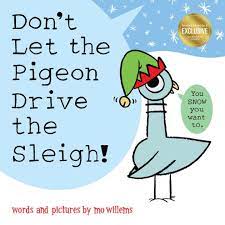 Don't Let the Pigeon Drive the Sleigh by Mo Willems, 2023
(Ages 3 and up)
Everyone's favorite Pigeon is back in his very own holiday tale! Per the request of Santa, children are encouraged to prohibit the eager Pigeon from driving Santa's beloved sleigh. It is almost impossible not to chuckle at Pigeon's expressive responses and the surprise ending. This one is sure to be a hit!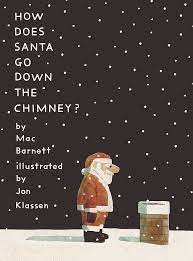 How Does Santa Go Down the Chimney? by Mac Barnett, illustrated by Jon Klassen 2023
(Ages 4 and up)
Once again, the dynamic duo of Mac Barnett and Jon Klassen have united for another perfectly executed story that is full of humor. While we may not be entirely sure how Santa enters various houses, this story has some ideas that will have readers absolutely cracking up!
If You Ever Want to Bring a Pirate to Meet Santa, Don't! by Elise Parsley, 2018
(Ages 4 and up)
Magnolia thinks it will be a great idea to introduce a pirate to Santa, but while waiting in line to meet him at the mall, she soon discovers the reason pirates are on the naughty list. Full of humorous hijinks and giggle-inducing illustrations, you won't want to miss this comical holiday book.
This series is a favorite of my son's and I highly recommend you pick up the first few installments.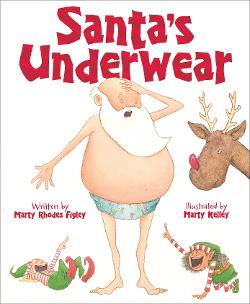 Santa's Underwear by Marty Rhodes Figley; illustrated by Marty Kelley, 2016
(Ages 4 and up)
Underwear is one of those things that always makes children laugh. Pair it with one of their favorite mythical figures and you've got a winning book!
In this comical tale, Santa is getting ready for Christmas. He ate a healthy dinner, he bathed, but as he starts to dress for his big night, he cannot find his favorite pair of Christmas undies. Santa explores his closet to find a variety of other undergarments, but none seem quite right until he discovers a special surprise.
Of the many holiday books we read this time of year, this is one my children beg to read over and over.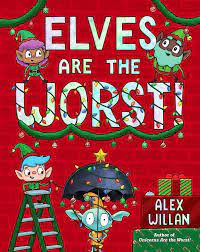 Elves are the Worst by Alex Willan, 2023
(Ages 4 and up)
Gilbert Goblin is determined to demonstrate to readers that goblins are just as hardworking as elves and he's going to go undercover in Santa's workshop to prove it. All does not go as planned, but Gilbert gains a new perspective in teamwork and even discovers a new favorite toy in the process. Our family can't get enough of this droll series starring mythical creatures and have fallen in love with the newest installment.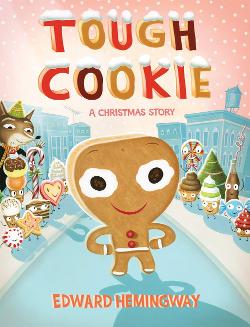 Tough Cookie: A Christmas Story by Edward Hemingway, 2018
(Ages 4 and up)
When a freshly baked gingerbread man pops out of the oven, he challenges a fox to catch him. When Fox tries to bite him, however, he discovers that this cookie is hard and tastes awful. The two journey through Christmastown to try to sweeten him up. After failing each attempt, Cookie finally discovers his true purpose. He is an ornament!
My children cannot get enough of this sweet story and ask for repeated readings. Best of all there are recipes in the back of the book for both edible cookies and ornaments that our family loved baking together!
A Mustache Baby Christmas by Bridget Heos; illustrated by Joy Ang, 2019
(Ages 4 and up)
In this silly series, Billy and his friend Javier are born with a comical amount of facial hair. Readers discover that on Christmas Eve, Javier's beard turns white making him Santa's helper who is in charge of delivering toys to all the babies of the world. Luckily his friend, Billy, is here to help. Comical hijinks ensue and the babies learn a valuable lesson about giving.
This series is always one of my go-to read alouds for a group of children. The thought of a baby with a mustache is just too funny.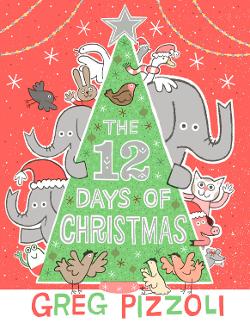 The 12 Days of Christmas by Greg Pizzoli, 2017
(Ages 3 and up)
This adaptation of the classic holiday song is so much fun! Greg Pizzoli's comical illustrations feature a parental elephant who grows more and more distraught by the number of strange gifts their child receives from a suitor.
Whether you read the book or sing it, many kids will love chiming in during the "5 Golden Rings" refrain. As the number of gifts grow, our family loves singing the story faster and faster making this a high energy read that always ends in a fit of laughter.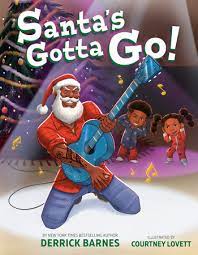 Santa's Gotta Go! by Derrick Barnes, illustrated by Courtney Lovett, 2023
(Ages 4 and up)
Who wouldn't want Santa as a houseguest? The Mack family is originally elated to host Santa as he waits for a spare part for his broken-down sleigh, until they discover Santa loves to rock out at night, he has an insatiable appetite, and this Claus is very clumsy! Hysterical hijinks ensue in this riotous holiday tale.
Who Will Pull Santa's Sleigh? by Russ Willms, 2021
(Ages 4 and up)
Fans of funny books will enjoy this silly story following Santa as he interviews a variety of animals to pull his sleigh. From bats, to sloths, to sharks each audition ends with comical results until reindeers prove to be the perfect applicants. With its humorous text and colorful illustrations, this is a good choice for holiday storytimes!
I Want a Hippopotamus for Christmas by John Rox; illustrated by Bruce Whately, 2020
(Ages 3 and up)
Inspired by the 1950's song of the same name, I Want a Hippopotamus for Christmas stars a girl who imagines what it would be like to receive a hippo on Christmas morning. The illustrations featuring a giant purple hippo are laugh-out-loud funny. As an added bonus, the music and song lyrics are included.
Grumpy Monkey Oh, No! Christmas by Suzanne Lang; illustrated by Max Lang, 2021
There is just something about Jim Panzee's eternal grumpiness that makes us laugh with every book in this series!
Even though all the other animals think Christmas is a magical time to celebrate, Jim Panzee can't get over the fact that it's raining, and none of the bananas are ripe, and pretty much nothing seems to be going his way. It's only when a friend encourages him to change his perspective that he can see things with a more positive lens and realizes that "Taking time to notice the good things can make your problems seem smaller."
Filled with humor and a positive message about point of view, this comical story has become a new favorite in our house!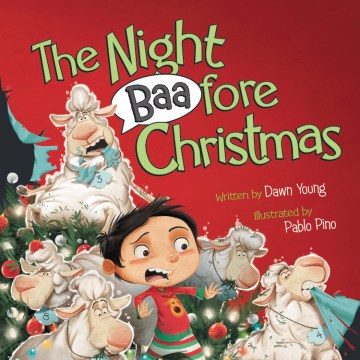 The Night Baafore Christmas by Dawn Young; illustrated by Pablo Pino, 2019
(Ages 4 and up)
It's the night before Christmas and Bo can't sleep. He tries counting sheep, but tired of performing, the rowdy sheep head downstairs causing mischief at every turn. The flowing rhymes are a joy to read aloud while the vibrant illustrations add humor to this riotous holiday romp.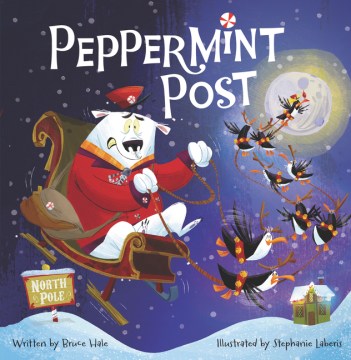 Peppermint Post by Bruce Hale; illustrated by Steph Laberis, 2020
(Ages 4 and up)
Buck, a polar bear, proudly serves as the post master of the Peppermint Post, which sifts through all the letters for Santa. When he discovers a lost letter, Buck does his best to deliver the coveted toy to a special child with comical results. The cartoony illustrations are pure fun and children will want to write their own letters to Santa with new vigor!
The Great Santa Stakeout by Betsy Bird; illustrated by Dan Santat, 2019
(Ages 4 and up)
Freddy Melcher is Santa's #1 fan. He dresses up as Santa every chance he can and fills his room with holiday paraphernalia. This year he is determined to snap a photo of his hero to add to his Christmas collection and begins preparations for the great Santa stakeout.
The amusing text is enhanced by Dan Santat's engaging and humorous illustrations. There is no doubt that this will be a popular holiday read aloud!
Comet The Unstoppable Reindeer by Jim Benton, 2020
(Ages 4 and up)
Readers looking for a little humor in their holiday stories, will be excited to meet Comet! When the famous reindeer breaks his arm, he is forced to stay home and rest on Christmas Eve. When he realizes Santa forgot his bag of toys, however, he must save the day!
The lively rhymes and comical illustrations make this a good choice for a read aloud to a group of children. My kids especially loved the slapstick scenes of Comet clumsily delivering the toys around the world.
Mrs. Claus Takes the Reins by Sue Fliess; illustrated by Mark Chambers, 2018
(Ages 3 – 8)
While Mrs. Claus takes a backseat in many holiday stories, she shines in Sue Fliess' entertaining holiday book, Mrs. Claus Takes the Reins! When Santa becomes too sick to deliver presents on Christmas Eve, Mrs. Claus steps up to take his place. She is brave, smart, and determined to save Christmas. You aren't going to want to miss this delightful story full of girl-power and whimsy!
You May Also Like: