Valentine's Day is around the corner and I'm thrilled to share these irresistible brand-new books focusing on love!
*This post contains affiliate links.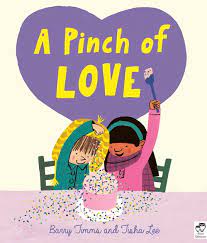 A Pinch of Love by Barry Timms and Tisha Lee, 2022
(Ages 4 and up)
On a gloomy, rainy morning, a boy and his grandmother brighten other people's day by giving out cookies at a local community center. The gentle rhymes use baking as a metaphor to reinforce that love is the special ingredient in creating joy and connecting with others. The inviting illustrations follow the boy and his grandmother through their baking ups and downs and how they work with others to raise money to fix up their community center.
Sprinkled with lots of delightful details, this book has all the ingredients for a winning picture book.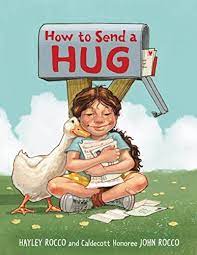 How to Send a Hug
by Hayley Rocco; illustrated by John Rocco, 2022
(Ages 4 and up)
This gem beautifully encapsulates how special it feels to receive a letter from a loved one. When a little girl wants to send a hug to her grandmother who lives far away, she provides readers with instructions on how they, too, can send their own hugs via the mail. Filled with heartfelt text and beautifully detailed illustrations, this sweet story exudes charm and is perfect for inspiring kids to send Valentines.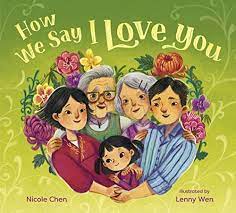 How We Say I Love You by Nicole Chen; illustrated by Lenny Wen, 2022
(Ages 4 and up)
This standout story demonstrates how love is more than just words. A young Asian girl explains to readers how each member of her family shows love through their actions. From preparing meals, to words of encouragement, to working hard to make the family proud, everyone offers their love in a myriad of ways. This heartwarming story is a beautiful look at the love of a family.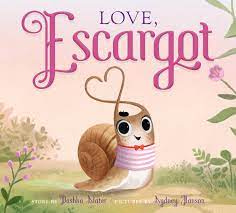 Love, Escargot by Slater Dashka; illustrated by Sydney Hanson, 2022
(Ages 4 and up)
A chic snail named Escargot invites readers to accompany him to a Snailentine's Day party. Once he arrives, however, he is in for a delightful surprise. The charming illustrations are a real treat and the rich vocabulary sprinkled with French terms makes this a fun book to read aloud. We love Escargot's first two books and hope to see even more adventures from this adorable little snail!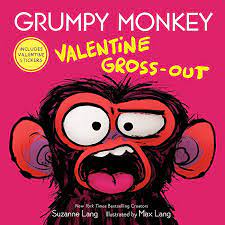 Grumpy Monkey Valentine Gross-Out by Suzanne Lang; illustrated by Max Lang, 2022
(Ages 4 and up)
Jim Panzee is disgusted by all signs of affection and is especially repulsed by the idea of Valentine's Day until his friend Norman informs him about different types of love. I adore how this humorous story helps kids understand that Valentine's Day isn't just about romantic love; it's about showing your friends and family that you appreciate and care for them.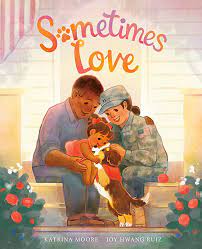 Sometimes Love by Katrina Moore; illustrated by Joy Hwang Ruiz, 2022
(Ages 4 and up)
Gentle rhyming text shares the love experienced between a girl and her dog. When her mother, who serves in the military, is deployed to another country, the family must temporarily leave the dog behind. I adore how this book demonstrates that love can stretch both distance and time. In an incredibly sweet ending the family is reunited with their beloved pet. There are not enough books showcasing military families and this is a standout inspired by the author's own experience.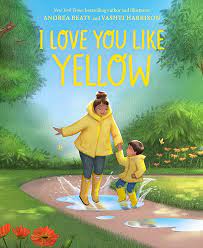 I Love You Like Yellow by Andrea Beaty and Vashti Harrison, 2022
(Ages 3 and up)
Lovely, lush illustrations are perfectly matched with lyrical text in this endearing story of the love found between a parent and child. With its comforting message and gentle flow, this is a good option for reading while cuddling with a little one.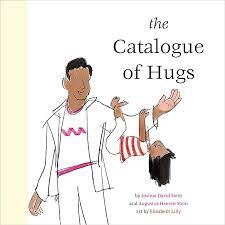 The Catalogue of Hugs by Joshua David Stein and Augustus Heeran Stein; illustrated by Elizabeth Lilly, 2022
(Ages 2 and up)
This inclusive story features a variety of families performing a myriad of hugs. Prepare for lots of giggles and cuddles while reading this sweet book!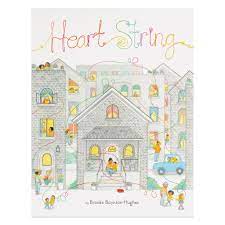 Heartstring by Brooke Boynton-Hughes, 2022
(Ages 3 and up)
Using the metaphor that we are all connected by invisible strings, this reassuring story helps children find a special bond with others. The lovely artwork adds to the comforting tone of the story helping to illustrate a unifying feel on a local and global level.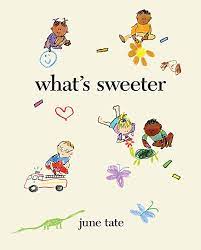 What's Sweeter by June Tate, 2022
(Ages 3 and up)
This tender tale beautifully points out the happiness that can be found in life's little moments. It could serve as the perfect conversation starter for the things children are grateful for in their life.
YOU MAY ALSO LIKE: