Valentine's Day is almost here and I have the perfect read alouds focusing on love, kindness, and friendship that are packed with kid appeal!
From an endearing robot searching for the meaning of love to a little girl determined to create a valentine for her entire town to a variety of tales celebrating sweet embraces, the following stories are guaranteed to give readers all the feels and stir up that excitement for Valentine's Day.
Whether sharing with your own children or a classroom full of students, these standout stories are sure to be a hit with kids!
*This post contains affiliate links.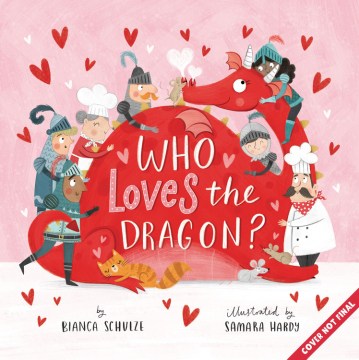 Who Loves the Dragon? by Bianca Schulze; illustrated by Samara Hardy, 2021
(Ages 3 and up)
This new interactive book could not be cuter! When Dragon's friends are all too busy to attend the annual friendship festival, he is left feeling sad and alone. Children will delight in cheering up Dragon by teaching him how to take deep breaths, sharing kind words, and showing off funny dance moves. The gratifying surprise ending will also leave them smiling and feeling loved themselves.
Love, Z by Jessie Sima, 2018
(Ages 3 and up)
Love, Z is the tender story of a robot searching for the definition of love. On his quest, he meets several new friends who share what love means to them. The sweet explanations combined with the charming illustrations are perfect for driving home the idea of love for children. This is one of those feel good books that you will want to share again and again!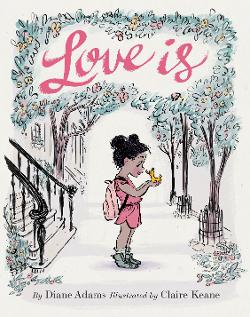 Love Is by Diane Adams; illustrated by Claire Keane; published by Chronicle Books, 2017
(Ages 3 and up)
Reminiscent of a parent raising a child, many adults and children will enjoy this amusing and touching journey through love. When a little girl finds a duckling in need of help, she cares for it through midnight feedings, early mornings, and messy baths. When the duck is ready, she lovingly releases it back into the wild. Though they may be apart, she is comforted in knowing they will always share a special bond.
The illustrations perfectly capture the girl's emotions and the lyrical text makes for a wonderful read aloud. Moreover, the girl shows compassion, maturity, and resilience making her an excellent role model for children. This endearing story is a real winner on many different levels.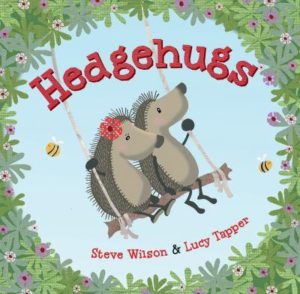 Hedgehugs by Steve Wilson and Lucy Tapper, 2015
(Ages 3 and up)
Horace and Hattie are hedgehogs that are the very best of friends, which makes it even more painful that they cannot hug due to their spiky quills. The story follows their friendship through the seasons as each new plan to hug is thwarted. When Horace wriggles into a sock on a clothesline, the pair finally find the perfect solution to their problem.

I especially love the ending stating, "So the next time you see someone wearing mismatched socks, or if one of your socks goes missing, you know what it means. A hedgehug has happened!" My son and I still joke every time we can't find a missing sock that there is a hedgehog running around hugging his friend.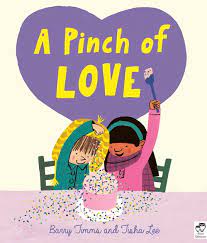 A Pinch of Love by Barry Timms and Tisha Lee, 2022
On a gloomy, rainy morning, a boy and his grandmother brighten other people's day by giving out cookies at a local community center. The gentle rhymes use baking as a metaphor to reinforce that love is the special ingredient in creating joy and connecting with others. The inviting illustrations follow the boy and his grandmother through their baking ups and downs and how they work with others to raise money to fix up their community center.
Sprinkled with lots of delightful details, this book has all the ingredients for a winning picture book.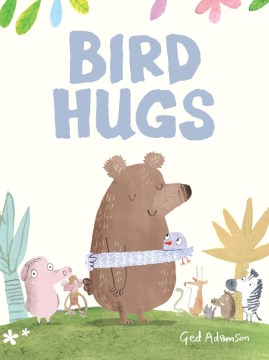 Bird Hugs by Ged Adamson, 2020
(Ages 4 and up)
This uplifting story about a bird who soars to new heights when he finds self-acceptance could not be cuter!
Bernard is born with unusually long wings that prevent him from flying. While initially disappointed that he can't join the other birds in the sky, this empathetic protagonist finds another use for his oversized limbs. When he hears an orangutan crying, he wraps his wings around him in a comforting embrace. Soon all of the animals want to share their sorrows with Bernard and receive an uplifting hug. Through helping others, Bernard finds happiness and friendship.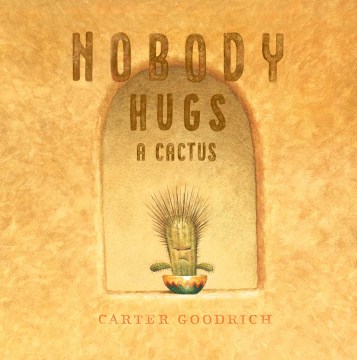 Nobody Hugs a Cactus by Carter Goodrich, 2019
(Ages 3 and up)
Have you ever seen a cuter cactus?? While he may be adorable on the outside, Hank is a cactus whose prickly disposition keeps the creatures of the dessert at bay. Even the grumpiest of us can change, however, and Hank soon realizes that everyone needs a hug sometimes.
Hank may be small in size, but he has a big personality that is expertly captured through the expressive illustrations. I also love how the pictures beautifully portray the dessert landscape through various phases of the day.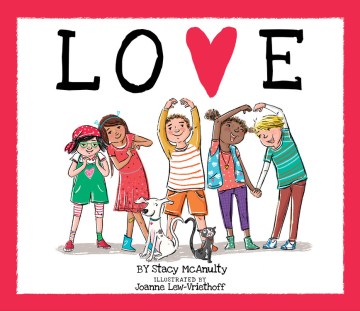 Love by Stacy McAnulty ; illustrated by Joanne-Law-Vriethoff, 2018
(Ages 3 and up)
Using simple text and charming illustrations that feature a diverse group of children, readers will experience examples of love in everyday moments. This sweet and tender book is perfect for Valentine's Day and all through the year.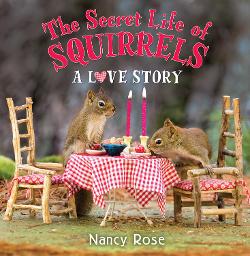 The Secret Life of Squirrels: a love story by Nancy Rose, 2016
(Ages 3 and up)
Incredible photographs featuring real squirrels in the author's backyard fill the pages of this adorable story. The lovable Mr. Peanuts first featured in The Secret Life of Squirrels (2014) is back and finds a new friend that he is nuts for just in time for Valentine's Day. The photographs featuring the squirrels playing on miniature sets are truly amazing and impossible not to smile at. This is one of my favorite go-to's to read to a class. It is always a hit with the kids!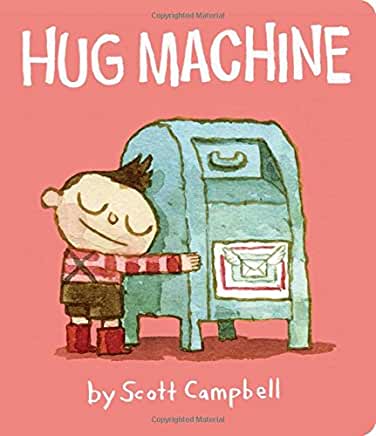 Hug Machine by Scott Campbell, 2014
(Ages 4 and up)
This book may only be a few years old, but it is considered a classic by many. The simple story follows a young boy who shares hugs with anyone who needs them. Adorable details are paired nicely with a message of compassion and friendship in this sweet tale that is perfect for Valentine's Day and all year long!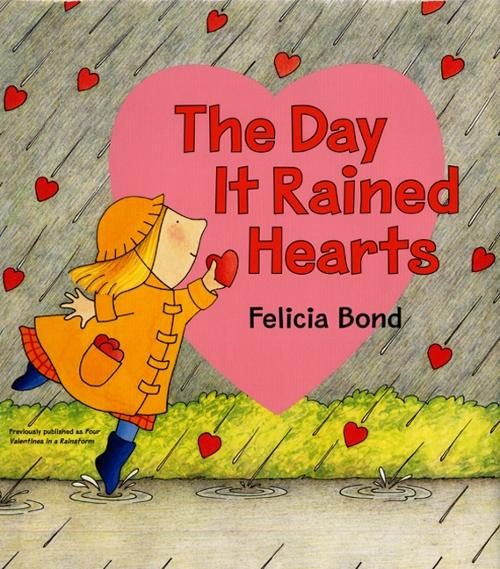 The Day It Rained Hearts by Felicia Bond, 1983
(Ages 3 – 5)
This is an oldie, but one that many teachers in my school still love to use. One day, it magically rains hearts and a little girl collects them to make unique Valentines for her animal friends. It never rained hearts again, but the clever and creative protagonist discovers hearts all around her for future Valentines.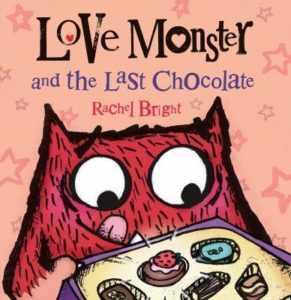 Love Monster and the Last Chocolate by Rachel Bright, 2015
(Ages 3 and up)
Love Monster returns from a vacation to find a box of chocolates on his doorstep. He excitedly plans to eat the entire box, when he is struck by the idea of sharing with his friends. He proceeds to have an inner struggle debating whether or not to share the delicious treats (reminiscent of Mo Willem's Should I Share My Ice Cream). In the end, he decides to share… he is a love monster after all. In a surprising twist, he discovers that his friends are the ones who had shared the last candy with him.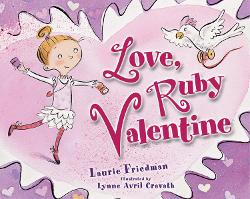 Love, Ruby Valentine by Laurie Friedman; illustrated by Lynne Avril Cravath, 2006
(Ages 4 and up)
Ruby Valentine is so full of love, she can't wait to share her handmade treats and cards with the entire town. She works so hard, however, she sleeps through Valentine's Day! The resilient girl doesn't let this stop her and delivers her valentines anyway discovering that it brings people joy to say I love you any day of the year!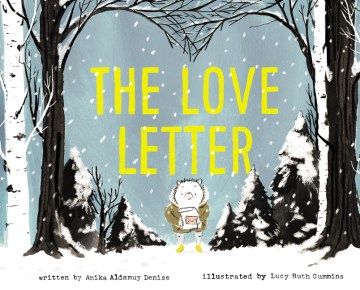 The Love Letter by Anika Aldamuy Denise; illustrated by Lucy Ruth Cummins, 2019
(Ages 5 and up)
When three animal friends each find a love letter, they mistakenly believe it is intended for them. The letter makes Hedgehog feel cheerful, Bunny helpful, and Squirrel carefree. When they discover the letter is meant for someone else entirely, they are initially crushed, but soon realize the valuable friendship they share.
This impactful read aloud could serve as the perfect writing prompt for children to write letters to their friends explaining what they appreciate about them.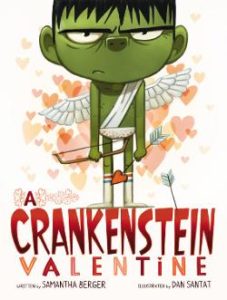 A Crankenstein Valentine by Samantha Berger; illustrated by Dan Santat, 2014
(Ages 4 and up)
The little boy from Crankenstein (2013) is back and is as cranky as ever. Despite his mother and classmates' attempts to engage him in Valentine's Day activities, he continues his refrain of "Yechhh!" at each offering. Not even his heart undies can turn his day around.
The illustrations are hilarious as Caldecott winning illustrator, Dan Santat, perfectly captures Crankenstein's anguish as he is surrounded by pink hearts all day. As in the first book, his one saving grace is finding a best friend who understands exactly how he feels. It is difficult to find a fun Valentine's Day read aloud for upper elementary age children, but this is one that will engage even the biggest Valentine's Day naysayer.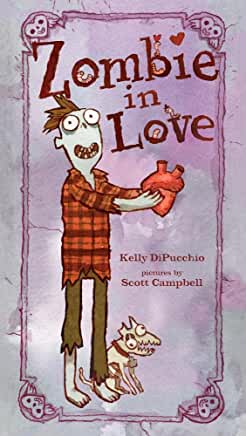 Zombie in Love by Kelly DiPucchio; illustrated by Scott Campbell, 2011
(Ages 6 and up)
Filled with amusing word-play, the story of Mortimer the zombie searching for love is perfect for those kids who prefer spooky to mushy. Balancing gore, humor, and a sweet ending, this is a fun and unique love story that has tons of kid appeal.
Looking for Valentine's Day board books for the young children in your life? Check out our list of favorites: