As a school librarian, I was challenged with providing picture book read alouds for the class parties at my school. Each year I struggled with finding acceptable choices. There are many books about Valentine's Day, but none of them really stood out to me. Many picture books discuss crushes, which can be an awkward and sometimes an inappropriate subject with elementary school children.
After much deliberation, I've put together a list of my favorite Valentine's Day books to read one on one or out loud to a group of children. These are the books that are always a hit with my students and my own children. Some of the below books are not specifically Valentine's Day themed, but still fit with the major characteristics of the holiday.
Love, Z by Jessie Sima, 2018
(Ages 3 – 8)
Love, Z is the tender story of a robot searching for the definition of love. On his quest, he meets several new friends who share what love means to them. The sweet explanations are perfect for driving home the idea of love for children.
The illustrations could not be more charming. There is an adorable cat dressed as a captain that makes me smile with every read. This is one of those feel good books that you will want to share again and again!
I just adore Jessie Sima's clever, creative books! If you haven't read Not Quite Narwhal (2017) or Harriet Gets Carried Away (2018), I highly recommend you visit your library immediately and don't forget to grab Love, Z while you are there!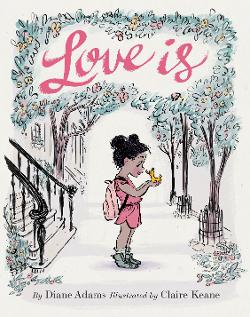 Love Is by Diane Adams; illustrated by Claire Keane; published by Chronicle Books, 2017
(Ages 3 – 8)
I just adore this sweet story about love and letting go. The story centers on a little girl who finds a lost duckling and cares for it. The charming illustrations and poetic text showcase the time they spend together through midnight feedings, early mornings, and messy baths. When the cold arrives, the girl realizes it is time to set the duck free. "Love is nudging gently tugging, coaxing baby from the nest. It's getting to the edge and hoping, letting nature do the rest." In the spring, the girl nervously returns to the pond and finds her duck grown. They reunite in a tender hug providing the perfect end to this lovely story.

Reminiscent of a parent raising a child, many adults and children will enjoy this sweet journey through love. The illustrations perfectly capture the girl's emotions and the lyrical text makes for a wonderful read aloud. Moreover, the girl shows compassion, maturity, and resilience making her an excellent role model for children. This endearing story is a real winner on many different levels.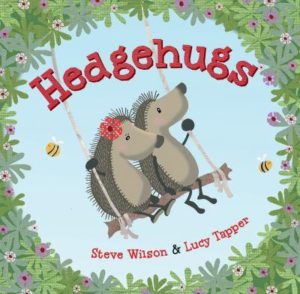 Hedgehugs by Steve Wilson and Lucy Tapper, 2015
(Ages 3 – 7)
Even though this is not specifically Valentine's Day themed, I love this book for this time of year. Horace and Hattie are hedgehogs that are the very best of friends, which makes it even more painful that they cannot hug due to their spiky quills. The story follows their friendship through the seasons as each new plan to hug is thwarted. In the winter they roll in snow, but their hug is too cold and in summer they use strawberries, but they prove to be too sticky.
One day Horace stumbles across a sock hanging on a clothesline. He investigates and wriggles into the sock until his head pops out of the heal. Hattie finds her own floral sock and they discover that they can finally embrace without any pain. I love the ending stating, "So the next time you see someone wearing mismatched socks, or if one of your socks goes missing, you know what it means. A hedgehug has happened!" My son and I still joke every time we can't find a missing sock that there is a hedgehog running around hugging his friend.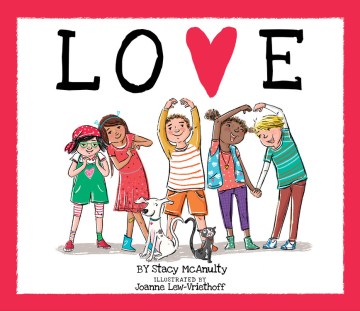 Love by Stacy McAnulty ; illustrated by Joanne-Law-Vriethoff, 2018
(Ages 3 – 8)
Using simple text and charming illustrations that feature a diverse group of children, readers will experience examples of love in everyday moments. This sweet and tender book is perfect for Valentine's Day and all through the year.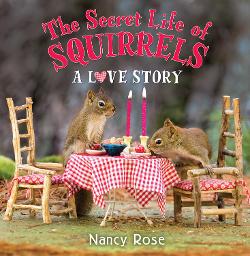 The Secret Life of Squirrels: a love story by Nancy Rose, 2016
(Ages 3 – 6)
Nancy Rose created the first book in this series, The Secret Life of Squirrels (2014), by photographing the squirrels in her backyard. She continued to add miniature sets to capture more photographs and create the story of Mr. Peanuts in search of a friend for Valentine's Day.
It is almost impossible not to smile at the adorable squirrels. This is one of my favorite go-to's to read to a class. It is always a hit with the kids!
The Day It Rained Hearts by Felicia Bond, 1983
(Ages 3 – 5)
This is an oldie, but one that many teachers in my school still love to use. One day, it magically rains hearts and a little girl collects them to make unique Valentines for her animal friends. It never rained hearts again, but the clever and creative protagonist discovers hearts all around her for future Valentines.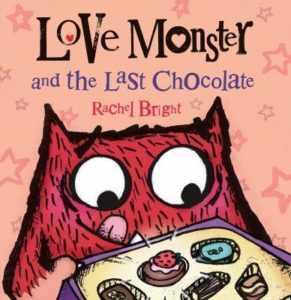 Love Monster and the Last Chocolate by Rachel Bright, 2015
(Ages 3 – 6)
Love Monster returns from a vacation to find a box of chocolates on his doorstep. He excitedly plans to eat the entire box, when he is struck by the idea of sharing with his friends. He proceeds to have an inner struggle debating whether or not to share the delicious treats (reminiscent of Mo Willem's Should I Share My Ice Cream). In the end, he decides to share… he is a love monster after all. In a surprising twist, he discovers that his friends are the ones who had shared the last candy with him.
This is a great story to read anytime, but with a box of chocolates being a popular Valentine's gift, it provides a nice lesson during this holiday. As most children have difficulty sharing, this is an easy story to relate to. I think it is valuable for children to see Love Monster's internal struggle and that he eventually makes the right choice to share. The ending leaves the reader with a perfect lasting thought, "You see, sometimes it's when you stop to think of others…that you start to find out just how much they think of you." A valuable lesson for all.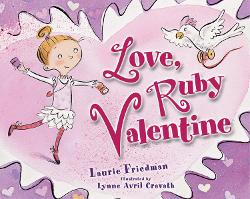 Love, Ruby Valentine by Laurie Friedman; illustrated by Lynne Avril Cravath, 2006
(Ages 4 – 8)
This story follows Ruby and her pet cockatoo, Lovebird, as they begin their countdown to their favorite day of the year, Valentine's Day. Ruby tirelessly decorates Valentine cards, bakes treats and wraps gifts for everyone in town. She works so hard, in fact, that the exhausted girl sleeps through Valentine's Day. When she awakes, she is disappointed that she won't be able to share her love with the town. With Lovebird's encouragement, she decides to deliver her Valentines anyway.
Despite Ruby's initial trepidation of sharing her Valentines a day late, the townspeople are thrilled with Ruby's kindness. "And that's when Ruby realized that saying 'I love you!' doesn't have to wait 'till Valentine's – any day will do." Ruby is such a likable, enthusiastic, and thoughtful character one can't help but root for her. I loved the message of telling the people you love how much you care about them any time of year. This is an appealing story that is a perfect read aloud for Valentine's Day.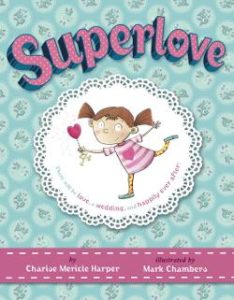 Superlove by Charise Mericle Harper; illustrated by Mark Chambero , 2014
(Ages 4 – 8)
This is not specifically a Valentine's Day book, but I'm listing it here because it is a fun celebration of weddings and love. This book is perfect for those children out there who love weddings and dream of being a flower girl. The main character declares herself Superlove and is determined to hold a wedding marrying her pet cat, Pinky, with one of her stuffed animals. The imaginative little girl creates the perfect wedding scene only to be ruined by her uncooperative cat. Her parents save the day by participating in the wedding instead. The cat's expressions are humorous and the story promoting imaginative play is cute. Even though the book seems to be marketed toward girls with its glittery pink cover, I was pleasantly surprised that my son asked to read it multiple times.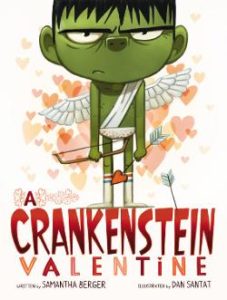 A Crankenstein Valentine by Samantha Berger; illustrated by Dan Santat, 2014
(Ages 5 – 8)
The little boy from Crankenstein (2013) is back and is as cranky as ever. Despite his mother and classmates' attempts to engage him in Valentine's Day activities, he continues his refrain of "Yechhh!" at each offering. Not even his heart undies can turn his day around.
The illustrations are hilarious as Caldecott winning illustrator, Dan Santat, perfectly captures Crankenstein's anguish as he is surrounded by pink hearts all day. As in the first book, his one saving grace is finding a best friend who understands exactly how he feels. It is difficult to find a fun Valentine's Day read aloud for upper elementary age children, but this is one that will engage even the biggest Valentine's Day naysayer.
Looking for Valentine's Day board books for the young children in your life? Check out our list of favorites: