Valentine's Day is a perfect time to curl up with a book and snuggle with a little one. Here are a few love worthy books to enjoy with your baby or toddler.
*This post contains affiliate links. To read my full disclosure CLICK HERE.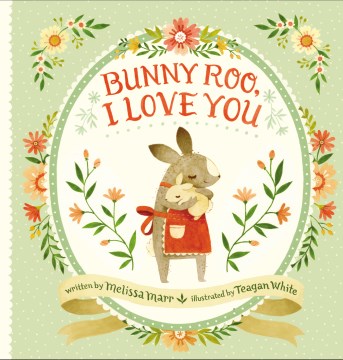 Bunny Roo I Love You by Melissa Marr, illustrated by Teagan White
The incredible bond between parent and child is beautifully captured in this charming story. The loving text follows a narrator who compares their child to a variety of animals while the vintage style illustrations provide a classic feel that will attract multiple readings.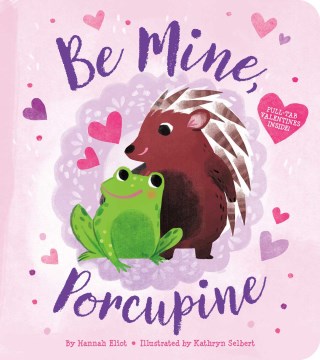 Be Mine Porcupine by Hannah Eliot; illustrated by Kathryn Selbert, 2020
This engaging board book uses flowing rhymes to introduce a myriad of animals who share special Valentines with the reader. Children will relish in pulling out little letters from their envelopes while adults will chuckle over the message filled with humorous word-play.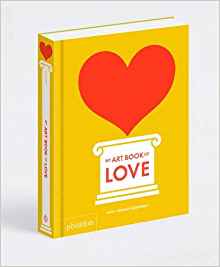 My Art Book of Love by Shana Gozansky , 2018
I strive to expose my children to various aspects of the world, so I was overjoyed to receive My Art Book of Love. This beautiful board book features famous pieces of art that highlight different forms of love. The tender text paired with the prominent artwork is a true celebration of what love can look like and how it can make us feel.
This outstanding book is perfect for reading while snuggling up with your own little one or gifting for a baby shower or Valentine's Day.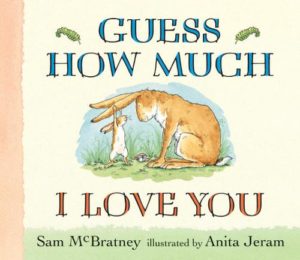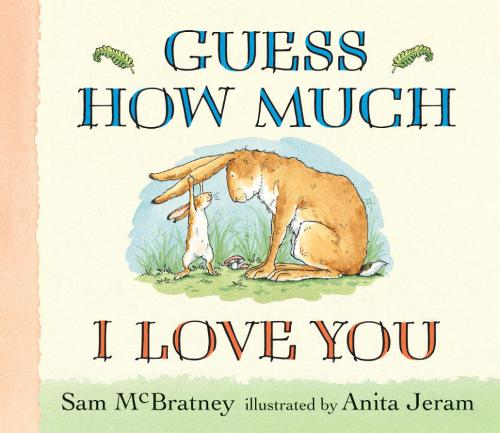 Guess How Much I Love You by Sam McBratney; illustrated by Anita Jeram, 1994
With its message of eternal parental love, this timeless story is one of my absolute favorites.
Little Nutbrown Hare is preparing for bed and tries to express how much he loves his father by physical measurements. "I love you as high as I can hop." In a playful back and forth game, father and son continue trying to explain how much they love each other. As Little Nutbrown Hare drifts off to sleep and mutters, "I love you all the way to the moon". Big Nutbrown Hare waits until he is asleep and whispers, "I love you to the moon and back". The soft water color illustrations and heartwarming story make this a perfect book to read with a loved one before bedtime.Buy It Here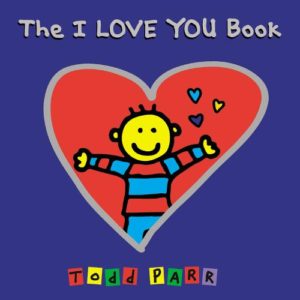 The I Love You Book by Todd Parr, 2009
Todd Parr is one of my favorite authors and illustrators for young children. His signature artwork is bright and bold and very child friendly. His books are well known for their universal themes and for helping to build children's confidence.
The I Love You Book is a standout because it reinforces the message to children that they will be loved unconditionally. The simple text and colorful illustrations capture moments that will be familiar to many children. "I love you when you are silly./ I love you when you are sad. / I love you when you are scared. / I love you when you are brave." Children will leave this book feeling reassured that the people in their lives will love them completely and absolutely.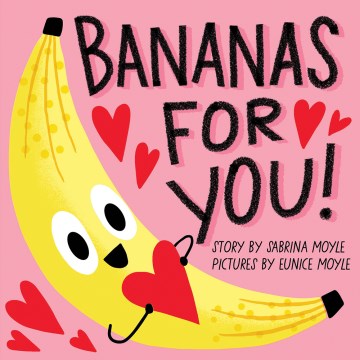 Bananas for You by Sabrina Moyle; illustrated by Eunice Moyle, 2022
With its bright colors and exuberant rhyming text, this lively board book is sure to be a hit with kids and adults. It has the perfect combination of silly humor for little ones and clever word-play for parents. My kids enjoy this one so much, they love quoting the silly text long after closing the pages.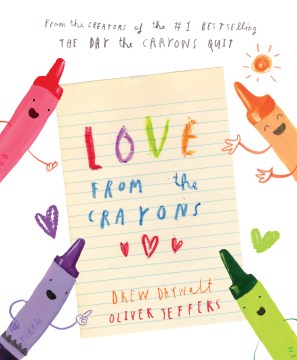 Love From the Crayons by Drew Daywalt; illustrated by Oliver Jeffers, 2019
The lovable characters from The Day the Crayons Quit are back in a small-formatted book that is perfect for tiny hands. Simple text describes the various shades of love while the adorable illustrations showcase each color making this a fun choice for teaching colors while snuggling with a loved one.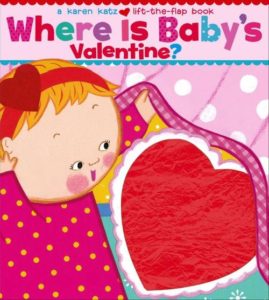 Where is Baby's Valentine? by Karen Katz, 2007
Most babies love any book with flaps and the addition of shiny and glittery materials makes this one a winner. This series is always popular and the Valentine's edition is no exception. You cannot go wrong with a Karen Katz book!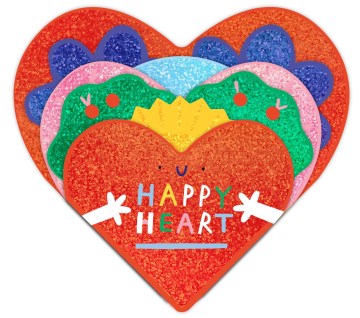 Happy Heart by Hannah Eliot; illustrated by Susie Hammer, 2019
With its glittery pages, bright colors, and unique heart shape, there is a lot to enjoy about this cute board book. Little hands will delight in feeling the textured pages while listening to the reader's affirmations of love.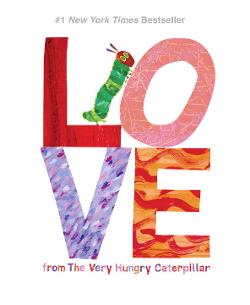 Love from The Very Hungry Caterpillar by Eric Carle, 2015
The combination of several endearing idioms and Eric Carle's beautiful illustrations makes for a winning Valentine's Day book for toddlers. Unlike the original The Very Hungry Caterpillar book, there is no real story here. It is simply an expression of love. Each page features short, simple text such as, "You are the apple of my eye" making this a nice quick read for babies and toddlers. The Very Hungry Caterpillar is one of the most iconic characters in children's literature and it is hard to resist this cute little book.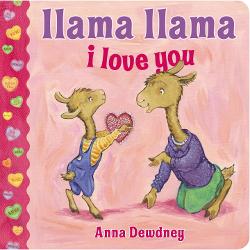 Llama Llama I Love You by Anna Dewdney, 2014
You really can't go wrong from any book from the Llama Llama picture book or board book series. Children always love them. Rhyming text and adorable illustrations bring this Valentine's Day tale alive. Join Little Llama as he shares Valentines and hugs with friends and family.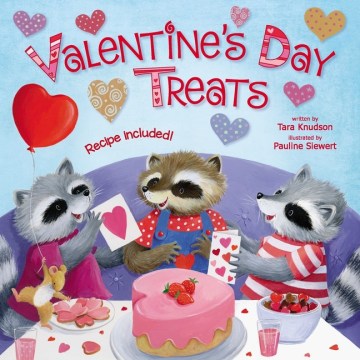 Valentine's Day Treats by Tara Knudson; illustrated by Pauline Siewert, 2020
Join a family of racoons as they make Valentines and a special heart-shaped cake in this delightful board book. As an extra bonus, a recipe is included for readers to make their own sweet treat.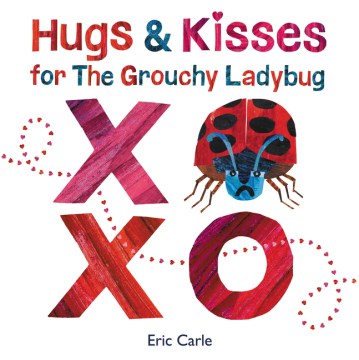 Hugs & Kisses for the Grouchy Ladybug by Eric Carle, 2018
Eric Carle brings back his classic character, the Grouchy Ladybug, to remind toddlers that even the grouchiest of us can be cheered up with hugs and kisses.
The simple text made up mostly of verbs is perfect for inviting young children to act out while reading along. Eric Carle's signature collage illustrations are as engaging as ever making this an excellent choice for Valentine's Day or all year long.
My own cranky toddler adores this book and delights in blowing kisses to the grouchy ladybug in the end.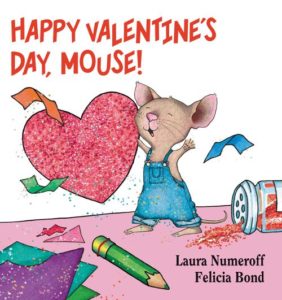 Happy Valentine's Day, Mouse! by Laura Numeroff; illustrated by Felicia Bond, 2009
Mouse, from If You Give a Mouse a Cookie (1985) is back and making Valentines for his friends. Each Valentine Mouse creates, reflects something he loves about each friend. The book ends with all of his friends bringing Mouse his own perfect Valentine, a cookie, of course. A simple and sweet story celebrating everyone's uniqueness.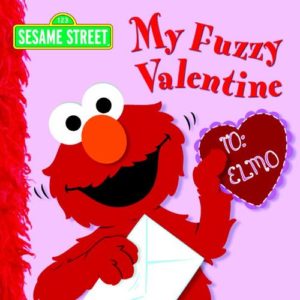 My Fuzzy Valentine by Naomi Kleinberg; illustrated by Louis Womble, 2005
Elmo receives a mysterious Valentine and asks many of the Sesame Street residents who sent it. In each picture, Elmo is covered in fuzzy material making it fun for toddlers to feel as they follow the story. At the end, Elmo discovers that his mother sent the Valentine creating a perfect moment for a hug.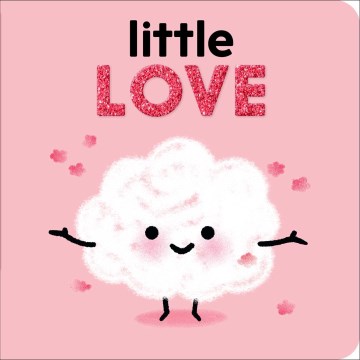 Little Love by Nadine Brun-Cosme; illustrated by Marion Cocklico, 2020
When Little One is showered with hugs and kisses from his adoring parents, he is filled with so much joy, he transforms into Little Love. Prepare for extra hugs and kisses while reading this sweet story.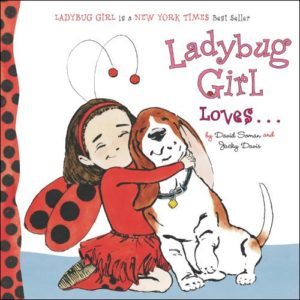 Ladybug Girl Loves by David Soman and Jacky Davis, 2010
This simple board book based on the Ladybug Girl series shares the many things Lulu loves from exploring her backyard, to traveling with her family, to visiting the beach and playing with her friends. Ladybug Girl is a beloved character that inspires children to share the things that they love to do.
Looking for more suggestions? Check out our favorite Valentine's Day Picture Books.