Interactive books are a great way to actively engage young children.  Often an unseen narrator addresses them directly, immediately drawing them into the story. Then, a required task brings the book to life by providing a chance for the child to become an integral part of the narrative. The call-to-action is perfect for young children who love to make silly sounds or touch the book directly. Because the reader has to pay attention to the text, their listening skills are enhanced in a fun way. Interactive stories are fun, engaging, and perfect for toddlers! Below are a few of our new favorites. Enjoy! 
*This post contains affiliate links. To read my full disclosure CLICK HERE.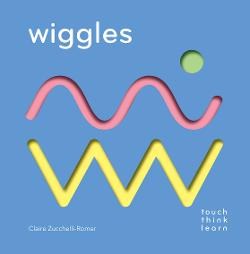 Wiggles by Claire Zucchelli-Romer, 2018
(Ages 2 – 5)
"Touch Think Learn" is the name of this series and it perfectly represents what this enthralling new interactive book is all about. Wiggles invites children to engage with shapes on each page performing different actions. Little fingers won't be able to resist tracing, tapping, and sliding the brightly colored die-cut outlines.
This deceptively simple book does an incredible job teaching while entertaining at the same time. Young children will be exposed to a wonderful array of action verbs and symbols, learn to follow directions, discover the difference between right and left, and celebrate their imaginations.
This clever new concept book has moved straight to the top of our list of baby shower gifts.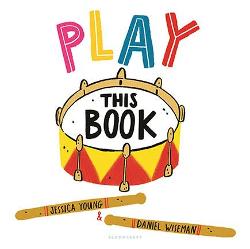 Play This Book by Jessica Young; illustrated by Daniel Wiseman, 2018
(Ages 2 – 6)
"Rat-A-Tat, Rat-A-Tat", "Tink, Tink, Tink", "Crash! Crash! Crash!" These are just a few of the joyous sounds from one of our new favorite interactive books, Play This Book by Jessica Young; illustrated by Daniel Wiseman. Rhyming text invites readers to join a diverse group of children as they "play" instruments in their band. Children will love using their imagination to make a beat on the drum, tap piano keys, and bang symbols. Eight instruments are included in the ensemble accompanied by matching musical sounds.
Kids are not going to be able to resist this fantastic musically-themed interactive book!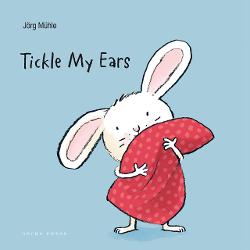 Tickle My Ears by Jorg Muhle, 2016
(Ages 2 – 5)
Little Rabbit is going to bed, but he needs your help. Children are invited to encourage Rabbit to put on his pajamas by clapping their hands, fluffing his pillow, and tucking him in. I had so much fun reading this book with my two-year-old daughter. I just loved watching her gently stroke Rabbit's back and whisper, "Good Night, Bunny", in her little voice. It set the perfect mood for her own bedtime and became one of her favorite books to read for weeks. We also loved the sequel, Bathtime for Little Rabbit, 2017.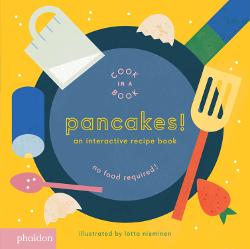 Pancakes! (Cook in a Book series) by Lotta Nieminen, 2016
(Ages 2 – 6)
This brilliant board book will capture any child's love of cooking and playing. There is no story here per se, but instead the book lays out the necessary steps to prepare pancakes. Using clever sliders and spinners children can participate in each step. For example, they can pull a tab to watch flour fill a bowl and turn a spinner to mix the batter. My two-year-old daughter's favorite part of this book was the cutout circle in the shape of a pancake that pops out, so that you can flip it and then put it on a plate in the book. Even my five-year-old wanted in on the action and took a turn flipping the pancake. This book is fun, engaging, and a must-have for any little chefs in training.  The other books in the series include Pizza and Tacos and are just as much fun!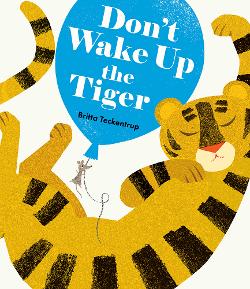 Don't Wake Up the Tiger by Britta Teckentrup, 2016
(Ages 2 – 5)
We are always looking for great new interactive books for toddlers and this has quickly become a favorite. The opening two-page spread introduces readers to a sleeping tiger with five animals hovering over her.
One by one they attempt to use balloons to pass over the snoring feline. With each crossing, the narrator instructs the reader to perform an action such as petting the tiger's nose or gently rocking her to lull her back to sleep. Unfortunately, one of the balloons pops and the tiger wakes up allowing children the perfect opportunity to predict what will happen next in the story. Don't worry, no one gets eaten. Tiger awakens just in time for her surprise birthday party. The large colorful illustrations make this adorable book perfect for reading aloud to a group of children or snuggling up together at bedtime.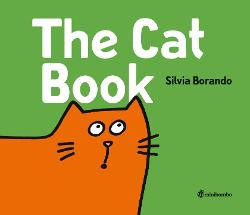 The Cat Book by Silvia Borando, 2017
(Ages 2 – 5)
This adorable import from Italy invites children to name and care for a cute orange cat.  The small size of the book is perfect for little hands and the bright orange cat against a white background immediately draws readers in. Green text encourages children to make the kitty purr by tickling under the chin, protecting the cat from rain by making an umbrella with their hands, and lulling it to sleep by giving a little good night scratch behind the ears. My children enjoyed performing all the various actions and even laughed out loud on the page where the cat appears poofy from getting wet. Such a fun read!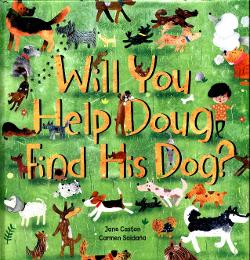 Will You Help Doug Find His Dog? by Jane Caston; illustrated by Carmen Saldana, 2017
(Ages 2 – 6)
Poor Doug has lost his dog. An unseen narrator asks for the reader's help in finding his pet. Doug is sitting on a bench in a dog park surrounded by a number of frisky canines.  After asking Doug a series of questions, children have to narrow down the group of dogs to find Doug's special one. This book stands out to me because it helps children build their reading comprehension skills. They have to listen to instructions and then apply an action matching the auditory clue with a visual.
When the reader discovers the dog has spots, children are asked to identify the spotted dogs in the group and then pat them. Then they have to look at a line of dogs and tickle the small ones. My two-year-old daughter's favorite page is when the dog gives the reader a big kiss. We would always snuggle in close and pretend to do a sloppy dog kiss when reading this page. There is also a bit of a surprise ending when Doug is disappointed the last dog meets all the criteria except that the dog is brown instead of white. After shaking the book, however, children will discover the dog was covered in mud and it is in fact Doug's dog. Doug is thrilled until he sees his dog running off to another puddle.
I had a difficult time reviewing this book because every time I took it out of my daughter's room to write about it, she would throw a fit and demand it back in her room for even more readings. Luckily, we could renew it twice from the library.