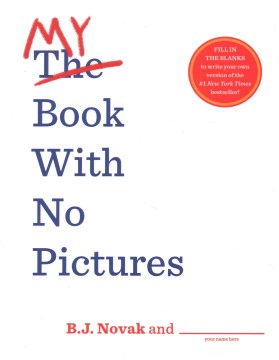 I just found my new favorite gift for every child in my life.
The Book With No Pictures
by B.J. Novak is top on my list for all-time favorite funny picture books and now there is a new interactive version that lets kids write in their own silly words. Pure genius!
Children can add real or made up words, which made this perfect for both my seven-year-old and four-year-old. They each took turns filling in the blanks and whether it was a mix of letters creating a nonsense word or a comical adjective, we all laughed at the hysterical entries.
It was a perfect way to get them excited about writing and feel like accomplished authors. Even though there are not supposed to be pictures, my daughter couldn't resist adding her own illustration showing what a "bilpiim" is.
I love any story that can make the entire family laugh while also encouraging my children's creativity and writing skills. My kids loved it so much that they begged to bring their book into school to have their teachers read it aloud to their classes. With rave reviews from both my children, I cannot recommend this book highly enough!
A big thank you to Penguin Random House for sharing this phenomenal book with our family. All thoughts and opinions of the book are my own.
*This post contains affiliate links. To read my full disclosure CLICK HERE.