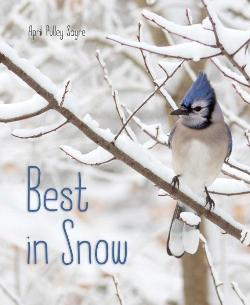 Best in Snow by April Pulley Sayre, 2016
(Ages 3 to 8)
Scarce text and beautiful photography perfectly capture the complex cycle of snow. Using only a few words per page, award winning nonfiction writer, April Pulley Sayre, simply describes what happens before, during, and after a snowstorm.
The book begins by showing a cloud that brings a snow that settles on the ground and then melts from the sun. "Air warms./ Snow softens./ It drip, drip, drips./ Snowmelt forms icicle tips." The ground becomes slushy until there is another freeze and the cycle repeats itself.
The lyrical language and large close-up photographs make this a good book for a snow-themed storytime or as an introduction to a nonfiction unit on snow in the classroom. It is also great for one-on-one sharing, so that you can discuss what is happening in each picture in more detail. This is one of those books that I thought was beautiful the first time I read it, but after multiple readings I became even more impressed with the simple language used to capture the many properties of snow. 
While the text in the book remains concise, an author's note in the back of the book goes into further detail describing the science behind the creation of snow. For those interested in learning more about snow, a reading list is also included in the back. This book is a terrific addition to any preschool or elementary school nonfiction collection.
On a personal note, my son received a kid friendly camera for Christmas and this book inspired us to take our own snowy pictures outside. It was fun discussing each of the different stages of the snow. From icy, to slushy to the perfect snowman building snow, we had a wonderful time investigating.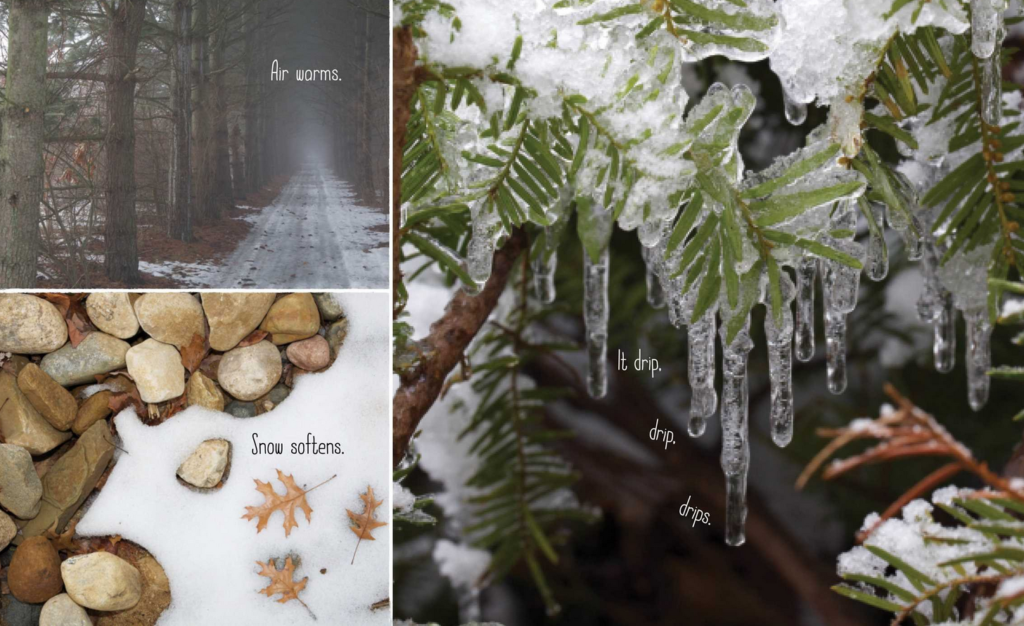 Don't forget to check out the companion book, Raindrops Roll by April Pulley Sayre (2015) and some of Sayre's other great nonfiction books including Rah, Rah, Radishes (2011), Eat Like a Bear (2013), and Woodpecker Wham! (2015)