Anyone who has ever experienced separation anxiety knows it is no easy feat. In fact, it is plain awful. When I experienced it with my own children, I found books to be extremely helpful. Books are an excellent way to introduce transitions as well as conversations on how to process big emotions during times of change.
Whether it's starting school, leaving for a few hours, or departing on a trip, the following books can help reassure readers that they are loved no matter where they are.
*This post contains affiliate links.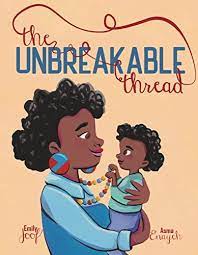 The Unbreakable Thread by Emily Joof, illustrated by Asma Enayeh, 2022
(Ages 3 and up)
Using the metaphor of an invisible thread, this sweet story explains how we are linked together through love. I adore how the book reveals the thread unwinding bit by bit, so that the child has space to grow while being loved from afar by a parent.
This soothing story follows the child from birth through high school, making it a perfect read aloud to comfort children experiencing a variety of transitions including starting school, sleepovers, and even graduation.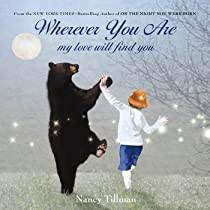 Wherever You Are My Love Will Find You by Nancy Tillman, 2012
(Ages 3 and up)
You can't go wrong with a Nancy Tillman book and this one is a real standout. Her signature lush illustrations fill the pages as sincere text describes how a mother's love can reach no bounds. It can stretch and follow her child anywhere. This treasure of a book is a classic that withstands the test of time.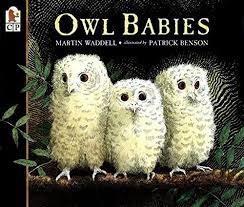 Owl Babies by Martin Waddell, illustrated by Patrick Benson, 2002
(Ages 3 and up)
Stunning artwork follows three young owlets who awake to find their mother gone. They initially feel extremely anxious by her disappearance, but are relieved when she returns with a feast. The message that parents always come back shines through loud and clear in this gentle tale.
STARTING SCHOOL
Llama Llama Misses Mama by Anna Dewdney, 2009
(Ages 2 and up)
This is a wonderful book to use with children who have separation anxiety or who just need a little encouragement about starting school.
Simple rhymes capture little Llama's initial apprehension of going to school without his mom. While he observes other children playing, he does not participate and finally breaks down into tears. After the teacher reassures him that his mom will be back at the end of the day, Llama joins in on the fun. He enjoys the rest of the afternoon, but still jumps for joy upon his mother's return. The story ends with the comforting words, "Llama finds out something new – he loves Mama…and school, too!"
The Kissing Hand by Audrey Penn, 1993
(Ages 3 and up)
When Chester Raccoon is nervous about starting school for the first time, his mother kisses his hand. She explains that with this kiss, he will still feel her love even when they are apart. Anytime he gets nervous he can look at his hand and remember his mother loves him. This is a picture book that has withstood the test of time and provides a great way for parents to reassure their own children about starting school.
Monkey Not Ready For Kindergarten by Marc Brown, 2015
(Ages 4 and up)
This standout story is a terrific choice for highlighting a child's initial anxiety about starting school and coming up with helpful solutions to combat it. For example, the book displays Monkey and his parents playing school together, reading books about school, organizing playdates with classmates, giving a secret good-bye handshake, etc. This comforting story is one that both parents and children will appreciate.
Love by Corrinne Averiss; illustrated by Kirsti Beautyman, 2021
(Ages 4 and up)
Until recently, Tess' loving parents have been with her everywhere she has gone. Now it is her first day of school and Tess is feeling nervous. Her wise mother reassures her that "Love is like a string between us- it can stretch as far as it needs to." While Tess initially feels apprehensive about being apart from her parents, she is uplifted when she finds a connection with her teacher and several of her classmates.
This endearing story empowers children to branch out on their own while feeling comforted that they are always loved by their family.
GOING TO WORK OR TRAVELING
Love Mama by Jeanette Bradley, 2018
(Ages 2 and up)
This heartfelt story of an adorable little penguin missing his mama while she is on a trip could not be sweeter! In her absence, he builds a pillow mama, but it just isn't the same. When he receives a very special package from his mother, he is comforted in the knowledge that her love stretches through any distance.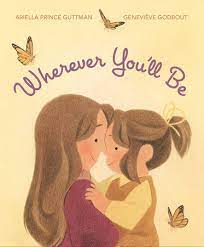 Wherever You'll Be by Ariella Prince Guttman; illustrated by Geneviève Godbout, 2021
(Ages 4 and up)
Parallel illustrations follow a mother at work and her daughter at school while gentle rhymes convey the love felt between them even while they aren't physically together. The soft illustrations paired with the cheerful text provide a soothing tone, making this a good choice for bedtime or when parents are reunited at the end of the day with their children.
Mama and Mommy and Me in the Middle by Nina LaCour; illustrated by Kaylani Juanita
(Ages 4 and up)
Love abounds in this beautiful tale of family that follows a little girl as she copes with her feelings of sadness during her mother's week-long absence. Because her struggles with missing her mom are dealt with in such a gentle and reassuring manner, this story is sure to strike a chord with many. Additionally, the delightfully detailed illustrations could not be more wonderfully inclusive or engaging. I especially love how this story captures that special emotion of feeling whole when with family.
MOVING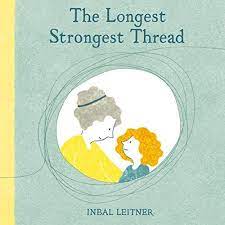 The Longest, Strongest Thread by Inbal Leitner, 2022
It is hard to leave the ones we love especially when they live far away. As a little girl prepares to move, she uses a blue thread to create a map for her grandmother to find her and visit. As they say goodbye, her Grandma assures her that no matter the distance, they will always be connected by the longest, strongest thread of love. Pops of yellow and teal add to the hopeful tone of this uplifting story.
FIRST SLEEPOVER
Time for Bed Old House by Janet Costa Bates; illustrated by AG Food, 2021
(Ages 3 and up)
It's Isaac's first sleepover at his grandpa's and while he is excited, he is also nervous. Grandpa tenderly takes him by the hand and leads him around the house saying goodnight to different rooms and comforting him by identifying new sounds he might hear in the night. This heartwarming intergenerational story is such a gem!
YOU MAY ALSO LIKE: