One of the best ways to prepare children for school is to introduce them to the types of things they can expect to see during the school day or over the course of the year. The following books do an excellent job setting expectations for school, so that children can set aside any nervous feelings and simply get excited for the adventure to come.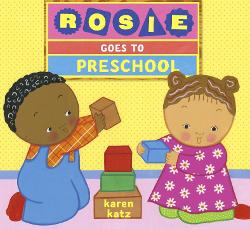 Rosie Goes to Preschool by Karen Katz, 2015
(Ages 2 – 4)
This oversize picture book is perfect for young children starting nursery school or preschool for the first time. The story follows little Rosie as she joins a diverse group of children for a typical day at preschool. Each page is filled with vibrant, colorful illustrations. The text is sparse, but informative providing "Rosie Tips" throughout. For example, on a page showing this week's job chart, the text reads, "And this is our job chart. Yay! I'm the lunch helper." In the corner of the page, Rosie's Tip advises, "Don't worry if you don't get the job you want. Everybody gets a turn to do each one." Katz does a wonderful job of pointing out typical things children can expect to see at preschool such as having a cubby or hook with their name on it, playing with toys, sitting for circle time, using a job chart, creating art, going to the bathroom, playing musical instruments, etc. The children are seen with big smiles and appear happy throughout each activity providing reassurance to new students that school is fun.   Karen Katz is well known for her lift-the-flap board book series and I'm thrilled to see her branch out into picture books. This is an outstanding introduction to preschool that is sure to help children transition to a new environment.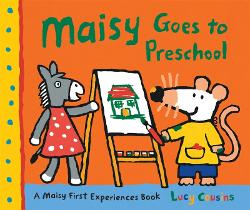 Maisy Goes to Preschool (Maisy series) by Lucy Cousins, 2009
(Ages 2 – 4)
The Maisy series, which features the adventures of a little white mouse, are terrific books for young children. In this installment, Maisy goes to preschool where she and her animal friends enjoy painting, playing music, listening to stories, eating snack, going to the bathroom, and playing outside. The bright colors reflect the animals' joy at being in school together and are sure to reassure children of the fun that they will have at preschool too.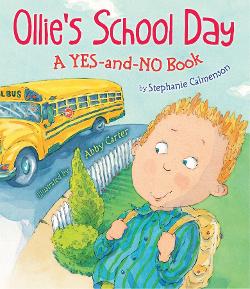 Ollie's School Day: a yes and no book by Stephanie Calmenson; illustrated by Abby Carter, 2012
(Ages 3 – 6)
This call and response book begs to be read aloud to a preschooler or kindergartener. The story follows Ollie on his first day of school and asks the reader a series of silly questions.  What should Ollie wear to school? "A bathing suit? No! A space suit? No! A police officer's uniform? No! Will Ollie put on pants and a shirt, socks, and shoes? Yes!" I read this story to my son the first time he went to nursery school and he absolutely loved it. He would erupt in a fit of giggles at some of the suggestions for Ollie and it provided a perfect conversation piece to discuss how to act in his new school.  This is a great book for a parent to read with a child or for a teacher to read on the first day of school to introduce behavior expectations.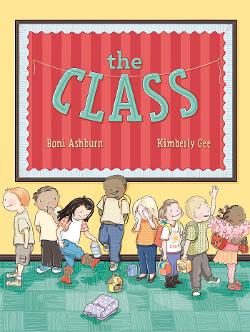 The Class by Boni Ashburn; illustrated by Kimberly Gee, 2016
(Ages 3 – 6)
With flowing rhymes and engaging artwork, The Class follows children of all shapes, sizes and backgrounds during their morning routine as they prepare for their first day of kindergarten. The beauty of this book is that so many different children are represented that almost every child will be able to relate to one of the characters. The children's differences range from their skin color, their style of dress, their hair, to their meal choices and family life. An outstanding addition to the first day of school book genre.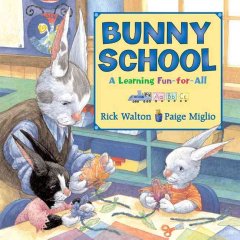 Bunny School: a learning fun-for-all by Rick Walton; illustrated by Paige Miglio, 2005
(Ages 3 – 6)
Short rhyming couplets and detailed illustrations tell the story of a typical day at school. The story covers most activities including language arts, math, music, recess, snack, science, field trips, art, playtime, clean up time, and story time. While it would be impossible to participate in all of those experiences in one day, the book provides a nice overview for the school year. The illustrations feature active bunnies performing a variety of tasks, so there is a lot to admire during multiple readings. A nice book to ease the transition and inform students of what their days could look like at school.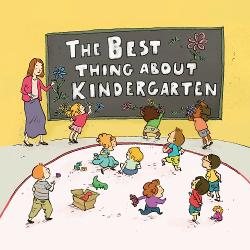 The Best Thing About Kindergarten by Jennifer Lloyd; illustrated by Qin Leng, 2013
(Ages 4 – 6)
It is the last day of kindergarten and the about-to-be graduates share their favorite moments in kindergarten with each other including the block corner, writing center, arts and crafts, learning the days of the week, etc. According to their teacher, the best thing about kindergarten is all the students. Even though this book technically takes place at the end of the year, it is a terrific tool for getting students excited about what is to come.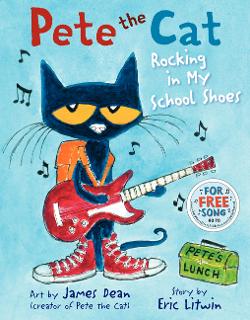 Pete the Cat Rocking in My School Shoes (Pete the Cat series) by Eric Litwin; illustrated by James Dean, 2011
(Ages 4 – 6)
Is Pete the Cat worried about starting school? Goodness no! The groovy cat from Pete the Cat I Love My White Shoes is back and excited to check out his new school. Using a catchy song, Pete explores different areas of the school including the library, cafeteria, playground, etc. This is a great book for teachers or parents to use to introduce new kindergarten students to different parts of a school and better prepare their expectations.  The song is available for download on the website http://www.petethecatbooks.com/songs/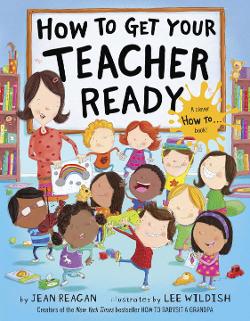 How to Get Your Teacher Ready (How to series) by Jean Reagan; illustrated by Lee Wildish, 2017
(Ages 4 – 8)
Children aren't the only ones who can be nervous about starting school. In this comical "how to" book, a diverse group of children give advice on how to help your teacher through the school year. The book provides a wonderful overview of what children can expect during the year focusing on milestones such as picture day, holiday concerts, 100th Day celebration, and field day. This is a great vehicle for parents and teachers to use to get children excited about the year to come.
Check out the other books in this terrific series: How to Raise a Mom, How to Catch a Santa, How to Surprise a Dad, How to Babysit a Grandma, and How to Babysit a Grandpa.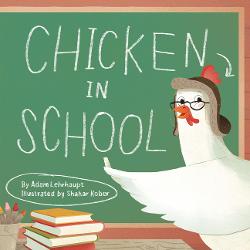 Chicken in School by Adam Lehrhaupt, 2017
(Ages 4 – 8)
The exuberant Zoey first seen in Chicken in Space (2016), is back and is ready to learn. She creates a school for the barnyard animals and acts as teacher. Using some unconventional methods, Zoey focuses more on building one's imagination than spelling or math. This book celebrates outside the box thinking and taking risks; concepts every child should pursue. Zoey has lots of wonderful advice such as crayons aren't just for coloring, they are for "creating adventures." A fun read that will hopefully spark other children's imaginations as well.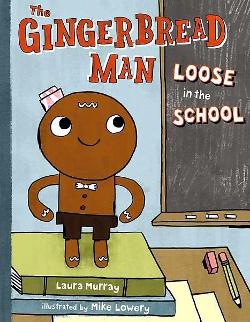 The Gingerbread Man Loose in the School by Laura Murray illustrated by Mike Lowery, 2011
(Ages 4 – 8)
This book is a funny and silly way to introduce various teachers seen at many schools. Our story begins with a Gingerbread man being baked by children in a school. As soon as the oven dings, he jumps out of the pan and runs loose through the school meeting many different teachers along the way including the gym teacher, the nurse, the art teacher and the principal. I like this book because it is a nice conversation starter for parents explaining the different types of teachers their children can expect to meet in elementary school.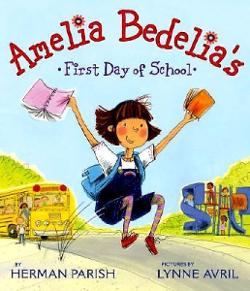 Amelia Bedelia's First Day of School by Herman Parish illustrated by Lynne Avril, 2009
(Ages 4 – 8)
I grew up loving the Amelia Bedelia early readers and was thrilled to see her as a child starring in her own picture book. This pint-sized version of Amelia Bedelia is as literal minded as ever as she begins her first day of school with all kinds of hilarious mix ups. She confuses gym class with someone named Jim and when her teacher tells her to glue herself to the chair she uses glue to seal herself to the chair. Amelia Bedelia's exuberance is contagious and even though you may have to explain a few of the jokes to children, they will love her and can't help but get excited for their own first day of school. Another reason I love this book is because it shows children different activities they may be doing in school such as going to music class, making art projects, running around during recess and gym, and reading books in the school library.
This is the first book in the Amelia Bedelia picture book series. There are several others as well as numerous classic early chapter books and updated ones that have been recently published in the last few years. Lastly, there is also a new Amelia Bedelia chapter book series.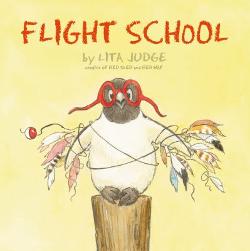 Flight School by Lita Judge, 2014
(Ages 4 – 8)
Many back to school books concentrate on the anxiety of starting school, but I love this book because it focuses on what school is all about: learning to soar. The story opens with a penguin entering flight school. When the teacher points out that penguins cannot fly, the penguin replies, "but I have the soul of an eagle". Despite his many attempts, the penguin cannot in fact fly and prepares to depart brokenhearted. The teachers, however, refuse to give up. As all teachers do, they find a way to support their student, so that he does soar… at least for a little while.  Many children may fail from time to time, but I hope that this tale of perseverance will reassure them that their caring teachers will not give up on them and will help them fulfill their own hopes and dreams.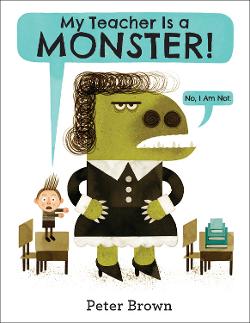 My Teacher is a Monster (No I am Not) by Peter Brown, 2014
(Ages 4 – 9)
Bobby thinks his teacher, Mrs. Kirby, is a monster. She is green, growls and gnashes her teeth. When Bobby meets Mrs. Kirby outside of school at a park, however, he gets to see a different side of her. I love that this book humanizes teachers and allows students to realize that their teachers might not be as scary as they originally seem. This is a witty and hilarious read that is popular with many children.
Peter Brown is an award-winning children's author and illustrator. Be sure to check out some of his other wonderful books. A few of my favorites include Mr. Tiger Goes Wild, Children Make Terrible Pets, The Curious Garden, and Creepy Carrots.
The Night Before Preschool (2011), The Night Before Kindergarten (2001), and The Night Before First Grade (2014) by Natasha Wing
Natasha Wing's Night Before series has become extremely popular and a go-to for many parents and teachers. Based on the poem, The Night Before Christmas, Wing changes the traditional rhymes to follow a group of excited and slightly nervous children as they prepare for their first day of school.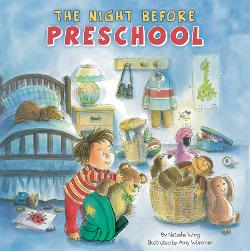 In The Night Before Preschool, most children are excited for their first day, but Billy can't sleep. He is worried about making new friends. He initially hangs back as the other children play, but when a little girl shares her bunny with him at naptime he feels comforted and makes more of an effort.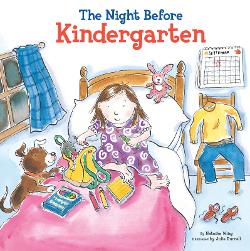 In The Night Before Kindergarten, students anxiously prepare for their first day, but once the big day arrives the children begin having fun right away. Worried parents remain by the door until the teacher, Miss Sunrise, invites them in for one final hug good-bye. "The children all waved from the door of the school. 'Don't cry. Mom and Dad; kindergarten is cool!"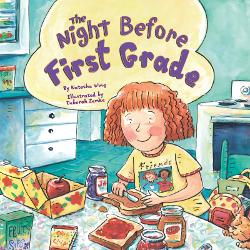 In The Night Before First Grade, a little girl envisions her first day of first grade with her best friend Jenny, but when they arrive at school, they discover they are in different classes. "We waved good-bye sadly and said, 'See you later.' I had to be brave because I'm a first-grader." The girl enjoys her class and even makes a new friend. When she meets back up with Jenny, she discovers that first grade is going to be double the fun.
Honorable Mention Books That Give an Overview of School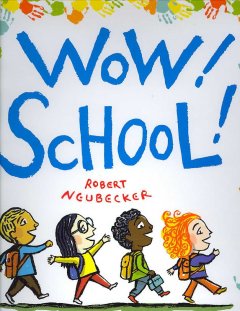 Wow! School! by Robert Neubecker, 2007
(Ages 2 – 5)
Using big, bold, detailed illustrations and simply the word "wow" accompanied by the location or activity in school, readers follow a girl named Izzy on her first day of school. This book is a nice conversation starter to the different things children will do and see in school. Because there are so few words and really not much of a story, it invites children to point to the busy  illustrations and ask questions about what they see leading to a discussion about their own possible school experience.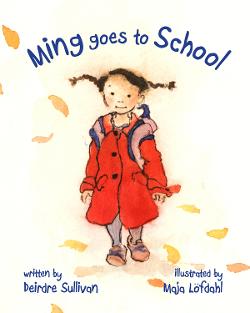 Ming Goes to Preschool by Deirdre Sullivan; illustrated by Maja Lofdahl, 2016
(Ages 3 – 6)
With sparse text and beautiful illustrations, this is a wonderful book to use to introduce young children to preschool. The story follows Ming from her first day of school through the changing seasons as she enjoys many fun activities such as show-and-tell, imaginary games, and arts and crafts. When I read this book with my daughter who was getting ready to start school for the first time, my daughter loved pointing to the pictures asking what Ming was doing. I found the short text a perfect jumping off point to discuss in more detail the activities she might participate in in school.  Ming enjoys building fairy castles, holding tea parties, and walking the plank, but Ming also isn't quite ready to join her peers on the big red slide; "growing up takes time." The book ends with the words, school is "where all things are worth waiting for" and the reader can see Ming's growth as the last page shows Ming sitting on top of the slide with a large smile. Just as the back cover states, this is "a sweet story about growing up at school."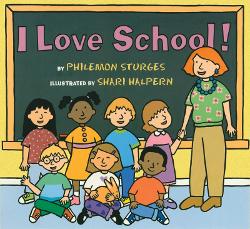 I Love School! By Philemon Sturges; illustrated by Shari Halpern, 2004
(Ages 3 – 5)
Bright illustrations featuring a diverse class paired with simple rhyming text create an upbeat look at a typical school day. The book covers a wide array of activities and makes each one seem exciting.  It is a simple book that could work to make preschoolers excited for school.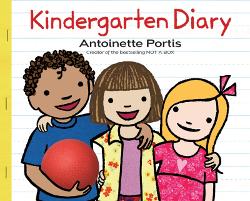 Kindergarten Diary by Antoinette Portis, 2010
(Ages 4 – 6)
Told through diary entries, a little girl named Annalina shares her thoughts and feelings during her first month of kindergarten. This is a cute and realistic look into the mind of a kindergartener. Annalina feels a range of emotions as the school year progresses. At first, she is nervous and wants to stay in preschool, but then she makes new friends and has fun trying new things.  Annalina is a spirited and imaginative little girl who will entertain most children with her thoughts on kindergarten.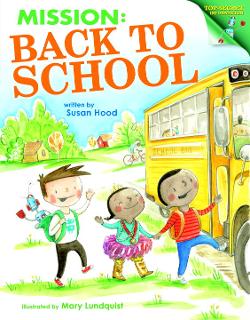 Mission: Back to School by Susan Hood; illustrated by Mary Lundquist, 2016
(Ages 5 -10)
The first day of school is turned into an action-packed adventure in this humorous read. Using numbered steps, secret agent lingo, and a series of comical puns, the author creates a fresh look at the back to school experience. This is a fun read to get children excited about their own first day of school missions.
Check out the first adventure in this fun new series, Mission: New Baby.
If you are looking for more Back to School Books, check out my post on First Day Jitters: