The first day of school often fills children with feelings of excitement and nervousness. Reading about characters undergoing similar experiences can help with this transition. Of the many stories that focus on starting school for the first time, a few stand above the rest. Below are what I have found to be the best books for quelling first day jitters. I hope you and your children enjoy the books and have a great first day of school this year!
*This post contains affiliate links. To read my full disclosure CLICK HERE.
Books For Children Who Are Nervous About Starting School
Llama Llama Misses Mama by Anna Dewdney, 2009
(Ages 2 and up)
This is a wonderful book to use with children who have separation anxiety or who just need a little encouragement about starting school.

Simple rhymes capture little Llama's initial apprehension of going to school without his mom. While he observes other children playing, he does not participate and finally breaks down into tears. After the teacher reassures him that his mom will be back at the end of the day, Llama joins in on the fun. He enjoys the rest of the afternoon, but still jumps for joy upon his mother's return. The story ends with the comforting words, "Llama finds out something new – he loves Mama…and school, too!"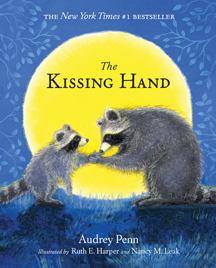 The Kissing Hand by Audrey Penn, 1993
(Ages 3 and up)
When Chester Raccoon is nervous about starting school for the first time, his mother kisses his hand. She explains that with this kiss, he will still feel her love even when they are apart. Anytime he gets nervous he can look at his hand and remember his mother loves him. This is a picture book that has withstood the test of time and provides a great way for parents to reassure their own children about starting school.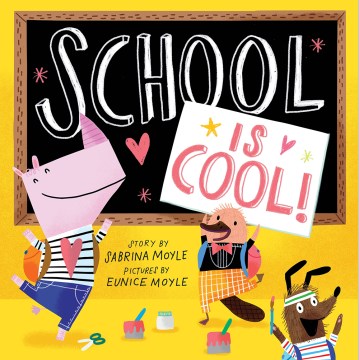 School is Cool by Sabrina Moyle; illustrated by Eunice Moyle, 2021
With its bold colors and rollicking rhymes, this exuberant book is perfect for quelling those first-day fears and reassuring children that school is a wonderful place to learn and grow.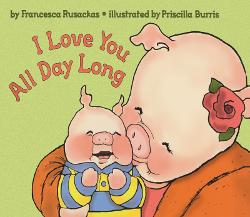 I Love You All Day Long by Francesca Rusackas; illustrated by Priscilla Burris, 2003
(Ages 2 and up)
Owen does not want to return to school, but his mother comforts him by saying, "I love you when I'm with you and I love you when we're apart." Subsequent pages show Owen in school making mistakes as well as good choices. Each page includes his mother's reminder that she loves him no matter what. "I love you when you share your favorite purple crayon. I love you when you accidentally make a mess. I love you when you have to call for help. I love you when you figure things out for yourself." This sweet story should provide comfort to young children starting school and encourage them to take risks.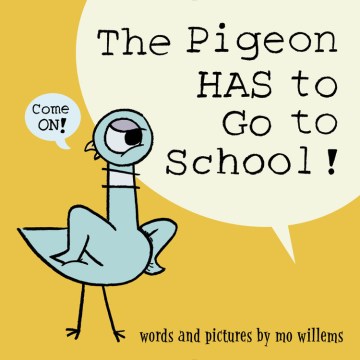 The Pigeon HAS to Go to School by Mo Willems, 2019
(Ages 3 and up)
In the latest installment of this popular series, Mo Willems brilliantly takes children's fears about starting school and turns them into a humorous book that is sure to make children giggle and feel reassured at the same time. This is a hilarious read aloud that will be loved by children, parents, and teachers!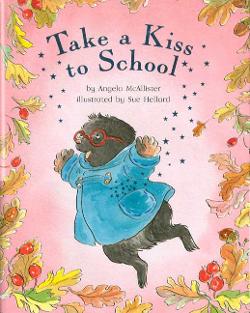 Take a Kiss to School by Angela McAllister; illustrated by Sue Hellard, 2006
(Ages 3 and up)
While most books about starting school focus on the first day, this one actually takes place on the second day. Digby, a small grey mole, had a terrific first day of school, but doesn't understand why he has to go back again. He is worried that he will forget where to line up and where to hang his jacket, so he asks his mother to stay with him at school. She cups her hand, blows in a dozen kisses, and then slips them into Digby's coat pocket. Whenever he feels nervous throughout the day, he pulls out a kiss to make him feel better. He has a few anxious moments where he needs a kiss, but then makes a new friend and realizes he doesn't need them after all.
This is a sweet story that will hopefully leave readers with a way to combat their own nervousness and aid in transitioning to school.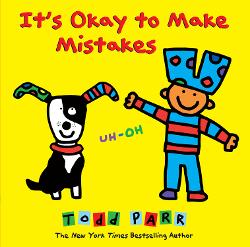 It's Okay to Make Mistakes by Todd Parr, 2014
(Ages 2 and up)
This is not a traditional book about going to school, but I think it is a wonderful story for this time of year because many fears about going back to school revolve around making mistakes and failing. This book has a message that can not only apply to quelling back-to-school fears, but it also encourages children to try new things and be okay if they don't work out. We can all learn from making mistakes and I think it is important for children to understand that from an early age.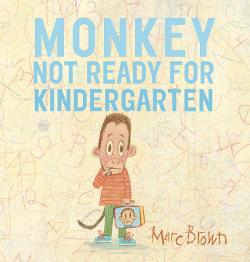 Monkey Not Ready For Kindergarten by Marc Brown, 2015
(Ages 4 and up)
This book is a standout to me because it presents parents with ideas of how to ease the transition of starting kindergarten. For example, the book reveals a nervous Monkey and his parents playing school together, reading books about school, giving a secret good-bye handshake, etc. This is a terrific choice for highlighting a child's anxiety and coming up with solutions to combat it.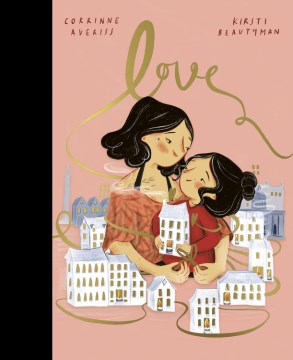 Love by Corrinne Averiss; illustrated by Kirsti Beautyman, 2021
(Ages 4 and up)
Until recently, Tess' loving parents have been with her everywhere she has gone. Now it is her first day of school and Tess is feeling nervous. Her wise mother reassures her that "Love is like a string between us- it can stretch as far as it needs to." While Tess initially feels apprehensive about being apart from her parents, she feels uplifted when she finds a connection with her teacher and several of her classmates.
This endearing story empowers children to branch out on their own while feeling comforted that they are always loved by their family.
Hattie Harmony Worry Detective by Elizabeth Olsen and Robbie Arnett; illustrated by Marissa Valdez, 2022
(Ages 5 and up)
I have no doubt that this book will become a classic first-day-of-school read aloud. The cheerful story playfully reassures readers that they can overcome their fears by using a variety of strategies. Feline detective Hattie Harmony is ready to help any friend struggling with anxiety by teaching them how to use mindful movement, stress balls, breathing techniques, and affirmations. In a powerful scene, she even faces her own fear while climbing up a tall slide. The story is enhanced further by a helpful author's note discussing each strategy used in the story.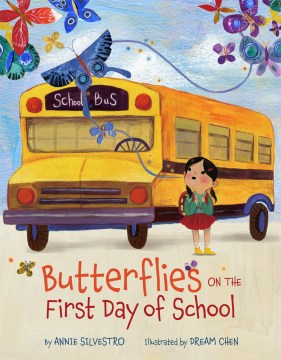 Butterflies on the First Day of School by Annie Silvestro; illustrated by Dream Chen, 2019
(Ages 5 and up)
I'm in love with this charming new first-day of school book! I just adore how Annie Silvestro took the metaphor of butterflies representing nerves and turned it into a lovely, reassuring story!
Rosie excitedly prepares for her first day of school, but when the big day finally arrives her nerves set in. When she complains that she doesn't feel well, her mother comments that she has butterflies in her belly. As she opens her mouth to makes new friends and participate in activities, the imaginary butterflies fly out and her confidence grows. She even bravely approaches another girl who looks like she might have butterflies of her own.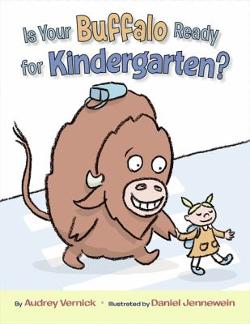 Is Your Buffalo Ready for Kindergarten? by Audrey Vernick; illustrated by Daniel Jennewein, 2010
(Ages 5 and up)
While many books focusing on the first day of school have a more serious undertone, I love this one because it is both silly and reassuring at the same time.
A little girl brings her buffalo to kindergarten and he worries that he will not fit in. He hesitates when asked to finger paint with his hooves, but the book prompts readers to remind him that finger painting is supposed to be messy. Everyone is different and this book teaches readers that that is a good thing. As the author says, "Everyone's special in his or her own way. That's the kind of thing you learn in kindergarten." I love this simple, but powerful read.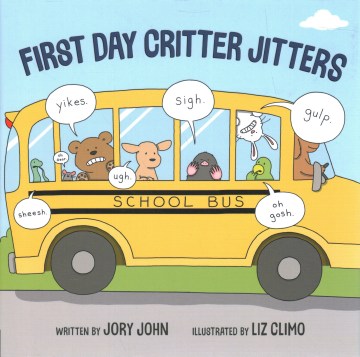 First Day Critter Jitters by Jory John ; illustrated by Liz Climo, 2020
(Ages 5 and up)
In
First Day Critter Jitters
, a group of adorable animals each expresses a concern about the upcoming school year. From a sloth being late to school to a kangaroo who frets over leaving his mother's pouch and an energetic bunny who is afraid he won't be able to sit still, several common first-day-of-school fears are included giving this book wide appeal. When their teacher, an anxious armadillo, shares his own apprehension about the first day, the animals come together as a team to help one another feel more confident.
Jory John is well known for his humorous stories that will tickle both adults and children and this one is no exception. It had both of my kids and me chuckling the whole way through. Equally as enjoyable as Jory John's witty text is Liz Climo's endearing illustrations that add to the comforting tone of the book.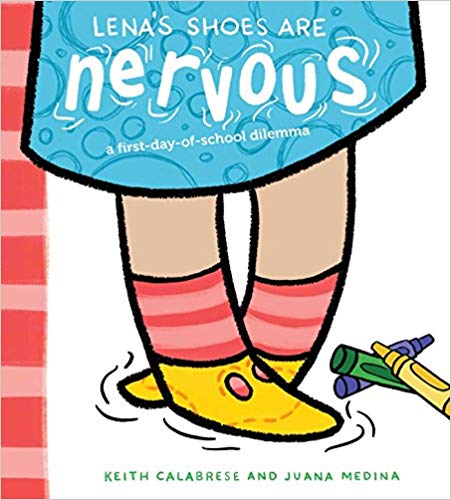 Lena's Shoes Are Nervous: a first-day-of-school dilemma by Keith Calabrese and Juana Medina, 2018
(Ages 4 and up)
Lena is excited for her first day of kindergarten, but when she goes to get dressed she discovers that her shoes are a bit nervous. Lena and her dad brainstorm a way to make the shoes feel more at ease. Her friendly green headband "reminds the shoes of other times they were all scared but decided to be brave together. And how things had pretty much worked out okay. Even better than okay sometimes. Because often the best things happen when we're nervous." The illustrations and storyline of this one are absolutely charming!
Dad's First Day by Mike Wohnoutka, 2015
(Ages 4 and up)
This is a humorous spin on back-to-school books. While Oliver is excited for school, his dad is the one who is nervous! This uplifting read is sure to bring smiles to children and adults alike.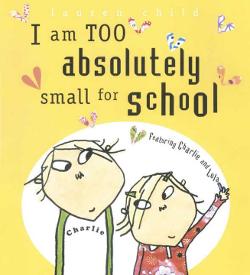 I Am Too Absolutely Small for School (Charlie and Lola series) by Lauren Child, 2004
(Ages 4 and up)
Headstrong Lola and her invisible friend Soren Lorensen are quite nervous about starting school for the first time. Lola gives her brother, Charlie, several reasons why she doesn't need to go, but the ever-patient Charlie disputes Lola's arguments by providing convincing reasons for Lola to attend.
On the first day of school, Charlie nervously looks for Lola to confirm she is okay only to find her at home after school happily sipping pink milk with a new friend. Charlie is a patient and kind brother who can serve as a role model for older siblings everywhere. The mixed media illustrations work perfectly with Charlie and Lola's quirkiness making it a fun story for preparing a child for school.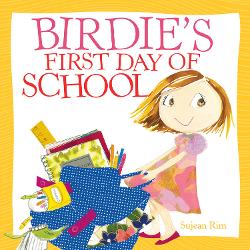 Birdie's First Day of School (Birdie series) by Sujean Rim, 2015
(Ages 4 and up)
It is the night before her first day of school and Birdie cannot sleep. She is too nervous. Birdie's mother reassures her by giving her a locket with a picture of her family inside. Readers follow Birdie as she explores her new classroom, sings, creates, and learns about letters, numbers, and geography. She happily returns home, proud of her accomplishments from the day.
I love this series and think that this is a perfect book for starting school. Birdie is a likable character and both the illustrations and the comforting text help children understand that school is a safe and welcoming place.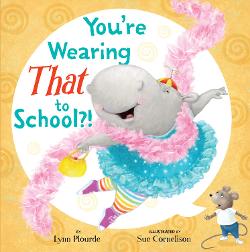 You're Wearing That to School?! by Lynn Plourde illustrated by Sue Cornelison, 2013
(Ages 5 and up)

Many children anxiously contemplate what to wear the first day of school. After all, first impressions are important.
Penelope is an exuberant hippo who cannot wait to wear her sparkle rainbow outfit for her first day. Her best friend Tiny, a well-meaning mouse, tries to advise her on wearing something a little more ordinary so that she will fit in. When Penelope follows her heart, Tiny is pleasantly surprised by the results. The book ends with some wonderful tips for a "Hippo Happy" first day of school. This is a great first day of school book about staying true to yourself. Buy It Here

Another great book about celebrating uniqueness and not adhering to peer pressure on the first day of school is A Bad Case of the Stripes by acclaimed children's author David Shannon.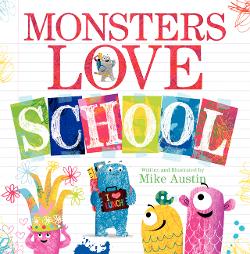 Monsters Love School by Mike Austin, 2014
(Ages 4 and up)
While cutely drawn monsters excitedly prepare for school, Blue feels a bit nervous about this new adventure. His colorful friends happily introduce him to the teachers who share why school is so much fun. They learn the ABC's and 123's, create artwork, sing, spell, listen to books, and make friends during recess. By the end of the day, Blue loves school and can't wait to return. The illustrations are colorful and bright making them engaging to children. This is an upbeat and vibrant book that includes several puns that adults and older children will enjoy.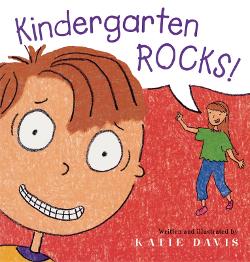 Kindergarten Rocks! by Katie Davis, 2005
(Ages 5 and up)
While Dex is excited for kindergarten, his stuffed dog, Rufus, is feeling a bit scared. Dex's older sister, Jess, tries to reassure him, but it isn't until he experiences the fun of kindergarten for himself that he relaxes. He loves the imagination station, playing with play-doh, writing letters, and meeting nice people such as his teacher and the custodian. "I'm going to l earn lots of stuff in kindergarten, but the thing I learned today was…Kindergarten Rocks!" The humorous story and illustrations will help ease the fears of future kindergartners.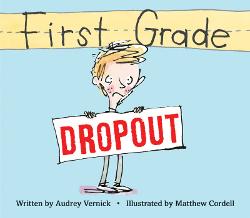 First Grade Dropout by Audrey Vernick; illustrated by Matthew Cordell, 2015
(Ages 6 and up)
At some point, almost every child is going to do something embarrassing at school. It is inevitable. The character in this book accidentally calls his teacher "mommy" and the class erupts in laughter. He is convinced that he can never show his face at school again. When one of his friends does something equally as embarrassing, he realizes sometimes it's okay to laugh at yourself. The jagged illustrations perfectly capture the character's anguish and I think parents and children alike will enjoy this terrific read.
The laughs continue in Second Grade Holdout.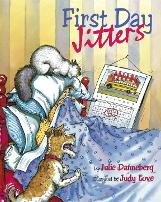 First Day Jitters by Julie Danneberg; illustrated by Judy Love, 2000
(Ages 5 and up)
Sarah Jane Hartwell does not want to get out of bed on the first day of school. She's scared that she doesn't know anybody and that it will be too hard. She begrudgingly makes her way to school and is met by the principal who shows her to her classroom. The illustrations cleverly hide Sarah Jane throughout the story and the twist ending reveals that Sarah Jane is actually the teacher. This is a funny story that may also comfort children in knowing that even teachers get nervous for the first day of school!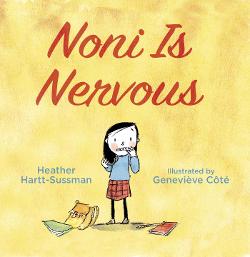 Noni Is Nervous by Heather Hartt Sussman illustrated by Genevieve Cote, 2013
(Ages 5 and up)
Noni is a worrier. She seems to worry about almost everything, but especially school. What will she wear? Where will she sit? Worst of all, what if the teacher is mean? Noni goes to school and even though she is wrought with anxiety biting her nails and wringing her hair, she is befriended by an outgoing girl who makes Noni realize that school can be fun. This reassuring read is a great one for any child preparing for their first day of school.
Here are a few other great books about anxiety, nerves, or being shy:
Willow's Whispers by Lana Button
Scaredy Squirrel by Melanie Watt
Wemberly Worried by Kevin Henkes
What are some of your favorite first day of school reads?