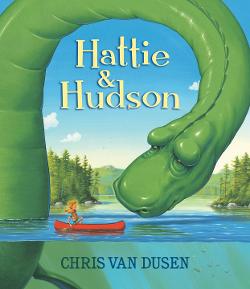 Hattie & Hudson by Chris Van Dusen, 2017
(Ages 4 – 8)
Chris Van Dusen is an amazing storyteller and artist. Children always gravitate toward his books, so I was thrilled to see he had a new one come out this spring.
Hattie loves to explore the beautiful lake outside her home, but was shocked one morning when the quiet song she was singing to herself was interrupted by an enormous sea monster emerging from the water. Although massive in size, the sea monster is quite friendly and joins Hattie in her song. While other boaters see the monster and flee, Hattie instantly forms a bond with the gentle giant. She sneaks out to meet him at night and names him Hudson. When the frightened townspeople threaten to harm Hudson, Hattie and Hudson work as a team to hatch a plan to save him. This sweet story of an unlikely friendship is beautifully told through gorgeous illustrations. The scene of Hudson emerging from the water toward the end of the story is particularly awe inspiring.  This book has many layers that will appeal to several age groups. Younger readers will appreciate the vivid illustrations and enjoy the story at the surface level, and older readers will hopefully pick up on the underlying messages of acceptance, compassion, and not judging others based solely on their appearances.  Chris Van Dusen has created another winner that will be enjoyed by many.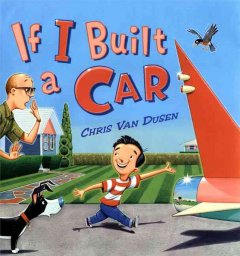 If I Built a Car by Chris Van Dusen, 2005
(Ages 4 – 8)
After my son couldn't get enough of Hattie and Hudson (reviewed above) he asked for more books by Chris Van Dusen, so I checked out If I Built a Car, which has always been popular in my school library along with If I Build a House. Using flowing rhymes, a budding inventor shares his ideas for creating the most magnificent car imaginable. He adds incredible features such as a pool, snack bar, robot driver, and rocket boosters just to name a few.  There are no limits to this boy's imagination, and other children are sure to be inspired to create their own cars. My son loved this story so much he asked if he could design a car of his own. I am always looking for ways to get my son to draw or write, so I laid out a long roll of butcher paper on our floor and let him sketch all of his ideas for a car. We had a wonderful conversation about it and I hope it encourages him to continue creating new and different things.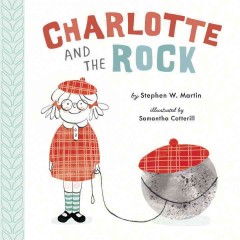 Charlotte and the Rock by Stephen W. Martin; illustrated by Samantha Cotterill, 2017
(Ages 4 – 8)
Charlotte Grey wanted a pet… any pet, but she was a little shocked when her parents gave her a pet rock. While most other children  would have been disappointed, Charlotte remains optimistic. I love Charlotte's upbeat attitude and think she is a great model for handling disappointment. "It wasn't quite what Charlotte had in mind, but she tried to remain positive." While the rock was not very good at going for walks and was difficult to train, the two became best friends and enjoyed many activities together. Using muted color tones, the illustrations perfectly balance the text's offbeat humor. There is a surprising twist at the end that will make both children and parents smile. Although library shelves are stocked with books about pets, this one is fresh and funny making it stand out from the crowd.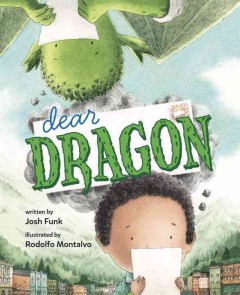 Dear Dragon by Josh Funk; illustrated by Rodolfo Montalvo, 2016
(Ages 4 – 8)
Blaise Dragomir and George Slair have been assigned as pen pals for a school project. Although each is a reluctant writer, they are surprised by how much they enjoy writing to each other. Unbeknownst to them, however, is that Blaise is a dragon and George is a boy. Each two-page spread illustrates one boy reading the letter and imagining what the other is describing while the opposite page shows the reality. For example, when Blaise shares that his favorite sport is skydiving, George imagines a daring boy jumping out of an airplane where the opposite page depicts a little dragon flying off a mountain. The two classes come together at an end-of-the-year picnic and the children are shocked to see their pen pals are a different species. Their surprise quickly turns to excitement as they high five and agree to continue writing next year. This is the perfect book to inspire reluctant writers or kick off a letter writing unit in a school. It is also a great tool to discuss point of view and accepting differences.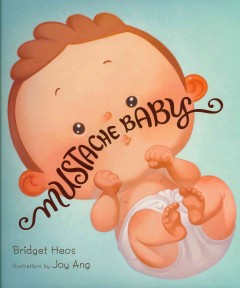 Mustache Baby by Bridget Heos; illustrated by Joy Ang, 2013
(Ages 4 – 8)
There is just something about a baby and a mustache that is hilarious. This was one of my go-to read alouds as a school librarian for children in Pre-K to third grade. The concept is funny to most kids, but has some sophisticated humor that even my older third graders enjoyed. The premise of the story is that baby Billy is born with a mustache. When his mom asks the nurse what that means, she responds, "You'll have to wait and see whether it is a good-guy mustache or a bad-guy mustache." As Billy takes on the persona of a cowboy and a police officer, Billy appears to be quite the good-guy. As he gets bigger, however, Billy's mustache begins to grow and curl at the ends resembling an evil villain. He becomes a "cat burglar" who actually steals cats and a "serial criminal" who sneaks his brother's cereal. Younger children will not understand the puns, but they will still think the illustrations are comical.  Eventually Billy is caught and thrown in "jail" aka his crib where he thinks about his bad behavior. After being reassured that everyone has a bad day now and then, he is freed just in time to meet the new neighbor who is a baby sporting a beard. Kids absolutely love this book and my son was no exception. We read it over and over again.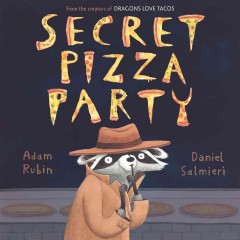 Secret Pizza Party by Adam Rubin; illustrated by Daniel Salmieri, 2013
(Ages 4 – 8)
After reading Dragons Love Tacos several times, I wanted to see if there were any other books by Adam Rubin that my son might like. I stumbled upon Secret Pizza Party and was not disappointed. The story of a raccoon desperately trying to obtain some delicious pizza is told by an unseen narrator with a dry wit who suggests the idea of a secret pizza party. Why? Because everything is more fun when it is a secret! "Regular handshake: boring. Secret handshake: Booyah!" The quirky offbeat humor is perfectly melded with the zany drawings. Another giggle-inducing book by Adam Rubin and Daniel Salmieri that will leave children wanting their own secret pizza parties.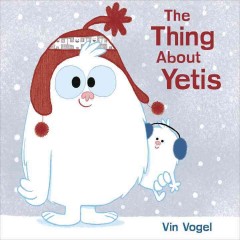 The Thing About Yetis by Vin Vogel, 2015
(Ages 3 – 6)
"The thing about yetis is that they love winter."  Insert an adorable looking yeti celebrating several fun winter activities with a group of diverse children. Even yetis, however, can get a little down with all the snow and wind that winter brings. "The thing about yetis is that (sometimes) they miss summer." Yeti then daydreams about all of the wonderful activities he can do in the summertime. Yeti has an epiphany and realizes that even though he loves winter, on those cold wet days, he can bring summer into his living room with a little imagination. A breezy and fun book that captures the joys of winter and summer making it a great read aloud for both seasons. This story is also an effective way to compare and contrast winter and summer.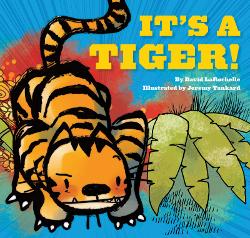 It's a Tiger! By David LaRochelle; illustrated by Jeremy Tankard, 2012
(Ages 2 – 6)
A little boy begins telling a story, but a tiger keeps appearing and scaring him away. This book is perfect for storytimes for preschool students. Every time the boy encounters the tiger he yells, "A Tiger! Run!", a fun refrain that children will love repeating when they see the tiger in the story.  As I read the book, I could envision using a tiger puppet popping up every time the tiger appears to erupt even more laughter and excitement from readers.