SAVE THIS POST for your next trip to the library or bookstore and prepare to dazzle a group of children with these entertaining picture books packed with kid appeal!
From a child designing their own school with gadgets galore to a classmate-eating dinosaur and a show-and-tell gone horribly wrong, each book has engaging story lines and eye-catching illustrations that will leave children begging to read them one more time.
*This post contains affiliate links.
If I Built a School by Chris Van Dusen, 2019
Rhyming text and Chris Van Dusen's signature artwork shine in this amusing school-themed story about a boy who dreams of designing his own school. The vivid illustrations and imaginative story line have tons of kid appeal and will inspire fun conversations about what children would want to include in their own inventive schools. The other two books in this series, If I Built a Car and If I Built a House are also excellent choices for read alouds.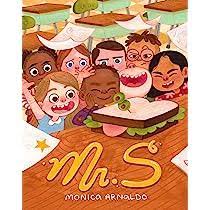 Mr. S by Monica Arnaldo
This ridiculously quirky story is without a doubt my children's favorite book of the year so far. When a group of children start school for the first time, they walk in to find the room empty except for a sandwich at the teacher's desk. After much debate, they ultimately decide that the sandwich must be their teacher. What ensues is an abundance of comical events ending with a giant surprise.
If You Ever Want to Bring an Alligator to School Don't! by Elise Parsley, 2015
It's show-and-tell day at school and Magnolia thinks an alligator is the perfect show-stopper for their nature theme. She thought wrong! From note passing to throwing paper airplanes to trying to eat the other students, the troublesome alligator engages in several hilarious hijinks that make Magnolia realize it is was not a good idea to bring an alligator to school after all.
The expressive illustrations are laugh-out-loud funny and our family loves Magnolia so much, we've checked out every book in this hysterical series!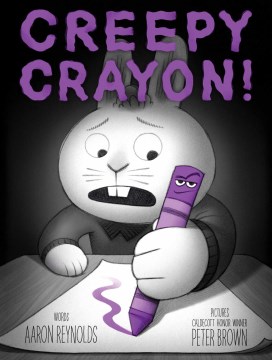 Creepy Crayon by Aaron Reynolds; illustrated by Peter Brown, 2022
In
Creepy Crayon
, Jasper Rabbit is struggling in school until he finds a perfectly pointy purple crayon that magically helps him ace all of his assignments. Before he knows it, the crayon has taken over all of his projects and Jasper finds little satisfaction in receiving undeserved praise. It is time for the crayon to go, but how can Jasper get rid of it when it turns up at every corner?!
The perfectly plotted humor and engaging illustrations with pops of purple make this another winner in the New York Times best-selling series.
On Account of the Gum by Adam Rex, 2020
When a child wakes up with gum in their hair, family members offer up comical solutions for dislodging it that end with disastrous results. With each turn of the page, the story gets funnier and funnier ending with a sidesplitting punch line that makes our family giggle no matter how many times we've read this story. I continue to be in awe of Adam Rex's clever, quirky storytelling and could not love his latest creative tale more.
We Don't Eat Our Classmates by Ryan T. Higgins, 2018
This quirky book is a hilarious twist on back-to-school stories and is a dino-mite read aloud that can be used all year long. Its unusual premise of a dinosaur eating her classmates might sound terrifying, but Ryan T. Higgins finds a way to make the whole situation comical. It's almost impossible not to laugh at Penelope T. Rex's mishaps and the amusing details that make this book a real standout!
⠀⠀⠀⠀⠀⠀⠀⠀⠀
While this book is quite humorous, it also has important underlying messages. It reminds children to treat others how they want to be treated, that people can change for the better, and it is never too late to make new friends.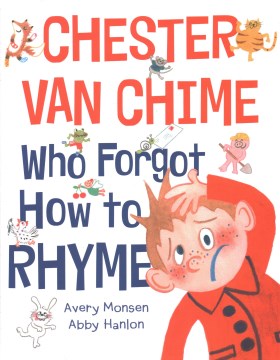 Chester Van Chime Who Forgot How to Rhyme by Avery Monsen; illustrated by Abby Hanlon, 2022
It is nearly impossible not to giggle during this hilarious book that's full of word play! When poor Chester wakes up one morning unable to rhyme, his classmates spend the day trying to help him. This book is a pure joy to read aloud in front of kids. The rhythmic text is continuously interrupted with words or phrases that replace the last rhyme of a couplet. My kids LOVED trying to complete the rhyme on each page. This is a perfect choice for discussing rhymes with children or using as a read aloud that is sure to entertain!
Truman by Jean Reidy; illustrated by Lucy Ruth Cummins, 2019
Truman is a pet turtle who lives a quiet life with his owner Sarah until the day she starts school and he begins to see everything differently. When he grows impatient of waiting for Sarah to return, he bravely journeys through the apartment discovering that every- day items now seem extraordinary.
The attention-grabbing text seamlessly introduces children to rich vocabulary while the charming illustrations expertly display Truman's courageous character. This is such a delightful book that should not be missed.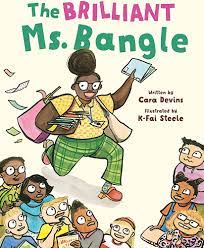 The Brilliant Ms. Bangle by Cara Devins, illustrated K-Fai Steele
Devastated that their beloved school librarian Ms. Stack retired, the kids at Belford Elementary are determined not to like her replacement Ms. Bangle. When she arrives, however, the eccentric Ms. Bangle has a trick or two up her sleeve to engage the kids. This humorous story has a ton of fun details that had my kids chuckling as they poured over the illustrations.
Rescuing Mrs. Birdley by Aaron Reynolds; illustrated by Emma Reynolds, 2020
Any teacher who has ever run into a student outside of school will relate to this humorous story and will surely chuckle along at the hilarious plot.
Rescuing Mrs. Birdley stars a spunky young girl who spies her teacher out in the "wild" and stealthily attempts to bring her back to her natural habitat, school. The eye-catching illustrations perfectly match the humor of the text creating one funny read aloud!
My Teacher is a Monster (No I am Not) by Peter Brown, 2014
This humorous book takes a playful spin on the teacher-student relationship. After being scolded for flying paper airplanes, Bobby views his teacher as a monster. When he spots her in the park one day, however, he finds that she is much kinder and more fun than he initially realized. This witty and hilarious book is monstrously good!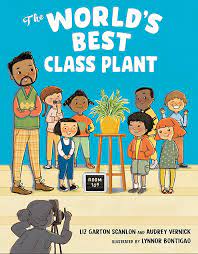 The World's Best Class Plant by Audrey Vernick and Liz Garton Scanlon, illustrated by Lynnor Bontigao, 2023
Room 109 longs for a class pet like the other classes, but must settle for a plant. When the name Jerry is bestowed upon the plant, however, he seems to take on a whole new personality. Soon everyone wants to get to know Jerry and have their own class plant!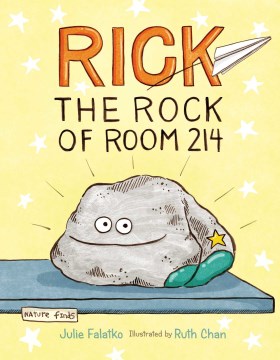 Rick the Rock of Room 214 by Julie Falatko; illustrated by Ruth Chan, 2022
Rick the Rock happily spends his days on the Nature Finds shelf in Room 214 until the teacher introduces a new geology unit. When he learns that rocks can tumble down cliffs, explode out of volcanoes, and relax in waterways, Rick longs for a life of adventure. Once he makes his way outside, however, he realizes the grass is not always greener on the other side. With new perspective, Rick returns to his shelf and finds adventure in his everyday life surrounded by friends.
The expressive illustrations perfectly paired with the amusing text had our entire family laughing. There's no doubt about it; this book rocks!
Beatrice Bly's Rules for Spies: The Missing Hamster by Sue Fliess; illustrated by Beth Mills, 2021
(Ages 5 and up)
Watch out, Harriet the Spy! There's a new detective in town and her name is Beatrice Bly and she's a super spy! Full of spunk and smarts, Beatrice loves taking on missions to help her family and friends solve their problems. It's no surprise that when the class pet goes missing, she's on the case!
My kids were immediately drawn to this amusing story and were not disappointed.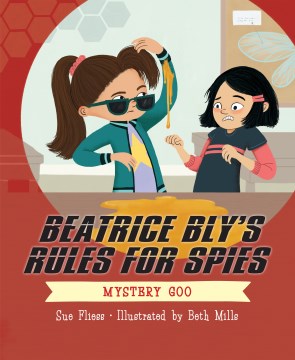 They loved reading about Beatrice's skills of observation and deduction and hope to see more from this promising character.
We also love the sequel Beatrice Bly's Rules for Spies: Mystery Goo by Sue Flies; illustrated by Beth Mills, 2022.
You may also like: