The relationship between grandchild and grandparent is a truly extraordinary one. The below books brilliantly capture those special moments spent together making these stories the perfect gifts for grandparents and grandchildren.
*This post contains affiliate links.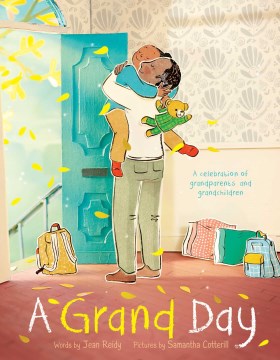 A Grand Day by Jean Reidy; illustrated by Samantha Cotterill, 2022
Prepare to have your heart melted by this exquisite ode to grandparents! Gently flowing rhymes capture the wonder and love wrapped up in a visit with a grandmother and/ or grandfather while the spectacular 3D illustrations are a real feast for the eyes and thoughtfully feature an inclusive group of grandparents.
With its lyrical lines brilliantly describing this heartfelt intergenerational connection and the stunning illustrations filled with thoughtful details portraying seemingly ordinary moments that are actually magical memories in the making, this book makes the perfect gift to grandparents and kids!
This earnest story brilliantly captures the wonder and magic of the relationship between a child and their grandmother. And just wait until you see the illustrations in this book! The inclusive pictures featuring a variety of grandmas lovingly spending time with their grandchildren are simply beautiful.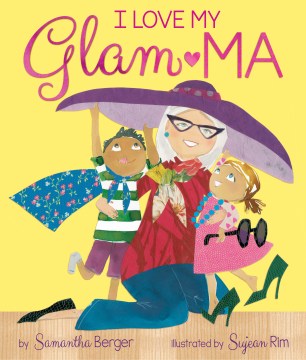 I Love My Glam-Ma by Samantha Berger ; illustrated by Sujean Rim, 2019
(Ages 3 and up)
⠀⠀⠀⠀⠀⠀⠀⠀⠀
When Lola Visits by Michelle Sterline; illustrated by Aaron Asis, 2021
(Ages 4 and up)
This heartwarming story uses beautifully descriptive language to capture the essence of summer through a young girl's nose. Whether it's "gooey sunscreen and salt-soaked swimsuits at the beach" or "suman steaming on the stove", each glorious scent is a connection with her grandmother who visits every summer from the Philippines. The beautiful illustrations use a soft pastel pallet that captures the tender tone of the story while the text evokes the magic found in childhood memories and in the joy of family. This one is a real standout!
Drawn Together by Minh Le and Dan Santat, 2018
(Ages 5 and up)
This award-winning book is absolutely breathtaking! Stunning fantastical illustrations fill the pages of this moving story about a grandfather yearning to overcome a language barrier and connect with this grandson. This unique story is a must-read!
Full, Full, Full of Love by Trish Cooke; illustrated by Paul Howard, 2003
(Ages 2 and up)
Jay Jay visits his grandmother's house on Sundays where they prepare an enormous meal for their large extended family. Just as the title implies, this book is full of tenderness and love. Detailed illustrations capture the adoring expressions between the characters and the bouncy text provides an upbeat tone that makes readers want to snuggle with a loved one. This is one of my daughter's favorite books that she requests time and time again.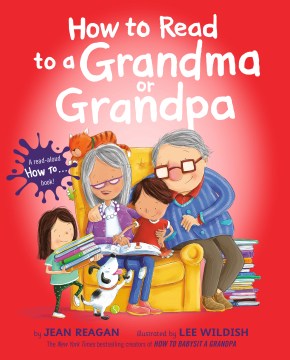 How to Read to a Grandma or Grandpa by Jean Reagan; illustrated by Lee Wildish, 2020
(Ages 4 and up)
Using a "How To" format, two imaginative children instruct readers on the best way of sharing books with grandparents. From where to find books, how to read in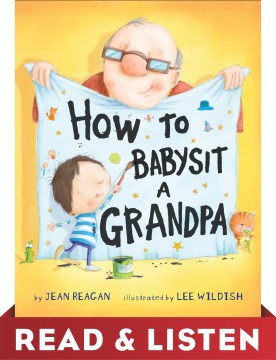 silly voices, and what bookish related activities to do once the story ends, there are both useful and entertaining tips that adults and children will enjoy.
This is the latest installment of the New York Times bestselling "How To" series that also includes, How to Babysit a Grandpa and How to Babysit a Grandma.
Amah Faraway by Margaret Chiu Greanias; illustrated by Tracy Subisak, 2022
(Ages 4 and up)
Kylie may speak to her Amah every Saturday on the computer, but she is full of nerves when she travels to Taipei to visit her in person. While initially intimidated by all the unusual sights, sounds, and food, she eventually begins feeling a stronger bond with her grandmother and comes to see things with a new perspective.
In a very clever twist, midway through the book the text is repeated in reverse with alternate punctuation giving it a different meaning. This unique structure adds a layer of depth to the story and further demonstrates Kylie's changing attitude with her new point of view.
Grandma's Purse by Vanessa Brantley-Newton, 2018
(Ages 3 and up)
During a visit with her Mimi, a young girl delights in exploring the contents of her grandmother's purse. Each item she pulls out has a special story that captures the essence of Mimi. The objects range from seemingly ordinary, such as a mirror, hairpins, and jewelry, to a sentimental coin purse and photo album. The young girl loves them all because they are "all of the things that make my grandma Mimi." We just adore this intergenerational story!
My Grandma's a Ninja by Todd Tarpley; illustrated by Danny Chatzikonstantinou, 2015
(Ages 5 and up)
Who wouldn't want a ninja for a grandma? Ethan is initially thrilled when his back-flipping, zip-lining, karate-chopping grandmother comes to visit. When her antics become disruptive, however, he has second thoughts. It's not until his grandmother's ninja moves inspire him to win his soccer game, that he fully appreciates them.
Just the thought of a ninja grandma is hilarious and it is so well executed in this comical story, I wasn't surprised at all when my kids asked to read this story night after night.
When Grandma Gives You a Lemon Tree by Jamie L. B. Deenihan; illustrated by Lorraine Rocha, 2019
(Ages 4 and up)
This clever book takes the proverbial phrase, "When life gives you lemons, make lemonade!" and incorporates it into a child-friendly story teaching resilience and self-reliance.⠀⠀⠀⠀⠀⠀
When a little girl receives a lemon tree for her birthday, she is initially disappointed,
but the plucky protagonist doesn't let it get her down. This outstanding book uses humorous text and illustrations to engage children and then effortlessly weaves in themes of hard work, patience, and community without being overly didactic. It even includes a lemonade recipe to inspire future entrepreneurs!⠀
I also recommend the companion book, When Grandpa Gives You a Toolbox. ⠀⠀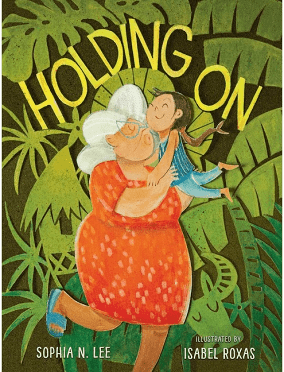 Holding On by Sophia N. Lee; illustrated by Isabel Roxas, 2022
(Ages 5 and up)
A girl's summer spent with her Lola is filled with singing, dancing, and storytelling. The thoughtful text describes how Lola holds on to things both physically and through sharing her memories. When Lola begins to forget things, however, it is the girl's turn to help her hold on through the music they make together. Filled with vibrant mixed media illustrations that capture Lola's exuberance, this story is beautiful on many levels.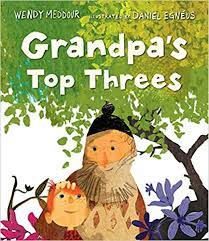 Grandpa's Top Threes by Wendy Meedour; illustrated by Daniel Egnéus, 2019
Get your tissues ready, this charming story is sure to pull at your heartstrings in the best way! In an effort to connect with his grandfather, a young boy asks his grandpa what his top three favorite things are in a variety of categories. Mixed with humor, warmth, and eye-catching illustrations, this lovely story will be appreciated by both children and adults.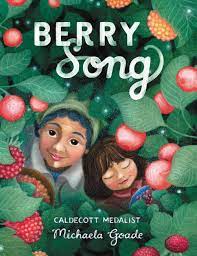 Berry Song by Michaela Goade, 2022
(Ages 4 and up)
Stunning illustrations from Caldecott Medalist Michaela Goade fill the pages of this special book that not only shares the sweet intergenerational story of a girl and her grandmother, but also encourages readers to appreciate and care for the earth. This one is a real standout!!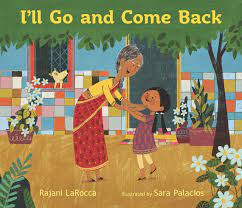 I'll Go and Come Back by Rajni LaRocca; illustrated by Sara Palacios, 2022
(Ages 4 and up)
When Jyoti visits her grandmother in India, she is initially overwhelmed by the difference in culture. Despite the language barrier Jyoti and her grandmother bond over creating art, visiting the market, playing games, and cooking. When her grandmother visits the U.S. the next year, it is Jyoti's turn to help her grandmother feel at home. I just adore this delightful story of a love between grandmother and granddaughter that stretches around the world!
What Will You Be? by Yamile Saied Méndez; illustrated by Kate Alizadeh, 2021
(Ages 5 and up)
A wise abuela helps her granddaughter imagine all the things she will become when she grows up in this stirring story. This book goes beyond the usual aspirations of children to become a certain profession and focuses more on abstract ideas like becoming a builder who molds the world, a farmer who plants wonder and change, a leader who lights the way for others, and so much more. This story is both dazzling and thought-provoking!
Bindu's Bindis by Supriya Kelkar; illustrated by Parvati Pillai, 2021
(Ages 4 and up)
This sweet intergenerational story stars Bindu who finds a special connection with her grandmother through a shared love of their bindis. When Bindu wears her bindi to school, she suddenly grows embarrassed until her grandmother inspires her to wear it with pride. Filled with bright colors and expressive illustrations, readers will love following Bindu on her journey to embrace her culture and stay true to herself. An author's note also provides additional information on bindis.
Nana Akua Goes to School by Tricia Elam Walker & April Harrison, 2020
(Ages 6 and up)
This lovely celebration of family and traditions will melt your heart. When Zura's teacher announces that everyone's grandparents are invited to their class to celebrate Grandparent's Day, she fears that the other students will react unkindly to her grandmother's appearance. Nana Akua has scars on her face from an old African tradition of marking children with special symbols. To Zura's surprise, her classmates are fascinated by Nana Akua's stories of life in Africa and are delighted to receive their own painted symbols on their faces.
Eye-catching mixed media collages perfectly compliment the tender text in this heartwarming story. Whether shared in a classroom or at home, this standout tale is an excellent conversation starter on heritage and cultural differences. The book is further enhanced by a glossary along with images of African symbols and their meanings.
Lucia the Luchadora by Cynthia Leonor Garza; illustrated by Alyssa Bermudez, 2017
Lucia loves running through the playground in her cape showing off her spectacular moves until two boys admonish her that girls can't be superheroes. After witnessing the boys' unkindness, Lucia's abuela introduces her to the exciting world of lucha libre full of luchadoras who bravely fight for what is right. Donning a mask inspired by one of the greatest luchadores' of all time, Lucia returns to the playground wowing the other kids and inspiring them to create their own luchadores costumes.
Filled with rousing onomatopoeia, this lively book is such a fun way to introduce the world of lucha libre to children while also empowering them to be anything they want to be!
Grandad's Camper by Harry Woodgate
(Ages 5 and up)
There is so much to love about this sweet intergenerational story! While visiting her grandfather, a young girl learns about the adventures her Grandad and Gramps had traveling the country in their camper. Inspired by these stories, the girl encourages Grandad to fix up the old van as an ode to Gramps while also creating new special memories together.