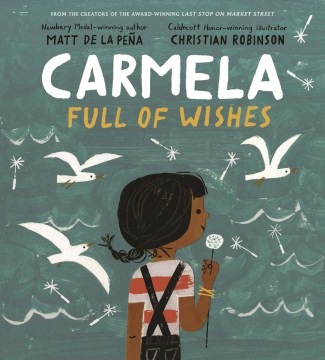 Carmela Full of Wishes by Matt de la Peña ; illustrated by Christian Robinson, 2018
(Ages 4 – 10)
When you have two powerhouses of children's literature collaborate, you know the book is going to be nothing short of amazing. Matt de la Peña and Christian Robinson's first book together, Last Stop on Market Street., won a Newberry Medal, a Coretta Scott King Honor, and a Caldecott Honor.
Their second collaboration, Carmela Full of Wishes , carries the same beautiful combination of storytelling and illustrations. The story follows a young girl as she tags along after her brother while he runs errands. The dynamic of sibling rivalry rings true as the exuberant Carmela proceeds to annoy her brother.
When she finds a dandelion, she becomes immersed in the possibilities of her wish. At first, she desires a machine that can make candy, but then considers asking for a nice bed for her mother, and better yet, her dad getting his papers fixed, so that he can finally come home. When Carmela accidentally falls and smashes her dandelion, she is crestfallen at the loss. Luckily her big brother comes to the rescue creating a heartwarming ending that will leave you smiling.
What I like best about Matt de la Peña and Christian Robinson's books, is that they have layers. On its surface, Carmela Full of Wishes is a story about sibling rivalry, but it also gently touches upon more complex issues including immigration and socioeconomic class, making it an excellent conversation starter for a variety of ages.
As always, Christian Robinson's artwork shines. His representation of Carmela's wishes using cut tissue paper is particularly outstanding.
There is so much to love about this remarkable book! I hope you will check it out and let me know what you think.
*This post contains affiliate links and may include items that I received at no cost in exchange for an honest review. All thoughts and opinions are my own. To read my full disclosure CLICK HERE.