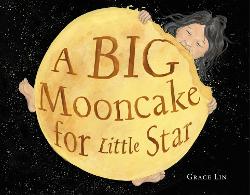 A Big Mooncake for Little Star by Grace Lin, 2018
You will never look at the moon the same way after reading this enchanting story by Grace Lin. A Big Mooncake for Little Star mixes in elements of fantasy and Chinese culture to create a charming story of Little Star who wakes each night to nibble away at the giant mooncake she and her mother baked together. With each bite, children will begin to see the various phases of the moon.
My mischievous daughter is completely enamored with this delightful story and it has become a bedtime favorite. It has also inspired us to find out more about the Chinese Mid-Autumn festival and make our own version of a moon pie.
I have been a big fan of Grace Lin for quite some time and I was lucky enough to meet her when she spoke at my old school. She is as delightful and funny in real life as the characters in her books. Don't miss her other incredible books: