"I give up" are three words I never want to hear my children say. When faced with a challenge, I hope they will persevere and overcome the obstacles that lay before them. Providing children with stories of characters exemplifying perseverance by working hard, learning from their mistakes, and growing because of them is an excellent way to reinforce this important character trait.
The following books are a few of my favorite stories that masterfully demonstrate the power of following one's passion and persisting through problems to achieve a goal.
*This post contains affiliate links. To read my full disclosure CLICK HERE.
PICTURE BOOKS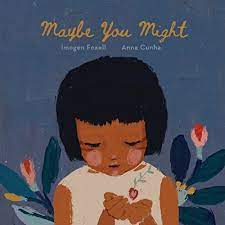 Maybe You Might by Imogen Foxell; illustrated by Anna Cunha, 2022
(Ages 4 and up)
Lyrical lines and gorgeous illustrations follow a young girl who plants a seed with surprising results. She lives in a barren desert and while everyone tells her the seed won't sprout, she tries anyway. Every day she cares for the seed until it grows into a tree creating a chain reaction resulting in water returning to her village. Though she faces challenges along the way, the girl's optimism shines through allowing her to change her world.
I literally got goosebumps when I read this story. It is beautiful on so many levels and the last lines are perfect for inspiring readers to work hard to make the world a better place.
Jabari Tries by Gaia Cornwall, 2020
(Ages 4 and up)
The courageous character from Jabari Jumps returns with another standout story. Jabari is excited to build a flying machine until each design fails. As his frustration grows, his father helps him overcome his irritation and learn to persevere. Jabari takes on his little sister as a partner and together they are able to reach their goal. From the beautiful collage-style illustrations to overcoming big emotions and a positive sibling relationship, there is a lot to love about this sweet story!
The Little Engine That Could by Watty Piper; illustrated by Dan Santat, 2020
(Ages 3 and up)
The classic story of a little engine persevering up a giant hill is beautifully reimagined through the vibrant illustrations of award-winning author and illustrator Dan Santat. While originally published in 1930, this timeless tale is still relevant today inspiring a whole new generation of children to believe in themselves and overcome whatever obstacle come their way!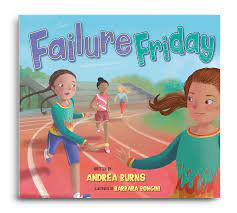 Failure Friday by Andrea Burns; illustrated by Barbara Bongini, 2022
(Ages 6 and up)
"We celebrate our failures because our failures keep us pushing forward until we get it right." Oh, how I love this book! It is such a relatable story on many levels and does an excellent job of conveying the message that it is okay to fail.
Everyone in Emma's family runs, which is why she feels like a disappointment when she is not very good at track. After dropping the baton at a big meet, her teacher gives her class an important lesson on perseverance. She introduces an excellent acronym that helps encourage readers to embrace their failures and learn from them. There are so many essential lessons woven into this authentic story, I highly recommend it!
The Most Magnificent Thing by Ashley Spires, 2014
(Ages 5 and up)
With the help of her pet dog, a girl embarks on a special mission to create something truly spectacular. After several attempts, however, she grows frustrated by her failures and quits. Taking a break by playing with her dog, however, gives her clarity and inspiration. She perseveres and her hard work pays off when she invents something remarkable. This engaging tale entertains while teaching children to never give up!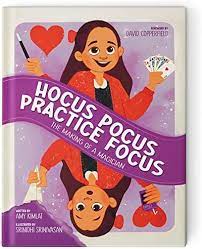 Hocus Pocus Practice Focus: The Making of a Magician by Amy Kimlat; illustrated by Srinidhi Srinivasan, 2022
(Ages 5 and up)
After seeing a magician at her birthday party, Mila can't wait to perform her own magic. The tricks prove more difficult than she realized, however, and after failing each one, she is ready to give up. Luckily, she has an unexpected meeting with the magician from her party who encourages her to practice and focus on her craft. She spends an entire year working on her magic and with her new-found confidence, Mila is the one performing at her next birthday party!
With uplifting rhymes and colorful illustrations, this cheerful story is an excellent lesson in grit. Readers will also be delighted by the directions for a magic trick they can perform on their own located in the back of the book.
Rosie Revere, Engineer, Ada Twist, Scientist, and Sofia Valdez, Future Prez by Andrea Beaty; illustrated by David Roberts
(Ages 4 and up)
We absolutely adore the books in the Questioneers series and especially love Rosie's creativity, Ada's curiosity, and Sofia's ability to stand up for what she believes in. Rhyming text and engaging illustrations featuring diverse characters who demonstrate passion and perseverance make these excellent read aloud choices.
Charlotte the Scientist is Squished by Camille Andros; illustrated by Brianne Farley, 2017
(Ages 4 and up)
Charlotte is a serious scientist who is ready to conduct experiments. The only problem is that she has no room to run her tests because she is constantly surrounded by her many brothers and sisters. Being a proper scientist, she uses the Scientific Method to solve her problem. Charlotte's first few experiments fail, but Charlotte's persistence pays off as she finds success and a new perspective. Budding scientists will especially enjoy the last few pages that review the simplified version of the scientific method.
The Magical Yet by Angela DiTerlizzi; illustrated by Lorena Alvarez, 2020
(Ages 4 and up)
This story is perfect for empowering children to take risks, work hard, and embrace mistakes. Rhyming text and colorful illustrations follow a young girl who struggles to learn to ride a bike. Just as she is determined to walk forever, she meets the Magical Yet. Presented as a glowing pink flower-like object, the Magical Yet teaches the girl that with determination, practice, and grit, she can tackle any problem.
The engaging illustrations feature a diverse group of children learning to accomplish a variety of tasks giving this charming book wide appeal.
PICTURE BOOK BIOGRAPHIES
She Persisted: 13 American Women Who Changed the World by Chelsea Clinton; illustrated by Alexandra Boiger, 2017
(Ages 6 and up)
In this beautiful book, Chelsea Clinton introduces children to thirteen amazing women who overcame obstacles to make a difference in America. Readers may recognize some of the women such as Harriet Tubman and Helen Keller, but others may be new to children such as union activist Clara Lemlich, physician Virginia Apgar, and Nellie Bly, a female reporter who exposed several injustices. Each trailblazer is presented in a two-page spread with a short paragraph describing how they persisted through a difficulty in their life and went on to accomplish something remarkable. Gorgeous watercolors capture the strength of the women and are enhanced by an inspiring quote.
Fauja Singh Keeps Going: The True Story of the Oldest Person To Ever Run a Marathon by Simran Jeet Singh; illustrated by Baljinder Kaur, 2020
(Ages 5 and up)
"You know yourself, Fauja, and you know what you're capable of. Today is a chance to do your best." These were the words spoken by Fauja Singh's mother that stayed with him his entire life. They helped him overcome a childhood disability preventing him from walking, gave him the confidence to manage a farm, move to a new land, and eventually set several world records for running. His story is absolutely incredible and his perseverance and dedication is truly inspiring.
Malala's Magic Pencil by Malala Yousafzai; illustrated by Kerascoet, 2017
(Ages 7 and up)
This beautiful and awe-inspiring tale follows the true story of Malala, a young girl from Pakistan who even at a young age follows her dreams and fights for the rights of others. Even though Malala's life is difficult and tragic, she does an admirable job of making her story accessible and inspirational to all who read this stunning book.
Malala's story is one of bravery and resilience that all children should read. She was honored for her work by being the youngest person to win the Nobel Peace Prize.
Emmanuel's Dream: The True Story of Emmanuel Ofosu Yeboah by Laurie Ann Thompson, 2015
(Ages 5 and up)
This incredible true story shares the life of Emmanuel Ofosu Yeboah who was born in Ghanna with a severely deformed leg. Though discriminated against because of his disability, Emmanuel was determined to teach the world that "being disabled does not mean being unable." His mother carried him to school and when he became too heavy, he hopped. He learned to play soccer on crutches and rode a bike 400 miles throughout Ghana to spread awareness of the capabilities of the disabled. He is now a national hero and activist whose powerful story teaches readers to persevere and through hard work, they too can change the world.
Hidden Figures: The True Story of Four Black Women and the Space Raceby Margot Lee Shetterly; illustrated by Laura Freeman, 2018
(Ages 5 and up)
This standout book introduces children to four exceptional women who used their impressive knowledge of math to help NASA launch astronauts into space and return safely. The child-friendly text shares the stories of Dorothy Vaughan, Mary Jackson, Katherine Johnson, and Dr. Christine Darden and how they combatted racism and excelled in their field. Complete with a timeline, additional biographical information on each woman, a glossary, and an author's note, this is a truly outstanding book.
Breaking Through the Clouds: The Sometimes Turbulent Life of Meteorologist Joanne Simpson by Sandra Nickel; illustrated by Perez Garcia, 2022
(Ages 5 and up)
Joanne Simpson had a love of science from an early age. After teaching WWII pilots about the dangers of flying through clouds, she realized she wanted to learn more about them. Through hard work and determination, she broke barriers and became the first woman to receive a doctorate in meteorology. She went on to create an entire new branch of science using clouds as a model for predicting weather.
Her resilience and fortitude is absolutely incredible and I'm so thankful for this biography to teach my kids about this amazing scientist and all she accomplished!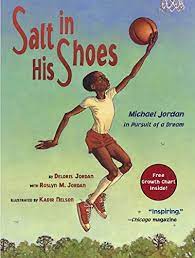 Salt in His Shoes by Deloris Jordan and Roslyn M. Jordan; illustrated by Kadir Nelson, 2003
Readers may be surprised to learn that before Michael Jordan become one of the most famous basketball players of all-time, he was a short kid who was bullied on the court. Frustrated, he turns to his parents for advice who instill that hard work, determination, and a little faith will help him even more than his height.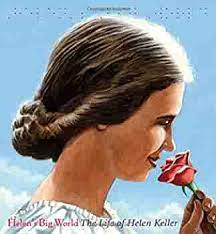 Helen's Big World: The Life of Helen Keller by Doreen Rappaport, 2012
(Ages 5 and up)
The story of Helen Keller learning to thrive despite being both deaf and blind, is nothing short of miraculous. I used this story to introduce biographies to my second grade students and they were completely enthralled by this captivating book!