If you haven't already, now is the time to enrich your shelves with stories filled with Black joy, so that you can not only share them during Black History Month, but ALL YEAR LONG!
These exuberant books star Black children expressing their self-confidence, displaying tender moments with family, and just being their wonderful extraordinary everyday selves. These uplifting stories provide an opportunity for children to either see an affirming reflection of themselves or create a positive connection with people who may look different than themselves.
I truly believe that diversity in children's literature is essential and I hope you enjoy these gems as much as our family does.
*This post contains affiliate links.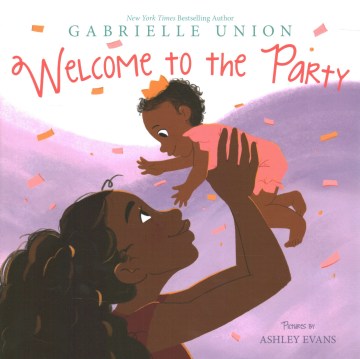 Welcome to the Party by Gabrielle Union; illustrated by Ashley Evans, 2020
(Ages 0 and up)
There is so much anticipation leading up to the birth of a baby, but even after eagerly awaiting months, nothing can quite prepare you for that earth-shattering joy of first meeting your child.
Welcome to the Party by New York Times bestselling author, Gabrielle Union, is a sweet love letter describing the special moment of bringing a baby home. The upbeat rhymes make this a fun story to read aloud to little listeners and the ending reminding children that they will be loved for infinity is sure to result in lots of hugs.
You Matter by Christian Robinson, 2020
(Ages 2 and up)
In this impactful story, Christian Robinson's creative signature artwork is combined with poetic text that reassures readers that each of us has value. The wording may be simple, but his poignant message that every living creature has worth could not be more powerful. With just the right amount of humor mixed in, this is a book that will resonate with the youngest listeners to the oldest readers.
Bedtime for Sweet Creatures by Nikki Grimes; illustrated by Elizabeth Zunon, 2020
(Ages 2 and up)
This sweet bedtime story is full of whimsy and wonder. When a young child refuses to go to bed, his mother playfully compares him to wild animals. The inventive illustrations display the child and the imaginary animals in an array of lively poses while the clever text introduces a variety of descriptive vocabulary. This one is a lot of fun!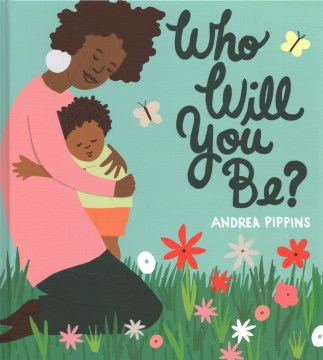 Who Will You Be? by Andrea Pippins, 2020
(Ages 2 and up)
Lyrical language captures a mother's musings as she ponders which characteristics her baby will inherit from their family members in this beautiful love letter to children. This sweet story is a joy to read aloud and an excellent conversation starter on attributes readers may have received from their own family.
Full, Full, Full of Love by Trish Cooke; illustrated by Paul Howard, 2003
(Ages 2 and up)
Jay Jay visits his grandmother's house on Sundays where they prepare an enormous meal for their large extended family. Just as the title implies, this book is full of tenderness and love. Detailed illustrations capture the adoring expressions between the characters and the bouncy text provides an upbeat tone that makes readers want to snuggle with a loved one. This is one of my daughter's favorite books that she requests time and time again.
My Hair Is Magic by M.L. Marroquin; illustrated by Tonya Engel, 2020
(Ages 3 and up)
A young girl confidently shares the many reasons she loves her defining hair in this enchanting story. Lyrical similes make the poetic text a joy to read aloud while the vibrant, whimsical illustrations draw the eye in. It is hard not to smile at the girl's assertive attitude and the uplifting story will hopefully inspire others to think of reasons they love their own bodies.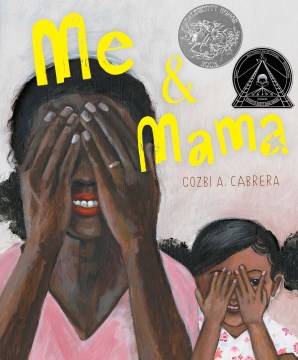 Me & Mama by Cozbi A. Cabrera, 2020
(Ages 3 and up)
Named a Caldecott Honor Book and a Coretta Scott King Illustrator Honor Book, this heartwarming story celebrating the love between a mother and child is not to be missed!
Me & Mama follows a young girl's seemingly ordinary day that is made extraordinary by the simple presence of her mother. As she goes through her daily routine, she points out special items that she and her mother share. The child's observations are full of imagination and the descriptive language is a pleasure to read aloud. The rich acrylic illustrations not only beautifully display cherished items, but skillfully capture the loving expressions of the characters.
My Rainy Day Rocket Ship by Markette Sheppard; illustrated by Charly Palmer, 2020
(Ages 3 and up)
A resourceful boy uses his vivid imagination to zoom into outer space in this charming story. The flowing rhymes make it a joy to read aloud while the lush illustrations are a feast for the eyes.
I Believe I Can by Grace Byers; illustrated by Keturah A. Bobo, 2020
(Ages 3 and up)
Just as she did with I Am Enough, Grace Byers has created another emboldening book that reminds children of their worth. The concise text follows a group of diverse children as they state affirmations asserting their value and potential.
Grandma's Purse by Vanessa Brantley-Newton, 2018
(Ages 3 and up)
During a visit with her Mimi, a young girl delights in exploring the contents of her grandmother's purse. Each item she pulls out has a special story that captures the essence of Mimi. The objects range from seemingly ordinary, such as a mirror, hairpins, and jewelry, to a sentimental coin purse and photo album. The young girl loves them all because they are "all of the things that make my grandma Mimi." We just adore this intergenerational story!
The King of Kindergarten by Derrick Barnes; illustrated by Vanessa Brantley-Newton, 2019
(Ages 4 and up)
Filled with colorful illustrations and affirming text, this playful book is sure to generate excitement about starting kindergarten. When a mother deems her son the "king of kindergarten", he gains the confidence to face anything. With a giant smile, he listens to his teacher, shares, plays, and makes new friends. This charming story will leave readers eager to explore their own royal school kingdoms.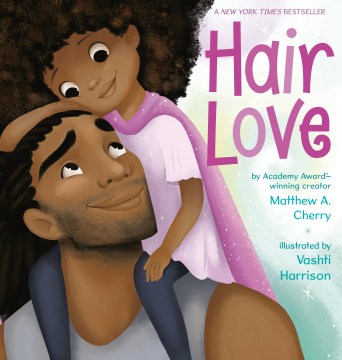 Hair Love by Matthew A. Cherry; illustrated by Vashti Harrison, 2019
(Ages 4 and up)
This tender and amusing tale of a father struggling to give his daughter the perfect hairstyle is sure to evoke smiles. With its heartwarming storyline and expressive illustrations, this one is a must-have! If you need one more reason to read this standout story, it was also turned into an animated short film that won an Oscar!
All Because You Matter by Tami Charles; illustrated by Bryan Collier, 2020
(Ages 4 and up)
"You matter" is a phrase that can never be said enough to children. That's why the radiant new book All Because You Matter is so important. It uses stirring text and stunning collage-style illustrations to remind children of their self-worth.
The lyrical words reassure readers that even when they doubt themselves because of their own mistakes or due to the words and actions of others, they are, in fact, loved and will always matter. This empowering and timely book is simply phenomenal.
Black is a Rainbow Color by Angela Joy; illustrated by Ekua Holmes, 2020
(Ages 4 and up)
In her author's note, Angela Joy writes that "Black is not just a color, but a culture." This is a sentiment that is skillfully presented in the book Black is a Rainbow Color. The poetic text begins by describing familiar items such as feathers, hair, and bicycle tires that are black and then expertly connects the color black with iconic historical and cultural events. The stunning mixed media artwork is truly outstanding. The rich colors are made even more vibrant with thick black outlines while well-chosen newspaper articles and maps are intertwined complimenting the historical references in the text.
Crown: An Ode To The Fresh Cut written by Derrick Barnes and illustrated by Gordon C. James, 2017
(Ages 4 and up)
I don't know what I love more about this one, the text or the illustrations. Both perfectly capture the pride of a young African American boy as he gets his hair cut at his local barber shop. This book is not just a simple story of getting a haircut; elements of confidence, joy, and self-respect jump off the pages. The haircut changes the way the boy feels both about himself and the outside world. With his "fresh cut" he can accomplish anything. It is hard not to smile at the incredible illustrations, especially the ones displaying the look of confidence on the boy's face. Awarded a Newbery Honor, a Caldecott Honor, a Coretta Scott King Author Honor, and a Coretta Scott King Illustrator Honor, this one is not to be missed!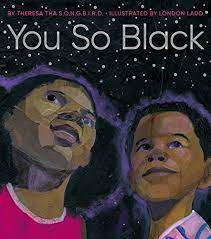 You So Black by Theresa tha S.O.N.G.B.I.R.D; illustrated by London Ladd, 2023
(Ages 4 and up)
Rich, lush illustrations fill the pages of this jubilant look at Black culture.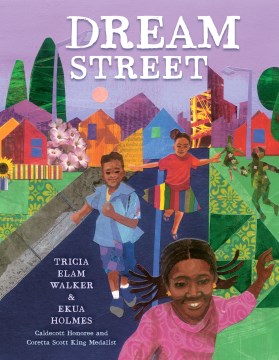 Dream Street by Tricia Elam Walker & Ekua Holmes, 2021
(Ages 4 and up)
Inspired by their childhood neighborhood, cousins Tricia Elam Walker and Ekua Holmes have come together to create a true masterpiece celebrating community. The book is made up of a series of vignettes containing a brief lyrical paragraph describing each inhabitant of the neighborhood and their dreams for the future. A spectacular portrait of each resident skillfully captures their personality. The illustrations are so amazingly beautiful, I truly believe they belong in a gallery. The uplifting words jump off the page as readers learn more about how the residents thrive by supporting one another. This jubilant book is a real treasure!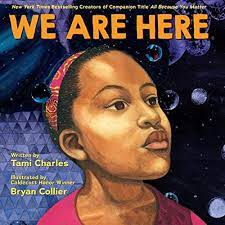 We Are Here by Tami Charles; illustrated by Bryan Collier, 2023 Rousing and affirmative, this inclusive book is a beautiful celebration of Black heritage and legacy.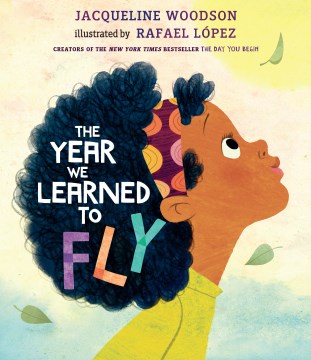 The Year We Learned to Fly by Jacqueline Woodson; illustrated by Rafael López, 2022
(Ages 5 and up)
In this standout story, a wise grandmother encourages her squabbling grandchildren to use their "beautiful and brilliant minds" to overcome their boredom, anger, and fear by using their imaginations to soar to a happier place.
The stunning artwork expertly exemplifies the lyrical language empowering readers to recognize that they have the power to overcome any obstacle with their minds. In an exceptionally powerful scene, the grandmother shares that she learned to fly from her ancestors who lifted themselves out of the shackles of slavery with their imaginations.
The Proudest Color by Sheila Modir and Jeff Kashou; illustrated by Monica Mikai, 2021
(Ages 4 and up)
A young girl associates several moods with colors and loves brown the most because it makes her feel proud. When she arrives for her first day of school and discovers she is the only one with brown skin, however, her confidence wanes. At home, her parents lift her spirits by sharing stories of a myriad of people with brown skin who have accomplished great things. There is a lot to love about this emboldening story, but I especially adore all the details particularly in the last few pages and the end papers.
I Am Smart, I Am Blessed, I Can Do Anything! by Alissa Holder and Zulekha Holder-Young, illustrated by Nneka Myers, 2020
(Ages 5 and up)
When Ayaan admits to his mother that he doesn't feel smart and worries he doesn't always know the answer in school, she teaches him three affirmations that give him the confidence to boldly face each new day. Our family was so inspired by this powerful story, we started saying the same affirmations to bolster my children's self-assurance.
I Am Every Good Thing by Derrick Barnes; Gordon C. James, 2020
(Ages 4 and up)
Striking illustrations illuminate a boy's inner thoughts describing his self-confidence in this powerful book that begs to be read out loud. The imagery created by the child-friendly metaphors is almost tangible. "I am good to the core, like the center of a cinnamon roll. Yeah, that good." This truly phenomenal book is a real standout and sure to help children build their own self-assurance.
Ruby's Reunion Day Dinner by Angela Dalton; illustrated by Jestenia Southerland, 2021
(Ages 4 and up)
It's the day of the big reunion dinner and every member of Ruby's family makes their own signature dish to share. She begs to help with each delectable dish, but is told she is too small every time. Finally, Ruby gets an idea for her own perfect addition to the family feast! I love how this sweet book celebrates food and family. Ruby is sure to resonate with many readers who have also been told they are too little to help and will cheer as Ruby finds her own specialty.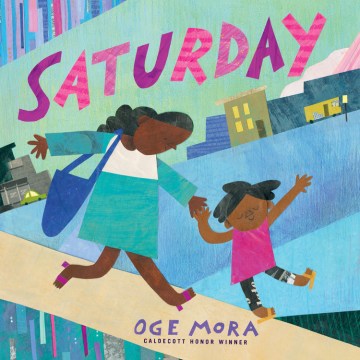 Saturday by Oge Mora, 2019
(Ages 4 and up)
Ava's mother works hard all week and Saturday is the one day they have to spend together. This Saturday, Ava and her mom are looking forward to their typical weekend routine, but are met with difficulties at every turn. With each mishap, Ava's mother reassures her that the day will still be special. When Ava's mother realizes that she has forgotten the tickets to a puppet show, however, she is the one who melts down. Ava in return gathers the strength to cheer her mom up and they return home to have one last adventure of the day.
With stunning artwork and themes of family and resilience, there is so much to love about this phenomenal story!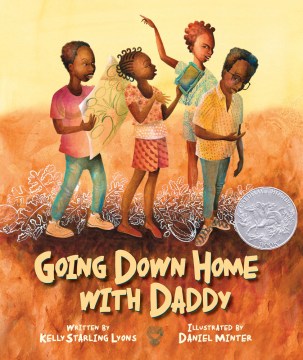 Going Down Home With Daddy by Kelly Starling Lyons; illustrated by Daniel Minter, 2019
(Ages 5 and up)
This award-winning book is adorned with rich, lush illustrations that follow a loving family coming together for a reunion. The sense of pride among the family members is almost palpable as they commemorate all that they have accomplished and have to be grateful for. This is a truly beautiful story on many levels.
Thank You, Omu! by Oge Mora, 2018
(Ages 4 and up)
Not only is Thank You, Omu! a wonderful story about generosity, community, and kindness, the artwork is spectacular! Gorgeous collages created with acrylic paint, china markers, pastels, patterned paper, and old book clippings adorn this tender story. It was no surprise that Oge Mora earned a Caldecott Honor for this special book.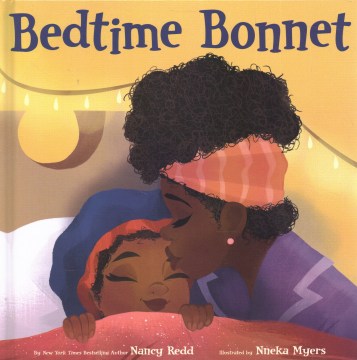 Bedtime Bonnet by Nancy Redd, illustrated by Nneka Myers, 2020
(Ages 4 and up)
This endearing bedtime story stars a young girl who lovingly shares her family's nighttime hair routine with readers. Many children will delight in seeing a reflection of their own habits, while others will enjoy learning about new bedtime customs.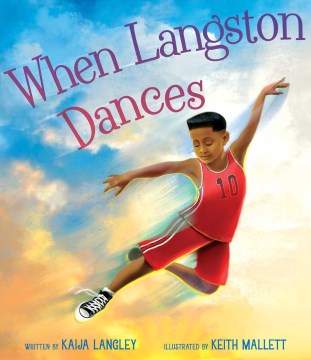 When Langston Dances by Kaija Langley; illustrated by Keith Mallett
(Ages 4 and up)
Stunning life-like illustrations adorn the pages of this uplifting story of a boy breaking stereotypes to pursue his dream of becoming a ballet dancer. The pure bliss Langston feels while dancing is expertly captured in the expressive illustrations and readers will cheer for him as he follows his heart.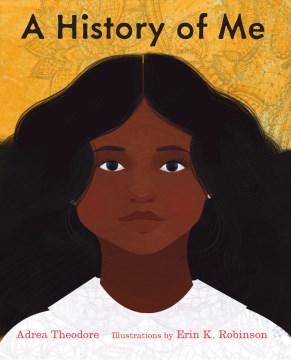 A History of Me by Adrea Theodore; illustrated by Erin K Robinson, 2022
(Ages 5 and up)
Based on her own experience, the author describes the way she felt as the only Black child in her class during Black History Month. When her daughter has a similar experience, the author emboldens her to feel pride in the strength of her ancestors and gratitude in the ability to pursue her dreams. The compelling text is skillfully paired with striking illustrations making this a powerful and moving story.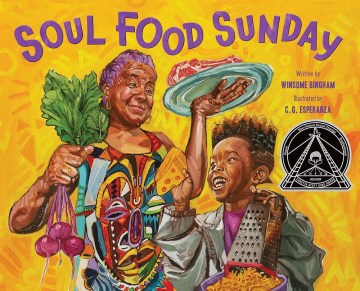 Soul Food Sunday by Winsome Bingham; illustrated by C. G. Esperanza, 2021
(Ages 4 and up)
A young boy jubilantly helps his grandmother prepare a giant family meal for their traditional Soul Food Sunday in this spirited story. The vibrant illustrations mirror the lively tone of the book and the pure delight of the family coming together for a special meal. Readers will be excited to see the family's recipe for Mac 'N' Cheese included.
Lulu the One and Only by Lynnette Mawhinney; illustrated by Jennie Poh, 2020
(Ages 4 and up)
Luliwa Lovington is a sweet, spunky biracial girl who is full of confidence until people ask the question, "What are you?" Her brother helps her come up with a "power phrase" to combat the question and let people know more about who she is than what she is.
This treasure of a book both empowers children in mixed-race families and educates other children on questions that are hurtful and insensitive. Most of all, this affirming story teaches readers that we are all more than just our skin color and that our uniqueness should be celebrated. A thoughtful author's note is also included to guide parents through discussions with their children about race and how to help them develop self-love.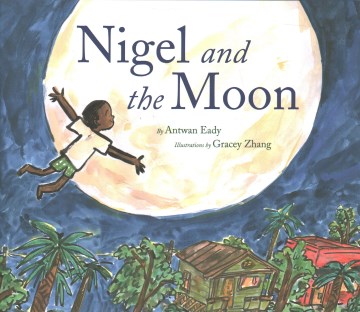 Nigel and the Moon by Antwan Eady; illustrated by Gracey Zhang, 2022
(Ages 5 and up)
Anyone who has ever felt as though they don't fit in, will relate to this sweet character. Nigel clearly comes from a caring and supportive environment, but the fact that he looks different than his classmates and has a lower economic standing has left him lacking in confidence. It is only when his parents visit for career day and state that raising him is the best job they've ever had, that he finally finds his self-assurance. A beautiful reminder of the power of words, this sweet story is a lovely read aloud choice for children of a variety of ages.
Magnificent Homespun Brown by Samara Cole Doyon; illustrated by Kaylani Juanita, 2020
(Ages 5 and up)
Beautifully descriptive language shares the glory of the color brown in this exquisitely written poem. The charming illustrations feature a diverse group of girls who revel in aspects they love about themselves.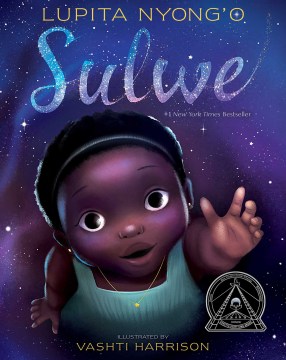 Sulwe
by Lupita Nyong'O; illustrated by Vashti Harrison, 2019
(Ages 5 and up)
Sulwe was born the color of midnight. Because she looks different from the rest of her family and friends, she feels self-conscious about her dark skin. One magical night a star whisks her away and helps her find the brightness inside her making her feel beautiful inside and out.
⠀⠀⠀⠀⠀⠀⠀⠀⠀
Academy Award winner Lupita Nyongo'O has proven herself to not only be a talented actress, but also a gifted writer. Her earnest tale of Sulwe is captivating and is beautifully paired with Vashti Harrison's enchanting illustrations.
⠀⠀⠀⠀⠀⠀⠀⠀⠀
You May Also Like: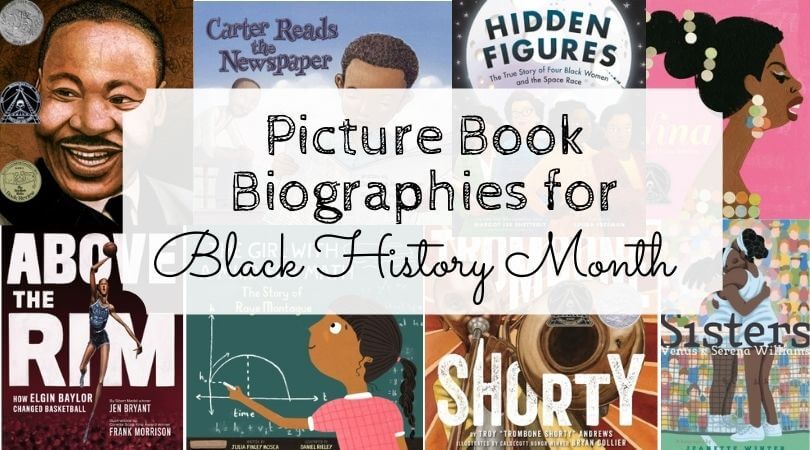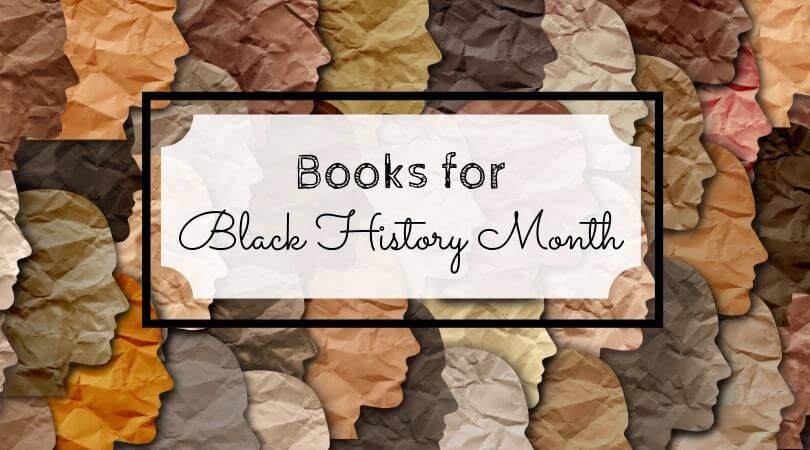 ⠀⠀⠀⠀⠀⠀⠀⠀⠀