I want my daughter to grow up to be assertive, confident, proud, and ambitious. While I do my best to try and model these attributes, sharing books with strong female protagonists demonstrating these important character traits is also helping to empower her to be her best self.
The following books all feature lively, self-reliant, self-assured characters who have stories that are not only engaging and entertaining, but inspiring!
*This post contains affiliate links. To read my full disclosure CLICK HERE.
A Girl Like You by Frank Murphy; illustrated by Kayla Harren, 2020
(Ages 4 and up)
In this beautifully illustrated treasure, an unseen narrator gives sage advice to a young girl inspiring her to be her best self. The emboldening text urges children to try new things, stand up for themselves and others, be a good friend, and love themselves just the way they are. There are so many great lessons in this book it is sure to be revisited often through the years.
Eyes That Kiss in the Corners by Joanna Ho; illustrated by Dung Ho, 2021
(Ages 4 and up)
This impactful story uses exquisitely descriptive language to share how the shape of a girl's eyes are one of her favorite family traits that define her in the best way. Radiant illustrations highlight the poetic text bringing in elements of whimsy as the girl describes aspects of her culture. The girl's self-confidence is infectious and the empowering text celebrating heritage and family paired with the luscious illustrations makes this book a real standout.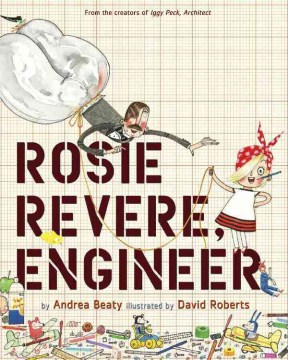 Rosie Revere, Engineer, Ada Twist, Scientist, and Sofia Valdez, Future Prez by Andrea Beaty; illustrated by David Roberts
(Ages 4 and up)
We absolutely adore the books in the Questioneers series and especially love Rosie's creativity, Ada's curiosity, and Sofia's ability to stand up for what she believes in. Rhyming text and engaging illustrations featuring diverse characters who demonstrate passion and perseverance make these excellent read aloud choices.
Buy Rosie Revere Here Buy Ada Twist Here Buy Sofia Valdez Here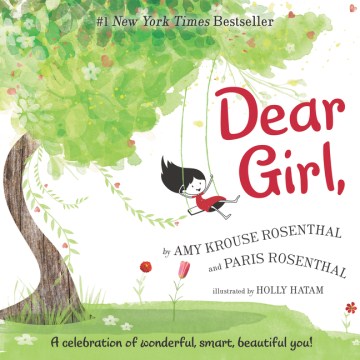 Dear Girl by Amy Krouse Rosenthal; illustrated by Holly Hatam, 2017
(Ages 0 and up)
Every now and then a book comes along that you know you will have forever and each time you read it during various stages of your life, it may impact you in a different way. That is how I feel about Dear Girl .
This love letter to daughters provides advice to help them be their best selves and find happiness in life. Colorful, upbeat illustrations add even more fun and whimsy to this magical book.
When Grandma Gives You a Lemon Tree by Jamie L. B. Deenihan; illustrated by Lorraine Rocha, 2019
(Ages 4 and up)
This clever book takes the proverbial phrase, "When life gives you lemons, make lemonade!" and incorporates it into a child-friendly story teaching resilience and self-reliance.⠀⠀⠀⠀⠀⠀
When a little girl receives a lemon tree for her birthday, she is initially disappointed, but the plucky protagonist doesn't let it get her down. This outstanding book uses humorous text and illustrations to engage children and then effortlessly weaves in themes of hard work, patience, and community without being overly didactic. It even includes a lemonade recipe to inspire future entrepreneurs!⠀⠀⠀
Ambitious Girl by Meena Harris; illustrated by Marissa Valdez, 2021
(Ages 4 and up)
"Don't let anyone tell you who you are. You tell them who you are." So begins the empowering story of Ambitious Girl . After seeing her aunt, Kamala Harris, criticized for being too ambitious, Meena Harris was inspired to create Ambitious Girl to encourage little girls to "define their own unique purpose in the world" and feel the freedom not to be too much of any one thing.
Filled with positive affirmations and eye-catching illustrations featuring an inclusive group of diverse girls and women, this upbeat story is sure to embolden girls everywhere.
The Little Red Fort by Brenda Maier ; illustrated by Sonia Sanchez, 2018
(Ages 3 and up)
This updated version of The Little Red Hen stars a small Latina girl named Ruby who invites her brothers to help her build a fort. When they respond that they are too busy, she perseveres and creates an impressive structure. In the end, the brothers make amends by creating additions to the fort and all the siblings enjoy a feast to celebrate their hard work.
Children and adults will love Ruby's resourcefulness, determination, and self-reliance. They will also adore the last page sharing examples of easy forts to make.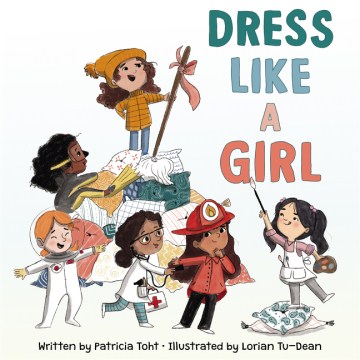 Dress Like a Girl by Patricia Toht; illustrated by Lorian Tu-Dean, 2019
(Ages 3 and up)
This affirming book assures girls that the right way to dress is the way that makes them feel the best. The upbeat rhyming text paired with delightful illustrations featuring a diverse group of girls playing in outfits representing a variety of professions, emboldens readers that they can be anything and everything they want to be.
The Most Magnificent Thing by Ashley Spires, 2014
(Ages 5 and up)
With the help of her pet dog, a girl embarks on a special mission to create something truly spectacular. After several attempts, however, she grows frustrated by her failures and quits. Taking a break by playing with her dog, however, gives her clarity and inspiration. She perseveres and her hard work pays off when she invents something remarkable. This engaging tale entertains while teaching children to never give up!
The Proudest Blue: A Story of Hijab and Family by Ibtihaj Muhammad; illustrated by Hatem Aly, 2019
(Ages 5 and up)
Faizah could not be prouder of her sister as she wears her beautiful new hijab on the first day of school. She begins to doubt herself, however, when her sister faces unkind comments from other students. This book expertly weaves in themes of family, acceptance, fostering empathy, and finding inner confidence making it a real standout.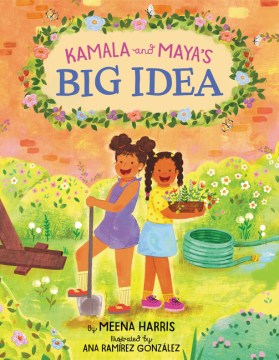 Kamala and Maya's Big Idea by Meena Harris; illustrated by Ana Ramirez González, 2020
(Ages 5 and up)
As children, Kamala Harris and her sister Maya advocated for a playground in their apartment building courtyard and through hard work and persistence, they accomplished their goal. Readers will be amazed and inspired by the girls' determination and ability to make their dreams a reality. The colorful illustrations add to the upbeat tone of the book and children will love seeing how a community came together to build something that would benefit many.
This story is simply outstanding! I love books that show children making a difference and the fact that both of these children grew up to excel in their careers and become admirable advocates with Kamala Harris earning the title of Vice President of the United States is even more empowering!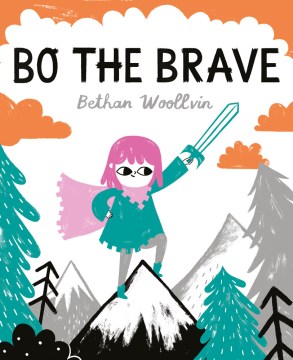 Bo the Brave by Bethan Woollvin, 2020
(Ages 4 and up)
A new fairy tale filled with a self-reliant heroine and a message of looking beyond appearances? Yes, please! Bethan Woollvin has made a name for herself reimagining classic fairytales with a modern twist and now she has created a unique, original tale full of heart. When Bo's brothers go monster hunting, they leave her behind in the castle. Not wanting to miss out on adventure, Bo embarks upon her own quest and discovers a group of unfamiliar creatures who are far from monsters.
Stand Tall, Molly Lou Melon by Patty Lovell; illustrated by David Catrow, 2001
(Ages 4 and up)
It is impossible not to root for the exuberant Molly Lou Melon. She may be short, clumsy, have buck teeth, and a voice that sounds like a bullfrog, but she also has a very wise grandmother who has endowed her with words of wisdom about being herself.
David Catrow's eccentric illustrations are hilarious and perfectly exemplify Molly Lou's vivacious spirit. This is one of my favorite read alouds that my children and my students asked for over and over.
Be Kind by Pat Zietlow Miller; illustrated by Jen Hill, 2018
(Ages 4 and up)
When Tanisha spills grape juice all over her new dress, most of the other kids laugh. However, one unnamed girl wants to be kind, but she is not exactly sure how. Poignant text matched with soft illustrations demonstrate the girl's thought process as she thinks of examples of kindness she has experienced.
There are many books that cover this subject, but Be Kind stands apart. It does a remarkable job of providing an overview of kindness along with clear examples that make this abstract concept more concrete for children. It touches upon both the individual and global impact of kindness and while it may not always be easy to be kind, each small act is meaningful.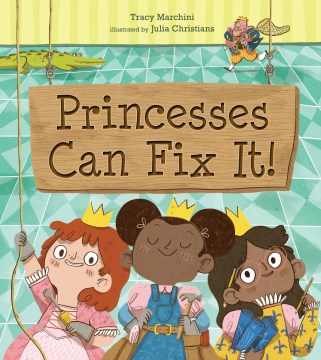 Princesses Can Fix It! by Tracy Marchini; illustrated by Julia Christians, 2021
When a castle is overrun by alligators, it is up to three clever princesses to construct a contraption to rid their home of the unwanted reptiles. Unfortunately, the king believes that proper princesses should not build. Naturally this doesn't stop the three determined girls who stay awake each night assembling the perfect invention to return the gators to the moat.
While the focus is on the three STEM-oriented sisters, I also love that their brother, who enjoys sewing, follows his heart too. With its playful pictures and empowering story line, this has become a new favorite in our house!
Awesomely Emma: A Charley and Emma Story by Amy Webb; illustrated by Merrilee Liddiard, 2020
(Ages 5 and up)
While Emma has no hands and uses a wheelchair, she refuses to be defined by her disability and demonstrates a courageous spirit that is truly inspiring. When she attends a field trip to an art museum, she is disappointed that there is no ramp and grows frustrated when her friend Charley tries to help because he feels sorry for her.
This inclusive story is perfect for starting conversations on disabilities and how to be a good friend to others. Emma's self-confidence is contagious and I hope that children will remember her words, "No bodies are wrong. All bodies are right. We're all different colors, sizes, and heights. My body works differently – I love being me! Because ME is an awesome thing to be."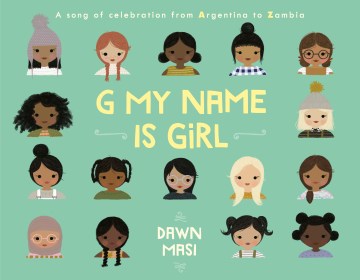 G My Name is Girl by Dawn Masi, 2021
From Argentina to Zambia, girls from twenty-six countries are featured in this jubilant ABC book. Eye-catching illustrations transport readers to a different part of the world while the text introduces each girl, her country, and an affirming characteristic. A map is also included with an invitation for readers to share their own name and story.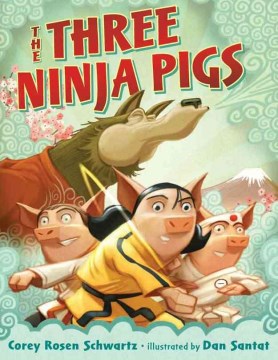 The Three Ninja Pigs by Corey Rosen Schwartz ; illustrated by Dan Santat, 2012
Hi ya! This action-packed fractured fairytale puts an exciting new spin on an old classic. When an intimidating wolf comes knocking on their door, three pigs decide to train at their local ninja school to learn self-defense. When the first two drop out early, their hardworking sister saves the day. With eye-catching illustrations, tons of amusing puns, and an entertaining storyline with great messaging, The Three Ninja Pigs is a real winner!
The Magical Yet by Angela DiTerlizzi; illustrated by Lorena Alvarez, 2020
(Ages 4 and up)
This story is perfect for empowering children to take risks, work hard, and embrace mistakes. Rhyming text and colorful illustrations follow a young girl who struggles to learn to ride a bike. Just as she is determined to walk forever, she meets the Magical Yet. Presented as a glowing pink flower-like object, the Magical Yet teaches the girl that with determination, practice, and grit, she can tackle any problem.
The engaging illustrations feature a diverse group of children learning to accomplish a variety of tasks giving this charming book wide appeal.
The Dot by Peter Reynolds, 2003
(Ages 4 and up)
This is one of my all-time favorite children's books. When a discouraged girl named Vashti believes she cannot draw, her art teacher encourages her to make a simple dot. When the teacher then frames her dot, Vashti is inspired to make more artwork and creates her own gallery full of work. This deceptively simple story inspires readers to believe in themselves and gives them the confidence to make their own mark.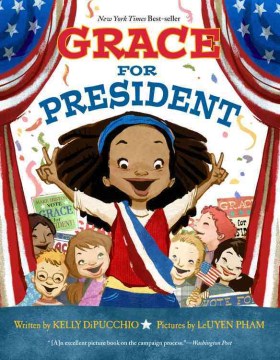 Grace for President by Kelly DiPucchio; illustrated by Pham LeUyen, 2008
When Grace learns that there has never been a female president, she decides to run against Thomas in a mock election. Not only is this a great book for teaching children how elections work, but Grace's focus, compassion, and courage all model being a great leader.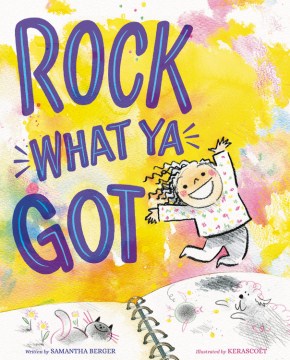 Rock What Ya Got by Samantha Berger; illustread by Kerascoet, 2018
(Ages 4 and up)
When an illustrator draws a picture of a young girl and names her Viva, she worries something about her creation isn't quite right. She tries to erase the girl, but the illustration comes to life and reminds the artist, "Everyone has their own special thing- find what is yours and bring what you bring…Find your own voice and sing how you sing. Find your own OOMPH! Find your own ZING! Be your best you, and rock what you got. Don't let anyone say what you're not. Live in this world and make your own spot. Take what you've got and rock it- A LOT!" My daughter begged to read this book again and again and I hope she will always remember Viva's emboldening words.
Just Like Me by Vanessa Brantley-Newton, 2020
(Ages 5 and up)
This special book is an incredible mix of poetry and eye-catching illustrations that celebrate all kinds of girls. The colorful pictures that pop off the pages combined with the engaging poetry that represents a variety of personalities and aspects of being a girl make this a book that will resonate with many.
Magnificent Homespun Brown by Samara Cole Doyon; illustrated by Kaylani Juanita, 2020
(Ages 5 and up)
Beautifully descriptive language shares the glory of the color brown in this exquisitely written poem. The charming illustrations feature a diverse group of girls who revel in aspects they love about themselves.
You may also like: