The below noteworthy picture book biographies are perfect for introducing children to the many incredible changemakers, scientists, artists, and musicians who have played a central role in making our world a better place. They are excellent choices to share during Black History Month and all year long.
*This post contains affiliate links.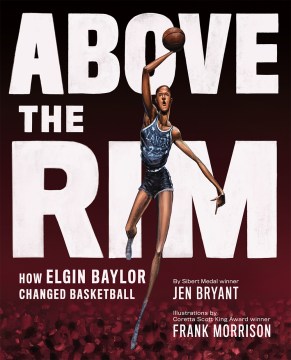 Above the Rim: How Elgin Baylor Changed Basketball by Jen Bryant; illustrated by Frank Morrison, 2020
(Ages 6 and up)
Wonderfully descriptive text and stunning illustrations share the story of how Elgin Baylor became one of basketball's all-time greatest players and an activist for the civil rights movement. This inspiring story is a joy to read aloud and listen to!
The Girl With A Mind for Math: The Story of Raye Montague by Julia Finley Mosca; illustrated by Daniel Rieley, 2018
(Ages 6 and up)
In The Girl With A Mind for Math, readers learn about Raye Montague who diligently worked to become an exceptional engineer despite being discriminated against for being a black female. Full of brains, humor, and grit, she held her head up high and worked tirelessly until she was finally awarded the title of engineer and created groundbreaking ship designs for the U.S. Navy.
The Doctor With An Eye for the Eyes: The Story of Dr. Patricia Bath by Julia Finley Mosca; illustrated by Daniel Rieley, 2017
(Ages 6 and up)
Bouncy rhymes inform readers how Patricia Bath followed her love of medicine to become a pioneer in the field of optometry and invent a new laser probe that could help blind people see again. The energetic text and appealing artwork bring Patricia's story alive and children will not only be impressed with her determination to achieve her goals, but also her remarkable leadership and ability to help a large number of people.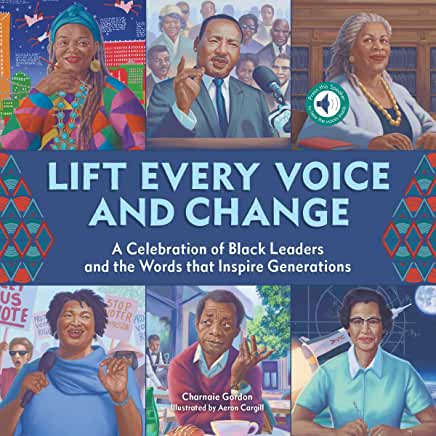 Lift Every Voice and Change by Charnaie Gordon; illustrated by Aeron Cargill, 2023
(Ages 6 and up)
Learn about 12 iconic Black leaders in this exceptional book that allows readers to actually hear the voices of the historical and modern groundbreakers.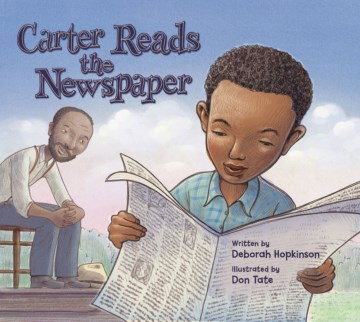 Carter Reads the Newspaper: The Story of Dr. Carter G. Woodson, Founder of Black History Month by Deborah Hopkinson; illustrated by Don Tate, 2019
(Ages 6 and up)
After being told that Black people had no history, Carter G. Woodson made it his mission to share and celebrate that history with all of the United States. The son of two freed slaves, Carter spent his entire life working hard and discovering the value of education and being an informed citizen. After receiving his PhD from Harvard University, he established Black History Week to honor all African Americans, their pasts, and a hope for a better future. This insightful story is a must-read that is further enhanced by portraits of Black trailblazers, quotations, and a timeline.
Before She Was Harriet by Lesa Cline-Ransome; illustrated by James E. Ransome, 2017
(Ages 5 and up)
This powerful picture book biography uses brief, lyrical language and beautiful, bold watercolor illustrations to introduce children to an American icon. Readers will learn how Harriet Tubman went by many names and wore many hats. She was a suffragist, a general, a Union spy, a nurse, an aunt, and an ex-slave who helped others find their freedom. Her journey through life is eloquently captured in just a few pages and her courageous spirit will remain with the reader long after closing the pages of this book This striking story is a must read!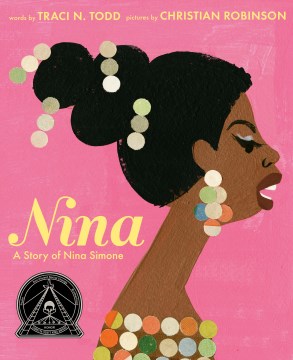 Nina by Traci N. Todd; illustrated by Christian Robinson, 2021
(Ages 6 and up)
The story of how a young girl named Eunice Kathleen Waymon grew into the sensational Nina Simone is expertly told through engaging text and eye-catching illustrations. Though Eunice's talent for music was clear, racism prevented her from following her dreams of attending the Curtis Institute of Music. She began playing in nightclubs where she combined her love of classical music, church music, and jazz creating her own style. She changed her name to Nina Simone and as she rose in popularity, she used her voice to speak out against the injustices she saw. An author's note provides additional information on Nina's life and her dedication to the Civil Rights movement through her music.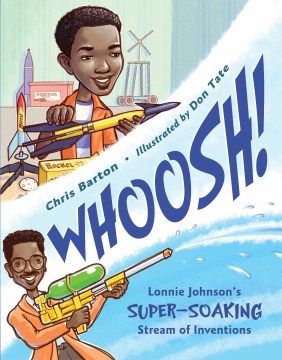 Whoosh! Lonnie Johnson's Super-Soaking Stream of Inventions by Chris Barton; illustrated by Don Tate, 2016
(Ages 5 and up)
Even as a child, Lonnie Johnson loved to tinker and invent. After years of prejudice and failures, he persevered becoming an engineer at NASA and the inventor of the Super Soaker! Children will love reading about this brilliant man and the invention of a beloved toy!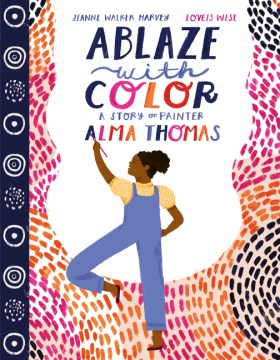 Ablaze With Color: A Story of Painter Alma Thomas by Jeanne Walker Harvey; illustrated by Loveis Wise, 2022
With a heart full of generosity and creativity, Alma Thomas spent most of her life teaching art to Black children in her community while giving them a safe place to explore their talents and pursue their passions. It wasn't until she was seventy years-old that she began focusing on her own art, creating bold, bright patterns inspired by the beauty of nature. Alma became the first Black woman to have a solo art show in the Whitney Museum in NYC. She also became the first Black woman to have a piece of her artwork permanently displayed in The White House.
Alma's joyful spirit is skillfully captured in this engaging story and its vibrant illustrations. Her dedication to helping others in her community is inspiring, as is her ability to follow her own dreams at the age of seventy. This gorgeous book is further enhanced by an author's note, timeline, and bibliography.
King of Ragtime: The Story of Scott Joplin by Stephen Costanza, 2021
(Ages 5 and up)
"He sat down at the piano and with both hands created a new music like the country itself – a patchwork of sounds and colors." I just love the way this dazzling book takes readers on a journey through time following a young Scott Joplin as he celebrates the end of slavery, follows his passion for composing and learns to cultivate it ultimately creating a new form of music called ragtime. Full of onomatopoeia and rich, lush illustrations this moving book is truly outstanding!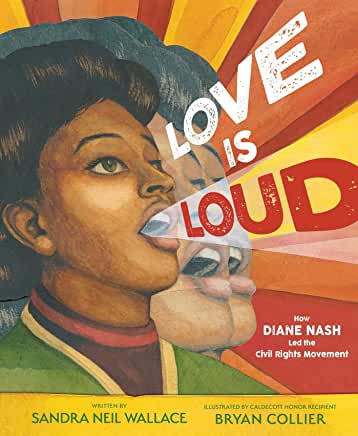 Love is Loud: How Diane Nash Led the Civil Rights Movement by Sandra Neil Wallace; illustrated by Bryan Collier, 2023
(Ages 6 and up)
This lovely ode to Diane Nash explores how she courageously fought racial injustice through peaceful practices
Ready to Fly: How Sylvia Townsend Became the Bookmobile Ballerina by Lea Lyon, A. LaFaye; illustrated by Jessica Gibson, 2020
(Ages 6 and up)
Sylvia Townsend was born with a passion for dancing, but when her family couldn't afford lessons, she found another way to learn. After checking out books from her local bookmobile, she taught herself how to dance and then taught her friends! When her 4th grade teacher saw her potential, she offered to pay for Sylvia's lessons, but she was turned away because of the color of her skin. Sylvia never gave up and eventually won a scholarship to a dance studio that recognized her for her talent instead of the way she looked.
With her determination, grit, and ability to overcome obstacles, Sylvia Townsend is an incredible role model. The back matter provides additional information on Sylvia's life and the history of bookmobiles. Children will relish in learning more about this astonishing woman and how she helped pave the way for dancers of color.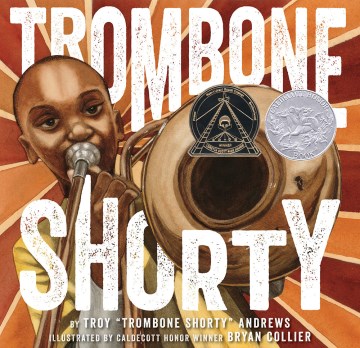 Trombone Shorty by Troy Andrew; illustrated by Bryan Collier, 2015
(Ages 5 and up)
This award-winning story is the autobiography of New Orleans jazz icon Trombone Shorty. While this interesting tale follows the musician through his development in the music world, it is also a love letter to the tight-knit community of Tremé, New Orleans. The energetic illustrations expertly capture the lively neighborhood and the pure bliss Shorty found in playing music there as he learned to thrive in his craft.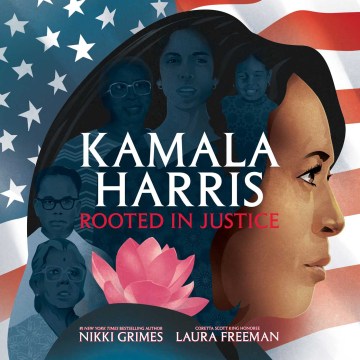 Kamala Harris: Rooted in Justice by Nikki Grimes; illustrated by Laura Freeman, 2020
(Ages 6 and up)
This beautifully illustrated picture book biography introduces children to Kamala Harris, who has devoted her life to public service. Inspired by a long line of activists, Kamala Harris worked hard to fight for the rights of others becoming the first female District Attorney of San Francisco, the first black woman Attorney General of California, the second black female U.S. Senator, and most notably the first female Vice President of the United States. The gorgeous illustrations skillfully highlight her remarkable life.
RESPECT: Aretha Franklin, the Queen of Soul by Carole Boston Weatherford; illustrated by Frank Morrison, 2020
(Ages 5 and up)
Rich, luscious illustrations adorn the pages of this poignant tale following musical marvel, Aretha Franklin. Inspired by her hit song, Respect, each two-page spread has a heading followed by a rhyming couplet briefly describing her childhood and journey into stardom. The illustrations particularly shine in this loving tribute.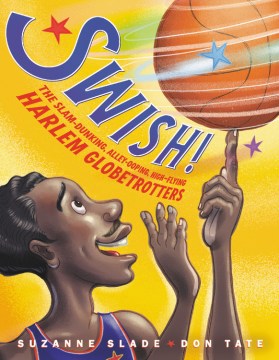 Swish! The Slam-Dunking, Alley-Ooping, High Flying Harlem Globetrotters by Suzanne Slade; illustrated by Don Tate, 2020
(Ages 6 and up)
I don't know who loves this book more my kids or me! I've always thought of the Harlem Globetrotters as a talented group of entertainers, but this book enlightened me on their difficult road to success facing racism and prejudice along the way. The resilient group developed tricks to win over their audience and after beating the best all-white team in the National Basketball League, they became a catalyst for the league to change and become integrated. With its captivating storytelling, this book is a real winner!
Hidden Figures: The True Story of Four Black Women and the Space Race by Margot Lee Shetterly; illustrated by Laura Freeman, 2018
(Ages 6 and up)
This standout book introduces children to four exceptional women who used their impressive knowledge of math to help NASA launch astronauts into space and return safely. The child-friendly text shares the stories of Dorothy Vaughan, Mary Jackson, Katherine Johnson, and Dr. Christine Darden and how they combatted racism and excelled in their field. Complete with a timeline, additional biographical information on each woman, a glossary, and an author's note, this is a truly outstanding book.
Counting on Katherine: How Katherine Johnson Saved Apollo 13 by Helaine Becker; illustrated by Dow Phumiruk, 2018
(Ages 6 and up)
Katherine Johnson has always loved math and was so intelligent, she skipped three grades in school! But because of the color of her skin and her gender, she was initially turned away from high school and denied her dream of becoming a research mathematician. She never gave up though, and eventually earned a job at NASA where she proved herself as the brilliant mathematician she was and was promoted through the space program. Katherine's contributions are legendary and her ability to think quickly saving Apollo 13 from a tragic fate is highlighted in this engaging story. Readers will be excited to learn more about Katherine and her impressive achievements in the author's note.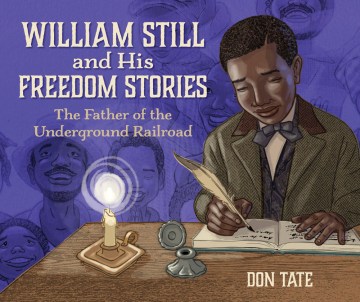 William Still and His Freedom Stories: The Father of the Underground Railroad by Don Tate, 2020
(Ages 6 and up)
This informative biography follows the life of William Still whose passion for helping escaped slaves earned him the title of The Father of the Underground Railroad. While running a station on the underground railroad, William found his oldest brother who had been left in the South. The event made him realize he could help reunite other families by recording stories from the runaway slaves. His contribution to the abolitionist movement is impressive and clearly portrayed in this fascinating story complete with a timeline, author's note and bibliography.
Sisters: Venus and Serena Williams by Jeannette Winter, 2019
(Ages 5 and up)
Using succinct text and dramatic illustrations, the incredible drive, passion, and love between these two tennis superstars is skillfully captured in this awe-inspiring picture book biography. Readers will learn how Venus and Serena would wake up early and clean off the garbage from the tennis courts in their Compton, California neighborhood in order to practice. They would tune out the gunfire and noise from the gangs to focus on their sport. Their hard work paid off and the girls received sponsorships to play in tournaments and eventually rise to the professional level. An author's note, glossary, and bibliography provide additional information for curious children.
Our family absolutely adores this book. The Williams' sisters focus and determination is nothing short of remarkable and we really enjoyed reading about these tennis powerhouses.
Fearless Mary: Mary Fields, American Stagecoach Driver by Tami Charles; illustrated by Claire Almon, 2019
(Ages 6 and up)
In 1895, most mail was delivered by stage coach and with the threat of outlaws and wild animals, it was an extremely dangerous job. Many thought that only white men could be brave and responsible enough for such a position, but Mary Fields proved them all wrong. Armed with her pet eagle, Mary became the first African American woman hired to drive a stagecoach in the United States.
With its concise text and action-packed illustrations, Mary's story is perfect for sharing with a group of children. My son was particularly captivated by Mary's bravery and asked to read her story multiple times.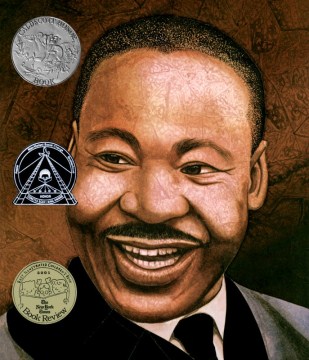 Martin's Big Words: The Life of Dr. Martin Luther King Jr. by Doreen Rappaport; illustrated by Bryan Collier, 2001
(Ages 5 and up)
Striking illustrations paired with child-friendly text incorporating quotations from Dr. Martin Luther King Jr. pay homage to the remarkable leader. This incredible tribute begins with King's childhood and takes readers through his life of dedication to the Civil Rights Movement. This essential story belongs in all classroom and home libraries.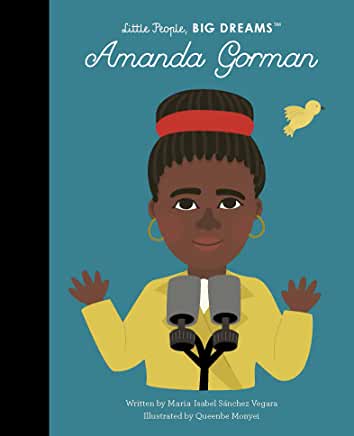 Amanda Gorman (Little People, Big Dreams series) by Maria Isabel Sánchez Vegara; illustrated by Queenbe Monyei, 2022
(Ages 5 and up)
This installment of the best-selling Little People, Big Dreams series shares how Amanda Gorman, the nation's first-ever youth poet laureate who read a poem at the inauguration of President Joe Biden, turned her love of reading into a successful career. As a young girl, she read everything around her and once she discovered the works of other Black writers, she was able to find her own voice becoming an accomplished poet.
Brave Ballerina: The Story of Janet Collins by Michelle Meadows; illustrated by Ebony Glenn, 2019
(Ages 5 and up)
Rhyming text and expressive illustrations introduce readers to Janet Collins, a talented dancer who overcame prejudice and became the first African American prima ballerina in the Metropolitan Opera House. When Janet was turned away from ballet studios, she found other teachers and learned a variety of styles of dances that helped her truly master her craft and become a role model for young dancers everywhere. The lyrical nature of the text makes this an excellent choice for a read aloud.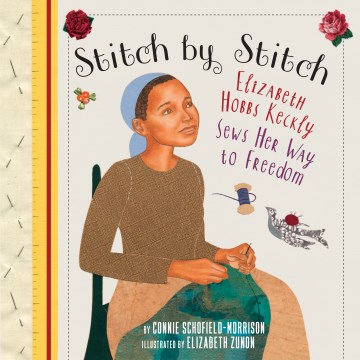 Stitch by Stitch: Elizabeth Hobbs Keckly Sews Her Way to Freedom by Connie Schofield-Morrison; illustrated by Elizabeth Zunon, 2021
(Ages 6 and up)
Although she was born a slave, Elizabeth Hobbs Keckly's hard work and talent at dressmaking allowed her to raise the funds to buy her freedom. Her dresses and designs were so sought after that she created dresses for Mary Todd Lincoln and even formed a close friendship with the first lady. She went on to run a successful business and give back to the Black community in a variety of ways. Quotes from Elizabeth Hobbs Keckly are woven into the text further enriching this interesting biography.
Exquisite: The Poetry and Life of Gwendolyn Brooks by Suzanne Slade; illustrated by Cozbi A. Cabrera, 2020
(Ages 6 and up)
From an early age, Gwendolyn Brook was attracted to the power of words. Her entire life, she found solace in poetry and even when she couldn't afford to pay her electric bill and had to write by candlelight, she never gave up her dream of becoming an author. She believed that poetry came out of life, so she submitted stories and poems about the lives of her neighbors and friends. Her ability to bring people together through her beautiful words earned her a Pulitzer Prize in 1950. Children interested in this accomplished poet will enjoy learning more about her through the included author's note and timeline.
Stompin' At the Savoy: How Chick Webb Became the King of Drums by Moira Rose Donohue; illustrated by Laura Freeman
(Ages 5 and up)
Standing just over four-feet tall and suffering from spinal tuberculosis, no one would have guessed that Henry "Chick" Webb would grow up to lead one of the most famous big bands of the swing era. But Chick was born with music in his heart and he wasn't going to let anything stop him from reaching his dreams.
Despite not knowing how to read music, Chick became one of the most talented drummers of his time. He played with legendary musicians like Duke Ellington and when he started his own band, he hired Ella Fitzgerald as his lead singer. Soon he was playing at the prestigious Savoy Ball Room where he earned the title "King of Drums" during an iconic big band competition. Filled with onomatopoeia and colorful illustrations, this fascinating story about a truly remarkable musician is one entertaining read aloud!
Ice Breaker: How Mabel Fairbanks Changed Figure Skating by Rose Viña; illustrated by Claire Almon, 2019
(Ages 7 and up)
Orphaned and homeless at the age of nine, Mabel Fairbanks was no stranger to hardship. This resolute girl, however, worked hard to save money and buy a pair of ice skates to pursue her fascination with skating. Even though she was denied entrance into skating clubs because of the color of her skin and was never able to achieve her dream of becoming an Olympic skater, Mabel created a career out of skating and even toured the world with ice shows.
In the 1950's Mabel turned to coaching and fought for her students to be admitted into skating clubs and to be given the star roles they deserved. Many of her students went on to become national, world, and Olympic champions. Mabel became the first African American woman inducted into the US Figure Skating Hall of Fame and even though she never fully reached her dreams, she paved the way for others to attain theirs.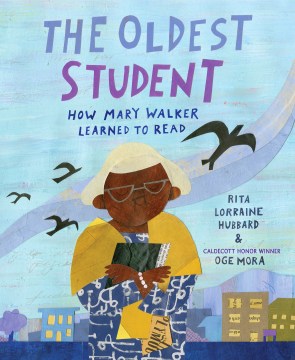 The Oldest Student: How Mary Walker Learned to Read by by Rita Lorraine Hubbard; illustrated by Oge Mora, 2020
(Ages 7 and up)
In this incredible picture book biography, readers will learn about Mary Walker who worked hard her entire life enduring slavery, celebrating emancipation, and suffering the loss of several family members. Through it all, she had a dream of learning to read and finally made that goal a reality at the age of 116.
Caldecott Honor winner Oge Mora skillfully brings Mary's story to life with her vibrant mixed-media collages that showcase her determination, strength, and pride of learning to read despite her age. This book is sure to encourage children that they can accomplish anything they put their minds to!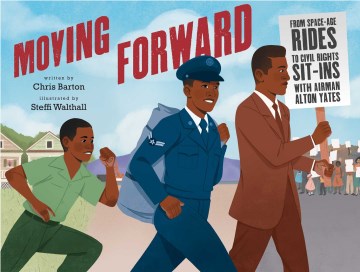 Moving Forward: From Space-Age Rides to Civil Rights Sit-Ins With Airman Alton Yates by Chris Barton; illustrated by Steffi Walthal, 2022
(Ages 6 and up)
After devoting years to his country by bravely serving in the United States Air Force, Alton Yates was outraged by the racism he received on his return from duty. He became active in the NAACP Youth Council organizing sit-ins to combat segregation. Our family enjoyed learning about this little-known activist and his commitment to his country.
Little Leaders: Bold Women in Black History by Vashti Harrison, 2017
(Ages 6 and up)
Cartoonlike illustrations and brief one-page text draw the reader in to the awe-inspiring stories of forty women who overcame racism and sexism to change the world. This New York Times Best Seller teaches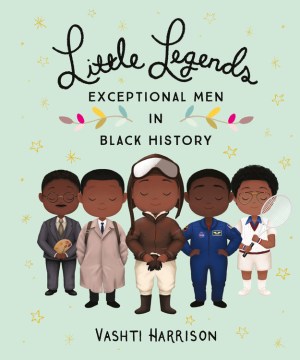 children about many lesser-known heroes who deserve to have their name in the spotlight. The stories of these important trailblazers are sure to inspire many children and teach them that anything is possible. You may also want to check out Little Legends: Exceptional Men in Black History.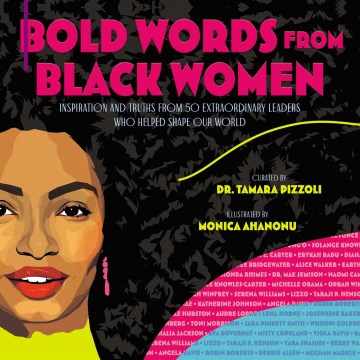 Bold Words From Black Women: Inspiration and Truths From 50 Extraordinary Leaders Who Helped Shape Our World by Dr. Tamara Pizzoli; illustrated by Monica Ahanonu, 2021
This book is simply stunning! Paired with dazzling portraits, quotations, and brief overviews, the pages of this book are packed full of powerful words and images. Many of the women included are still alive today providing children with relevant role models they can look up to.
You may also like: