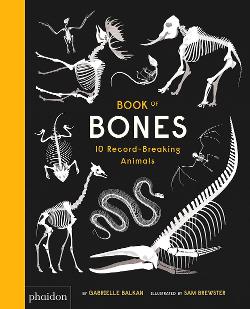 Book of Bones: 10 Record-Breaking Animals by Gabrielle Balkan ; illustrated by Sam Brewster, 2017
(Ages 4 – 10)
Guess who knows a lot about bones? Your child will after reading this fascinating nonfiction book!
Book of Bones by Gabriele Balkan and illustrated by Sam Brewster presents a series of clues to encourage children to guess which animal has the biggest, heaviest, fewest, and fastest-growing bones. Ten record-breaking animals are included in all. Gorgeous illustrations displaying the animals in their natural habitat reveal the answers as well as further information describing the advantages of their bone structure.
In addition to captivating facts (who knew the Regal Horned Lizard can shoot blood out of its eyes?!?), a standout feature that sets this book apart is that texture is applied to each animal, so that the bones can be felt. My five-year-old son absolutely loved running his hands over the skeletons and discovering so many interesting new facts!
Kids won't be able to put down this captivating nonfiction book!