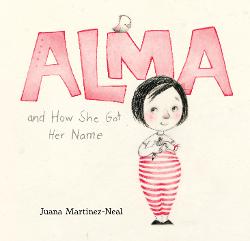 Alma and How She Got Her Name by Juana Martinez-Neal, 2018
Oh how I LOVE this sweet book about a girl discovering the history behind her name! Alma Sofia Esperanza Jose Pura Candela thinks her name is too long until she learns about all the incredible family members she was named after. She discovers that each ancestor is a part of her and now it is time for her to make her story with her own unique name, Alma.
The story alone makes this a standout picture book, but the small details Juana Martinez-Neal breezily infuses into the book makes this tender story shine even brighter. Set against a cream background, Alma's family members are seen in soft shades of blue and grey while Alma's uniqueness is represented in a lovely pink hue. Her long name appears on the second page in childish handwriting with the last name taped on because it doesn't quite fit. The book ends, however, with her name beautifully presented in a flourish of different fonts showing the pride Alma has with her newly realized identity.
Not only is this book a great way for parents to discuss the origin of their own children's names, it is also a perfect read aloud for "About Me" units in preschools and kindergarten programs.