New Books for Easter 2017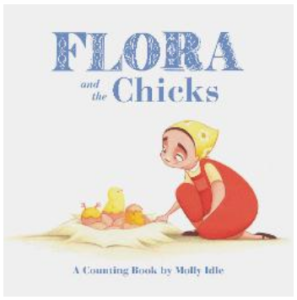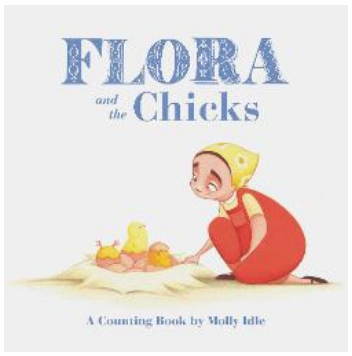 Flora and the Chicks by Molly Idle,  2017
(Ages 2 – 4)
The same little girl who wowed readers in the Caldecott Honor book, Flora and the Flamingo, is back in a board book format. This time, Flora appears on a farm dressed in red overalls and a yellow kerchief gazing over a nest of eggs just as they begin to hatch. The fold-out pages follow Flora as she juggles the growing number of chickens emerging from the nest. Flora is a born ballerina and she gracefully bends, lunges, and dips as she makes room for more chicks. The only words in the book are the numbers that appear as each new chick is hatched. Even though I feel awkward at times reading wordless picture books, they really are a wonderful thing. They allow the reader to tell the story a little differently each time. For example, you could simply focus on the numbers or you could describe Flora's actions in more detail. It is also a great opportunity to ask older toddlers to look at the book and tell an adult the story building their confidence as a "reader" and storyteller.
Check out the picture books featuring the elegant and lovable Flora: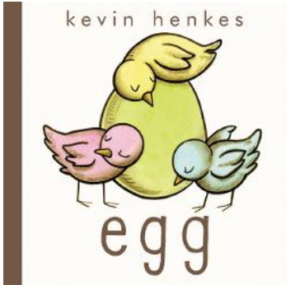 Egg by Kevin Henkes, 2017
(Ages 2 – 6)
The soft, pastel color palette perfectly sets the mood for this simple, but sweet story of acceptance. The book uses various panels to highlight four characters. The story begins with a yellow, pink, blue, and green egg featured in its own quadrant with the single word, "Egg" underneath each one. Three of the eggs eventually break open to reveal three chicks of the same color. Concerned that the last, green egg does not hatch, the birds return to help their friend out of the egg. When an alligator appears instead of a chick, the birds are frightened and fly away. The next four panels perfectly capture the alligator's loneliness and growing misery. The birds return accepting that even though the alligator may be different, they can still all be friends. The story ends with the new quartet watching the sunset together. The orange sun transforms into an egg and the last page ends with an orange bird flying away with the text, "The End. Maybe." Leaving room for budding storytellers to share what they think happens next. Since there are only a couple of words on each page, emergent readers might enjoy trying to read the book themselves or even add their own narrative.
Kevin Henkes is an award winning author and illustrator who is well known for his gentle stories that are surprisingly powerful in their simplicity and quiet nature. Be sure to check out some of his other amazing books: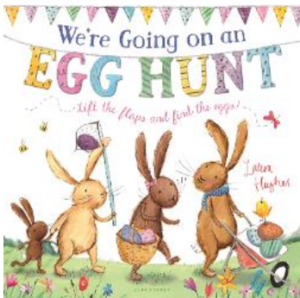 We're Going on an Egg Hunt by Laura Hughes, 2017
(Ages 2 – 5)
Following the same format as We're Going on a Bear Hunt by Michael Rosen, four bunnies depart on an egg hunt. Little hands can help the bunnies search by lifting the flaps to reveal the eggs. Most flaps uncover an egg and a number reinforcing counting skills up to the number ten. "We're going on an egg hunt. We're going to find them all. We're REALLY excited… Hooray for Easter Day!" The pictures are bright and cheery and the story is engaging. The nature of the story makes it fun to read with small children. The rabbits run into several obstacles and the refrain of "Can't go over them. Can't go under them. Can't go around. Got to go through them…" lend itself nicely to performing the movements of the bunnies with children. My children love to have practice Easter egg hunts before the big day and they had a blast acting out the story while looking for eggs. They especially loved the surprise ending!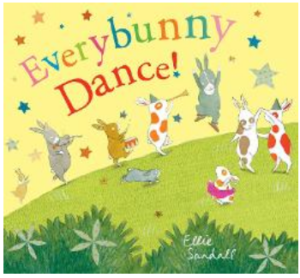 Everybunny Dance! By Ellie Sandall, 2017
(Ages 2 – 5)
A group of bunnies gather together to dance, play, sing, and eventually run for their lives when they see a fox. They discover that the fox enjoys dancing, playing, and singing as well and that he is also very lonely. The bunnies carefully emerge from their hiding place to applaud the fox's performance and instantly create a new friendship.
Sparse rhyming text paired with big bold illustrations make this a great read aloud for an Easter themed storytime with toddlers. The words inspire children to stand up and move. "Everybunny dance! And clap your paws, and twist and twirl, and shake your tail, and wiggle and whirl." I had so much fun reading this book with my children and liked that it does not specifically reference Easter, so it is a story that can be shared throughout the year.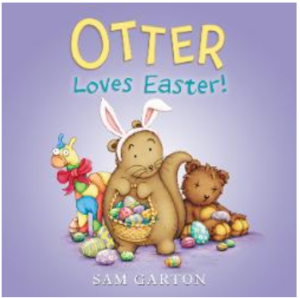 Otter Loves Easter by Sam Garton, 2017
(Ages 3 – 6)
On Easter morning, Otter is delighted to awaken to an Easter basket filled with delicious delicacies. When instructed to share his new tasty treats with his three stuffed animal "friends", Otter discovers that sharing is very hard, but eating chocolate is very easy. Before he knows it, he has devoured all of his Easter goodies. After a tummy ache and a nap, his guilt sets in and he hatches a plan to make it up to his friends. With the help of a grown up, he creates a wonderful Easter surprise. In a comical two-page spread, the reader sees the stuffed animals strewn about the backyard as Otter pretends to help them with and Easter Egg Hunt. After agreeing that sharing is very important, the story ends with the stuffed animals "sharing" their eggs with Otter. Otter is adorable and his actions closely resemble those of a toddler. This is a nice Easter story with an important message of sharing tied in.
This book is part of a series and my children and I are looking forward to exploring the other adventures of Otter and his friends.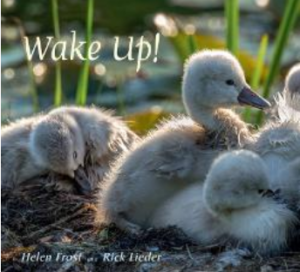 Wake Up! by Helen Frost; photographs by Rick Lieder, 2017
(Ages 3 – 6)
Easter is a joyous holiday that celebrates new life, a concept that is honored in Helen Frost and Rick Lieder's new book, Wake Up! Using stunning photography and a sweet poem, this book beautifully captures newborn creatures in nature. One line from the poem appears on each page alongside a striking close-up picture of a newborn insect, bird, mammal, or reptile. The lyrical words and large colorful photographs make this a perfect book to read aloud to children. "Sun says, wake up – come out and explore. New life is exploding outside your door!" Each animal is identified in the back of the book with an interesting tidbit of information. This book is perfect for young nature lovers who may be inspired to look for signs of new life in their own backyard.
If you enjoy beautiful photographs paired with poetic writing, check out the other offerings from Frost and Lieder: