Dress Up Has Never Been So Much Fun
Who doesn't love to play dress up? In Shoe La-La and Hats Off to You! four diverse friends shop until they drop in search of accessories to complete their perfect look. These books have been very popular at my school library. Every time I put them on display, a Pre-Kindergarten or Kindergarten student cannot resist the glittery cover and checks one out.

Shoe-La-La!  by Karen Beaumont; illustrated by LeUyen Pham, 2011
(Ages 3 – 6)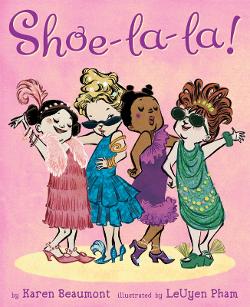 In Shoe-La-La, a group of diverse girls visit a shoe store filled with every shoe imaginable. "Cowgirl, rock star, princess, bride…This pair? That pair? Can't decide? Fancy ribbons, frilly lace. Shoe-la-la! We love this place!" In rhyming text, the story follows the girls as they look at pair after pair of shoes. After leaving the poor salesman in utter exhaustion, they return home to use a little imagination and a lot of glue, ribbons, and feathers to make their own perfect shoes.  
Hats Off to You! by Karen Beaumont; illustrated by LeUyen Pham, 2017
(Ages 3 – 6)
In the companion book, Hats Off to You! the diverse quartet is back; this time they are on a secret mission to find the most magnificent hat for their mothers. In a similar format to the original, the girls visit a shop and in rhyming text, they try on a wide variety of hats. "Hats with stripes. And hats with stars. That hat must have come from Mars. Big sombrero. Cool beret – We could try on hats all day." In a sweet twist, the girls invite their mothers to a surprise mother-daughter tea. "We love our moms. Hats off to you. Thanks for everything you do." The charming ending makes this a perfect book for Mother's Day or just a simple story enjoyed by anyone who loves to dress up. A fun celebration of fashion and moms!
Here are a few more books that celebrate glitz and glam: