Sure, we all know some of the board book classics like Brown Bear, Brown Bear and Good Night Moon, but what else is out there? Luckily, there are lots of wonderful new board books being published all the time. Below is a list of some of my favorite newish board books that have been published in the last couple of years. These make great gifts for baby showers or for sharing with your own child.
The below books are geared toward children age birth to two.
*This post contains affiliate links. To read my full disclosure CLICK HERE.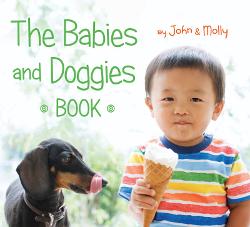 The Babies and Doggies Book by John & Molly, 2015
This colorful board book is filled with photographs of puppies and babies. Need I say more? My 21-month old daughter literally let out a squeal of happiness when I showed her this book. The rhyming text is simple and there is a diverse variety of babies and dog breeds. The book is absolutely adorable!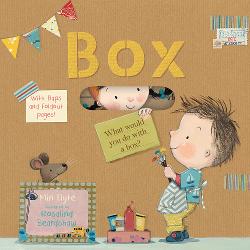 Box by Min Flyte; illustrated by Rosalind Beardshaw, 2016
Cardboard boxes are one of my favorite "toys" to give my children. Using their imagination, it can become anything. This is the premise for this fun and engaging lift-the-flap book. Four children discover boxes of multiple sizes with different toys in each. After playing with the toys, the children look toward the boxes for their next adventure. With a little imagination, each box is transformed into something new including a castle, a boat, a plane, and in two beautiful spreads the boxes are featured as a rocket ship that lifts off the page and a train that appears over two fold-out pages. The story ends with the children falling asleep in a cardboard bed and the book challenging, "What would you do with a box?" So much fun to read and even more fun is the inspiration to see what your own child comes up with when given a cardboard box.
There are so many things I loved about this book, it's hard to present them all in a concise way, so I'm going to list them:
I loved that the book poses questions to the reader such as asking them what might be inside each box. This is a great way for older toddlers to begin making predictions.

Because the boxes are a variety of sizes, it provided an organic way for me to discuss small, medium, and large with my daughter during multiple readings of this book.

One of the many reasons reading is so wonderful for babies, is that it helps them understand the different rhythms and nuances of speech. This books offers questions, exclamation points, and ellipses creating a beautiful inflection of sounds for babies to listen to as they are building their own understanding of language.

While some toddlers love small books for their small hands, sometimes it is nice to have a larger book to explore. This book is the size of a typical picture book, but has card stock like pages and lift the flaps. The size also makes it fun for one-on-one sharing or a storytime with a STEAM (Science, Technology, Engineering, Art, Math) theme or a theme about using your imagination.

This book appeals to both babies and older toddlers. I got this book for my 21-month old, but my four-year old son had just as much fun looking at it.

Lastly, any book that promotes imagination is an automatic winner in my book.
If you want to pursue the theme of using your imagination with cardboard boxes check out some of these other great picture books: Not a Box by Antoinette Portis (2006), What To Do With a Box by Jane Yolen (2016), The Nowhere Box by Sam Zuppardi (2013)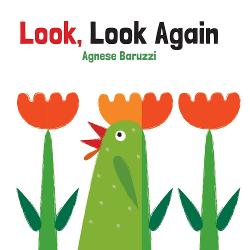 Look, Look Again by Agnese Baruzzi, 2016
My daughter and I loved this clever counting book. The left side of each page is brightly colored and displays a simple sentence describing a single object on the opposite page. The fun is that the reader gets to pull out the page to reveal the object transforming into something new. "There's 1 apple. Or could it be… 2 crocodiles?" My daughter loved the element of surprise and wanted to read this book over and over again. Counting to ten has never been so engaging!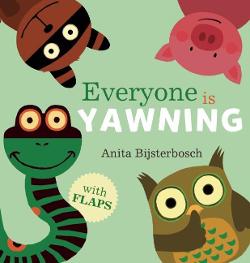 Everyone is Yawning by Anita Bijsterbosch, 2016
A wonderful lift-the-flap bedtime book to read with your little one. This book visits a group of animals as they prepare for sleep. "The kitten is tired. Can you see? Look, the kitten is yawning." Each page allows the child to lift the animal's mouth to reveal a giant yawn. There is a little variation on the page to mix it up a bit. "And the hippo? The hippo yawns too. Three times." The final fold-out spread includes all of the animals and one child asleep. Just talking about yawning makes my daughter and I yawn eliciting sleepiness. Bright colors and large animals fill each two-page spread making this a perfect story to read both at bedtime and any other time you and your child want to snuggle together for a story.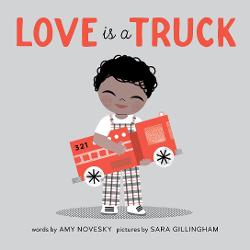 Love is a Truck by Amy Novesky; illustrated by Sara Gillingham, 2017
This book will appeal to any truck lover. It is a sweet and simple story of a little boy playing with a myriad of toy trucks. Echoing the simplicity of the story, the color scheme consists of only a few shades of red, black, white, and grey making the bright trucks pop off the page. The protagonist is dark skinned, which adds some much needed diversity to the board book genre. Some scenes feature the boy playing alone and in others he is playing with his brother. Each page celebrates using one's imagination and the pure joy trucks can bring to children. At times the text felt a little disjointed to me, but my 21 month-old daughter and four-year-old son didn't seem to care. Yes, even my four-year-old read this story multiple times even though he usually considers board books "baby" books. Like the boy in the story, both my children can't seem to get enough trucks!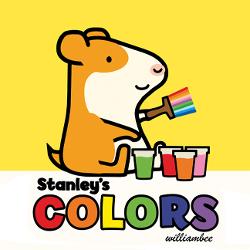 Stanley's Colors by William Bee, 2016
In each two-page spread featuring a primary and secondary color, a cute hamster is seen fixing, riding, driving, and flying a variety of vehicles. A simple sentence narrates Stanley's engagement with each vehicle. "Stanley flattens the earth with his brown steamroller. / Vrooooom! Stanley loves riding his yellow motorcycle." The final spread shows Stanley surrounded by colorful toy vehicles. The white background makes the colors pop. A fun way to introduce colors to children who love things that go. As your child grows, they may also love the series of picture books that star Stanley.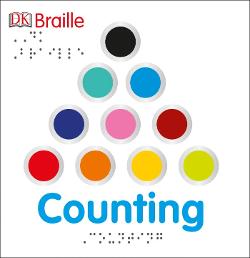 Counting by Star Fleur; illustrated by Jemma Westin, 2016
There are many counting books out there, but I love the sensory experience of this one. Children can touch and feel a variety of objects as they count to ten. A wide range of textures fill the pages including items that are bumpy, smooth, glittery, fuzzy, etc. The bright colors of the featured objects surrounded by white space make this book very visually appealing. That being said, this book is part of a new series for children who are sight-impaired, so it includes braille as well. My 21-month-old daughter loved feeling all the different textures including the braille and this book also gave me the opportunity to introduce braille to my four-year-old son. We had a very meaningful conversation about what it means to be blind and how other children might read in a different way.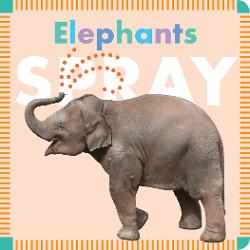 Elephants Spray by Rebecca Stromstad Glaser, 2016
Beautiful photographs and sparse text fill this adorable nonfiction book. Children learn simple facts about how an elephant uses its trunk. "Sniff, sniff! He smells food./ Whoosh! Spray! Elephant sprays a shower." Photographs are almost always engaging to babies and toddlers and this is a nice introduction to animals. Buy It Here

The other books in this series that feature other animals in action include Lions Roar, Dolphins Play, Monkeys Swing, and Giraffes Stretch.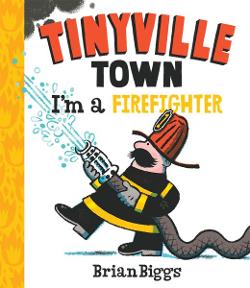 I'm a Firefigher by Brian Biggs, 2016
This new board book series called Tinyville Town explains a variety of occupations in a simple and sweet way. My daughter loves firefighters and asked to read this book seven times the first day I brought it home from the library. With one sentence per page, the story follows a fireman as he is awoken from sleep to battle a fire at a bakery. He returns to the firehouse to wash the firetruck and then make dinner for his crew.
I really liked that the simple sentence on most pages could be a prompt for parents to talk about the action occurring on the pages. "The fire is at the bakery! Each firefighter has a job to do". The picture features one fireman turning the water on from the hydrant, while another holds the hose and two more carry the ladder. There is also a police woman keeping the onlookers at bay and a doctor treating the baker. The diverse group of characters are quite busy. This is a terrific start to a series introducing occupations.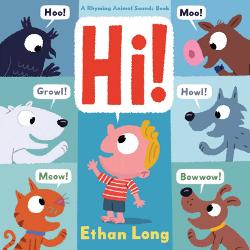 Hi by Ethan Long, 2015
This simple book features rhyming animal sounds with cute cartoony artwork. Instead of merely reading the animal sounds such as "growl" and "howl", I found myself adding simple descriptors to point out the animals to my daughter such as the owl says, "hoo", the pigeon says "coo". This was one of those books that doesn't seem like it has a lot to it, but my daughter wanted to read it again and again. "Hi" and/ or "bye" are usually among the first words children learn to speak and seeing the child at the end of the book also say "hi" and "bye" really resonated with her. My daughter wanted to repeat the last pages over and over.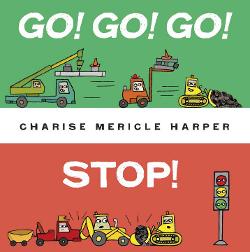 Go! Go! Go! Stop! by Charise Mericle Harper, 2015
This book first appeared as a picture book in 2014 that I read with my son when he was three years-old. He absolutely loved the story, so when my daughter came along, I wanted to share it with her too. I was delighted to see that it was now being sold in a board book format as well.
The story focuses on a little green circle who only knows one word, "Go". Nearby construction vehicles hear him and begin their work on a bridge. At first everything is going splendidly, until Little Green continues to say "Go! Go! Go!" and the vehicles begin going too fast and crash into each other. Luckily a little red circle rolls in shouting the only word he knows, "Stop!" The two circles were exact opposites and found it difficult to work together at first, but after a lot of patience and practice they found just the right amount of go and stop for the construction vehicles to complete the bridge they were working on. In a final spread of colorful cars and trucks, everyone celebrates the big accomplishment.
Again, there are so many reasons I love this book I feel like I have to list them:
Picture book adaptations are great because they present more of a "story" making bedtime reading a little more interesting for your child and for you.

All of the characters are different colors and I loved nonchalantly pointing out the colors to my children to help them learn their colors.

One spread describes the actions of the construction vehicles using alliteration, which makes for a fun new rhythm for babies to hear. "The tow truck towed terrifically."

Both my son and daughter learned that green means go and red means stop from this book.

In the beginning, Little Green says "go" quietly, then at a medium tone, and then very loudly. It was so fun to repeat this with my daughter and help teach her the differences between a whisper and a shout.

The underlying theme of teamwork and collaboration is an important one.
I read a lot of books with my children, but this was the first book that my daughter requested after I had already returned it to the library. She asked night after night until I checked it out again for her.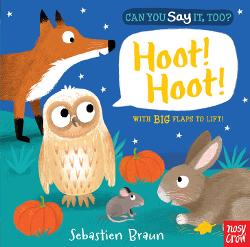 Can You Say It, Too? series by Sebastien Braun, 2014
The series currently consists of the following titles: Hoot! Hoot!; Moo! Moo!; Cheep! Cheep!; Woof! Woof!; Roar! Roar!; Stomp Stomp; Brrr Brrr

This series combines animal sounds and large lift the flaps for a winning combination. My daughter had so much fun playing peek-a-boo with the animals and imitating the noises they made. One of the things I liked about this series is that the illustrations feature beautiful backgrounds and additional animals on each page besides just the highlighted animal. After lifting the flap to reveal the featured animal on the page, my curious daughter would point to things in the scenery and the other animals and ask "that?" and I would explain what each thing was. A good board book has to stand up to multiple readings and I loved that there were lots of different things to talk about each time we read the book. I also liked the adjectives used to describe the showcased animals such as "noisy rooster" and "hungry horse". This is a great format and I was so glad to see it is a series with multiple titles!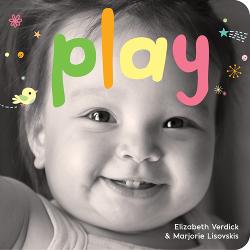 Play by Elizabeth Verdick and Marjorie Lisovskis, 2014
This is part of Verdick's Happy Healthy Baby Board Book series. While there may not be anything completely groundbreaking about these books, babies will be drawn to the adorable close up photographs of other babies. The left hand side features a colorful page with one sentence describing how babies play with a line drawn illustration highlighting the black and white photograph of diverse babies on the opposite page. Tips for parents and caregivers are located in the back. Like many babies, my 21-month-old loves looking at pictures of babies and could not get enough of this book.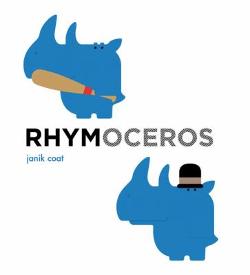 Rhymoceros by Janik Coat, 2015
Rhymes, textures, and adorable rhinos? Yes please! In double page spreads, a blue rhino surrounded by lots of white space presents sixteen rhyming words. Some of the pictures appear simple such as the rhino standing under a crescent moon and then in the opposite page holding a red balloon. Other pages contain texture that is fun for little hands to explore including "Furry", "Bumpy", "Mossy", and "Quilted". My daughter's favorite page was "Stinky" featuring the rhino sitting in a garbage can and "Inky" where he was covered in marker. Rhymes are not only fun to say, but they also teach babies important pre-reading skills. Listening to rhymes helps children understand the rhythm of language and that words are made up of different segments of sounds that can be related. A fun and educational book!
Janik Coat's first board book, Hippopposites (2012) follows the same format with hippos and opposites. I especially liked the new vocabulary introduced in this book such as "opaque" and "translucent". These books are such an enjoyable way to introduce new language to babies and toddlers.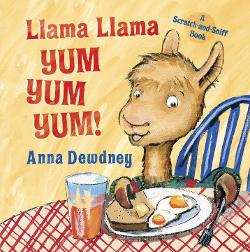 Llama Llama Yum Yum Yum! By Anna Dewdney, 2016
Llama Llama is a very popular picture book and board book series. This newest addition follows little Llama as he eats meals and snacks throughout the day. It is set apart from the other books because it is a scratch and sniff book. I remember loving these as a kid and being completely grossed out by them as an adult. I have to admit, however, I did get a kick out of watching my 21-month-old daughter scratch the different foods and then smell them. She loved repeating the refrain of "yum" after smelling each one. While I recommend borrowing most books from your public library, this is one you may want to buy purely from a germ point of view.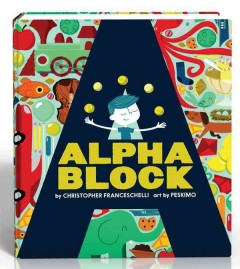 Alphablock by Christopher Franceschelli; illustrated by Peskimo, 2013
This unique board book is a wonderful introduction into the alphabet. Die-cut holes create the shape of a highlighted letter providing a more sensory experience for children. They can touch and trace the letter and then turn the page to see words that start with that letter. For example, the first page begins, "A is for" and then the next page reveals a farm of apples. Beautiful and engaging.
If you like this one, check out the other books in the series Countablock and Cityblock.
Looking for more board book suggestions? Check out my other list of Must Have Board Books.