Fluency is the ability to read with accuracy, speed, and expression. It is a critical building block of reading because it is directly linked to reading comprehension. Once a child can decode easily and read smoothly, they can then focus more on understanding the text.
The following books invite readers to explore different sounds words make, play with punctuation, immerse in entertaining dialogue, and engage with characters who exhibit strong emotions. Children will have so much fun reading these amusing stories, they won't even realize they are building important fluency skills at the same time!
*This post contains affiliate links.
VOCAL EXPLORATION
Encouraging children to experiment with different sounds that words can make is an excellent precursor to learning to read with expression.
Say Zoop by Hervé Tullet
(Ages 3 and up)
This interactive gem is a fun way to introduce children to the idea that words can be playful and spoken with different intonations depending on the context. Children are invited to follow a blue dot and say the word, "Oh" in different inflections depending on the size, shape, and motion of the dot. When the word, "Ah" is introduced in the form of a red dot, children are encouraged to make up conversations between the two dots, talk in a robot voice, make them laugh, etc.
I also highly recommend Hervé Tullet's other imaginative, interactive books:
THE POWER OF PUNCTUATION
Having a good understanding of the roles of punctuation can help children when it comes to fluency. For example, knowing when to pause for a period and comma or have the correct intonation for a question is key to not only reading with expression, but also in understanding the intention of the text.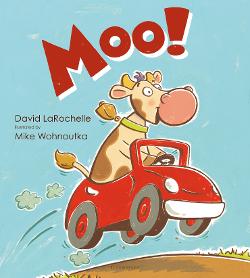 Moo! by David LaRochelle, illustrated by Mike Wohnoutka
(Ages 3 and up)
Children learn the importance of punctuation in this hysterical story starring a mischievous cow. With the entire text comprised of the word, "Moo," children quickly realize that the word has a different meaning when joined with a period, question mark or exclamation point.
This utterly delightful story is a joy to read aloud with expression while also mixing in visual literacy and inference skills.
Check out these other great picture books with a similar concept:
DIALOGUE
Books that contain a lot of dialogue lend themselves perfectly to reading aloud with expression to bring the characters to life. One way to encourage new readers is for a parent, teacher, or older sibling to read the part of one character, while the child reads the other character's words. This allows the experienced reader to model fluency while reading together.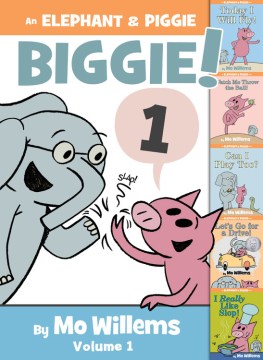 Elephant and Piggie books by Mo Willems
(Ages 4 and up)
The amusing banter between these two best friends could not be funnier or more engaging.
The stories are told mostly through speech bubbles with a variety of punctuation and different size text. The words that are featured in both large and small fonts visually indicate that the text should be read loudly or quietly. Many of the words are repeated with different meaning depending on the punctuation giving new readers practice changing their intonation based on the context. There are also visual clues from the emotions displayed on the characters' faces and through their body language to help budding readers practice reading with feeling.
Choral Reading
One great way for children to practice fluency skills is by choral reading, which is when a group of people read aloud together. You can choral read with your child at home to model fluency by reading the same text aloud at the same time or use this method in a group setting.
Since there are two main characters who converse back and forth, the Elephant and Piggie series is perfect for choral reading in a classroom or library. After reading one of the books out loud to a class, one of my favorite activities as a school librarian was to then divide the class in two groups. One group would read aloud Gerald's part and the other group would read Piggie's. Reading as a group takes away attention on a single student, so that they can feel more comfortable taking a risk when reading aloud and don't have to worry as much about making a mistake. It is also a lot of fun hearing everyone read with emotion, so it encourages even the quietest child to participate.
More books with funny dialogue:
STRONG EMOTIONS
It is hard not to read with expression when reading the dialogue of a character experiencing strong emotions especially in a funny story. The following easy readers all contain characters who exhibit animated emotions with comical results: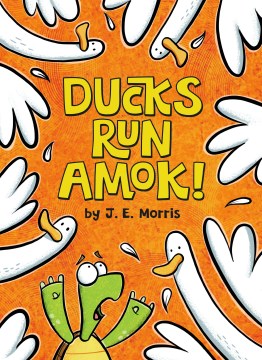 Ducks Run Amok by J.E. Morris
(Ages 4 and up)
Hilarious hijinks ensue when an unruly flock of ducks invade a turtle's peaceful pond. The story is made even more silly by the turtle comically arguing with the narrator. With its funny storyline mixed with expressive speech bubbles and rhyming text, this is a fun choice to engage new readers. Buy It Here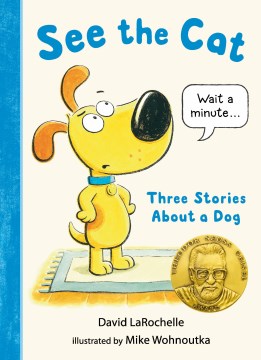 See the Cat: Three Stories About a Dog by David LaRochelle; illustrated by Mike Wohnoutka
(Ages 4 and up)
This witty book is full of humor and fun and, best of all, perfect for emerging readers! A dog politely disagrees with an unseen narrator about what is occurring in this story with hilarious results! The short sentences are made up of mostly sight words and words that can be sounded out while the brief dialogue and the expressive illustrations allow children to practice reading with expression. It was no surprise that this lovable story won the 2021 Geisel Award! Buy It Here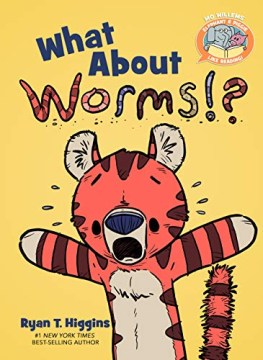 What About Worms (Elephant and Piggie Like Reading series) by Ryan T. Higgins and Mo Willems
(Ages 4 and up)
An adorable tiger brags about his braveness, but admits that his one fear is worms. A comical sequence of events reveal that a group of worms are also scared of tigers until they learn more about them. This is a fantastic new addition to the lovable Elephant and Piggie Like Reading series. Buy It Here
GRAPHIC NOVELS
With their engaging dialogue, eye-catching illustrations, and action-packed storylines, graphic novels are wonderful tools to help readers practice their fluency.
Here are a few of my favorites for new readers: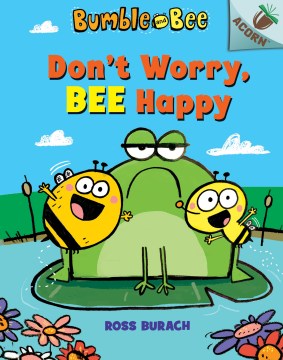 Don't Worry, Bee Happy (Bumble and Bee series) by Ross Burach
(Ages 5 and up)
Three short chapters follow two exuberant bees and their best friend, a grumpy frog, through several comical scenarios. Brightly colored illustrations appear in large graphic-novel-like panels and most of the text is displayed through speech bubbles. Each character has their own colored speech bubble, so it is easy to follow. The animated illustrations paired with the funny dialogue effortlessly lead children to read with expression. Buy It Here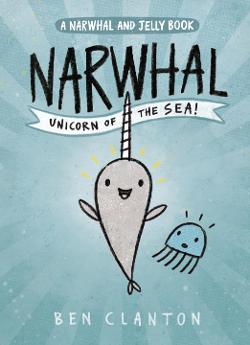 Narwhal: Unicorn of the Sea by Ben Clanton
(Ages 5 and up)
The cheerful Narwhal and no-nonsense Jelly Fish are two unlikely friends who could not be more adorable. Upon meeting, they each believe the other is imaginary and the comical hijinks continue from there. These charming books use a graphic novel format with large panels and dialogue to draw the reader in. There are three short stories in each book that are full of humor that both adults and children will appreciate. As a bonus, there are fun facts about sea creatures. Buy It Here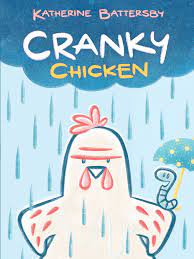 Cranky Chicken by Katherine Battersby
(Ages 5 and up)
This seriously silly story has been on repeat at our house. Both my 7 year-old daughter and 10 year-old son can't get enough of the hilarious hijinks of Cranky Chicken! In the classic case of opposites attracting, a friendly outgoing worm befriends a very grumpy chicken. It is so downright entertaining to watch their friendship bloom over three comical chapters. Buy It Here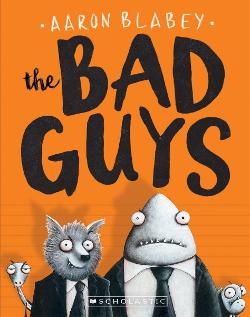 The Bad Guys (series) by Aaron Blabey
(Ages 6 and up)
Fans of funny stories are not going to be able to resist this one! When four traditional villains attempt to lead better lives and help people, hilarious hijinks ensue. The black and white illustrations are full of expression and the comical text has tons of kid appeal! Buy It Here
Find more recommendations, check out my list of GRAPHIC NOVELS FOR NEW READERS.
MORE TIPS FOR PRACTICING FLUENCY AT HOME:
One of the best ways to help a child read more fluently is to model it by reading out loud to them. Have fun when you read and make sure you use plenty of expression in your own reading. Don't be afraid to even use silly voices.
Encourage your child to re-read their favorite books. Re-reading a book gives children more confidence in their reading and since they are already familiar with the story, they are usually able to read it at a faster speed more accurately while comprehending more of the story.
Make sure to check for understanding. After your child reads, engage them in a conversation about the book to confirm they understood the plot and if they can even connect it with something in their life.
YOU MAY ALSO LIKE: