Food is more than just sustenance; it's an experience. The below books expertly demonstrate how food can be full of memories, a celebration of culture, and a great connector of people. With the description of so many delicious delicacies in these stories, it is a good thing that most of them include recipes to try at home!
*This post contains affiliate links. To read my full disclosure CLICK HERE.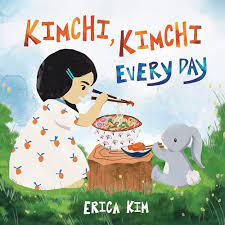 Kimchi, Kimchi Every Day by Erica Kim, 2022
(Ages 3 and up)
Filled with rousing rhymes, this jubilant story showcases various ways a little girl enjoys her favorite food, kimchi. With each preparation featured on different days, this fabulous story is also helpful for reinforcing the days of the week to young children. A glossary describing different types of kimchi is also included.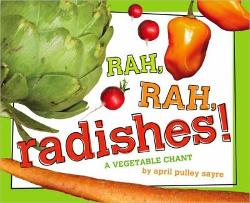 Rah, Rah, Radishes! A Vegetable Chant by April Pulley Sayre, 2011
(Ages 2 and up)
Beautiful full page photographs of vegetables fill this book. The lively text and bold colors make this an appealing choice to even the pickiest of eaters. "Rah, rah, radishes! Red and white./ Carrots are calling. Take a bite!/ Oh boy, bok choy! Brussels sprout./ Broccoli. Cauliflower. Shout it out!" Children will see many familiar vegetables and will have fun learning about some new ones they may not have seen before like Swiss chard and rutabagas.
Check out the other great books in the series: Let's Go Nuts: seeds we eat and Go, Go, grapes!: a fruit chant also by April Pulley Sayre.
Fry Bread by Kevin Noble Maillard, illustrated by Juana Martinez-Neal, 2019
(Ages 3 and up)
This award-winning own-voices story, uses rolling rhymes and beautiful illustrations to demonstrate how a special family recipe can be so much more than just a meal. The delightful story starring a Native American family preparing the bread is enhanced further with an eye-opening author's note explaining how fry bread became an integral part of many Indigenous communities.
Ramen for Everyone by Patricia Tanumihardja, illustrated by Shiho Pate, 2023
(Ages 4 and up)
Every Sunday Hiro's dad makes ramen for dinner. When Hiro turns seven, he is determined to join his dad in making the perfect bowl of ramen. Although it doesn't turn out as planned, the resourceful Hiro tries again, finding a way to make the ramen special for each family member.
With expressive illustrations, a heartfelt storyline, a recipe for ramen, and a lesson in growth mindset, this book is a plateful of happiness!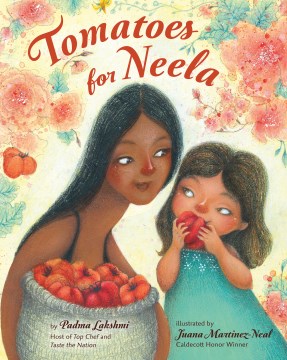 Tomatoes for Neela by Padma Lakshmi, illustrated by Juana Martinez-Neal, 2021
(Ages 4 and up)
The transformative power of food is so beautifully captured in this sweet story about a mother teaching her daughter to cook. Following her paati's treasured cookbook, Neela and her mother gather heirloom tomatoes to make a special sauce to share throughout the year. From the smells simmering from the pot, to the melodious clinking of her mother's bangles as she stirs, to the savoring of that first bite, Neela relishes in the magical nature of this cherished family recipe.
The description of food as an experience full of love and memories and even more importantly, as a great connector of people, is expertly conveyed both through the text and the stunning illustrations. Complete with recipes for Paati's Tomato Sauce and Neela's Tomato Chutney as well as fun facts about tomatoes and an author's note, this book is a real standout!
Ruby's Reunion Day Dinner by Angela Dalton, illustrated by Jestenia Southerland, 2021
(Ages 4 and up)
It's the day of the big reunion dinner and every member of Ruby's family makes their own signature dish to share. She begs to help with each delectable dish, but is told she is too small every time. Finally, Ruby gets an idea for her own perfect addition to the family feast! I love how this sweet book celebrates food and family. Ruby is sure to resonate with many readers who have also been told they are too little to help and will cheer as Ruby finds her own specialty.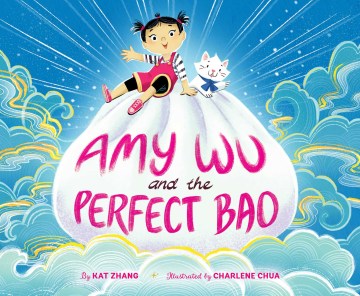 Amy Wu and the Perfect Bao by Kat Zhang, illustrated by Charlene Chua, 2019
(Ages 4 and up)
Amy Wu is one of our favorite new characters! We just adore her exuberant and resilient attitude. In Amy Wu and the Perfect Bao, Amy is determined to make the flawless bao like the rest of her family. Even after being disappointed at many failed attempts, she never gives up and finds a solution that allows her to make the perfect bao her own way. There is even a recipe for bao for little chefs to try!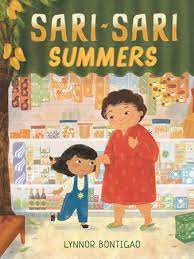 Sari-Sari Summers by Lynnor Bontigao, 2023
(Ages 4 and up)
Nora loves spending the summers with her lola and this summer she is especially excited about working in her sari-sari store! When a heat wave keeps the customers away, Nora brilliantly has the idea to make mango ice candy. This adorable intergenerational story could not be sweeter! We can't wait to try to make our own mango ice candy with the recipe in the back!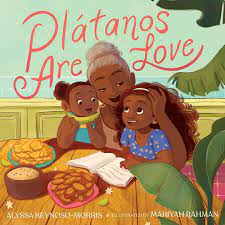 Plátanos Are Love by Alyssa Reynoso-Morris, illustrated by Mariyah Rahman
(Ages 4 and up)
As a little girl and her grandmother prepare plantains for a family meal, she learns about her family's history and how the recipes were passed down in secret. Inspired by their abuela's stories, the girl and her sister create a family cookbook for one satisfying ending. Sprinkled with Spanish vocabulary, descriptive onomatopoeia, and two recipes this delightful tale, skillfully captures the joy found in food and family.
(Ages 4 and up)
Bold, bright colors adorn the pages of this lively read following a boy searching for the paletero man serving delicious paletas. The rolling rhymes sprinkled with Spanish vocabulary are a joy to read aloud while the sweet ending celebrating the kindness of neighbors is sure to bring a smile to both children and adults.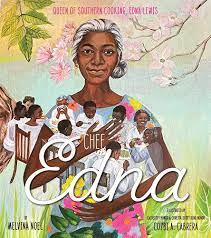 Chef Edna: Queen of Southern Cooking Edna Lewis by Melvina Noel, illustrated by Cozbi A. Cabrera, 2023
(Ages 4 and up)
Edna Lewis grew up on a farm in Virginia where she learned to bake biscuits with simple, pure ingredients and put her ear to a cake and listen to confirm it was done cooking. When she left the farm to work as a seamstress in New York, she never forgot her Southern roots. Her beautiful dress designs were snatched up by movie stars and when she began feeding them her homemade meals inspired by her childhood, they spread the word of her incredible talent.
When she opened a restaurant, New Yorkers couldn't get enough of her Southern cooking. She went on to win numerous awards, author cookbooks, and inspire a foundation to "revive, preserve, and celebrate the rich history of African American cookery by cultivating a deeper understanding of Southern food and culture in America."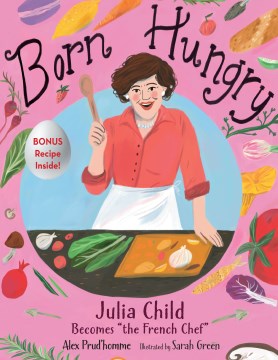 Born Hungry: Julia Child Becomes the "French Chef" by Alex Prud'homme, illustrated by Sarah Green, 2022
(Ages 4 and up)
Julia Child's larger than life personality is expertly infused in this delightful story! Standing 6'2" tall with a booming voice, Julia was hard to miss. Before she became a famous chef, she worked in a U.S. spy agency during World War II. Her first ever recipe was for shark repellent cakes used to deter the deadly fish from soldiers and underwater mines! After meeting her husband and moving to Paris, Julia fell in love with food and against the odds became one of the most well-known chefs in the world. As a food lover myself, I absolutely loved how this charming story celebrates food and how Julia's passion led her to excel in a new career that brought the joy of cooking to so many people.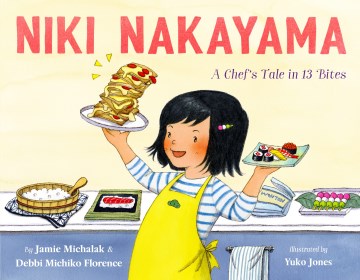 Niki Nakayama: A Chef's Tale in 13 Bites by Jamie Michalak and Debbi Michiko Florence, illustrated by Yuko Jones, 2021
(Ages 4 and up)
Greatly influenced by both her Japanese and American cultures, Niki Nakayama became a Master Chef by expertly melding the two cultures to create a unique and delicious dining experience. This joyful story chronicles Niki's life and how food inspired her through each of life's stages. A true culinary visionary, Niki is a role model for pursuing one's passion and integrating aspects of yourself into one's career. A timeline of Niki's life is included with an explanation of two important Japanese terms and a recipe for Wonton Pizza.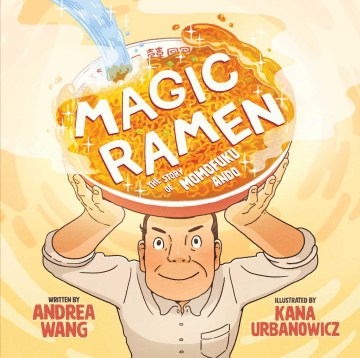 Magic Ramen: The Story of Momofuku Ando by Andrea Wang, illustrated by Kana Urbanowicz, 2019⠀⠀⠀⠀⠀⠀⠀⠀⠀
Resilience is an attribute I hope to teach my children and I was thrilled that my son was able to take away this important lesson from this fascinating true story. Magic Ramen shares the incredible journey of Momofuku Ando as he worked tirelessly to create a fast and convenient way to cook ramen noodles. Though he failed many times, Ando persevered and eventually succeeded in making instant ramen possible.
My son had never tasted ramen before, so we had a special outing to the grocery store where we purchased a cup of noodles made possible by Momofuku Ando! It was a fun way to bring the story to life.
This fascinating picture book biography shares how the clever Frieda Caplan stood out among her male competitors by selling unusual fruits and vegetables at a local market in Los Angeles. Mushrooms may seem common to us now, but in the 1950's they were an oddity until Frieda started selling them. They became a huge hit and Frieda began introducing other exotic foods such as kiwis, spaghetti squash, and horned melons. She became the first woman in the United States to own and operate a wholesale produce business and thanks to her ingenuity, grocery stores went from carrying around sixty-five fruits and vegetables to over seven hundred!
This celebration of new foods is a great way to introduce them to children!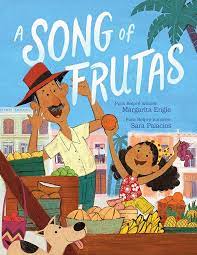 A Song of Frutas by Margarita Engle, illustrated by Sara Palacios, 2021
(Ages 4 and up)
Bright illustrations follow a little girl as she helps her grandfather sell fruits in the market. The heartfelt tale also gives a glimpse into other regional foods, a Cuban New Year's tradition, and the difficulty of being separated from a loved one.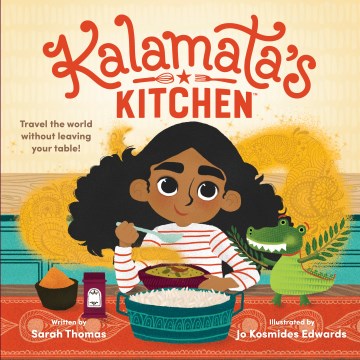 Kalamata's Kitchen by Sarah Thomas, illustrated by Jo Edwards, 2021
(Ages 4 and up)
Kalamata is feeling nervous about her first day of school tomorrow, but finds bravery by recounting a recent trip to an Indian spice market. Initially, she felt overwhelmed by the number of people at the market, but soon grows to love the smells of the spices and the dazzling colors surrounding her. As her mother prepares Dal, the scent of the food takes Kalamata back to that integral moment at the market reminding her that good things can come from situations that may initially seem scary.
A recipe for Dal is included as well as a glossary of ingredients inspiring budding chefs to create their own special meal.
YOU MAY ALSO LIKE: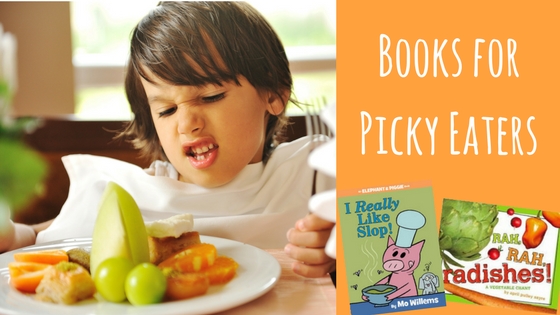 https://librarymom.com/books-for-picky-eaters/