I always envisioned family meals would be wonderful experiences filled with my children eating the delicious food I cooked while we shared highlights from our day. Instead, I found myself begging, pleading, and ultimately threatening my son to eat just a few bites. When meal time became more of a fight than the fun, enjoyable meal I always dreamed of, I turned to picture books for inspiration.
Picture books featuring other children facing similar situations as well as stories celebrating food has been a great way to start conversations on trying new things for our family. Below are a few of our favorites!
*This post contains affiliate links. To read my full disclosure CLICK HERE.
Picture Books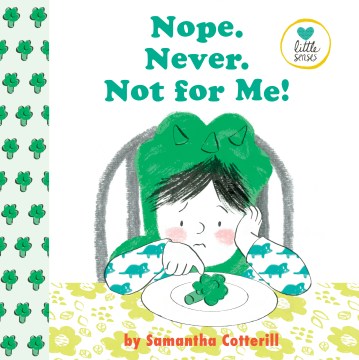 Nope. Never. Not for Me! (Little Senses series) By Samantha Cotterill, 2019
(Ages 2 – 6)
When a dinosaur loving girl refuses to eat broccoli, her mom suggest they are dinosaur trees and convinces her to take a small bite. She is disappointed that she doesn't like it, but her mom congratulates her on being a "Try"ceratops. With her newfound confidence, she tries more food and creates a collage of the ones she likes and doesn't like.
This book is PERFECTION! Filled with clever details, a positive message about trying new things, and humorous, action-packed artwork, you aren't going to want to miss this one!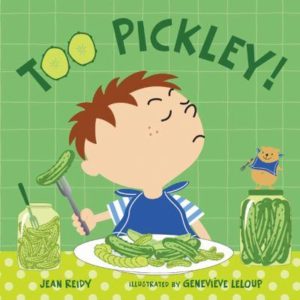 Too Pickley by Jean Reidy; illustrated by Genevieve Leloup, 2010
(Ages 2 – 4)
A boy and his hamster declare that they are hungry, but each plate of food they encounter has something wrong with it. The boy complains, "too wrinkly" to raisins, "too squishy" to a tomato and "too fruity" to fruit. The entire book is comprised of the boy finding fault in each offering until at last he is pictured with an empty plate saying, "So yummy! All done." Even though the ending was a bit jarring, my son and I had fun guessing what the boy ate that he finally enjoyed. It was a nice, organic way of opening up the conversation of what my son would like to eat that he thought would be yummy.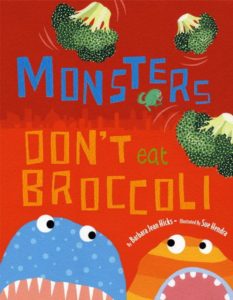 Monsters Don't Eat Broccoli by Barbara Jean Hicks; illustrated by Sue Hendra, 2009
(Ages 2 – 5)
A silly rhyming book where monsters repeat the refrain, "Fun, foe, fie, fee, monsters don't eat broccoli!" Instead they eat tractors, ships and trees. Wait a second those trees actually look like broccoli! Turns out monsters and children love broccoli. They just have to give it a try. When my son was around two we convinced him to try broccoli by pretending it was a dinosaur tree. He loved acting like a dinosaur and munching down on his "trees". It was amazing how quickly he gobbled them up when we added a little imaginative play to dinner.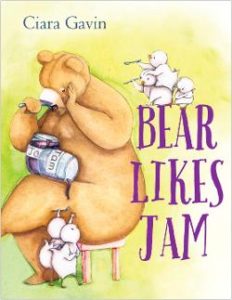 Bear Likes Jam by Ciara Gavin, 2017
(Ages 3 – 6)
This is the third book in a delightful series about a bear who is adopted by a duck family. In a hilarious intro, we see Bear tasting jam for the first time at the grocery store and then quickly devouring the entire display. Bear continues to eat jam every chance he gets. Worried that Bear is not eating a balanced diet, Mama Duck encourages him to eat more vegetables. Bear proceeds to play with his food without trying the "strange green things". When the ducks turn dinner into a game, however, Bear can't wait to race to find the buried treasure of corn hidden underneath mashed potatoes. Once he actually tastes vegetables, Bear enjoys them, but still indulges in jam now and then for some "balance." The soft color palette is inviting and the illustrations of the giant bear and little ducks could not be cuter.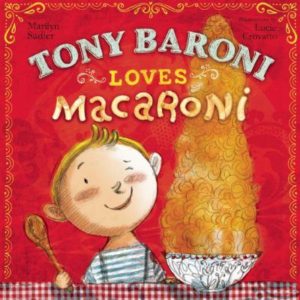 Tony Baroni Loves Macaroni by Marilyn Sadler; illustrated by Lucie Crovatto, 2015
(Ages 3 – 6)
My son wanted to read this book repeatedly. As the title implies, Tony Baroni loves macaroni and doesn't want to try anything else. His poor Nonna Sophia offers him a variety of delicious noodle dishes, but Tony Baroni shakes his head at each one until one day switching to only eating pizza with tomatoes and peas. The rhymes and repeating refrain makes this a terrific read aloud. It even inspired my son and I to do an art project using different types of noodles.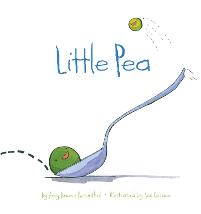 Little Pea by Amy Krouse Rosenthal; illustrated by Jen Corace, 2005
(Ages 3 – 6)
This is such a fun books that children won't be able to help but smile when they read it. Little Pea is just like most kids. He likes to play with his dad, he likes to snuggle with his mom and listen to stories, but there is one thing Little Pea cannot stand…candy. And he has to eat it every night for dinner… ugh! My son thought this was hilarious since he would eat candy every night if he was allowed to. Finally, Little Pea manages five bites of the candy and is allowed to eat his scrumptious dessert of spinach! Picky eaters or not, most children will love this story.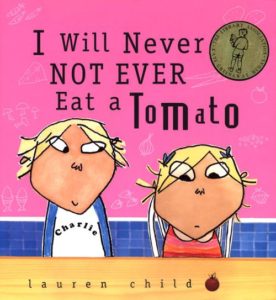 I Will Never Not Ever Eat a Tomato by Lauren Child, 2000
(Ages 4 – 8)
Lola is quite the picky eater and refuses to eat most things. Her brother, Charlie, decides to pretend each item on her plate is something else in hopes that she will then eat the food. For example, carrots are "twiglets from Jupiter", peas are "green drops from Greenland", and mashed potatoes are "cloud fluff". This gave me the idea to give fun names to the food I served my own picky eater making dinnertime much more fun.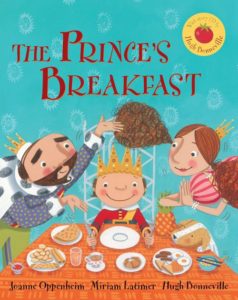 The Prince's Breakfast by Joanne Oppenheim; illustrated by Miriam Latimer, 2014
(Ages 4 – 8)
A picky young prince refuses to eat anything but hot chocolate and dry toast, so his royal parents whisk him around the world to India, Mexico, China, and Africa. Despite being offered many different delicious foods, the prince refuses everything until an old man presents him with ketchup. The condiment magically makes everything delicious and the prince never had a problem trying new things again. The book presents a nice opportunity to discuss many different types of ethnic foods and explore the places they travel on a map.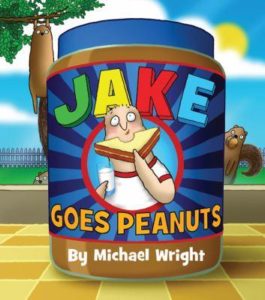 Jake Goes Peanuts by Michael Wright, 2010
(Ages 4 – 8)
I personally did not like the illustrations in this book, but my son loved this story. Maybe because like Jake, he loves peanut butter and would eat it for every meal. When Jake's parents decide to serve each meal coated in peanut butter for one week, he learns that too much of a good thing can become a nightmare. Luckily Jake learns his lesson by the end of the story. "Now that Peanut Butter Week has come and it has gone, Jake's started trying different foods he's missed for far too long. Like crunchy orange carrot strips Mom cuts in silly shapes. Jake thinks they're fun to snack on with a bowl of juicy grapes." A bit predictable, but the rhyming text and silly story make this a worthwhile read.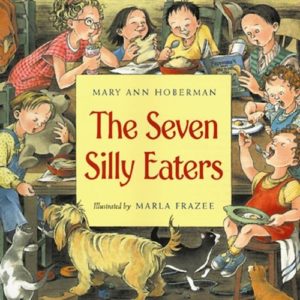 The Seven Silly Eaters by Mary Ann Hoberman; illustrated by Marla Frazee, 1997
(Ages 4 – 8)
Mrs. Peters is a loving mother who prepares each of her seven children's favorite meals just the way they like them year after year. The children try to return the favor by doing a nice deed for their mother and in a comical birthday mishap, they end up combing all of their favorite foods to make the perfect birthday cake. This luckily results in solving Mrs. Peters' problem of cooking seven separate meals each day. This is a sweet story with detailed illustrations that perfectly capture the chaotic and often funny lives of the Peters family.
This is one of those stories that my son wanted to read again and again. He could not get over the fact that this family had seven children. This book also promoted a nice discussion on empathy as we observed Mrs. Peters' facial expressions change from smiling to frowning as she becomes more overwhelmed throughout the book. At the end of the story, the children sneak down in the middle of the night to make their mother a birthday surprise. This also sparked an important reminder about kitchen safety. While I recommend this charming story, I do want to warn that it is written as a poem, so it can be a bit awkward to read at times. My son loved the flowing rhymes, however, so I had lots of practice to improve my reading of this story.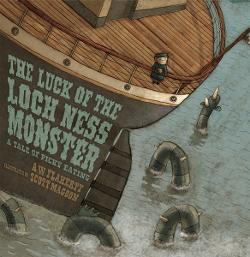 The Luck of the Loch Ness Monster: a tale of picky eating by A.W. Flaherty; illustrated by Scott Magoon, 2007
(Ages 4 – 8)
The year is 1925 and Katerina-Elizabeth is on a voyage to Scotland to visit her grandmother. In preparation for her trip, her parents preordered all of her breakfasts, which much to Katerina-Elizabeth's dismay was oatmeal every day. Her solution to her dire breakfast problem is to toss the oatmeal overboard. A delighted sea worm discovers the oatmeal and eats it greedily. After days of this routine, the oatmeal makes him big and strong and the worm eventually grows into the Loch Ness Monster. As for Katerina-Elizabeth, she grew up to live happily ever after, but because of the lack of oatmeal in her diet, grew up to be three inches shorter than everyone else in her family. The storyline coupled with the color scheme of mostly dark greens and browns makes this better suited for older picture book readers. There is also an author's note in the back of the book suggesting a test to determine "supertasters" who might be prone to more sensitive taste buds.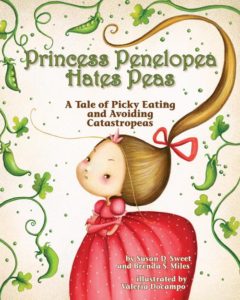 Princess Penelopea Hates Peas: a tale of picky eating and avoiding catastropeas by Susan D. Sweet and Brenda S. Miles; illustrated by Valeria Docampo, 2016
(Ages 4 -8)
Even though I really dislike the use of the word "hate" in children's stories and was disappointed to see it in the title of this book, I was won over by the cute and relatable story. Poor Princess Penelepea disliked peas so much she would even leave out the letters, "p-e-a" when writing her name. Unfortunately, she lived in Capital Pea where peas were prevalent. Despite trying to hide the peas in other food, use bribery, and even threaten Penelepea, the princess' parents could not get her to eat peas. Penelopea finally gets so fed up, that she swallows a pea to make it disappear and discovers that she enjoys peas after all. The authors are psychologists who include tips for parents in the back of the book first explaining why some children are picky and then how to help finicky eaters.
Easy Readers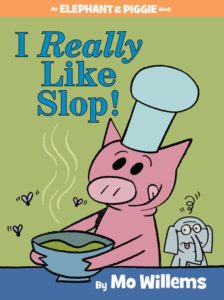 I Really Like Slop! by Mo Willems, 2015
(Ages 4 – 8)
Mo Willems has become one of the most beloved children's authors and illustrators in recent years. Children and adults alike relish in the humor of his Elephant and Piggie series. In this installment, Piggie has created her favorite meal, slop. Gerald the Elephant thinks it is the most disgusting thing he has ever seen, but agrees to try it so that he doesn't hurt Piggie's feelings. He takes a very small bite and has a hilarious reaction as he changes color and bounces around the page. In the end, Gerald does not care for slop, but he is glad he tried it. I loved this book for its heartwarming characters, comical illustrations, and the lesson about trying something new even if it scares you. I appreciated that the story didn't end with Gerald loving the slop because there are many times in life where you try something new and you don't actually end up liking it, but it is still important to try new things because you never know when you will discover a new favorite.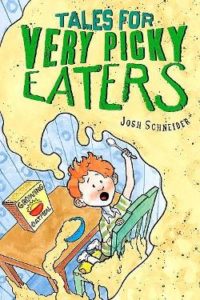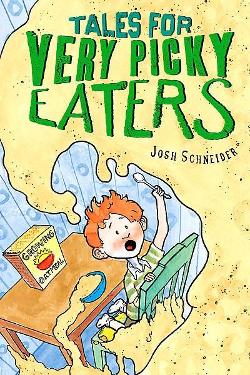 Tales For Very Picky Eaters by Josh Schneider, 2011
(Ages 4 – 8)
Made up of five hilarious chapters, a father tries to convince his son, James, to eat healthy food. When James declares that broccoli is disgusting, his father quickly suggests dirt, chewed gum, and dirty socks as alternative options. In the subsequent chapters, James' clever father reveals several other comical stories to convince James to eat his food. This book won a Theodore Seuss Geisel Award for being an outstanding book for beginning readers. The chapters are only a few pages long making this easy reader fun to read one on one. I've read the first two chapters to a class of first grade students and they were all clamoring to check out the book to hear the rest of the funny tales.
Books the Celebrate Food
I took a new approach with my picky eater and introduced him to books that celebrate foods. Talking positively about food inspired him to try some new things.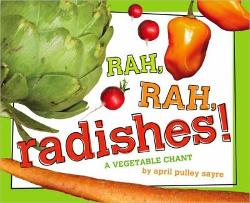 Rah, Rah, Radishes! A Vegetable Chant by April Pulley Sayre, 2011
(Ages 2 and up)
Beautiful full page photographs of vegetables fill this book. The lively text and bold colors make this an appealing choice to even the pickiest of eaters. "Rah, rah, radishes! Red and white./ Carrots are calling. Take a bite!/ Oh boy, bok choy! Brussels sprout./ Broccoli. Cauliflower. Shout it out!" Children will see many familiar vegetables and will have fun learning about some new ones they may not have seen before like Swiss chard and rutabagas. My 18-month-old daughter loved the pictures so much, that every time we read this book she tried to pick the food out of the book to eat. She was very frustrated to learn the food was just a picture. This is a fun celebration of vegetables and there are fun facts in the back of the book and tips on healthy eating.
Check out the other great books in the series: Let's Go Nuts: seeds we eat and Go, Go, grapes!: a fruit chant also by April Pulley Sayre.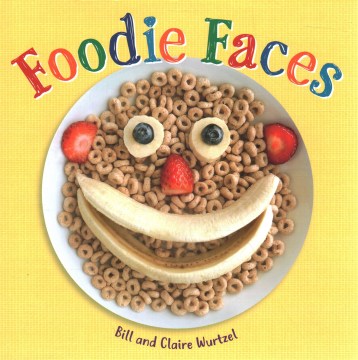 Foodie Faces by Bill and Claire Wurtzel, 2020
(Ages 2 and up)
Foodie Faces combines assorted pieces of food in clever ways to create faces with a variety of expressions. Not only is this an entertaining way to discuss emotions with children, but it might also encourage them to try new foods.
This book inspired our family to have Wacky Wednesday Lunches. I set out a spread of fruits and vegetables including peppers, cucumbers, strawberries, carrots, snap peas, and grapes and my kids grab a bagel or bread and start creating. They use peanut butter, cream cheese and deli meats along with the fruits and vegetables to create some seriously crafty countenances.
Now that we've done it for a few weeks, I'm starting to introduce new fruits that they were apprehensive about trying in the past like mango and kiwi. They are much more willing to try new things when it is presented in a fun way.
Edible Colors by Jennifer Vogel Bass, 2014
(Ages birth – 5)
What better way to teach children colors than by showcasing foods that are all around them? This book not only presents stunning photos of everyday foods, but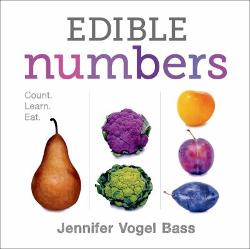 it also introduces new foods children (and adults) may not have seen before. My two-year-old daughter loved looking through this book and asking what each and every fruit or vegetable was. I even loved learning about all of these cool new foods! Who knew corn could come in so many colors? This is not only a great way to teach children colors, but to also widen their world view and appetite! We also enjoyed the latest book, Edible Numbers (2015).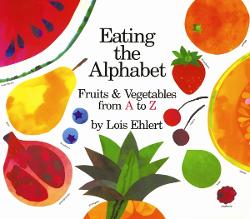 Eating the Alphabet: Fruits and Vegetables from A to Z by Lois Ehlert, 1989
(Ages 2 and up)
A nice alphabet book highlighting many well-known and some exotic fruits and vegetables including kumquat, quince, and persimmon. Lois Ehlert's signature watercolor collages are beautiful as always and she includes a glossary of the foods featured in the back of the book. It could be a fun inspiration for children to make their own collage of food that they love.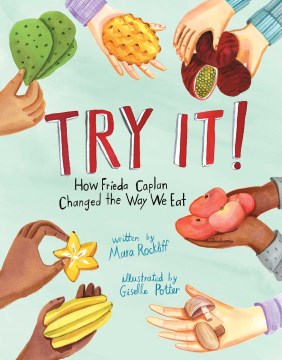 Try It: How Frieda Caplan Changed the Way We Eat
by Mara Rockliff; illustrated by Giselle Potter, 2021
This fascinating picture book biography shares how the clever Frieda Caplan stood out among her male competitors by selling unusual fruits and vegetables at a local market in Los Angeles. Mushrooms may seem common to us now, but in the 1950's they were an oddity until Frieda started selling them. They became a huge hit and Frieda began introducing other exotic foods such as kiwis, spaghetti squash, and horned melons. She became the first woman in the United States to own and operate a wholesale produce business and thanks to her ingenuity, grocery stores went from carrying around sixty-five fruits and vegetables to over seven hundred!
This celebration of new foods is a great way to introduce them to children!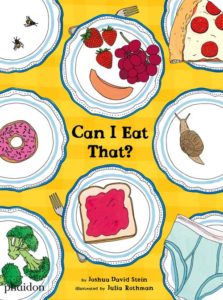 Can I Eat That? by Joshua David Stein; illustrated by Julia Rothman, 2016
(Ages 4 – 8)
Poses questions and introduces new foods from different countries in a fun way. "If I eat jelly and I eat fish can I eat a jellyfish?! Actually you can in China." Makes for a fun discussion on foods.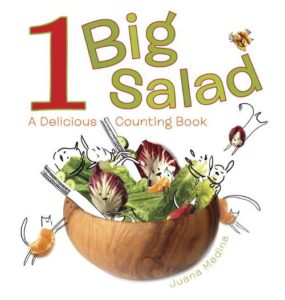 1 Big Salad: a delicious counting book by Juana Medina, 2016
(Ages 2 – 5)
This stunning counting book artfully combines photography and black-line drawing to make a winning recipe. Each two-page spread presents a photograph of a fruit or vegetable transformed into an animal with the pen and ink drawing. Half of an avocado becomes a deer with the pit as the nose and so on until the reader finds ten clementine kitties that complete the recipe for one big beautiful salad. Abundant use of white space makes the vibrant colors of the fruits and vegetables pop off the page. The numbers and words are presented in large text, making this book a terrific read aloud for storytime or one-on-one sharing.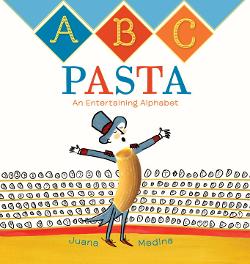 Medina also repeats this process with her new book, ABC Pasta: an entertaining alphabet (2017) that highlights the alphabet with talented noodles.