Rainbows, pots of gold, four leaf clovers, and leprechauns… St. Patrick's Day brings lots of fun themes to get children excited about books. Here are a few great stories to share this St. Patrick's Day. Enjoy!
*This post contains affiliate links.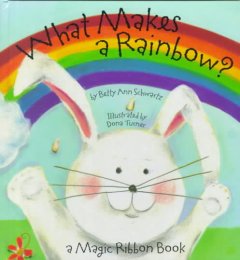 What Makes a Rainbow by Betty Ann Schwartz, 2003
(Ages 0 and up)
Little rabbit and his friends explore the colors of the rainbow in this cute board book. Each page features a ribbon with the two-page spread's highlighted color. When my kids were babies they were fascinated by the ribbons and loved playing with them while we explored the book together. Even though this is not specifically a St. Patrick's Day book, the rainbow theme helped my daughter learn her colors and she loved the pop up surprise at the end.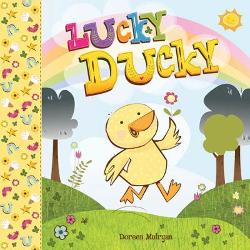 Lucky Ducky by Doreen Mulryan, 2016
(Ages 3 and up)
Poor Ducky thinks he is unlucky. It rains when he wants to go swimming, he drops his ice cream cone, and his laundry turns pink. Ever the optimist, Ducky decides to change his luck by searching for a four leaf clover. He is distracted by friends along the way and even though he never officially finds the four leaf clover, he learns a valuable lesson. "No matter what happens… as long as he has friends… he's the luckiest duck of all!". The bright pictures and simple text make this a nice read aloud with an important message of making your own luck with a positive attitude and supportive friends.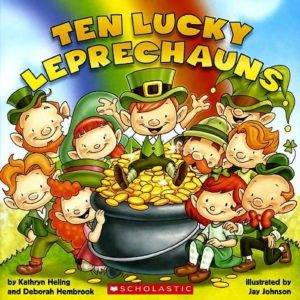 Ten Lucky Leprechauns by Kathryn Heling and Deborah Hembrook; illustrated by Jay Johnson, 2013
(Ages 2 and up)
Silly rhymes fill this short and simple counting book. Perfect for reading with toddlers, this cute tale could easily be paired with a flannel board activity for an engaging storytime.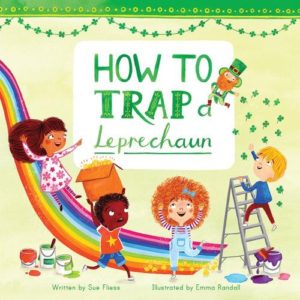 How To Trap a Leprechaun by Sue Fliess; illustrated by Emma Randall, 2017
(Ages 3 and up)
Bright colors, flowing rhymes, diverse characters, inspires children to be creative… this book has it all! It is my favorite read aloud for St. Patrick's Day.
The simple plot focuses on a group of children who come together to trap a leprechaun. Despite their best efforts, the leprechaun escapes, but all is not lost. He leaves a tiny note that challenges the kids to try again next year.
The back of the book includes a note to parents with tips on how to build a trap with your child. There is also a little background information on leprechauns to inform children of these mischievous creatures. My son could not wait to design his own leprechaun trap after reading this book. I give five stars to any book that makes children want to explore and create.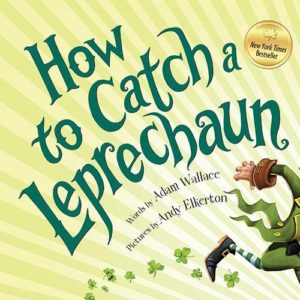 How to Catch a Leprechaun by Adam Wallace; illustrated by Andy Elkerton, 2016
(Ages 4 and up)
A mischievous leprechaun escapes a variety of elaborate traps in this colorful St. Patrick's Day book. The leprechaun taunts the children on each page until the end where he challenges the reader to build the perfect trap.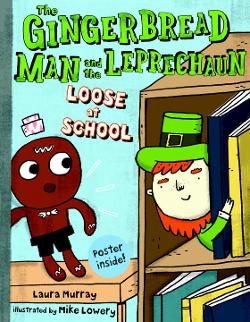 The Gingerbread Man and the Leprechaun Loose at School (series) by Laura Murray; illustrated by Mike Lowery, 2018
Our family just loves this entertaining Gingerbread Man series. In this installment, a mischievous leprechaun is loose in the school causing havoc wherever he goes. He leaves messages that hint where he will be next and the children and Gingerbread Man chase him through the school. Luckily the clever Gingerbread Man constructs a trap to finally catch the leprechaun and force him to clean up his mess.
The flowing rhymes and cartoonish artwork make this a great read aloud to share during the month of March. The clues the leprechaun leaves make for a fun guessing game and the energetic tone of the story keeps readers engaged. The Gingerbread Man's trap can also serve as inspiration for children to create their own leprechaun snares. This is another winner by Laura Murray and Mike Lowery!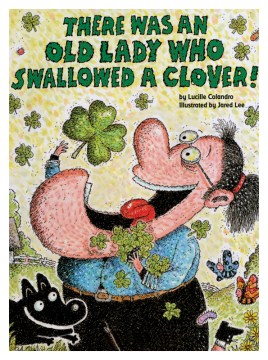 There Was An Old Lady Who Swallowed a Clover by Lucille Colandro; illustrated by Jared Lee, 2012
(Ages 4 and up)
While this silly series is not exactly my cup of tea, my kids cannot get enough of it! They just love giggling at the ridiculous things this poor old woman eats. With its bouncy rhymes and expressive illustrations, this is an amusing read aloud especially for a group.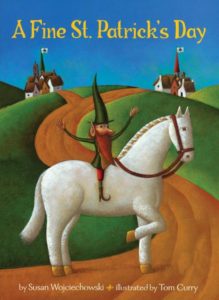 A Fine St. Patrick's Day by Susan Wojciechowski; illustrated by Tom Curry, 2004
(Ages 5 and up)
The towns of Tralee and Tralah enter into a competition each year to win the golden shamrock for the best St. Patrick's Day celebration. The town of Tralee has never won, but thanks to six year-old Fiona who has the idea to paint the town green, they are hopeful that this could be the year they take home the coveted trophy.
The book is a little bit on the long side, but the rich illustrations and important lessons make it a great choice for sharing around St. Patrick's Day or any other time of year. The story conveys the importance of helping others, acting as a community, being happy with what you have, and listening to everyone's ideas including a child. This meaningful read aloud is always a hit with my kids.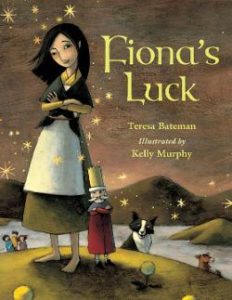 Fiona's Luck by Teresa Bateman; illustrated by Kelly Murphy, 2007
(Ages 5 and up)
When the greedy Leprechaun King captures all the luck in Ireland and locks it away with a spell, the poor people of Ireland suffer many hardships. A clever girl named Fiona takes it upon herself to trick the Leprechaun King and win back the luck of the Irish. Children will love the enchanting fairytale-feel of the story and the battle of wits between Fiona and the Leprechaun King.