My kids and I get so excited to see that first bud growing out of the ground in the beginning of spring. There is just something about blooming flowers and gardens that is pure magic. Whether you are looking for a story that teaches children about things that grow or an entertaining read aloud, you won't be disappointed in these beautiful books that showcase gardens and flowers.
*This post contains affiliate links.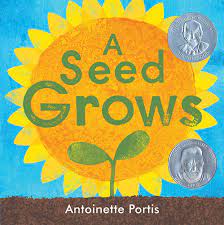 A Seed Grows by Antoinette Portis, 2022
(Ages 3 and up)
This award-winning story is a must-read for young children learning about nature. Told through simple language and exquisite illustrations (include a stunning fold out), readers follow the life cycle of a sun flower. It is further enhanced with backmatter providing additional facts about sun flowers.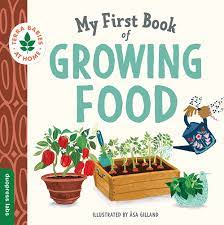 My First Book of Growing Food by duopress labs, illustrated by Åsa Gilland, 2021
(Ages 2 and up)
This precious board book is a fabulous introduction to growing herbs or vegetables anywhere. I love that it emphasizes how you can grow food in your home or apartment. As an extra bonus, it is printed using 100% recyclable FSC materials and nontoxic inks.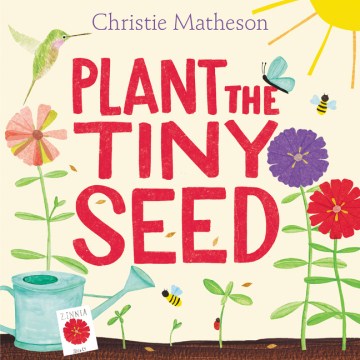 Plant the Tiny Seed by Christie Matheson, 2017
(Ages 3 and up)
This interactive book invites readers to grow a flower by wiggling their fingers to create rain, clapping to make the sun appear, and jiggling plants to scatter the seeds. This engaging picture book is great for storytimes and the author's note provides additional information to inspire children to plant their own gardens.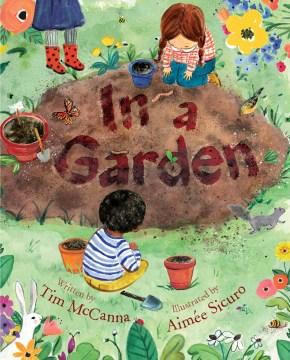 In a Garden by Tim McCanna; illustrated by Aimée Sicuro, 2020
(Ages 3 and up)
Brightly colored illustrations and lyrical rhymes introduce children to the variety of life existing in a garden. From earthworms to bees, every organism plays a role in the success of the lush ecosystem. The elegant rhymes gently touch on many aspects of the natural world such as insects' ability to camouflage and the life cycle of animals and plants all while sharing a delightful story about a community garden. With its charming pictures and rolling rhymes, this is an excellent read aloud for a spring-themed storytime.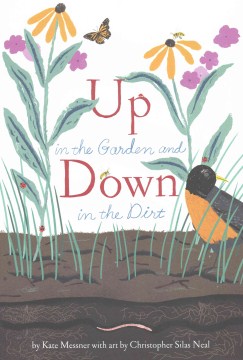 Up in the Garden and Down in the Dirt by Kate Messner; illustrated by Christopher Silas Neal, 2015
(Ages 4 and up)
This narrative nonfiction book gives children an inside view into the many insects and plants that reside above and below the ground. Beautifully illustrated and filled with poignant text, this informational picture book is a standout.
Mary Had a Little Plan by Tammi Sauer; illustrated by Vanessa Brantley-Newton, 2022
(Ages 4 and up)
Filled with an inclusive representation of fairy tale characters, this joyful story of friends coming together to create a community garden is a superb read aloud. When Mary notices an abandoned lot, she works hard soliciting goods from local businesses to give the space a complete overhaul. When the work proves too much, she enlists the help of her friends. With themes of perseverance, teamwork, and community, this delightful read aloud is a must!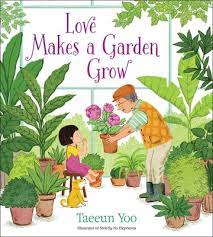 Love Makes a Garden Grow by Taeeun Yoo, 2023
(Ages 4 and up)
A little girl bonds with her grandfather over his garden in this heartfelt intergenerational story. As she grows, she helps tend to the garden more and more growing even closer with her grandfather. Though the two move through different stages of life, they stay comforted and connected through a shared love of flowers. Inspired by true events, this sweet story radiates love.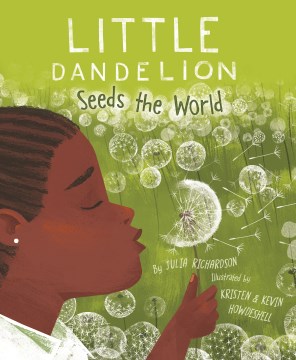 Little Dandelion Seeds the World by Julia Richardson; illustrated by Kristen and Kevin Howdeshel
(Ages 4 and up)
While dandelions may be a common site in our backyards, did you know that they bloom on every single continent making them one of the most prolific plants on Earth?
Little Dandelion Seeds the World
uses lively alliteration to describe how the resilient dandelion seeds spread across the entire world carried by the wind, animals, and water. The upbeat text is a joy to read aloud while the colorful eye-catching pictures draw the reader in.
⠀⠀⠀⠀⠀⠀⠀⠀⠀
This standout read aloud is perfect for science units discussing seeds and for providing children with a more global perspective.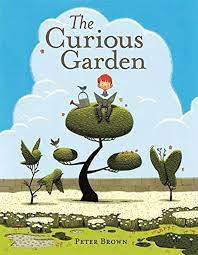 The Curious Garden by Peter Brown
(Ages 4 and up)
When Liam discovers wildflowers in the middle of a dreary city, he tends to them with surprising results. Despite Liam's lack of gardening knowledge, he persistently cares for the plants helping them grow in the most unusual places until he completely changes his environment and the people who live there. There is a magic to this book that makes it feel like a modern classic.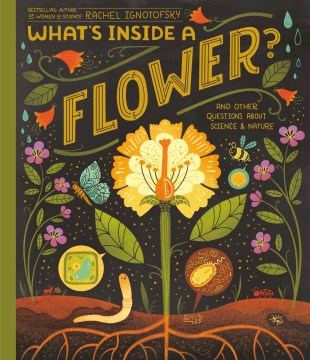 What's Inside a Flower? by Rachel Ignotofsky, 2021
(Ages 4 and up)
This gorgeous informational book teaches little nature lovers the ins and outs of flowers. With its eye-catching illustrations and fascinating facts, children are going to love learning about one of nature's showstoppers!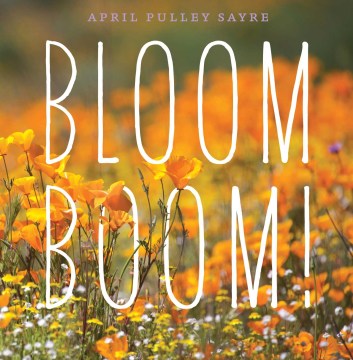 Bloom Boom! By April Pulley Sayre, 2019
(Ages 3 and up)
April Pulley Sayre's nature series featuring each season continues to blow me away with her stunning photography and lyrical text. In Bloom Boom! she celebrates the beauty spring brings with incredible bursts of colorful flowers. Additional information is provided in the back for curious children to learn more about these astonishing plants.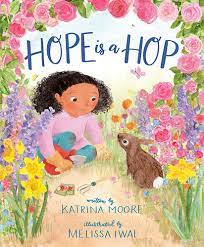 Hope is a Hop by Katrina Moore, illustrated by Melissa Iwai, 2023
(Ages 4 and up)
This moving story skillfully uses lyrical language and mesmerizing illustrations to link hope with a resilient attitude and a new perspective. A young girl excitedly plants a garden, but is met with frustration when a troublesome rabbit continues to eat her seeds. When she follows the bunny and makes a surprising discovery, she has a new outlook that allows her to hope again. With its themes of new beginnings, growth, and rebirth, this uplifting story is an excellent spring or Easter read aloud!
Harlem Grown by Tony Hillery; illustrated by Jessie Hartland, 2020
(Ages 4 and up)
Harlem Grown is the inspirational true story of how Tony Hillery and a group of students transformed an empty lot in Harlem into a gorgeous garden.
Tony Hillery wasn't a gardener, but simply a man who saw a problem and did everything he could to solve it. Not only did Tony help make his neighborhood a more beautiful place, the plants thrived and provided fresh, healthy food for the students who tended to the garden. The engaging artwork combined with the concise, powerful text makes this a truly standout read aloud. The story is enhanced by a note from Tony that provides more details about the Harlem Grown organization and gives tips on how to start a garden anywhere.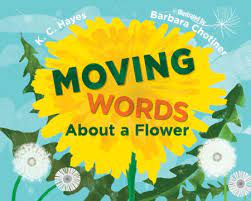 Moving Words About a Flower by K.C. Hayes, illustrated by Barbara Chotiner, 2022
(Ages 4 and up)
This clever story expertly uses eye-catching illustrations to showcase concrete poems describing the life cycle of a dandelion. After sprouting from a crack in the sidewalk of a city, the dandelion's seeds eventually spread to a farm where they must endure the winter and animals in order to eventually grow and fly away again. Additional facts about dandelions make this mesmerizing story perfect for science units or simply shared as an interesting story.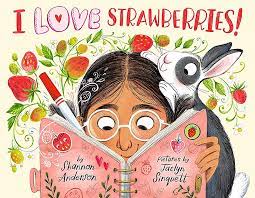 I Love Strawberries by Shannon Anderson, illustrated by Jaclyn Sinquett, 2022
(Ages 5 and up)
A strawberry-loving girl tries to persuade her parents to let her grow her own strawberries in this endearing read. Told in part through diary entries and interactions with her family, the story is both funny and inspiring for future gardeners.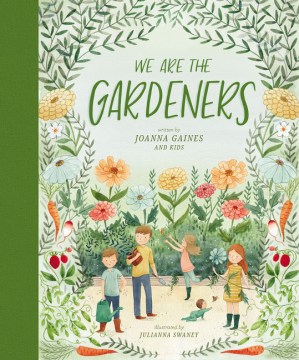 We Are the Gardeners by Joanna Gaines and Kids; illustrated by Julianna Swaney, 2019
(Ages 5 and up)
Our family was absolutely captivated by this sweet story and its gorgeous illustrations. Told from the children's point of view, the book shares the trials and tribulations of growing a garden. Not only does the book include helpful information about gardens themselves, but there are so many wonderful life lessons mixed into the story that set WE ARE THE GARDENERS apart from many other books with a similar subject.
This beautifully illustrated treasure is perfect for inspiring budding gardeners or for a lesson on growth mindset. The longer text makes it more appropriate for sharing one-on-one or reading aloud to a group of older children.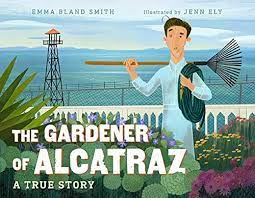 The Gardener of Alcatraz by Emma Bland Smith; illustrated by Jenn Ely, 2022
(Ages 5 and up)
After reading a few other books about Alcatraz, my kids are absolutely captivated by the infamous prison. They loved learning how convicted counterfeiter Elliott Michener originally planned on trying to break out of the prison, but completely changed his ways once he was assigned to garden duty. After finding a sense of pride and purpose in the gardens, he went on to start his own farm once he was rehabilitated and released. This feel-good story became even more special to us when we traveled to Alcatraz and witnessed the beauty of the gardens in person.
YOU MAY ALSO LIKE: