From splashing in puddles to relishing in quiet moments indoors, there is so much joy to be found in rainy days. We've put together a list of books that celebrate these small delights, teaching children how to find brightness even on the gloomiest of days.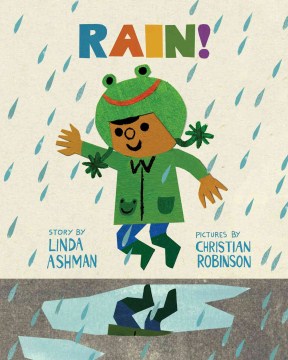 Rain by Linda Ashman; illustrated by Christian Robinson
(Ages 3 and up)
This clever story follows a young boy and older man who have two very different reactions to rain. The exuberant boy revels in the drizzle while the grouchy man despises it. During a chance encounter, the boy shares a random act of kindness with the man, demonstrating that even the grumpiest of frowns can be turned upside down when compassion is involved.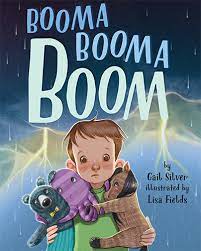 Booma Booma Boom by Gail Silver; illustrated by Lisa Fields
(Ages 4 and up)
When a child is awakened by a loud storm, he quells his own fear by helping reassure his stuffed animal friends. The gentle rhymes and adorable illustrations add to the comforting tone of the story. The boy exhibits several helpful coping techniques while a thorough author's note provides additional tips for parents. .
Come On, Rain by Karen Hesse; illustrated by Jon J. Muth
(Ages 4 and up)
On a dry, scorching summer day, a little girl yearns for the clouds to open up and let the rain come pouring down. At the first sight of a grey cloud, she collects her friends to rejoice in the summer storm. This treasure of a book uses vivid writing and lovely watercolor illustrations to remind readers of the rejuvenating effect rain has.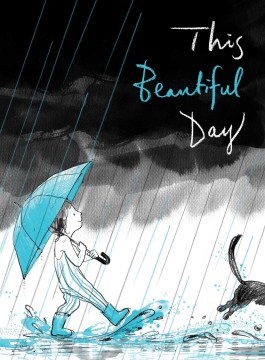 This Beautiful Day by Richard Jackson; illustrated by Suzy Lee
(Ages 4 and up)
Three energetic children find the splendor of a rainy day by jumping in puddles and marching through their neighborhood inspiring others to join them in a carefree parade. The lively illustrations beautifully capture the movement of the children and the cheerful tone of the book.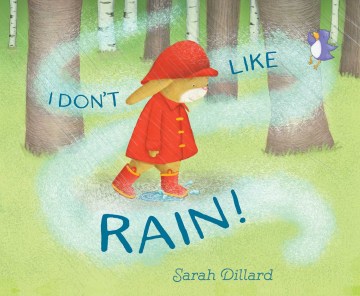 I Don't Like Rain by Sarah Dillard
(Ages 3 and up)
When a group of woodland creatures scatter at the first sight of rain, a bunny wonders what it is about rain they don't like. After getting soaked in the rainstorm, the bunny shares in their aversion to rain until she realizes she can have fun playing outside in her raincoat and rain boots! Colorful illustrations combined with onomatopoeia make this a good read aloud choice for children.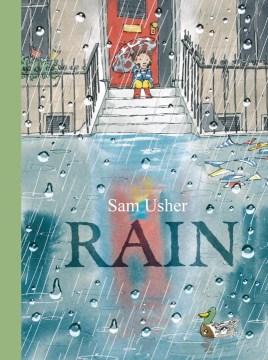 Rain by Sam Usher
(Ages 4 and up)
Sam anxiously longs to play outside in the rain, but first he has to wait for his grandfather to finish writing a letter. This sweet intergenerational story is full of whimsy and charm. Readers will delight when the duo finally emerges outside to find giant puddles whose reflective features make their house appear upside down. They will be further awed when a boat filled with carnival performers floats by and invites them to join the party!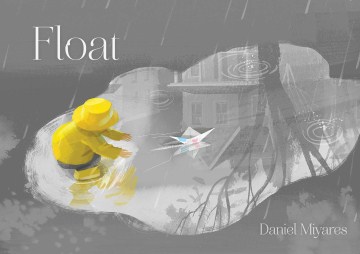 Float by Daniel Miyares
(Ages 3 and up)
With his bright yellow rain slicker and boots on, a boy braves the rainy outdoors to sail his paper boat. This gorgeous wordless picture book captures the joy he feels when splashing through puddles and his anguish when his boat his lost down a drain pipe. The resourceful boy returns home to find comfort from his parents and an idea for a new adventure. This stunning story even comes complete with folding instructions for children to make their own boats and a special surprise at the end.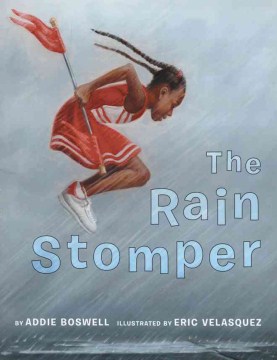 The Rain Stomper by Addie Boswell; illustrated by Eric Velasquez
(Ages 4 and up)
When an annual parade has to be cancelled due to a rainstorm, a little girl named Jazmin is furious. She expresses her irritation by angrily splashing in puddles. Her stomps soon turn to skips, however, as she discovers the joy in playing in the rain. Other neighborhood children join in on the fun and when the sun appears, they deem Jazmin to be the Rain Stomper and congratulate her on driving away the storm. The spirited illustrations are perfectly paired with the playful onomatopoeic text that makes this book an excellent read aloud choice.
(Ages 3 and up)
⠀⠀⠀⠀⠀⠀⠀⠀⠀
A little girl and her dog show readers just how fun rain can be by splashing in puddles, sailing ships down streams, observing how the natural world drinks in the water, and by playing games indoors. I especially love how present the little girl is in each moment as she notices so many extraordinary things around her.
⠀⠀⠀⠀⠀⠀⠀⠀⠀
⠀⠀⠀⠀⠀⠀⠀⠀⠀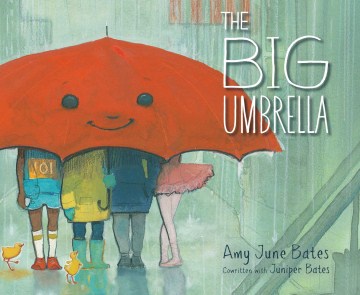 The Big Umbrella by Amy June Bates and Juniper Bates
(Ages 3 and up)
This charming story about inclusion could not be sweeter. When a small umbrella is brought outside in the rain, it opens its arms wide and welcomes anyone who needs shelter under its canopy. The story is made even more engaging by the amusing pictures that simply show the feet of the people and creatures under the umbrella until the end when a variety of diverse characters are revealed.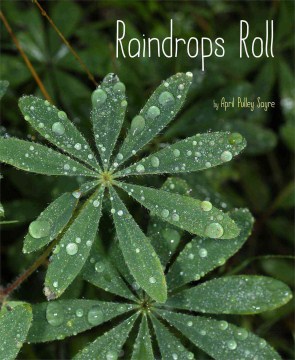 Raindrops Roll by April Pulley Sayre, 2015
(Ages 4 and up)
Stunning photographs paired with lyrical language provide incredible insight into the natural world during a rainstorm. The rhythmic text matches the pitter patter of the rain as gorgeous pictures showcase insects hiding under leaves while plants receive a refreshing shower. Once the storm is over, raindrops are seen elegantly dangling from spider webs or sliding down petals. An author's note provides more detailed information on the various forms of water and why raindrops can cling, magnify, reflect, and eventually dry. This outstanding informative book will most likely encourage young readers to slide on their galoshes and explore their own backyards with a magnifying glass.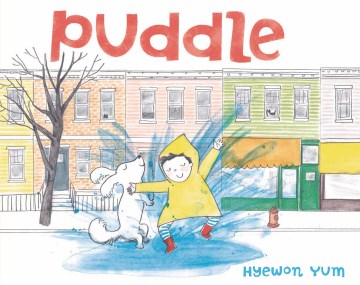 Puddle by Hyewon Yum
(Ages 4 and up)
When a little boy is stuck inside his house, he grumpily pouts over all the things he cannot do.
His creative mother invites him into her imaginative world where they draw pictures of themselves having fun outside in the rain. Inspired by their artwork, they venture outside to act out their inventive renderings.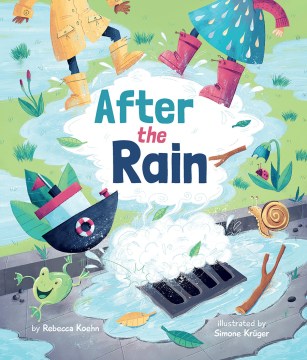 After the Rain by Rebecca Koehn and Simone Krüger
(Ages 4 and up)
Donning his rain gear, a boy excitedly races outside to play in a stream of water only to find another girl playing in the same area. A battle over the desired puddles ensues until the two children realize that their splashing is causing the water to disappear quickly. A truce is agreed upon and the children work together to create a new place to play, learning the important lesson that it is more fun to play together.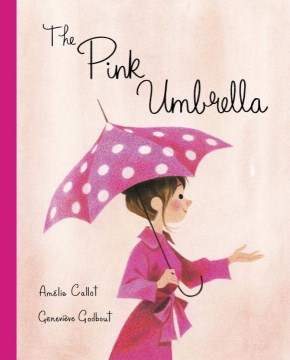 The Pink Umbrella by Amelie Callot and Genevieve Godbout
(Ages 4 and up)
There is a warm coziness to this story that makes it irresistible. Adele runs the café in a small seaside town. She is friendly and bubbly most days, but the rain makes her feel melancholy. When a secret admirer brings her pink rain gear, she ventures out into the rain and discovers the small pleasures found on a rainy day. With utterly charming illustrations and a delightful message of friendship and random acts of kindness, this is a real standout.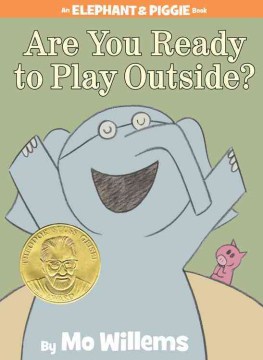 Are You Ready to Play Outside? by Mo Willems
(Ages 4 and up)
It is hard not to giggle while reading this award-winning book. The exuberant Piggie and her fretful friend, Gerald, are excited to play outside until they start to feel raindrops. In a comical reversal of roles, Piggie despairs that their day is ruined while Gerald helps her find fun on a rainy day. Perfect for newly independent readers or as a read aloud, this humorous book has tons of kid and parent appeal.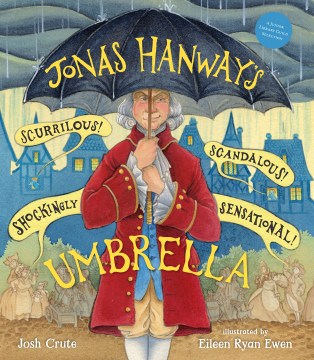 Jonas Hanway's Scurrilous, Scandalous, Shockingly Sensational Umbrella by Josh Crute; illustrated by Eillen Ryan Ewen
(Ages 4 and up)
This entertaining story describes how a London gentleman named Jonas Hanway disliked rain so much that he traveled the world searching for a dryer place to live. When he arrived in Persia, he discovered the umbrella. When Jonas brought his umbrella back to England, people were shocked and scandalized. Jonas carried his umbrella everywhere he went and eventually it caught on.
My children love venturing out in the rain with their umbrellas, so we really enjoyed reading Jonas' engaging story and learning about the history of umbrellas in the author's note. We were surprised to learn that although they have been around since ancient Egypt, it took centuries for them to become popular throughout the world.