I'm thrilled that so many people have reached out about wanting to diversify their home and classroom bookshelves. I think it is so important that children have a "windows and mirrors" experience that allows them to see themselves reflected in the characters they read about and also gain insight into experiences that are different from their own. Diversity in children's literature is crucial and allows children to feel valued while also enlarging their global perspective.
Today, I'm sharing a list of my favorite books that feature diverse protagonists. These books do not focus on race specifically, but are simply engaging, entertaining stories with people of color as the main character.
*This post contains affiliate links.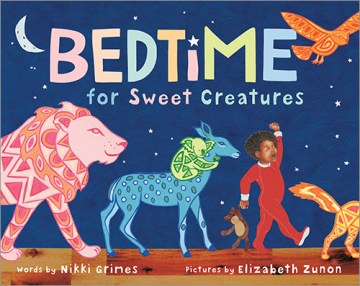 Bedtime for Sweet Creatures by Nikki Grimes; illustrated by Elizabeth Zunon, 2020
(Ages 2 and up)
This sweet bedtime story is full of whimsy and wonder. When a young child refuses to go to bed, his mother playfully compares him to wild animals. The inventive illustrations display the child and the imaginary animals in an array of lively poses while the clever text introduces a variety of descriptive vocabulary. This one is a lot of fun!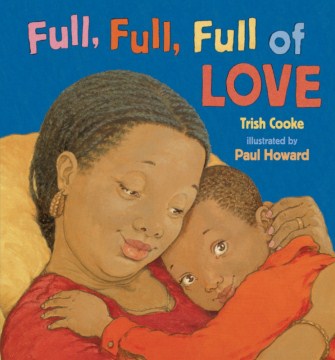 Full, Full, Full of Love by Trish Cooke; illustrated by Paul Howard, 2003
(Ages 2 and up)
Jay Jay visits his grandmother's house on Sundays where they prepare an enormous meal for their large extended family. Just as the title implies, this book is full of tenderness and love. Detailed illustrations capture the adoring expressions between the characters and the bouncy text provides an upbeat tone that makes readers want to snuggle with a loved one. This is one of my daughter's favorite books that she requests time and time again.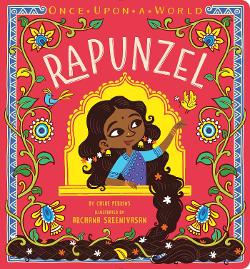 Once Upon a World series by Chloe Perkins
(Ages 3 and up)
This charming series takes classic fairy tales and breathes new life into them with multicultural characters. The stories themselves stick to the traditional telling, but the settings are changed to foreign countries including Japan, Mexico, India, Russia, and the Caribbean. While the author remains the same, each book is beautifully illustrated by a different artist who expertly captures the culture of each country. With diverse heroines, many children will love seeing themselves reflected in the famous fairy tale characters.
The books are in a board book format, but are sure to be enjoyed by children of a variety of ages.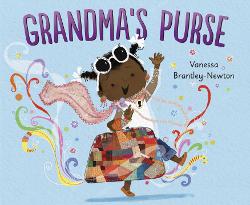 Grandma's Purse by Vanessa Brantley-Newton, 2018
(Ages 3 and up)
During a visit with her Mimi, a young girl delights in exploring the contents of her grandmother's purse. Each item she pulls out has a special story that captures the essence of Mimi. The objects range from seemingly ordinary, such as a mirror, hairpins, and jewelry, to a sentimental coin purse and photo album. The young girl loves them all because they are "all of the things that make my grandma Mimi." We just adore this intergenerational story!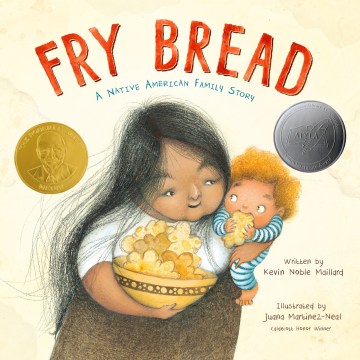 Fry Bread by Kevin Noble Maillard; illustrated by Juana Martinez-Neal, 2019
(Ages 3 and up)
This award-winning own-voices story, uses flowing rhymes and beautiful illustrations to demonstrate how a special family recipe can be so much more than just a meal. The delightful story starring a Native American family preparing the bread is enhanced further with an eye-opening author's note explaining how fry bread became an integral part of many Indigenous communities.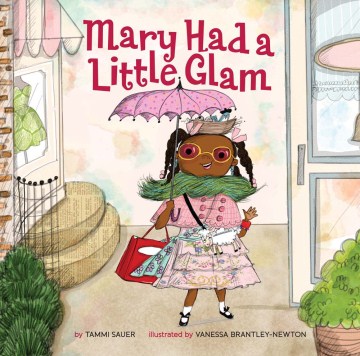 Mary Had a Little Glam by Tammi Sauer; illustrated by Vanessa Brantley-Newton, 2016
(Ages 3 and up)
This entertaining spin on the classic nursery rhyme, Mary Had a Little Lamb, stars an exuberant girl who loves to accessorize. She excitedly helps glamorize her classmates until it's time for recess and they realize that sometimes less is more. With its flowing rhymes and engaging illustrations, this is one fun read aloud! ⠀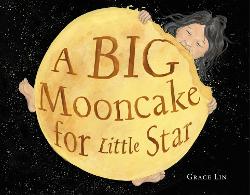 A Big Mooncake for Little Star by Grace Lin, 2018
(Ages 3 and up)
You will never look at the moon the same way after reading this enchanting story by Grace Lin. A Big Mooncake for Little Star mixes in elements of fantasy and Chinese culture to create a charming story of Little Star who wakes each night to nibble away at the giant mooncake she and her mother baked together. With each bite, children will begin to see the various phases of the moon. This whimsical story is simply delightful and makes for a wonderful book for bedtime. Just in case you need one more reason to read this outstanding book, it also won a Caldecott Honor for its unique artwork.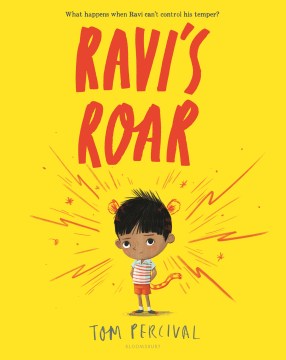 Ravi's Roar by Tom Percival, 2020
(Ages 3 and up)
Ravi is the youngest and smallest in his family. After a day of finishing last in every race, not being able to reach the monkey bars, and missing out on ice cream, he becomes furious and transforms into an angry tiger. His irate alter ego yells and stomps until Ravi flops on a bench feeling more sad than mad.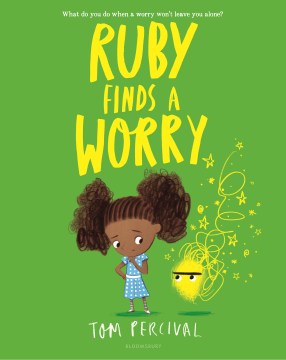 Apologies are made and Ravi feels like himself once again.
Ravi's Roar joins Perfectly Norman and Ruby Finds a Worry in Tom Percival's Big Bright Feelings series, which I highly recommend!
⠀⠀⠀⠀⠀⠀⠀⠀⠀⠀⠀⠀⠀⠀⠀⠀⠀⠀⠀⠀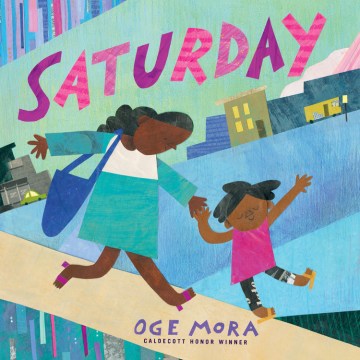 Saturday by Oge Mora, 2019
(Ages 4 and up)
Ava's mother works hard all week and Saturday is the one day they have to spend together. This Saturday, Ava and her mom are looking forward to their typical weekend routine, but are met with difficulties at every turn. With each mishap, Ava's mother reassures her that the day will still be special. When Ava's mother realizes that she has forgotten the tickets to a puppet show, however, she is the one who melts down. Ava in return gathers the strength to cheer her mom up and they return home to have one last adventure of the day.
With stunning artwork and themes of family and resilience, there is so much to love about this phenomenal story!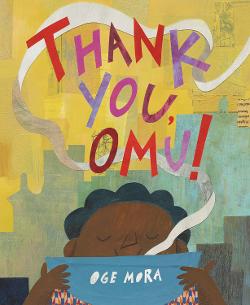 Thank You, Omu! by Oge Mora, 2018
(Ages 4 and up)
Not only is Thank You, Omu! a wonderful story about generosity, community, and kindness, the artwork is spectacular! Gorgeous collages created with acrylic paint, china markers, pastels, patterned paper, and old book clippings adorn this tender story. It was no surprise that Oge Mora earned a Caldecott Honor for this special book.
In this heartwarming tale, Omu prepares a thick red stew that she believes will be the best dinner she has ever had. The delicious aroma wafts through the city bringing people to Omu's door where she graciously shares her stew until her pot is finally empty. She doesn't have to stay hungry for long, however. The members of the community return with their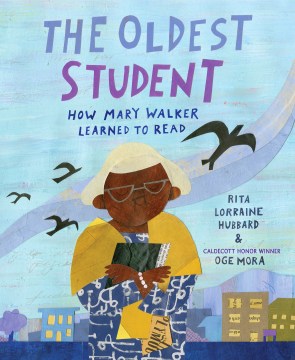 own culinary gifts to share with Omu in what turns out to be the best dinner of her life. I just love this sweet story that will touch your heart long after closing the book!
I absolutely adore Oge Mora's work and also recommend The Oldest Student: How Mary Walker Learned to Read.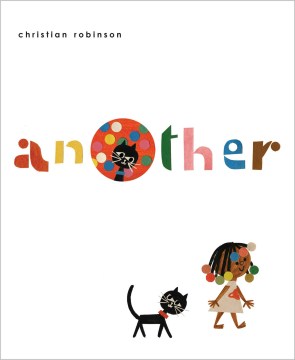 Another by Christian Robinson, 2019
(Ages 4 and up)
With his bold, playful collages, Christian Robinson is no stranger to praise. This award-winning illustrator has created an incredible wordless picture book that is simply a marvel. Another stars a young girl who journeys into a mysterious world that is similar to her own, but with slight differences. Robinson's adept placement of pops of color against white backgrounds masterfully draw the eye in to this innovative story. It is no surprise that it earned a place on the New York Times Best Illustrated Books list.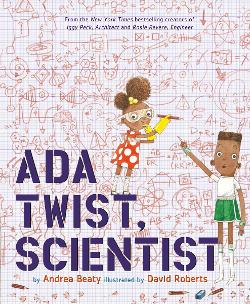 Ada Twist Scientist by Andrea Beaty; illustrated by David Roberts, 2016
(Ages 4 and up)
The rhyming text tells the story of Ada Twist, a curious little girl who asks questions and creates science experiments to better understand how the world around her works. This is a great story of perseverance and will serve as inspiration to other budding scientists.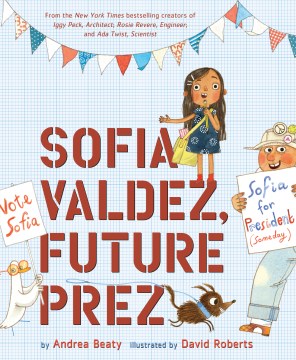 Pair this with the other great books in the series especially Sofia Valdez Future Prez if you are looking for another diverse protagonist.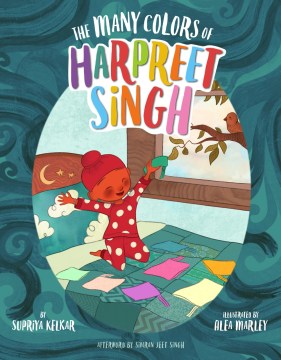 The Many Colors of Harpreet Singh by Supriya Kelkar; illustrated by Alea Marley, 2019
(Ages 4 and up)
Harpreet Singh loves expressing his emotions through his brightly colored patkas (turbans). When his family moves, however, he only wears the color white signifying his shyness. One kind act, however, turns his world around bringing the color back to his life. This charming story is not only a sweet lesson in empathy, but also a great introduction to Sikhism.
Crown: An Ode To The Fresh Cut written by Derrick Barnes and illustrated by Gordon C. James, 2017
(Ages 4 and up)
I don't know what I love more about this one, the text or the illustrations. Both perfectly capture the pride of a young African American boy as he gets his hair cut at his local barber shop. This book is not just a simple story of getting a haircut; elements of confidence, joy, and self-respect jump off the pages. The haircut changes the way the boy feels both about himself and the outside world. With his "fresh cut" he can accomplish anything. It is hard not to smile at the incredible illustrations, especially the ones displaying the look of confidence on the boy's face. Awarded a Newbery Honor, a Caldecott Honor, a Coretta Scott King Author Honor, and a Coretta Scott King Illustrator Honor, this one is not to be missed!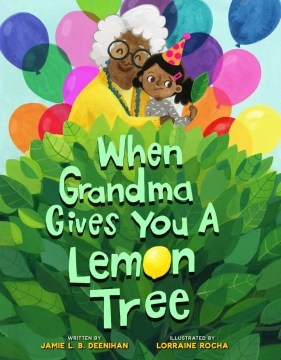 When Grandma Gives You a Lemon Tree by Jamie L. B. Deenihan; illustrated by Lorraine Rocha, 2019
(Ages 4 and up)
This clever book takes the proverbial phrase, "When life gives you lemons, make lemonade!" and incorporates it into a child-friendly story teaching resilience and self-reliance.⠀⠀⠀⠀⠀⠀⠀⠀
When a little girl receives a lemon tree for her birthday, she is initially disappointed that she didn't get the robot dog, computer, or remote-control car she was hoping for. The plucky protagonist doesn't let it get her down, however, and proceeds to tell readers how to care for the lemon tree. Once it produces lemons, she uses them to make and sell lemonade. She takes her earnings to the store to buy all of the original gifts she wanted, but when she gets there, she notices something even better that will benefit her entire neighborhood.⠀⠀⠀⠀⠀⠀⠀
This outstanding book uses humorous text and illustrations to engage children and then effortlessly weaves in themes of hard work, patience, and community without being overly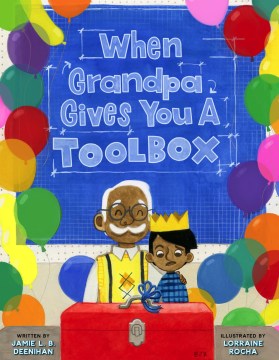 didactic. It even includes a lemonade recipe to inspire future entrepreneurs!
I currently have the companion book, When Grandpa Gives You a Toolbox on order and can't wait to read it!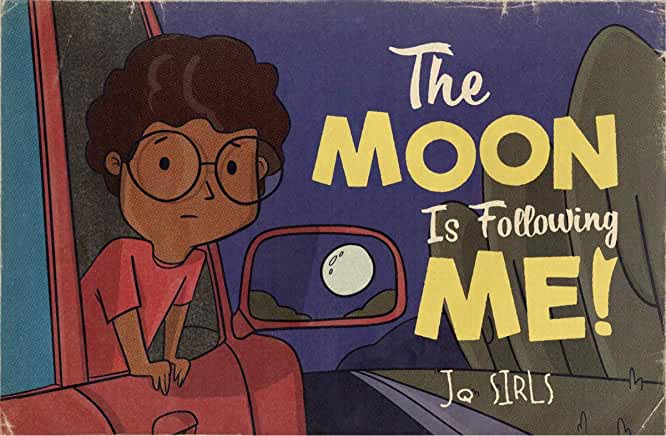 The Moon Is Following Me by Jq Sirls, 2020
(Ages 4 and up)
The few times we drove our children somewhere at night, one of them would always comment that the moon was following them, so I knew this book would be a big hit in our house.
A young boy is convinced that the moon is following him, so he imagines comical reasons why the moon would be keeping an eye on him. Each explanation is funnier than the next and his final conclusion is perfectly satisfying. With its cartoony illustrations and excellent use of humor, this is a new favorite bedtime book in our house.
⠀⠀⠀⠀⠀⠀⠀⠀⠀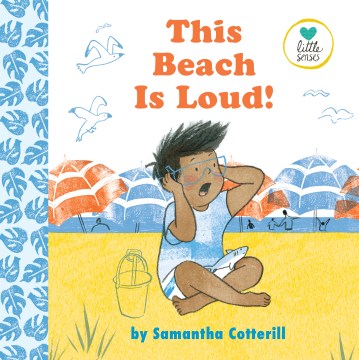 This Beach is Loud by Samantha Cotterill, 2019
(Ages 3 and up)
This Beach is Loud stars an exuberant little boy who can't wait to visit the beach for the first time. Amusing illustrations follow him as he eagerly prepares for the big day. Once he arrives, however, he finds the beach crowded, loud, and the sand uncomfortable. His dad patiently calms him down by taking deep breaths and counting. They find a quiet spot and the boy slowly finds enjoyment in his new environment.
This story is part of Samantha Cotterill's new Little Senses series featuring children with sensory sensitivities. While children with sensory processing disorders (SPD) and/ or are on the autism spectrum will most likely identify the most with the child in the story, no labels are used and this book has wide appeal. It serves as an excellent conversation starter for trying new experiences and possible actions to take when feeling overwhelmed. My own children adore it and ask for multiple readings.
⠀⠀⠀⠀⠀⠀⠀⠀⠀
The Little Red Fort by Brenda Maier ; illustrated by Sonia Sanchez, 2018
(Ages 4 and up)
Filled with a spunky protagonist, lively illustrations, and engaging text, you will not want to miss this fun take on a classic folktale. This updated version of The Little Red Hen stars a small Latina girl named Ruby who invites her brothers to help her build a fort. When they respond that they are too busy, she perseveres and creates an impressive structure. In the end, the brothers make amends by creating additions to the fort and all the siblings enjoy a feast to celebrate their hard work.
Children and adults will love Ruby's resourcefulness, determination, and self-reliance. They will also adore the last page sharing examples of easy forts to make.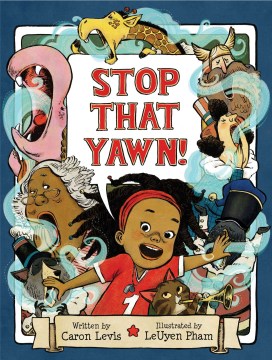 Stop That Yawn! by Caron Levis; illustrated by LeUyen Pham, 2018
(Ages 4 – 8)
"Abby Wild had had enough of bedtime." So begins the entertaining story of a girl and her grandmother who travel to a magical place where no one sleeps. When her grandmother lets out an enormous yawn, however, it causes the townspeople to collapse in slumber. Abby partakes in a whimsical adventure trying to stop the yawn before it spreads throughout the entire city.
The rhythmic text and lively, detailed illustrations make this an enchanting read aloud. Many children will relate to the exuberant Abby and her desire to avoid bedtime. The countless mentions of yawning, however, will help relax readers and help them succumb to their own sleepiness.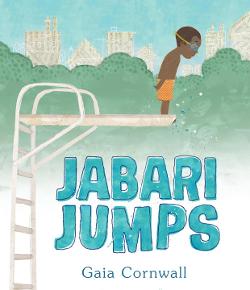 Jabari Jumps by Gaia Cornwall, 2017
(Ages 4 – 8)
Gorgeous illustrations adorn this lovely book on facing your fears. Jabari has just finished his swim lessons and is now ready to tackle the high dive at his local pool. Jabari appears self-assured, but hesitates when it is his turn to climb onto the diving board. Luckily, his wise father is there to give him some sage advice that bolsters his confidence and inspires him to take the plunge!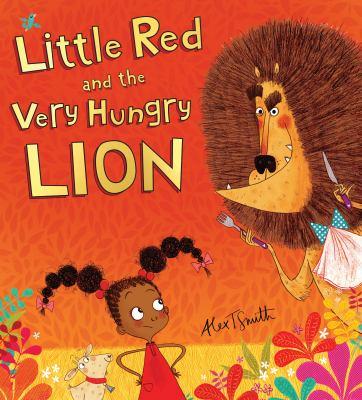 Little Red and the Very Hungry Lion by Alex T. Smith, 2016
(Ages 4 – 8)
This humorous version of Little Red Riding Hood stars an exuberant girl who travels through Africa to deliver medicine to her aunt, but is stopped by a naughty lion. This playful book includes numerous clever details that set it apart from the original and several funny scenes of the lion getting his comeuppance.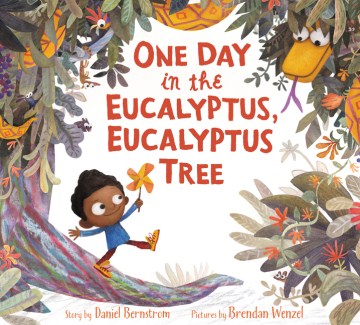 One Day in the Eucalyptus, Eucalyptus Tree by Daniel Bernstrom; illustrations by Brendan Wenzel, 2016
(Ages 4 – 8)
When a clever boy gets eaten by a snake in the jungle, he cunningly coaxes the snake to eat more and more animals until he eventually throws everyone up. Full of rhythm, onomatopoeia, and action words, this amusing tale is as fun to read aloud as it is to listen to.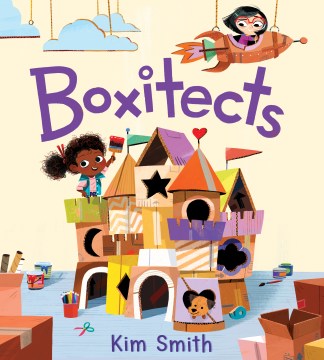 Boxitects by Kim Smith, 2020
(Ages 4 – 8)
Boxitects is an inspiring book that takes the idea of creating with boxes and wraps it into an entertaining story with bright colors, imaginative creations, and a message about teamwork!
Meg is excited to attend maker school and further develop her impressive skills of building with boxes. When she meets Simone, a fellow boxitect, however, she becomes jealous of the new student and dismayed when they are forced to work as a team. After a failed experiment, the two engineers realize they both have something valuable to offer and they can construct something even more amazing when working together.⠀⠀⠀⠀
Instructions on how to build a "Boxitect Tunnel" and "Boxitect Castle" are included in the back and inspired our own castle that my children have been playing with everyday for a week!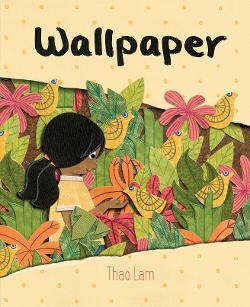 Wallpaper by Thao Lam, 2018
(Ages 5 and up)
Full with wonder and awe, this gorgeous wordless book is a visual standout. The storyline of a shy child learning to make new friends may be an old concept, but so rarely have I seen it presented in such an innovative and creative way.⠀
When an introverted girl moves to a new house, she discovers a small tear in the wallpaper. Suddenly birds emerge from the hole, revealing layers of wallpaper each part of a magical world. During her mesmerizing journey, the girl discovers the courage to make new friends.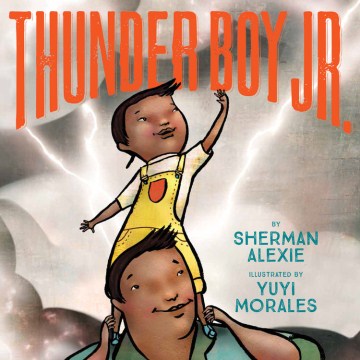 Thunder Boy Jr. by Sherman Alexie and Yuyi Morales, 2016
(Ages 5 and up)
This comical story stars a young Native American boy who dislikes his name. Striking illustrations and humorous text reveal all the possibilities he dreams up for a new name. In the end, his father helps him pick the perfect name. With themes of identity and culture presented in such an engaging way, this story is a standout!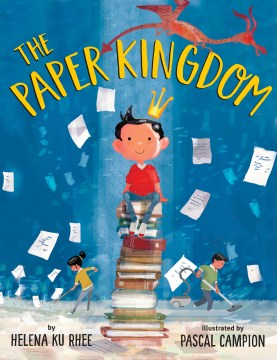 The Paper Kingdom by Helena Ku Rhee; illustrated by Pascal Campion, 2020
(Ages 5 and up)
With its beautiful illustrations, captivating story that is full of imagination, and memorable characters who demonstrate how to make the best of a difficult situation, there is a lot to love about The Paper Kingdom.
When their babysitter cancels, two night-janitors bring their son to the office they clean and regale him with creative tales of the people who work there. This magical book takes what could be a dull event and transforms it into an enchanting evening with an uplifting ending.Our entire family loves this exceptional book and it sparked a meaningful conversation about different types of jobs.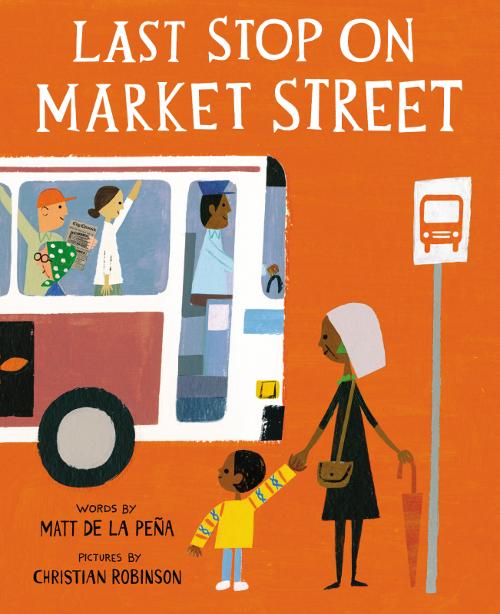 Last Stop on Market Street by Matt de la Peña; illustrated by Christian Robinson, 2015
(Ages 5 and up)
This award winner is the exceptional story of a boy named C.J. and his grandmother traveling through the city on a bus. On their journey, they meet a group of diverse people and the grandmother teaches C.J. what it means to be part of a community, be grateful, and to find beauty in his surroundings.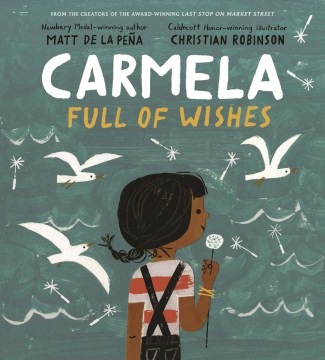 Carmela Full of Wishes Matt de la Peña; illustrated by Christian Robinson, 2018
⠀⠀(Ages 6 and up)⠀⠀⠀⠀⠀⠀⠀⠀⠀⠀⠀⠀⠀⠀⠀
In their second collaboration, Carmela Full of Wishes, carries the same beautiful combination of storytelling and illustrations as Last Stop on Market Street. When Carmela tags along with her older brother as he runs errands, she finds a dandelion and daydreams on the possible things she should wish for.
On its surface, Carmela Full of Wishes is a story about sibling rivalry, but it also gently touches upon more complex issues including immigration and socioeconomic class, making it an engaging book for a variety of ages.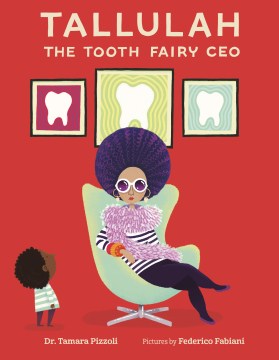 Tallulah the Tooth Fairy CEO by Dr. Tamara Pizzoli; illustrated by Federico Fabiani, 2019. (Ages 6 and up)
This witty tale about a tooth fairy mogul is entertaining and inspirational for future business leaders! Tallulah is no ordinary tooth fairy; she has made collecting teeth her career and built an empire of tooth fairies. While Tallulah fills her days with yoga, museums, and jet setting, she still plays an integral hands-on role in her company.
The modern illustrations are bright and engaging and there is plenty of humor and amusing details that are sure to be enjoyed by both adults and children.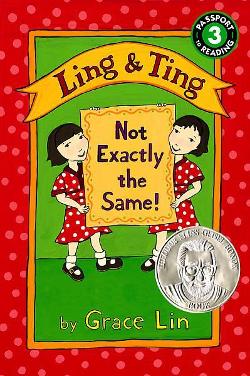 Ling and Ting Not Exactly the Same (series) by Grace Lin, 2011
(Ages 6 and up)
This Theodore Seuss Geisel Honor book stars two amiable twin sisters who partake in a variety of adventures in six short chapters. There is an old-fashion charm to these books that is both playful and whimsical. Elements of Chinese culture such as making dumplings and learning to use chopsticks are effortlessly woven in adding to the allure of the stories. Each chapter is only a few pages long, leaving children eager to read Ling and Ting's next escapade. Perfect for newly independent readers or for a parent to read aloud to a child.
You may also like…