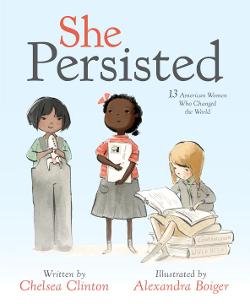 She Persisted: 13 American Women Who Changed the World by Chelsea Clinton; illustrated by Alexandra Boiger, 2017
(Ages 6 and up)
In this beautiful book, Chelsea Clinton introduces children to thirteen amazing women who overcame obstacles to make a difference in the world. Readers may recognize some of the women such as Harriet Tubman and Helen Keller, but others may be new to children such as union activist Clara Lemlich, physician Virginia Apgar, and Nellie Bly, a female reporter who exposed several injustices. Each trailblazer is presented in a two-page spread with a short paragraph describing how they persisted through a difficulty in their life and went on to accomplish something remarkable. Gorgeous watercolors capture the strength of the women and are enhanced by an inspiring quote.
This book is a perfect introduction to these important historical figures, but due its brevity, lack of dates and additional sources for further reading, it should not be used for a research assignment. Despite these few shortcomings, the book is beautiful and will certainly be inspirational to all those who read it. Hopefully the brief blurbs will peak children's interest to learn more about these important people from history as well as other groundbreakers.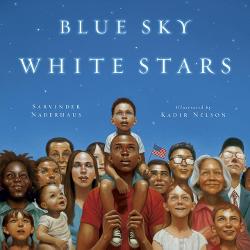 Blue Sky White Stars by Sarvinder Naberhaus; illustrated by Kadir Nelson, 2017.
(Ages 4 – 8)
The sparse text and incredible illustrations beautifully capture the essence of America through the introduction of its iconic symbols. I am a huge fan of Kadir Nelson and find his artwork absolutely breathtaking. In this case, his pictures are brilliantly paired with poetic text to help celebrate our great country. This book is perfect for reading on the 4th of July or any time throughout the year.