Dragons Love Tacos (2012) and Dragons Love Tacos 2: the sequel (2017) by Adam Rubin; illustrated by Daniel Salmieri
(Ages 4 – 8)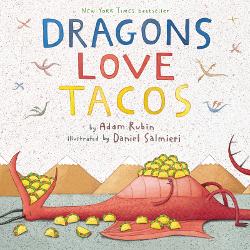 We all know that most kids love tacos, but who knew that dragons loved them even more? In 2012, Adam Rubin and Daniel Salmieri took the world by storm with their New York Times Best Selling book, Dragons Love Tacos. In this silly rendition, an omniscient narrator informs a boy and his dog of  taco-loving dragons, but warns them against serving any spicy salsa in fear that it will cause the dragons to breathe fire. Good thing the boy only serves mild salsa at his taco party. Wait a second, what is that fine print on the salsa label? "Now with spicy Jalapeno peppers?" Oh boy.
The story is completely ridiculous, which is probably why children love it so much. This is a book that is enjoyed by almost every age child at my elementary school. It is often checked out by Pre-Kindergarten through third grade students. The third graders at my school love it so much that they even incorporated it into their class play.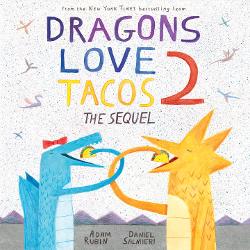 Children everywhere will rejoice to discover that a second book featuring the hilarious dragons has now been published. Dragons Love Tacos 2: the sequel (2017) features the same goofy narration and comical illustrations.  Sadly, in this story, the world's taco supply has been completely depleted and the dragons are devastated. Luckily the boy in the first story happens to have a time machine in his garage and travels back to the taco party in the first book to collect more tacos. Unfortunately, they arrive just as the dragons are eating spicy salsa causing a blazing inferno. With the time machine singed, hilarious hijinks ensue. After a few misadventures, they return to their own time where they plant a taco tree that replenishes the world's supply of tacos. Again, completely ridiculous, but children seem to love nonsensical books, so who are we to judge? As the last page of the story reads, "Everyone loves tacos" and I believe most children will love this book as much as the first. My son certainly did. We read it seven times the first week we checked it out from the library.
Quick LibraryMom Note:
The word "hate" is used frequently in the first book when trying to express how much dragons dislike spicy salsa. I personally always cringe a little when authors use the word "hate" in their stories since I try not to use that word in our house, but regardless of the excessive use of the word "hate", this is a comical story that most children cannot get enough of. On a positive note, I did not notice the word "hate" used in the second book.
I also wanted to point out that the second book can stand alone, but it will probably be enjoyed more if children have read the first book.