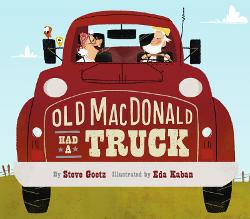 Old MacDonald Had a Truck by Steve Goetz; illustrated by Eda Kaban
Ages 3-6
Trucks, construction vehicles, girl power and a catchy tune… these are just a few of the things that make this children's book a stand out. This clever adaptation of the old folk song starts out with Old MacDonald and his wife driving onto the farm. The reader quickly discovers that in addition to farmyard animals, Old MacDonald also has a myriad of construction vehicles including excavators, cement mixers and bulldozers.
My almost four year old does not enjoy singing Old MacDonald Had a Farm that much anymore, but he can't get enough of this story. He makes me stop on almost every page to investigate the various construction vehicles and the farmyard antics. As a parent, I loved pointing out the E-I-E-I-O to reinforce letter recognition. Goetz also puts a fun spin on the original song by switching up that last "O" in the refrain with words that relate to the vehicles such as "slow". Also worth mentioning is that Old MacDonald has a wife who is not only a talented mechanic, but also a monster truck driver! It's impossible not to enjoy this gem of a story.
This is a great book to be used in a farmyard or construction themed storytime, teaching onomatopoeia in the classroom or one on one with a child at home.
Related Reads: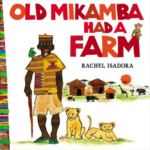 Old Mikamba Had a Farm by Rachel Isadora. Another fun update on an old classic. This is a great way to introduce African animals such as baboons, cheetahs, elephants and lesser known animals such as dassies and springboks to young children. I was trying to introduce as many words as possible with my children and this book was perfect for introducing new vocabulary.