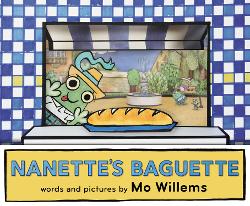 Nanette's Baguette by Mo Willems, 2016
(Ages 4-8)
The creator of the Pigeon, Knufflebunny and Elephant and Piggie series is back with another smash hit. I wasn't really sure what to make of Mo Willems' newest book, Nanette's Baguette at first. I mean a rhyming picture book featuring frog like creatures eating baguettes? I was definitely a bit skeptical, but after reading it to a room full of Pre-K students and then one-on-one with my own four-year-old son, I am convinced that Mo Willems has created another winner.
Mo has recently spent a lot of time in France and the French influence is clear as the story opens in a small town in the French countryside. Little Nanette has been given the big responsibility of walking to the store to buy a baguette by herself. Once she purchases the baguette, Nanette cannot resist the delicious warm and fragrant baked good and devours the entire thing. She must return home and confess to her mother what she has done. Of course she is forgiven with a loving hug from her mom, which is warm and wonderful and "like a million baguettes". They set off to buy another baguette and Nanette learns that even adults can have trouble with self-control.
With the wonderfully expressive characters and flowing rhymes (who knew so many words rhymed with baguette!) this makes for a wonderful read aloud. The best part about this book though, is the many layers it has. It can be used as a great conversation starter to important character standards such as responsibility, self-control, honestly and forgiveness. It also has some great new vocabulary to introduce to children like "quartet, "Tibet" and "reset".
I hope you enjoy the silliness of the story as well as the important lessons each teaches with your class or child. Don't forget to look for Mo Willems first character, the Pigeon, hidden in the illustrations.