My children spent October pouring through a myriad of Halloween stories, but we also mixed in some non-creepy books that they couldn't get enough of. Naturally, my children gravitated to the most absurd and silly stories as well as a fascinating, imaginative legend about a fictional civilization, and a story starring a grumpy bear who secretly has a big heart.
*This post contains affiliate links. To read my full disclosure CLICK HERE.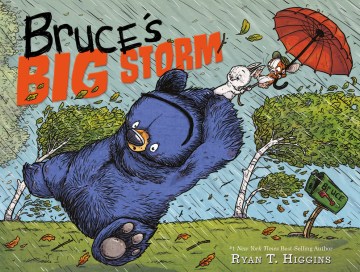 Bruce's Big Storm by Ryan T. Higgins, 2019
(Ages 4 – 8)
Bruce is a grumpy bear who does not like neighbors. When a storm causes a branch to crash into Bruce's roof, however, the neighborhood bands together to help repair it. Engaging illustrations with comedic characters create a heartfelt storyline about community.
This is the latest in a popular series that my seven-year-old just adores.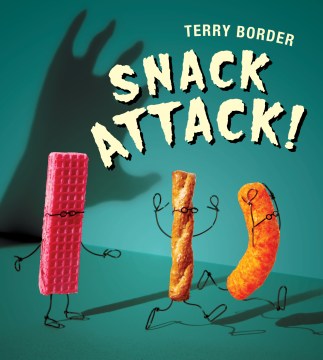 Snack Attack! by Terry Border, 2019
(Ages 4 – 8)
This hilarious book had our entire family laughing out loud. When a cheese doodle, pretzel stick, and a cookie escape from their packages, they fear the monsters known as kids will gobble them up. At first, they enjoy their freedom, but after finding a note from "Mom" instructing a child to enjoy the snacks she left out, they hatch a plan to escape.
Terry Border's illustrations featuring photographs of real food brought to life with bent wire resembling glasses and limbs could not be more humorous and engaging. From cover to cover, we love everything about this amusing book!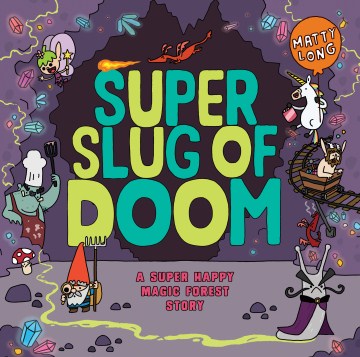 Super Slug of Doom by Matty Long, 2017
(Ages 5 and up)
This book is complete silliness, so of course my kids absolutely loved it. Filled with over the top narration and bright, detailed illustrations, this comical story stars five mythical creatures who must track down and stop an evil slug from drinking the Potion of Power.
Both of my children absolutely loved pouring through each spread featuring a different kingdom in this imaginative world. There are tons of speech bubbles, so it is a book that is probably best shared one-on-one.
Complete with a storyline full of adventure, humor, and creative creatures, plus funny one-liners my children loved to quote throughout the day, I have no doubt this will be a book we will be checking out again.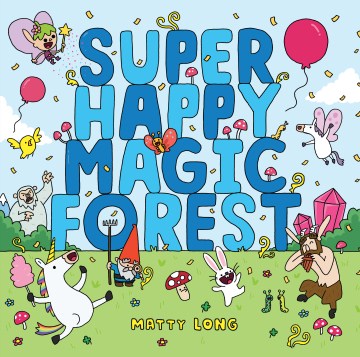 Super Happy Magic Forest by Matty Long, 2016
(Ages 5 and up)
Even though this is the first book in the series, we happened to read Super Slug of Doom first. Since the sequel was such a big hit with my kids, we checked out Super Happy Magic Forest and they loved it just as much.
Readers are introduced to the Super Happy Magic Forest where unicorns, fairies, gnomes, centaurs, talking toadstools, and a variety of other adorable animals reside. When the source of their happiness, the Mystical Creatures of Life, are stolen, five heroes are chosen to retrieve them from goblins.
Cheerful colors fill the pages and silly text draws the reader into this entertaining quest that made it enjoyable to read multiple times.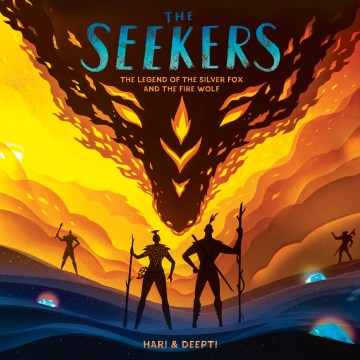 The Seekers: The Legend of the Silver Fox and The Fire Wolf by Hari and Deepti, 2019
(Ages 5 and up)
My seven-year-old was absolutely captivated by this imaginative tale of two siblings who go on a quest to save their village. In the valley of Krum, stories of the Silver Fox and Fire Wolf, who represent Ice and Fire, become legend. When a girl named Nao finds a beautiful blue crystal, misfortune comes to her village. She and her brother, Mio, travel in search of the source of their new hardship and come face to face with the fabled spirits.
This is such an interesting and unique story adorned with phenomenal illustrations showcasing silhouettes set against bright, bold colors. I was happy to reread this one repeatedly during bedtime with my son.