The democratic process in the United States is complex, but made much clearer for children through picture books. I've put together a list of brand-new stories that are perfect for helping children navigate the 2020 election. Happy reading and don't forget to get out there and vote!
*This post contains affiliate links. To read my full disclosure CLICK HERE.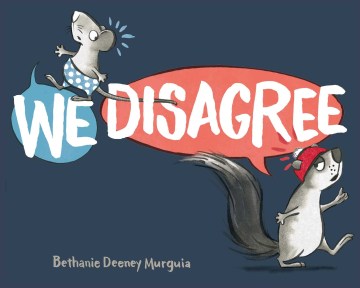 We Disagree by Bethanie Deeney Murguia, 2020
(Ages 4 and up)
From food to music to hobbies, a mouse and squirrel seem to disagree on everything. They don't see how they can possibly be friends with nothing in common until they start a conversation explaining why each prefers something else. They realize that disagreeing isn't such a bad thing and there is a lot we can learn from each other.
The rhyming text and spare artwork make this a good choice for a read aloud and an important discussion starter on friendships and respecting opinions especially when they differ from your own.
This is a story that can be used with the youngest of learners all the way through adults!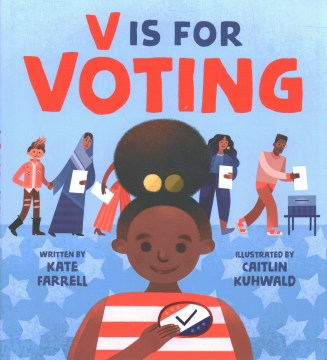 V is For Voting by Kate Farrell; illustrated by Caitlin Kuhwald, 2020
(Ages 4 and up)
In a clever ABC format, aspects of democracy are shared through powerful language. Complete with a voting-rights time line and an informational author's note, this book gives readers a lot to think about. The bright, bold illustrations draw the eye in while the rhyming text makes this a good read aloud choice for peaking children's interest about elections and inspiring them to learn more.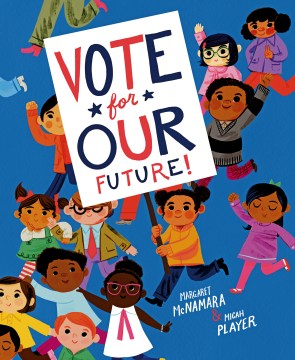 Vote for Our Future by Margaret McNamara and Micah Player, 2020
(Ages 5 and up)
This impactful story teaches children that even though they may not have the ability to vote until they are eighteen, they can still have a role in elections. When a school prepares to use the gym as a polling station for an election, students learn about voting and how the outcome of an election affects everyone's future, even their own.
The students create a plan to encourage their friends, family, and even strangers to vote. When teenagers and adults give excuses for why they don't want to vote, the children counter them with compelling points.
The brilliance of this book is the way it uses simple, child-friendly language and colorful illustrations to create an engaging read aloud that not only teaches readers about the importance of voting, but empowers children to help make a change.
The backmatter includes several important Acts of Congress further emphasizing the change voting can make.
This timely and effective book is a must-read!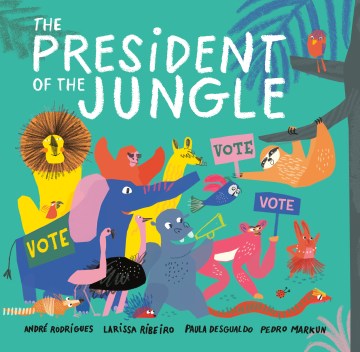 The President of the Jungle by Andre Rodrigues, Larissa Ribeiro, Paula Desgualdo, Pedro Markun, 2020
(Ages 5 and up)
Lion is the king of the jungle and therefore does whatever he pleases, even if that means rerouting the river to make a swimming pool. The animals of the jungle have had enough and hold an election to choose a new leader. Several animals present their case and a winner is selected whose first order of business is to put together a team to help him make the jungle a better place.
This vibrant story presents the democratic process in an accessible way and even include a glossary of election terms to educate future voters.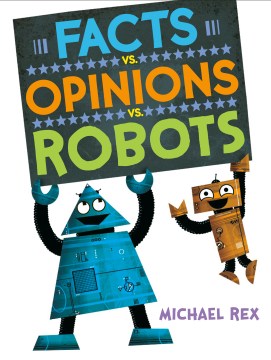 Facts Vs. Opinions Vs. Robots by Michael Rex, 2020
(Ages 5 and up)
This brilliant book teaches children the difference between facts and opinions in a playful, entertaining and, best of all, effective way. Having a better understanding of facts and opinions is an essential skill and the sooner children learn it the better. The comical robots make this lesson entertaining and successfully demonstrate the value in listening to and respecting someone else's opinion.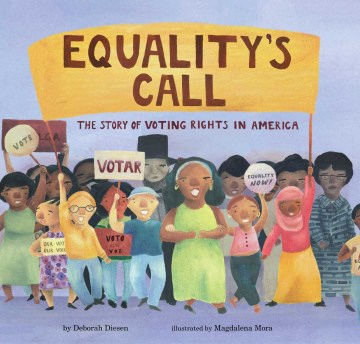 Equality's Call: The Story of Voting Rights in America by Deborah Diesen; illustrated by Magdalena Mora, 2020
(Ages 6 and up)
"A right isn't right till it's granted to all." This exceptional book takes readers through a historical journey describing voting rights in the United States. The rhyming text explains how the ability to vote was initially based on gender, race, and wealth, but people fought to overturn those laws and become a true democracy where everyone's voice is heard.
The concise, but powerful words are beautifully combined with captivating artwork making this a good choice for a read aloud. Back matter includes voting related amendments and legislation as well as several important activists.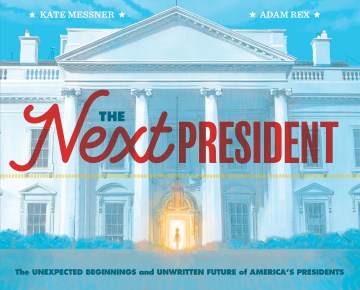 The Next President: The Unexpected Beginnings and Unwritten Future of America's Presidents by Kate Messner; illustrated by Adam Rex, 2020
(Ages 7 and up)
Powerhouses Kate Messner and Adam Rex have teamed up to create a book that not only provides tons of information on past presidents, but also offers the awe-inspiring idea that there are most likely at least 10 future American presidents alive today!
With eye-catching illustrations and fascinating snapshots on these important historical figures, this a book that many children are going to enjoy pouring through. Whether explored one-on-one at home or browsed through in a classroom, children will love learning more about the United States government and even wonder if they could be one of the next presidents!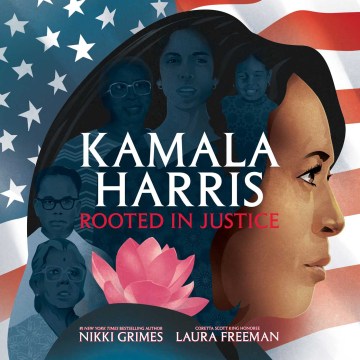 Kamala Harris: Rooted in Justice by Nikki Grimes; illustrated by Laura Freeman, 2020
(Ages 7 and up)
This beautifully illustrated picture book biography introduces children to Kamala Harris, who has devoted her life to public service and is now in the running for Vice President of the United States. Inspired by a long line of activists, Kamala Harris worked hard to fight for the rights of others becoming the first female District Attorney of San Francisco, the first black woman Attorney General of California, and the second black female Senator. Due to the length of the text, this inspirational story is best suited for one-on-one sharing.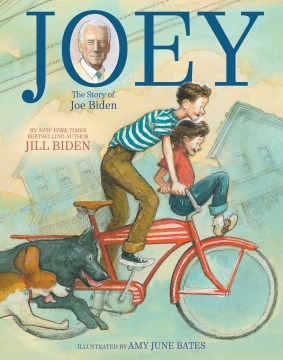 Joey: The Story of Joe Biden by Jill Biden; illustrated by Amy June Bates, 2020
(Ages 7 and up)
Focusing mostly on his youth, this picture book biography describes how Joe Biden's intrepid character was formed. As the oldest of four kids, he felt a responsibility for others at a young age. He spent his youth playing sports and combatting bullies who made fun of his stutter. He learned the value of hard work, overcoming his speech impediment and pursuing public speaking. When he couldn't afford to attend the private high school he wanted, he worked there to pay his tuition. He became the first one in his family to go to college and entered a long and successful career in politics. He spent eight years as the Vice President of the United States and is now in the running for President.
Filled with interesting anecdotes, this book is a good introduction to Joe Biden. Due to the longer text, I also recommend sharing this story one-on-one.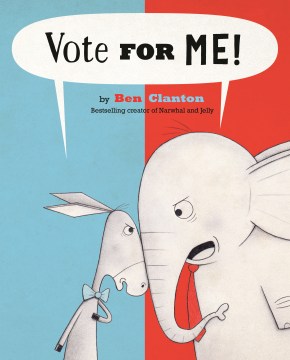 Vote for Me! by Ben Clanton, 2020
(Ages 8 and up)
This satirical picture book follows a donkey and an elephant who try to coax the reader into voting for them. They start out flattering the reader and boasting about themselves, but are ultimately reduced to throwing insults at one another. They eventually make up until a surprise winner steals the election.
This story could prompt an interesting conversation on debates and a more positive approach to winning arguments.