*This post contains affiliate links. To read my full disclosure CLICK HERE.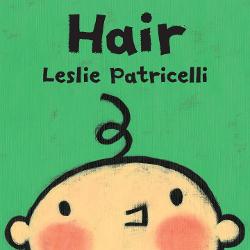 Hair by Leslie Patricelli, 2017
This is another great installment in this well-established board book series. With simple text and bright backgrounds, readers follow a baby as he reviews how to take care of his hair. He washes it when it is dirty, brushes it when it is tangled, and sometimes decorates it with fun accessories. In a comical illustration, we see that his hair has grown too long and now he needs his first haircut. As the baby enters the child-friendly salon complete with airplane chair, toddlers will learn what to expect during their first haircut. They may put on a funny cape and get their hair squirted with water. While they may fear the worst, they will see that getting your hair cut doesn't hurt one bit. The baby finishes his haircut with a smile stating, "Now my hair is just right." The last two-page spread features all kinds of different hair. My daughter loved looking at the different styles and announcing who in our family had "curly" or "straight" hair and how her grandfather looked like the bald man featured.
The baby's apprehension during his first haircut is captured perfectly and this book can be used to reassure babies and toddlers what to expect upon their first trip to the hair salon. This is also simply a great story that every toddler will be able to relate to since they will all experience a haircut at some point in their childhood.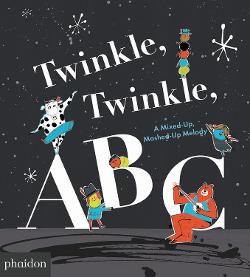 Twinkle, Twinkle, ABC by Barney Saltzberg; illustrated by Fred Benaglia; published by Phaidon Press, 2017
Did you know that Twinke Twinkle Little Star and the Alphabet Song are sung to the same tune? Author Barney Saltzberg brilliantly intertwines these two timeless classics and adds in his own quirky mix to make an engaging board book that babies and toddlers are going to love. I have a terrible voice, but my two-year-old daughter doesn't seem to mind. She asked me to sing this book night after night at bedtime. It is simply a silly compilation of the two songs featuring a trio of children frolicking through silly retro-style illustrations. This book is catchy and fun!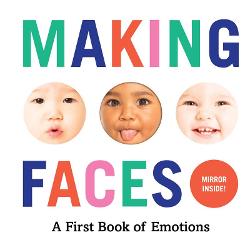 Making Faces: A First Book of Emotions by Abrams Appleseed, 2017
This is a wonderful interactive book that engages children and teaches them different emotions. On one page, readers are shown an example of a baby smiling with the text, "Look at the HAPPY baby. Can you make a HAPPY face?" Children are then challenged to find the "happy" baby on the opposite page featuring a group of diverse babies showing a range of emotions. The last page includes a mirror where babies can practice making their own faces. The only thing babies love seeing more than pictures of other babies is themselves! This book is sure to be a winner.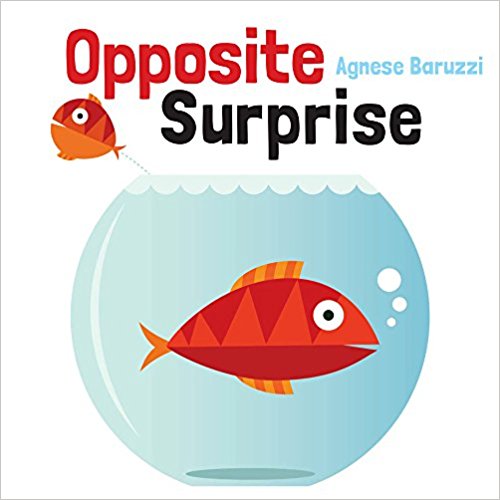 Opposite Surprise by Agnese Baruzzi, 2017
This is a great engaging board book that creatively incorporates opposites, points of view, and fold outs. In each two-page spread, a picture is presented and a simple question asked. The answer changes once the reader opens the fold. For example, one spread shows a picture of a single sheep and poses the question, "One or many?" When the reader opens the fold, more sheep appear. My daughter loved opening the flaps and exploring. She enjoyed asking questions and going back and forth between the fold outs. This is a new, unique take on opposites that is sure to delight young children.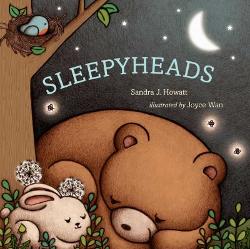 Sleepyheads by Sandra J. Howatt; illustrated by Joyce Wan, 2016
Under a moonlit sky, the reader follows a group of woodland creatures nestling down for the night. The muted colors and softly rhyming text creates a calming tone ideal for bedtime. The animals are only referred to as sleepyheads, so it is a good opportunity to introduce the animals to babies or let toddlers share the animals they know. The owl is the only one awake allowing for a conversation on nocturnal animals. The last sleepyhead is a baby resting in the mother's arms providing the perfect prompt for one last snuggle from your own sleepyhead before you lay them down to sleep. This book is cute, cozy, and will leave you feeling nice and warm inside.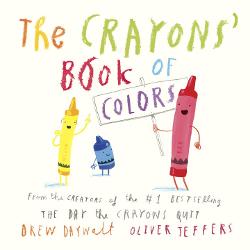 The Crayons' Book of Colors by Drew Daywalt; illustrated by Oliver Jeffers, 2016
This is a great board book that teaches children colors while also amusing parents. A group of anthropomorphic crayons introduce themselves and then describe things that they draw with humor thrown in. For example, the green crayon has sketched trees, a bug, and two alligators recycling, playing on the term "green" also meaning friendly to the Earth. The blue crayon is pictured very small since he colors so many different things and has been worn down. The last page is filled with a colorful drawing and challenges children to identify as many different colors as they can. The combination of Drew Daywalt's clever humor and Oliver Jeffers' adorable and engaging illustrations makes this board book a standout.

This is the perfect baby version of popular picture book, The Day the Crayons Quit (2013). If you have read the picture book, you will pick up on many humorous jokes depicted in the original. Even if you have not read the picture book, however, you and your child will still love this creative board book that brings colors alive to children.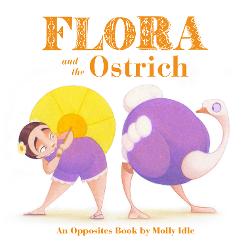 Flora and the Ostrich: an opposites book by Molly Idle, 2017
I just love Molly Idle's illustrations and how they so perfectly and effortlessly show movement. Flora has appeared in several beautiful picture books and is now featured in board book format. In this installment, Flora is paired with an on ostrich who eloquently dances with Flora to demonstrate opposites. The book contains several foldouts that little readers will love opening and closing. My two-year-old loved this book and had so much fun saying the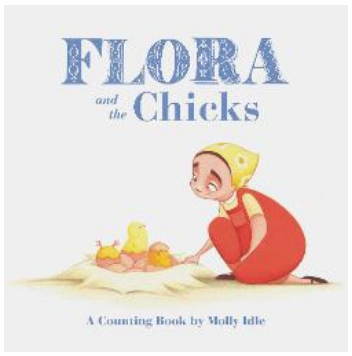 opposites as we read together. My daughter particularly loved the two-page spread featuring Flora waving hello to the ostrich, then lifting the flap to reveal the ostrich with her head in the ground and the words "good-bye". I can't wait to see what Flora is up to next!
Be sure to also check out Flora's other board book, Flora and the Chicks, that focuses on counting.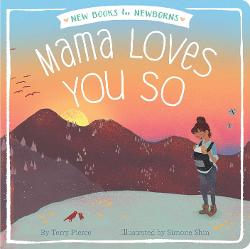 Mama Loves You So by Terry Pierce; illustrated by Simone Shin, 2017
This is one of those board books that will pull on your heart strings as you read it. Using rhyming, lyrical language, the book describes a mother's love for their child. "Endless as the stars ablaze, deep as morning's glow, wider than a cloudless sky, Mama loves you so." The text is perfectly coupled with the soft color pallet of the illustrations highlighting mother and child animal pairings. This will most likely become one of my new go-to books to give as a gift for a baby shower. Sweet, soothing, and just lovely.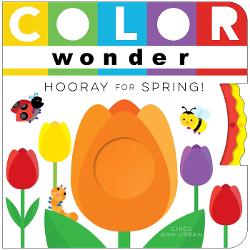 Hooray for Spring by Chieu Anh Urban, 2016
In this clever board book, children can turn a spinner to create colors! Using simple rhymes, each two-page-spread greets an insect hovering around a different color flower. The middle of the flower is an open circle. When children turn the spinners on the side, the opening fills with a color. There are two spinners to teach children that when two colors come together they can create a new color. For example, when the yellow spinner is aligned with the blue spinner, the color green appears in the flower. It is the child's job to match the color with the flower. My two-year-old daughter loved moving the spinners and figuring out how to make the correct color. This is such a fun and engaging way to teach colors and color mixing!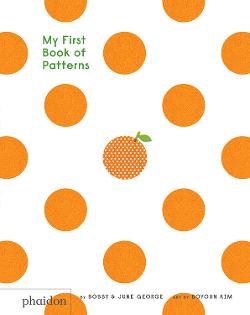 My First Book of Patterns by Bobby & June George; illustrated by Boyoun Kim, 2018
Once toddlers conquer shapes, their next important math skill to learn is patterns. My First Book of Patterns by Bobby & June George is an amazing board book that shows children how shapes can be combined to create popular patterns. Ten patterns are featured in all including polka dots, plaid, chevron, and paisley. The last page shows the basic shapes once more and then folds out into a line of ice cream cones each with its own pattern. My two-year-old daughter loved pouring through the colorful illustrations of this gorgeous board book. It is longer than most board books, so it always prolonged our bedtime, but it was definitely worth it.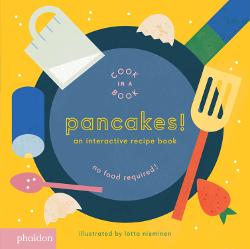 Pancakes! (Cook in a Book series) by Lotta Nieminen, 2016
This brilliant board book will capture any child's love of cooking and playing. There is no story here per se, but instead the book lays out the necessary steps to prepare pancakes. Using clever sliders and spinners children can participate in each step. For example, they can pull a tab to watch flour fill a bowl and turn a spinner to mix the batter. My two-year-old daughter's favorite part of this book was the cutout circle in the shape of a pancake that pops out, so that you can flip it and then put it on a plate in the book. Even my five-year-old wanted in on the action and took a turn flipping the pancake. This book is fun, engaging, and a must-have for any little chefs in training. The other books in the series include Pizza and Tacos and are just as much fun!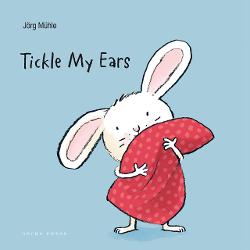 Tickle My Ears by Jorg Muhle, 2016
Little Rabbit is going to bed, but he needs your help. Children are invited to encourage Rabbit to put on his pajamas by clapping their hands, fluffing his pillow, and tucking him in. I had so much fun reading this book with my two-year-old daughter. I just loved watching her gently stroke Rabbit's back and whisper, "Good Night, Bunny", in her little voice. It set the perfect mood for her own bedtime and became one of her favorite books to read for weeks. We also loved the sequel, Bathtime for Little Rabbit, 2017.