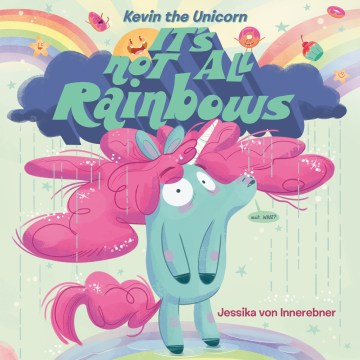 I am always looking for books that help children build social emotional skills, so I was ecstatic when Penguin Random House asked me to be part of the blog tour for Kevin the Unicorn: It's Not All Rainbows.
While unicorns have the reputation of being exuberant magical creatures that spread joy to all around them, Kevin wakes up one morning feeling not quite his happy self. He encounters several misfortunes as his day progresses, but tries to plaster a smile on his face through each tribulation. When he can't take any more, he melts down in a pile of despair until he meets other unicorns who are having a bad day too.
Bright, colorful illustrations and comical details draw the reader in to this seemingly lighthearted story that has an important message of recognizing one's own feelings and having the courage to express them.
After working with children for several years and observing the amount of anxiety and pressure many of them feel at such a young age, I think books like this are really important to help build upon their emotional intelligence.
When children are self-aware of their feelings, it is easier for them to learn how to manage their emotions, communicate more effectively, and become more empathetic to others.
Giving children the ability to recognize their feelings and expectations is such a gift. When I was a child, I felt a lot of pressure to succeed in everything I did and when something didn't come easily I got really down on myself. I don't want my children to ever feel inadequate, so we have a lot of conversations about our emotions and working through our various moods.
I'm so glad that there are entertaining and powerful stories like Kevin the Unicorn that remind readers that no one is perfect and they shouldn't have to be!
Starting on OCTOBER 22nd, be on the lookout for Kevin the Unicorn: It's Not All Rainbows by Jessika von Innerebner; published by Penguin Random House, 2019.
You can preorder this fabulous book HERE and also check out the book trailer.
Thank you to the publisher for sharing this story with me in exchange for an honest review. All opinions of the book are my own.