If your 2023 goal is to read more adult books, I have ten books that you have to check out!
I love a variety of genres and my favorites this year range from suspenseful thrillers to impactful historical fictions to witty romantic comedies and a raw and shockingly funny memoir.
What was your favorite book you read in 2022? See any that you love here? What books did I miss that I need to read?
*This post contains affiliate links.
Book Lovers by Emily Henry, 2022
This book is perfection! You can't beat Emily Henry's witty dialogue and I adore how she turned a typical romantic comedy on its head by giving the stereotypical rom com villain the starring role in her latest masterpiece.
Cutthroat literary agent Nora Stephens agrees to leave her beloved New York City to spend the summer in Sunshine Falls, NC with her little sister for a girl's trip. While her sister creates a bucket list of adventures to experience while they are there, it is Norah's continual run in with a brooding, and very sexy, book editor from New York that turns her world upside down.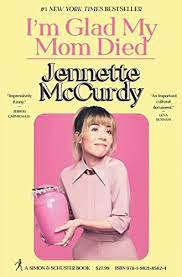 I'm Glad My Mom Died by Jennette McCurdy, 2022
I have to confess this book is not normally something I would ever gravitate toward. After seeing it on so many best book lists, however, I gave it a try and was completely blown away. While actress Jennette McCurdy appeared to have it all as a child star on Nickelodeon, behind the scenes she grappled with a very toxic relationship with her mother, an eating disorder, and mental health in general. Jennette skillfully uses humor combined with achingly raw emotion to share her heartbreaking story and current struggle to take back her life. This is not your typical memoir. Jennette's authenticity shines through her well-crafted words that will make readers laugh, cry, and feel inspired.
The Golden Couple by Greer Hendricks and Sarah Pekkanen, 2022
With tons of twists and red herrings, this one had me on the edge of my seat!
When Avery, a therapist with a very unique and unorthodox brand of therapy, meets with wealthy couple Marissa and Matthew to help them through their infidelity, she immediately believes there are more secrets to this marriage than meets the eye. Through alternating points of view from Avery and Marissa, readers are brought on a thrill ride as the two women uncover dangerous truths about each of their lives.
Lessons in Chemistry by Bonnie Garmus, 2022

Even though Elizabeth Zott is a brilliant scientist, it's the 1960's and her career is in constant jeopardy thanks to a few sexist men. Determined, tenacious Elizabeth, however, is about to show the world that women can do anything they put their minds to. This unique story has it all! Love, loss, grit and unforgettable characters that will stay with you long after closing the pages of this book.
It should be noted that there are trigger warnings for suicide and sexual abuse. There are several dark moments in the book, but then there are also many funny, uplifting, thought-provoking pages with wonderful character development. I'm also excited to learn it is currently being made into a TV series by Apple TV.
Carrie Soto is Back by Taylor Jenkins Reid, 2022
Taylor Jenkins Reid has written hit after hit and her latest book Carrie Soto is Back is back is no exception!
Carrie Soto, also known as the Battleax due to her cold, meticulous nature of destroying other players, was deemed the best tennis player in the world in the 1980's. She is now 37, retired, and watching phenom Nicki Chan break her record for most Grand Slams. With her father as her coach, she returns to the tumultuous world of tennis to take back her record. Battling both her aging body and the bright new tennis stars of the 90's, regaining her title of best in the world is no easy task.
I absolutely loved following Carrie on her journey balancing her hubris with the love of the game. Taylor Jenkins Reid creates the most memorable characters and while Carrie may appear cold-hearted, cocky, and only focused on winning, readers won't be able to resist rooting for her!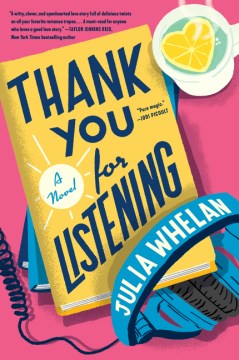 Thank You for Listening by Julia Whelan, 2022

I listen to A LOT of audiobooks and Julia Whelan is one of my favorite narrators. When I saw that she had written a new book, I grabbed it right away and loved it even more than I expected.
The story follows Swanee, an actress turned audiobooks narrator, who has a steamy one-night stand in Vegas with a man she ends up later working with. The witty dialogue had me laughing out loud, but best of all was the character development. Swanee has an accident that leaves her with only one eye, ending her promising acting career early. Throughout the book, she comes to terms with her life choices and difficult family situations. As her confidence builds, she finds the strength to embrace her vulnerability in entering a new romantic relationship.
There are a lot of funny, entertaining moments, but there is also a lot of depth that makes this book a real standout.
Daisy Darker by Alice Feeney, 2022
This book has everything I want in a thriller: A creepy old house set on a secluded island. Characters disappearing one by one in mysterious ways. Family secrets bubbling up at every turn and a twist ending I did not see coming!
When a dysfunctional family reunites for their grandmother's 80th birthday on a remote island, no one could have predicted the deadly situation they would all find themselves in. If you are a fan of Agatha Christie's And Then There Were None,, this is a must read!
Remarkably Bright Creatures by Shelby Van Pelt, 2022
Even though this book got rave review after rave review, I kept putting it off because I just didn't know if I could get on board with an octopus as a main character. I finally gave it a try and I'm so glad I did because it is the most heartfelt story about friendship and family with wonderful characterization!
When Tova Sullivan strikes up an unlikely friendship with Marcellus, the giant Pacific octopus from the aquarium she works at, she has no idea he is going to help her uncover the mysteries of her past and find a more hopeful future.
The It Girl by Ruth Ware
Thrillers are my favorite genre and I'm a huge Ruth Ware fan, so I couldn't wait to read her newest book, The It Girl , and it didn't disappoint.
When the homely Hanna heads to college, she is assigned to live with April who is rich, smart, and seems to have it all until she is murdered their freshmen year. A decade later, the man convicted of April's murder passes away in jail and Hanna begins reconsidering who could have actually killed April.
The story goes back and forth in time allowing the reader to gain insight into each character and their potential motive for murdering April. Ruth Ware is a master storyteller and her latest is a fantastic mystery that had me guessing until the end.
The Christie Affair by Nina de Gramont
Although I'm a big Agatha Christie fan, I was not aware of her mysterious 11-day disappearance in 1926. While this engaging historical fiction reimagines what happened to Agatha during that enigmatic vanishing, it's really a story about Nan O'Dea, her husband's mistress. This well-written tale has a ton of layers that are masterfully uncovered. I listened to the audio version and really enjoyed the accent of the narrator.
You may also like: