From its sparkling waters to its majestic mountains and curious creatures, there is much to love about this beautiful planet we call home. With Earth Day around the corner, I've put together a list of my favorite books that capture the splendor of Earth as well as stories that inspire children to help protect it.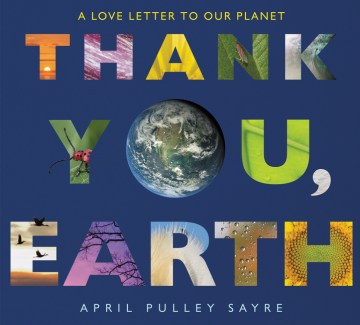 Thank You, Earth: A Love Letter to Our Planet by April Pulley Sayre, 2018
(Ages 3 and up)
You cannot go wrong with an April Pulley Sayre book and this one is a real standout. Using her stunning signature photographs, Sayre showcases a myriad of enchanting Earth elements accompanied by a simple, but effective poem that causes readers to stop and consider all that we have to be grateful for by living on our beautiful planet. An admirable author's note encourages readers to turn their gratitude into action by taking care of Earth.
I also recommend April Pulley Sayre's other books Raindrops Roll, Bloom Boom, Full of Fall, and Best in Snow.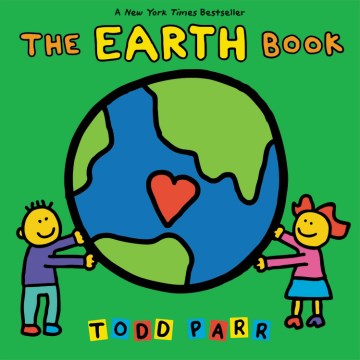 The Earth Book by Todd Parr, 2010

(Ages 3 and up)
With its bold, bright colors and child-friendly language, this is an ideal book for teaching toddlers and preschool age children how they can help protect our planet. A poster with ten ways children can help the Earth is included.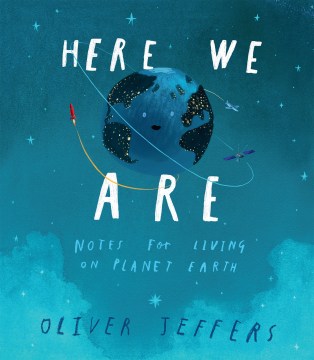 Here We Are: Notes for Living on Planet Earth by Oliver Jeffers, 2017
(Ages 3 and up)
Addressing his newborn son, New York Times best-selling author and illustrator, Oliver Jeffers, gives readers a gentle, slightly humorous, and thought-provoking tour of Earth. This standout story is full of charm and perfect for reading on Earth Day and all year long.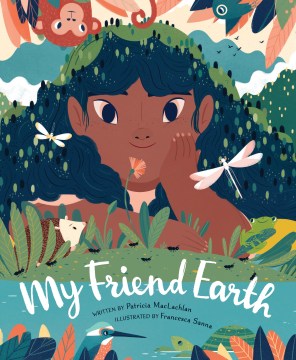 My Friend Earth by Patricia MacLacklan; illustrated by Francesca Sanna, 2020
(Ages 3 and up)
Dazzling die-cuts set in lush illustrations draw the reader into this stunning story of a personified Mother Earth caring for the land and animals throughout the seasons. This one is a real feast for the eyes!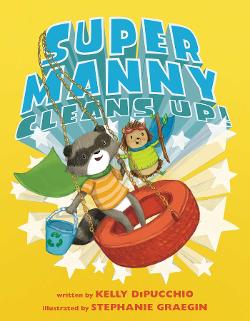 Super Manny Cleans Up! by Kelly DiPucchio ; illustrated by Stephanie Gaegin, 2018
(Ages 4 and up)
We love Kelly DiPucchio's courageous racoon, Manny! Using his vivid imagination, he battles pretend monsters until he encounters real-life problems. In Super Manny Cleans Up! , Manny and his friend, Gertie, are playing in the park when they notice there is garbage everywhere. Like true super heroes, they work to make their world a better place. They begin by cleaning up themselves and inspire others to do the same. Manny is a wonderful role model who is creative, brave, friendly, and stands up for what is just.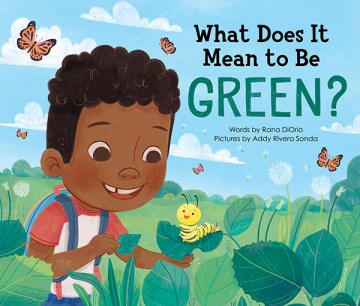 What Does It Mean to Be Green? by Rana DiOrio; illustrated by Addy Rivera Sonda, 2021
(Ages 4 and up)
With its colorful inclusive illustrations and child-friendly recommendations for sustainability, this is an excellent classroom read aloud for Earth Day. Suggestions such as turning off the water while you brush your teeth and choosing an ice cream cone instead of a cup are helpful tips for kids and are sure to inspire them to make changes in their own lives that can benefit our planet.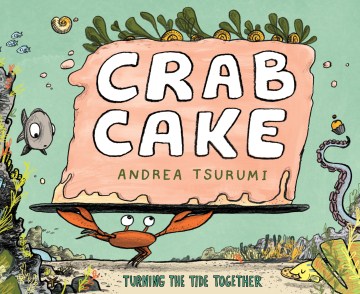 Crab Cake: Turning the Tide Together by Andrea Tsurumi, 2019
(Ages 4 and up)
With themes of teamwork, environmentalism, and resilience, there is a lot to love about Crab Cake. Not only does it celebrate sea life and provide a clear message of the importance of preserving our oceans, it also stars an adorable crab who models bravery in a time of uncertainty.
When a pile of trash is dumped into the ocean, the sea creatures are unsure of what to do. Crab, however, continues her favorite hobby of baking cakes, bringing the community together to form a plan. Andrea Tsurumi's illustrations create just the right amount of drama. During the scene when the animals first encounter the trash, my children actually held their breath unsure of what was going to happen. Then they cheered at the final outcome, which created a perfect segue to discuss pollution and recycling.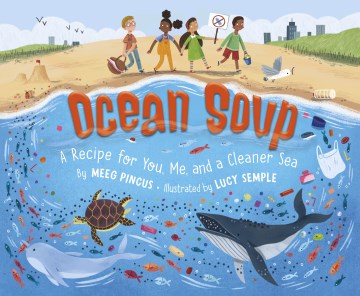 Ocean Soup: A Recipe for You, Me and a Cleaner Sea by Meeg Pincus; illustrated by Lucy Semple, 2021
(Ages 4 and up)
With its bright colorful pictures and flowing rhymes, this engaging tale of environmentalism is perfect for little learners. It informs readers of the problem with one-use products and how plastic often ends up in the ocean where it is broken down and eaten by animals. Luckily, we can make a difference by using reusable and natural items. Additional information on the causes and effects of ocean soup as well as further ideas on how to reduce daily use of plastic is included.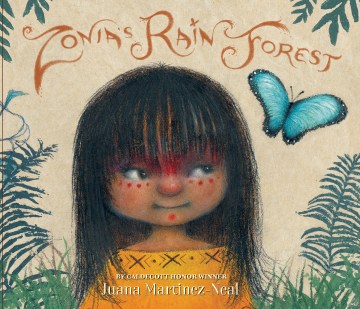 Zonia's Rain Forest by Juana Martinez-Neal, 2021
(Ages 4 and up)
Zonia relishes in the beauty of her home in the rain forest. Each morning, she ventures out to greet the friendly creatures who inhabit the gorgeous jungle until one day she discovers an area of deforestation. Though frightened at first, Zonia bravely vows to help protect her land.
Caldecott-Honor winner Juana Martinez-Neal uses her stunning artwork to introduce readers to exotic animals that reside in the rain forest as well as bring attention to the Asháninka people, the largest indigenous group living in the Peruvian Amazon and the threats to this endangered habitat.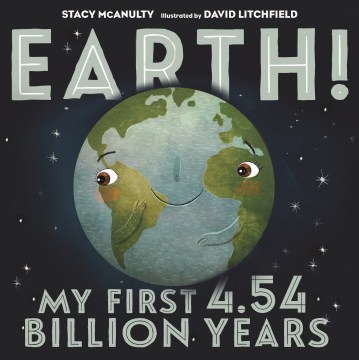 Earth: My First 4.54 Billion Years by Stacy McAnulty; illustrated by David Litchfield, 2017
(Ages 5 and up)
Our family cannot get enough of the ingenious Our Universe series that is as entertaining as it is informative! A cheerful Earth comically shares her favorite activities including spinning around the sun, introduces readers to her best friend moon, and reminisces about her childhood and how she has changed over billions of years. The child-friendly text makes this an excellent choice for reading aloud and getting children excited to learn more about the planet we call home.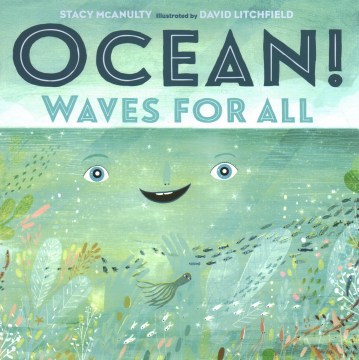 Ocean! Waves for All by Stacy McAnulty; illustrated by David Litchfield, 2020
(Ages 5 and up)
Another incredible installment of the Our Universe series stars Ocean who reveals several fascinating facts about our Earth's treasured waters. From its marine inhabitants to its layered zones, readers will love learning about our sensational seas. The book is further enhanced by an author's note that provides additional facts.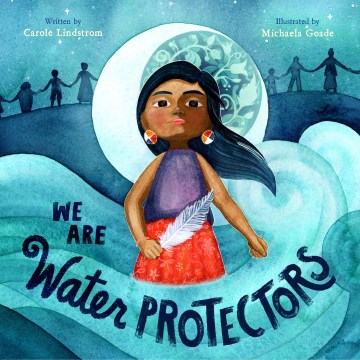 We Are Water Protectors by Carole Lindstrom; illustrated by Michaela Goade, 2020
(Ages 5 and up)
This spectacular own-voices story narrated by a young indigenous girl speaks out against water pollution in her land. The stirring text is enriched by the breathtaking artwork that skillfully weaves in complimentary colors and patterns creating robust illustrations that jump off the page. It was no surprise that this brilliant book won the Caldecott Medal for 2021. A note from the illustrator highlights several important details included to honor indigenous tribes.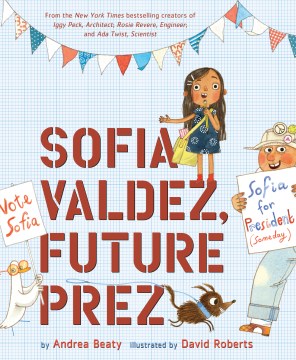 Sofia Valdez, Future Prez by Andrea Beaty; illustrated by David Roberts, 2019
(Ages 5 and up)
Meet Sofia Valdez, a second-grade student who works hard to make her community a better place. When she and her grandfather discover a mountain of trash, Sofia makes a plan to create a park in its place. She gathers her courage and presents her idea to City Hall. After gathering community support, her dream comes true and a park is created for everyone to enjoy.
⠀⠀⠀⠀⠀⠀⠀⠀
Rhyming text and engaging illustrations make this an excellent read aloud choice for elementary age children. Sofia's passion and perseverance are admirable and will empower future activists.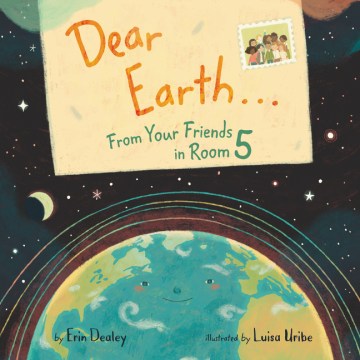 Dear Earth….From Your Friends in Room 5 by Erin Dealey; illustrated by Luisa Uribe, 2020
(Ages 5)
This epistolary gem follows a diverse group of students who write letters back and forth with the planet Earth. Each note is simply delightful and contains practical and doable tips for making the Earth a better place. One student, Bernard, takes his role as an Earth Hero (a nickname the planet calls the students) seriously and begins a club to help the planet during the next school year. This appealing story is perfect for inspiring budding environmentalists to start their own club.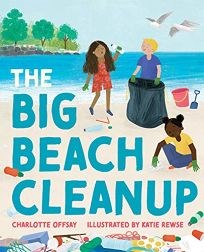 The Big Beach Cleanup by Charlotte Offsay; illustrated by Katie Rewse, 2021
(Ages 5 and up)
Cora can't wait to practice building sand castles for the big contest at the end of the summer. When she arrives at the beach, however, she finds it closed due to the trash that has washed ashore. She and her mother pick up the litter, but when they return the next day, they find even more. Cora creates a flyer and talks to her friends and neighbors until she has organized a large group to clean the beach. Cora's initiative and determination are admirable and a perfect inspiration for readers to take up their own environmental causes. An author's note provides tips for how kids can make small changes at home to help make a big difference.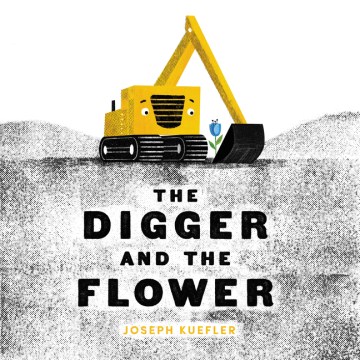 The Digger and the Flower by Joseph Kuefler, 2018
(Ages 4 and up)
This tender story stars a busy excavator who discovers a flower while working on a construction site. As the city grows around him, the digger cares for the flower until it is eventually destroyed by the other construction vehicles. The hopeful ending, however, shows the digger spreading the flower's seeds in a field far away from the city where it can grow and blossom. With its delicate illustrations and heartfelt storyline, this poignant tale is a good choice for a read aloud.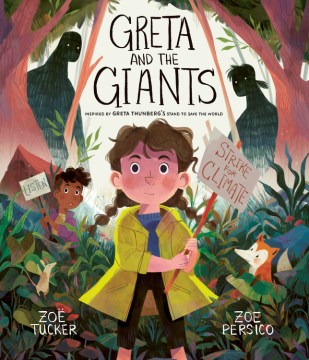 Greta and the Giants by Zoë Tucker; illustrated by Zoe Persico, 2019
(Ages 5 and up)
This clever book introduces the very real problem of climate change to children in the form of a fairy-tale-like story. When a young girl named Greta is approached by forest animals for help, she feels compelled to stand up against the giants who are destroying their home. Initially she stands alone with a sign that reads, "Stop." Slowly others join her until the giants can no longer ignore their pleas. Feeling embarrassed, the giants promise to change their ways.
Inspired by Greta Thunberg who protested climate change at the age of fifteen, this story captures her courageous spirit and teaches readers that no one is too small to make a difference. An author's note provides additional information on the real Greta and tips for how everyone, including kids, can help make the Earth a better place.
The Honeybee by Kirsten Hall; illustrated by Isabelle Arsenault, 2018
(Ages 4 and up)
Lively text and dazzling illustrations follow a bouncy bee through the seasons. Children will delight in the smiling, cartoony bee as he zooms through fields of flowers. This is a wonderful read aloud to provide an introduction to bees and the powerful role they play in nature. A useful author's note addresses ways children can help bees survive.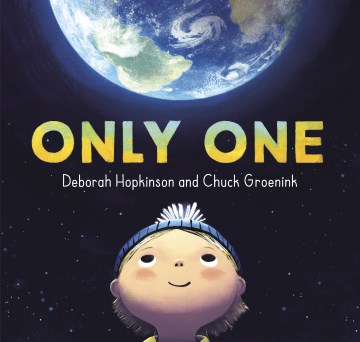 Only One by Deborah Hopkinson; illustrated by Chuck Groenink, 2022
(Ages 5 and up)
"Earth is our one and only planet to care for, love, and preserve." This is the message that is deftly delivered in this informative new read aloud. A young girl shares her knowledge of the universe with her family and friends as they make their way to a tree planting expedition. An impressive amount of information about our world is presented in a child-friendly manner giving readers an excellent jumping off point to learn even more about space and our planet. The final pages share with readers the critical message that while we are each only one person, we can make a big difference by protecting our one home, Earth.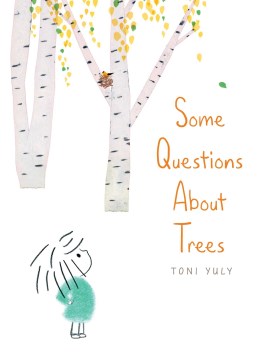 Some Questions About Trees by Toni Yuly, 2022
(Ages 4 and up)
I love books that inspire kids to ponder and ask questions, so I was immediately drawn to this one. An inquisitive child shares her whimsical wonderings about trees in this simple, but thought-provoking book. This would be a great book to use as a writing prompt in a classroom, encouraging children to come up with their own questions about elements of nature.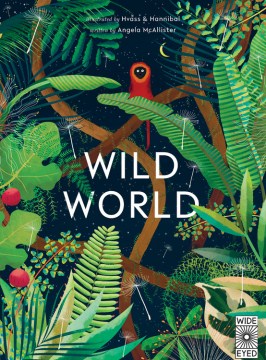 Wild World by Angela McAllister; illustrated by Hvass & Hannibal, 2018
(Ages 5 and up)
Rich artwork compliments thirteen lyrical poems describing various habitats and its inhabitants. Wonderfully descriptive language effortlessly weaves in fascinating facts about each environment. This treasure is enhanced even further with additional facts about each locale and an author's note describing ways to protect our planet.
Earth Heroes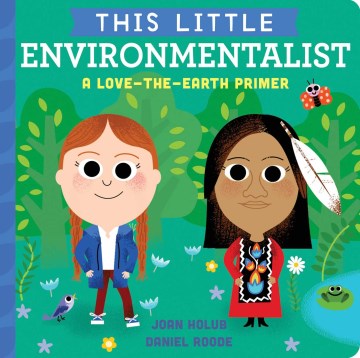 This Little Environmentalist: A Love the Earth Primer by Joan Holub; illustrated by Daniel Roode, 2021
(Ages 2 and up)
This educational and engaging board book introduces children to a variety of diverse environmentalists. With rolling rhymes and colorful illustrations, children and adults alike will love learning about these incredible role models and the different ways they have helped make our world a better place.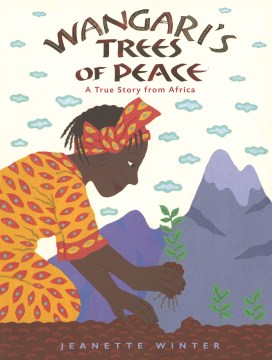 Wangari's Trees of Peace: A True Story from Africa by Jeanette Winter, 2008
(Ages 5 and up)
Wangari Maathai's story aptly demonstrates how one person can make an important impact on others' lives. Wangari returns from school in America to find her homeland of Kenya barren. Trees have been cut down everywhere leaving little shade to protect the crops and the women in her village must walk miles for firewood.
Wangari takes action by planting trees in her backyard and encouraging her friends and neighbors to do the same. Wangari becomes an activist for the trees and even when she is imprisoned for preventing the cutting of more trees, the other women continue planting until there are over 30 million trees in Kenya and the movement has spread to thirty other African countries.
Simple text and bold illustrations make this a good choice for a read aloud to a group of children. An author's note further discusses how Wangari inspired a nation and was awarded the Nobel Peace Prize in 2004.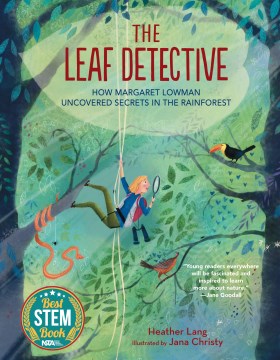 The Leaf Detective: How Margaret Lowman Uncovered Secrets in the Rainforest by Heather Lang; illustrated by Jana Christy, 2021
This spellbinding biography follows Meg Lowman as she bravely explored and studied rainforests in a time when no one else dared to. Though full of danger, the rainforest is also full of wonder and Meg learned all about the exotic plants and animals that dwell there. Quotes from Meg and break out boxes supply additional insight into her experience and facts about the rainforest providing children with not only an introduction into a noteworthy trailblazer, but also to an incredible ecosystem. Furthermore, readers will be inspired by her valiant efforts to conserve the rainforest and fight deforestation.
Harlem Grown by Tony Hillery; illustrated by Jessie Hartland, 2020
Harlem Grown is the inspirational true story of how Tony Hillery and a group of students transformed an empty lot in Harlem into a gorgeous garden.
Tony Hillery wasn't a gardener, but simply a man who saw a problem and did everything he could to solve it. Not only did Tony help make his neighborhood a more beautiful place, the plants thrived and provided fresh, healthy food for the students who tended to the garden. The engaging artwork combined with the concise, powerful text makes this a truly standout read aloud. The story is enhanced by a note from Tony that provides more details about the Harlem Grown organization and gives tips on how to start a garden anywhere.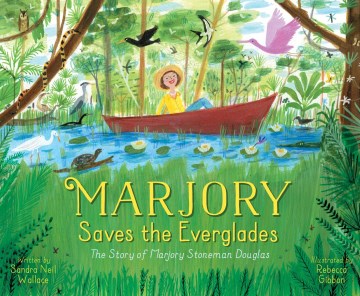 Marjory Saves the Everglades: The Story of Marjory Stoneman Douglas by Sandra Neil Wallace; illustrated by Rebecca Gibbon, 2020
(Ages 6 and up)
This beautifully illustrated biography follows the life of Marjory Stoneman Douglas, a remarkable woman who accomplished many important feats most notably becoming an environmental activist who saved the Florida Everglades from destruction.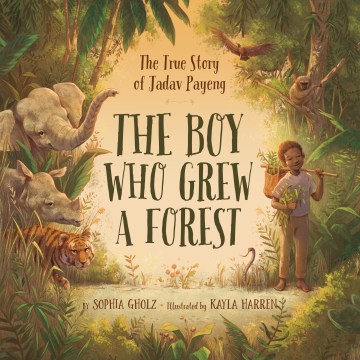 The Boy Who Grew a Forest: The True Story of Jadav Payeng by Sophia M. Gholz; illustrated by Kayla Harren, 2019
(Ages 6 and up)
Alarmed by the floodwater damage near his home in India, Jadav Payeng approached the village elders for help. They encouraged him to plant trees to stop the erosion. Not only does he nurture the trees he plants, he devises a new irrigation system that creates rich enough soil to regrow an entire forest. Thanks to Jadav's insightfulness and caring nature, he helped cultivate a 1,300 acre forest filled with plants and animals.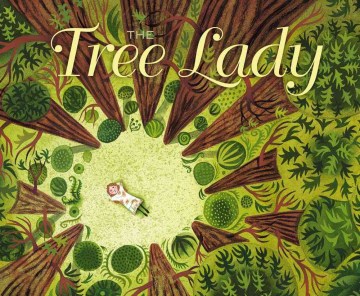 The Tree Lady: The True Story of How One Tree-Loving Woman Changed a City Forever by H. Joseph Hopkins; illustrated by Jill McElmurry, 2013
(Ages 5 and up)
From an early age, Katherine Sessions loved to explore nature and would often come home muddy and dirty. Her adoration of plants continued as she aged and she became the first woman to graduate from the University of California with a degree in Science. After taking a job in San Diego, she was shocked by the desert landscape. She hunted for trees that could survive the arid region and soon transformed one of San Diego's biggest parks into a beautiful lush garden. This humbling story is an excellent example of how one person can make a huge impact.