Teacher Appreciation Week is coming up and , boy, do our teachers deserve to be appreciated!!!
Each year, teachers pour their hearts and souls into helping their students not just with academics, but with building children's confidence, helping them form friendships, giving them the tools to reach their full potential, and so much more. While it is a rewarding profession, it is also grinding and exhausting.
Below is a list of our favorite books that celebrate teachers and the amazing things they do for their students. These standout stories are perfect for Teacher Appreciation week, end of year gifts, or anytime you want to honor a teacher!
*This post contains affiliate links.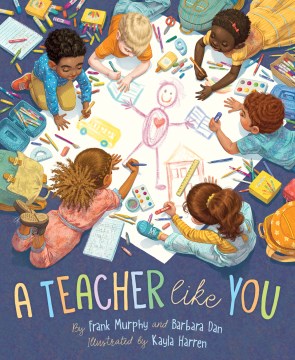 A Teacher Like You by Frank Murphy and Barbara Dan; illustrated by Kayla Harren, 2021
A Teacher Like You is written by teachers for teachers. Every line in the book was inspired by real students or events and that authenticity shines through. Kayla Harren's stunning illustrations are not only beautiful, but represent so many different body types, ages, skin colors, and abilities; this series is one of the most inclusive I've ever seen. This exceptional book really speaks to the unsung heroes in the teaching profession and makes a truly wonderful gift!
The Dot by Peter Reynolds, 2003
(Ages 4 and up)
This is one of my all-time favorite children's books. When a discouraged girl named Vashti believes she cannot draw, her art teacher encourages her to make a simple dot. When the teacher then frames her dot, Vashti is inspired to make more artwork and creates her own gallery full of work. This deceptively simple story inspires readers to believe in themselves and gives them the confidence to make their own mark. It also highlights an exceptional teacher who finds the right way to inspire her student.
Teachers Rock! by Todd Parr, 2016
(Ages 2 and up)
What better way to celebrate teachers than with a book showcasing how awesome and amazing they are?
Teachers Rock! uses Todd Parr's signature illustrations to celebrate the many special things teachers do and how they care about and support children. Perfect for starting school or Teacher Appreciation Day, this book is a fabulous classroom read aloud.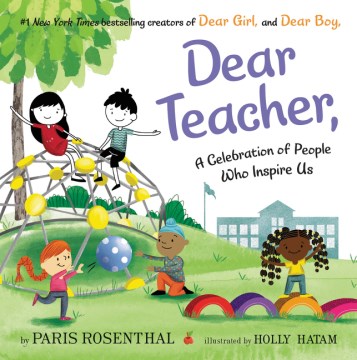 Dear Teacher: A Celebration of People Who Inspire Us by Paris Rosenthal; illustrated by Holly Hatam, 2021
(Ages 4 and up)
Many teachers say that their favorite gift is a heartfelt note from their students. Dear Teacher is the perfect love letter expressing a child's gratitude for all that their teachers do for them. The concise text packs a powerful punch capturing how teachers not only educate, but comfort, encourage, and inspire. Holly Hatam's cheerful illustrations skillfully illuminate the text making this not only a great gift for teachers, but also a good choice for a read aloud to a classroom.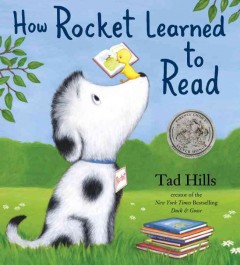 How Rocket Learned to Read by Tad Hills, 2010
(Ages 3 and up)
A little yellow bird teaches Rocket, a dog, how to read by introducing him to the alphabet. This is a sweet story about persistence that will inspire any budding reader. The little bird is patient, creative, and exemplifies the many talents of a good teacher.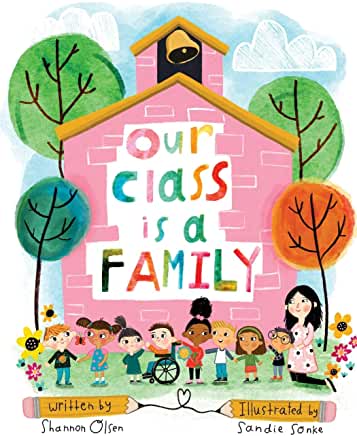 Our Class is a Family by Shannon Olsen; Sandie Sonke, 2020
(Ages 3 and up)
This uplifting book shares the message that school is a safe place where children can take risks, learn from mistakes, and form a special bond with other students who become almost like a second family. The upbeat rhymes, positive message, and bright illustrations makes this a good choice for a classroom read aloud for a teacher to share each year. It's also an excellent book to gift to teachers to thank them for creating such a wonderful learning environment.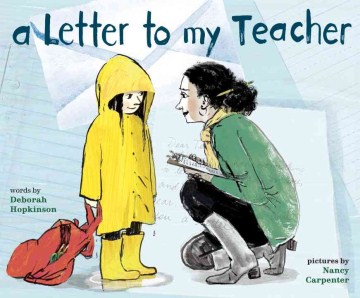 A Letter to My Teacher by Deborah Hopkinson; illustrated by Nancy Carpenter, 2017
(Ages 6 and up)
This heartfelt story follows a wayward student who writes a letter to her teacher thanking her for bringing out the best in her. Beautiful watercolor illustrations adorn the pages capturing the expressions of the second-grade student who initially has trouble sitting still and staying quiet in class, but whose devoted teacher found her strengths and nurtured her throughout the year. This amusing and tender tale is sure to resonate with many teachers!
Buy It from Amazon Buy It from Bookshop
Flight School by Lita Judge, 2014
(Ages 4 and up)
When a penguin attends flight school, he claims that even though penguins are a flightless bird, he has "the soul of an eagle." Despite his many attempts, unfortunately, the penguin cannot fly and prepares to depart brokenhearted. The teachers, however, refuse to give up. As all teachers do, they find a way to support their student, so that he does soar.
Many children may fail from time to time, but this tale of perseverance will reassure them that their caring teachers will not give up on them and will help them fulfill their own hopes and dreams.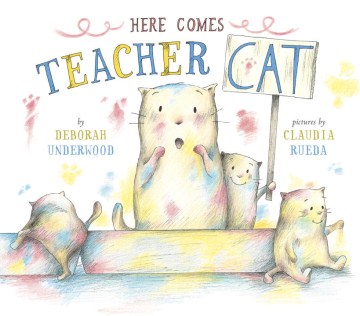 Here Comes the Teacher Cat by Deborah Underwood; illustrated by Claudia Rueda, 2017
(Ages 5 and up)
This comical series stars a feisty feline who communicates with the reader by holding up funny signs. In this installment, Cat discovers the joys and challenges while substitute teaching. This charming book is absolutely adorable and celebrates how hardworking teachers are!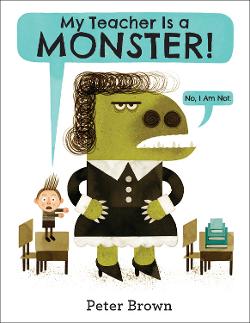 My Teacher is a Monster (No I am Not) by Peter Brown, 2014
(Ages 5 and up)
This humorous book takes a playful spin on the teacher-student relationship. After being scolded for flying paper airplanes, Bobby views his teacher as a monster. When he spots her in the park one day, however, he finds that she is much kinder and more fun than he initially realized. This witty and hilarious book is usually popular all year long.
Rescuing Mrs. Birdley by Aaron Reynolds; illustrated by Emma Reynolds, 2020
(Ages 5 and up)
Any teacher who has ever run into a student outside of school will relate to this funny story and will surely chuckle along at the hilarious plot.
Rescuing Mrs. Birdley stars a spunky young girl who spies her teacher out in the "wild" and stealthily attempts to bring her back to her natural habitat, school. The eye-catching illustrations perfectly match the humor of the text creating one funny read aloud!
Buy It Here Buy It from Bookshop
Miss Brooks Loves Books (and I don't)! by Barbara Bottner; illustrated by Michael Emberley, 2010
When a first-grade girl expresses her dislike of books, her exuberant librarian does everything she can to help her find the magic in stories. Full of humor, cartoony illustrations, and the knowledge that there is a perfect book out there for everyone, this is a tale that book lovers and reluctant readers will all enjoy.
The Thank You Book by Mary Lyn Ray; illustrated by Stephanie Graegin, 2018
(Ages 3 and up)
This delightful book teaches children that saying "thank you" isn't just part of being polite. Concise text and sweet illustrations present a myriad of experiences many children will recognize in their everyday lives and teaches readers how to appreciate them.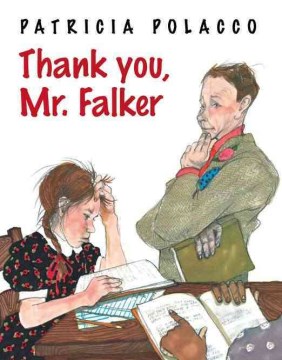 Thank You Mr. Falker by Patricia Polacco, 1998
(Ages 6 and up)
This classic story from acclaimed author and illustrator Patricia Polacco has withstood the test of time for good reason. Based on her real life, Polacco describes how she was a struggling reader until fifth grade when she meets Mr. Faulkner. This gifted teacher identifies her learning disability and helps her overcome it. This emotional journey accurately captures how life changing the right teacher can be.