With the pressure of performing well on state standardized tests, many children feel anxious leading up to the big day. My third grader is taking his first state test this week and, boy, is he worried! Naturally, I've turned to books to help open up discussions on how to ease his nerves and bolster his confidence.
From books providing tips on testing to stories overcoming anxiety, and inspiring tales encouraging children to work hard and do their best, I've got the perfect round up of books for teachers and parents to address testing jitters with children.
*This post contains affiliate links.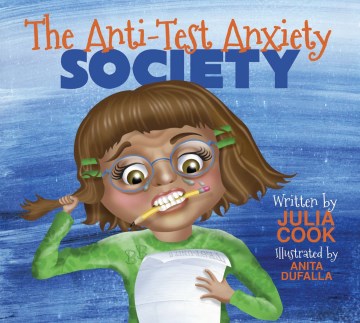 The Anti-Test Anxiety Society by Julia Cook; illustrated by Anita Dufalla
BB knows she is smart, but does horrible on tests. After her teacher gives her twelve helpful tips on how to prepare and relax on testing day, her view on testing changes from seeing them as Terrible Every Single Time to an opportunity to Think Every Situation Through and show what she knows. This is one that is sure to resonate with many kids and help instill the self-assurance they need to approach a test with confidence.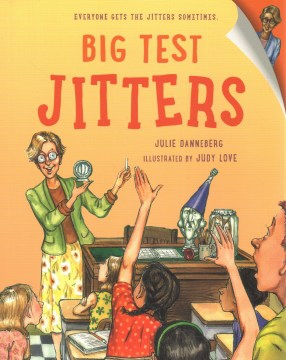 Big Test Jitters by Julie Danneberg; illustrated by Judy Love
It's the week of the Big Test, and Mrs. Hartwell is preparing her class by teaching them to sit for long periods of time, fill in the bubbles the right way, and most importantly, relax and show what they know! With its humorous illustrations, this is a great conversation starter on preparing for testing day.
I Am Smart, I Am Blessed, I Can Do Anything! by Alissa Holder and Zulekha Holder-Young, illustrated by Nneka Myers, 2020
(Ages 5 and up)
When Ayaan admits to his mother that he doesn't feel smart and worries he doesn't always know the answer in school, she teaches him three affirmations that give him the confidence to boldly face each new day. Our family was so inspired by this powerful story, we started saying the same affirmations to bolster my children's self-assurance.
The Little Engine That Could by Watty Piper; illustrated by Dan Santat, 2020
The classic story of a little engine persevering up a giant hill is beautifully reimagined through the vibrant illustrations of award-winning author and illustrator Dan Santat. While originally published in 1930, this timeless tale is still relevant today inspiring a whole new generation of children to believe in themselves and overcome whatever obstacle come their way!
All the Ways to Be Smart by Davina Bell; illustrated by Allison Coploys, 2019
(Ages 4 and up)
Rhyming text and lively illustrations feature a variety of diverse children showcasing their own special talents. "Smart is not just being best at spelling bees, a tricky test. Or knowing all the answers ever…Other things are just as clever. Every hour of every day, we're smart in our own special way. And nobody will ever do…the very same smart thing as you."
I love the message of this book! In a society that puts a ton of pressure on children, I'm thrilled to discover a book that reassures them that there are a lot of ways to excel and that we each have our own unique gifts.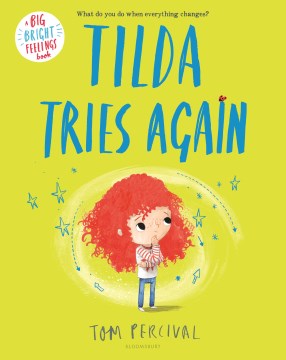 Tilda Tries Again by Tom Percival
When Tilda has difficulty reading and playing, she feels like her world has been turned upside down and stops trying. After witnessing an overturned ladybug flip itself back over by trying again and again, however, Tilda is inspired to not give up when something is difficult and always give her best effort. A note in the back provides additional tips on facing challenges and how to persevere through them.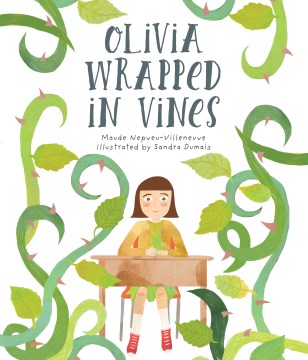 Olivia Wrapped in Vines by Maude Nepveu-Villeneuve; illustrated by Sandra Dumais
Whenever Oliva becomes anxious, she feels as though vines are creeping up her body and suffocating her. Luckily, her teacher helps her overcome her worry by using breathing exercises, focusing on something in her control, and visualizing chopping down the vines. These techniques could also be used to help calm nerves before a big test!
Be You! by Peter Reynolds, 2020
(Ages 4 and up)
Oh, how I love Peter Reynolds and his ability to make children feel like the most special people in the world. In his newest book, he encourages children to be their best selves. The simple inspiring text is enhanced by his delightful signature artwork. The message that we can make the world a better place simply by being ourselves is both comforting and rousing making this a must-read for many children.
The Most Magnificent Thing by Ashley Spires, 2014
(Ages 5 and up)
With the help of her pet dog, a girl embarks on a special mission to create something truly spectacular. After several attempts, however, she grows frustrated by her failures and quits. Taking a break by playing with her dog, however, gives her clarity and inspiration. She perseveres and her hard work pays off when she invents something remarkable. This engaging tale entertains while teaching children to never give up!